Democrats call for more transparency on Biden aerial object response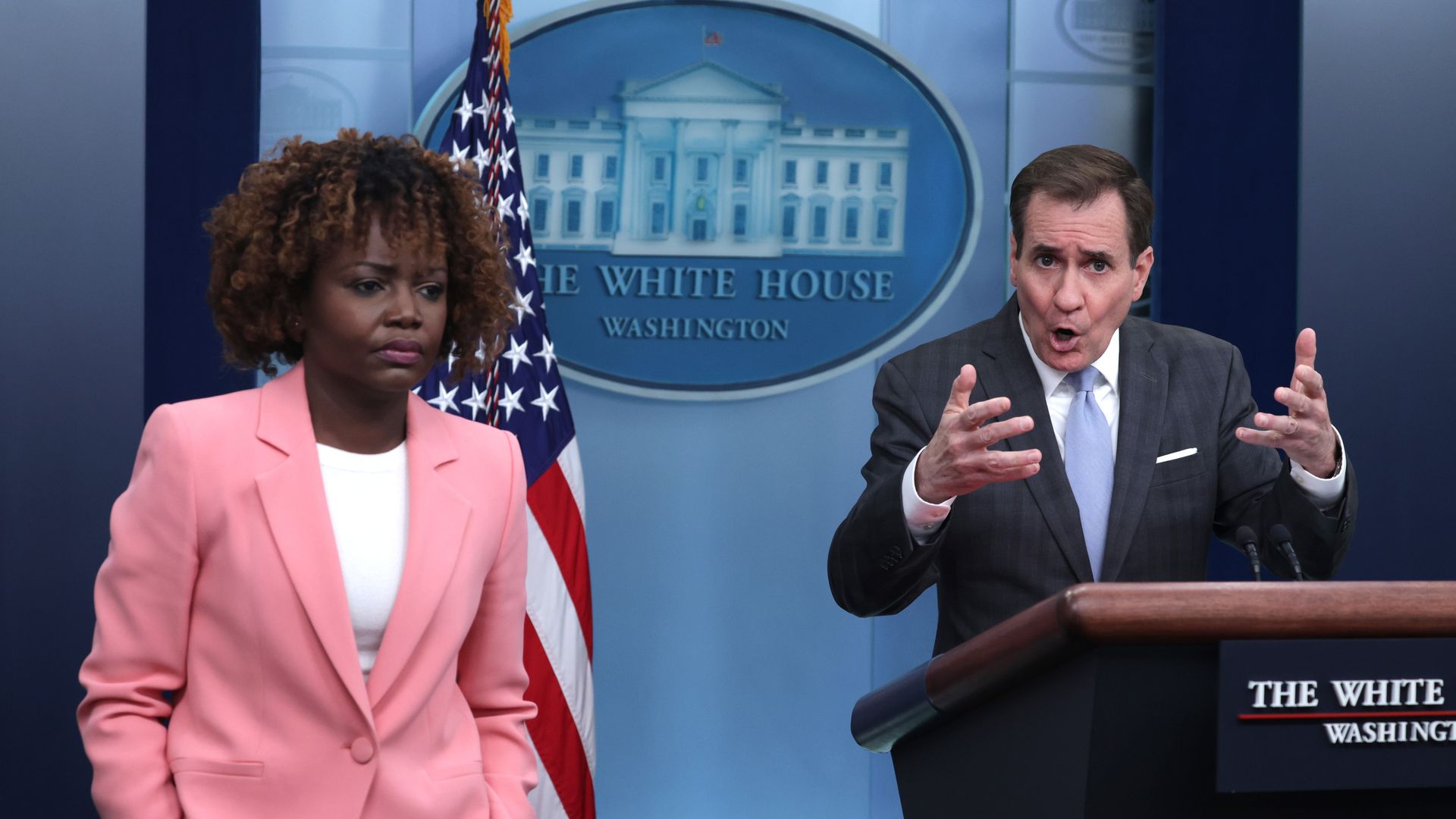 Democratic lawmakers are pressing the Biden administration for greater transparency about the Chinese government balloon and unknown aerial objects shot down over North American airspace in recent weeks.
Why it matters: Republicans have criticized and threatened to investigate the administration for allowing the balloon to fly across the mainland U.S. before the military shot it down. The recent UFO incidents have only intensified GOP calls for recriminations.
"The lack of communication from the Biden administration regarding the closing of Montana airspace last night and the recent shoot-downs that took place over Alaska and Canada is unacceptable," Sen. Steve Daines (R-Mont.) said in a statement on Sunday.
Driving the news: Rep. Jared Moskowitz (D-Fla.), in a letter to Defense Secretary Lloyd Austin obtained by Axios, requested a briefing for House members and warned that the information vacuum "leaves room for conspiracy theories to grow."
"It is essential for there to be trust and transparency between our government officials and the American people," Moskowitz wrote.
Catch up quick: At least four flying objects have been shot down in North American airspace in the last eight days. The most recent was an unidentified flying object 0ver Michigan's Lake Huron, according to the Pentagon.
A Chinese government spy balloon that captured the nation's attention earlier this month was shot down off the coast of South Carolina.
Two more unidentified flying objects were shot down over Alaskan waters on Friday and Canada's Yukon territory on Saturday.
What they're saying: Rep. Jim Himes (D-Conn.), the top Democrat on the House Intelligence Committee, said on NBC's "Meet the Press" Sunday, "I have real concerns about why the administration is being not more forthcoming with everything that it knows."
Himes added, however, that because the objects were shot down in remote areas, "My guess is that there's just not a lot of information out there yet to share."
As the Chinese government balloon made its way from his home state to the Atlantic earlier this month, Sen. Jon Tester (D-Mont.) released multiple frustrated statements demanding more information.
"We are still waiting for real answers on how this happened and what steps the Administration took to protect our country, and I will hold everyone accountable until I get them," Tester vowed.
The other side: Sen. Dick Durbin (D-Ill.) defended the administrations' response on Monday, telling reporters at the Capitol, "I think they're being careful."
"This is kind of a shocking surprise that there are so many objects floating around ... that might be a danger to us," Durbin said, adding that last week's briefing to senators on the Chinese surveillance balloon was "excellent."
The intrigue: Durbin said that briefing "described some things that have not been publicized, and I certainly won't [publicize them] at this moment, but we learned a little bit more as to the decision-making process."
"I think we did the right thing," he added.
What's next: The administration will provide a briefing on the aerial objects to all senators on Tuesday at 10 a.m. ET, according to a spokesperson for Senate Majority Leader Chuck Schumer (D-N.Y.).
Go deeper