New Zealand declares state of emergency over destructive Cyclone Gabrielle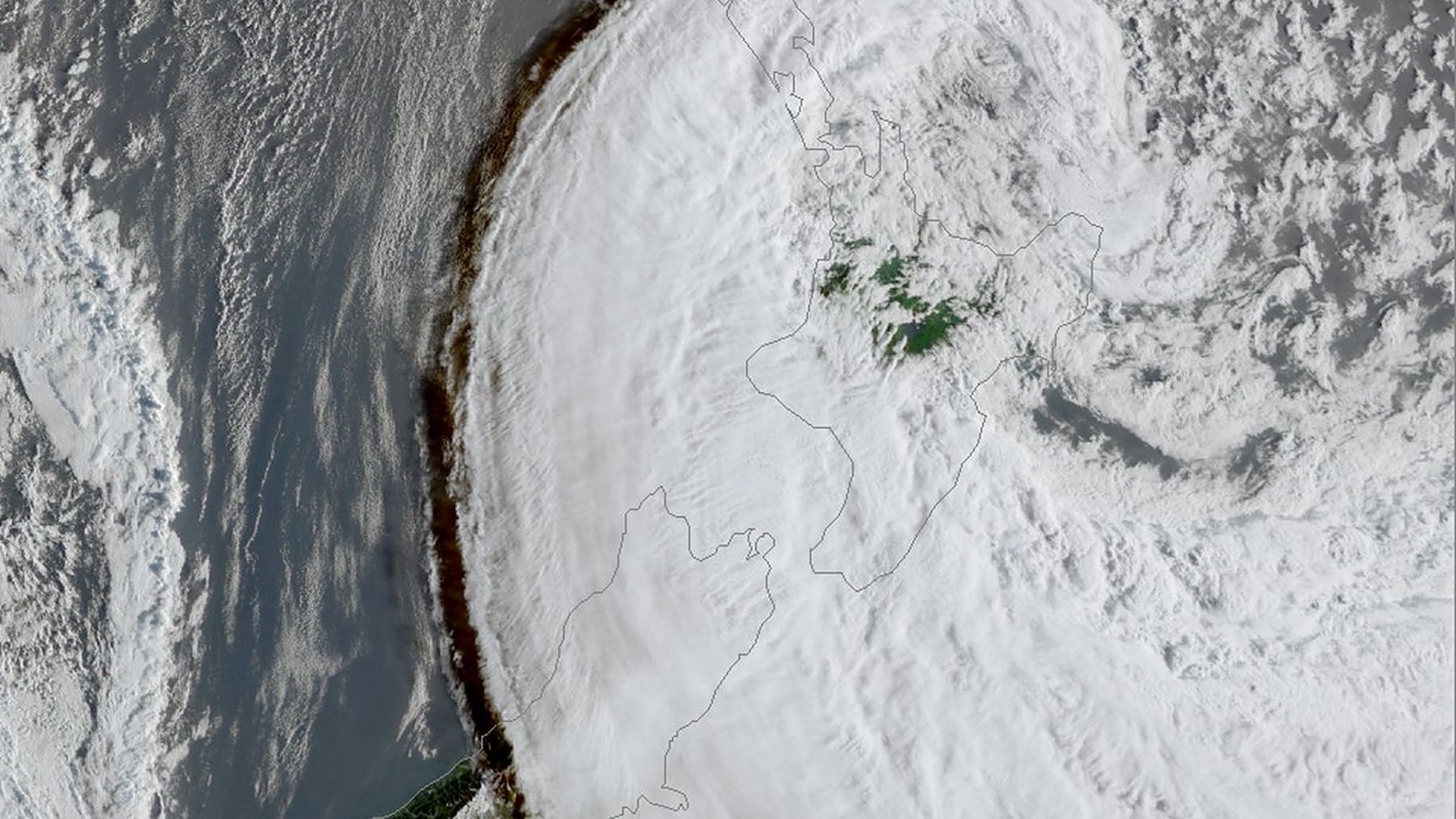 New Zealand's government declared a nationwide state of emergency in response to Cyclone Gabrielle's heavy rains and destructive winds that caused widespread flooding, landslides and power outages and forced hundreds of people to evacuate this week.
Why it matters: NZ's third-ever national emergency was declared Tuesday as weather agency MetService warned the effects of the storm that closed over 30 state highways and caused "the shutdown of air, sea, and rail transport" across the North Island will be felt long after it moves away early Wednesday.
Areas impacted of NZ's North Island include Auckland, New Zealand's most populous city and region — which was hit by record rainfall, heavy flooding and landslides that left four people dead some two weeks ago.
State of play: Hundreds of flights were canceled Monday and Tuesday in response to the storm, which began to lash the North Island on Sunday.
Evacuation orders were issued across the North Island's east coast.
New Zealand's new Prime Minister Chris Hipkins said at a news conference Tuesday that a "lot of families displaced, a lot of homes without power, extensive damage done across the country."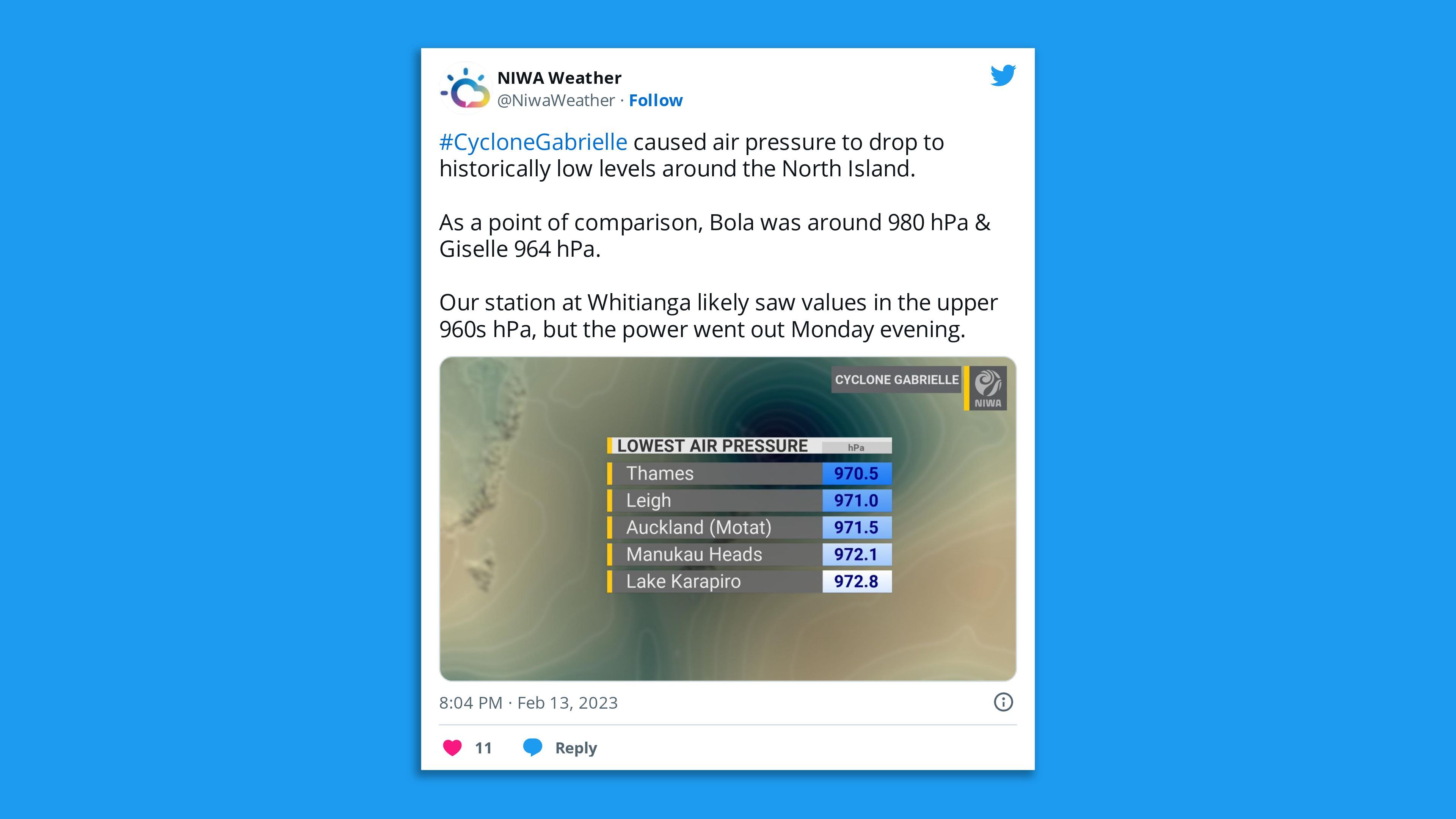 By the numbers: Many areas have experienced record rainfall as Gabrielle unleashed heavy rains, including Whangārei, where nearly 14 inches had fallen as of lunchtime Tuesday — marking the Northland region city's wettest-ever February day, per the National Institute of Water and Atmospheric Research (NIWA).
Napier, on northern New Zealand's east coast, had its second-wettest February day after nearly 7 inches of rain fell by 9am Tuesday — and MetService warned rain was expected for the city and the wider wine-producing region of Hawke's Bay.
22.4 inches fell in Raparapaririki in the Gisborne region of the North Island.
Meanwhile, Auckland has recorded wind gusts of over 80 mph in some parts of the region, according to MetService.
Wind gusts of up to 87 mph "at many exposed coastal locations" were recorded, per the MetService.
The city of New Plymouth on the North Island's west coast recorded wind gusts of nearly 80 mph.
Thought bubble, via Axios' Andrew Freedman: In general, the lower the pressure the stronger the storm.
As for tropical cyclones and global warming, in general the expectation for most ocean basins is for fewer overall storms in number, but a greater proportion of higher-end category and wetter storms, as experienced in the U.S. with Hurricane Harvey that set all-time rainfall records.
Rapid intensification is another worry. 
For the record: Gabrielle was downgraded to a Category 2 tropical cyclone just before it lashed Norfolk Island, halfway between Australia and New Zealand, on Saturday.
MetService tweeted Monday that Gabrielle had "transitioned away from a tropical cyclone so the tropical cyclone category system is no longer applicable," but it had not weakened and was "still a cyclone."
Areas affected by the cyclone over Monday night had "already dealt with immense rainfall this year, and lots of them are in clean up mode from recent flooding" from last month's atmospheric river events, said meteorologist Angus Hines in a statement on MetService's website.
What's next: "Higher than normal pressure is expected to reduce rainfall chances in the North Island starting on Friday & it could stick around for a week or two," NIWA tweeted on Tuesday.
"This will be a welcomed chance for many regions to dry out."
Editor's note: This article has been updated with details of Friday's forecast.
Go deeper