How AI is making Microsoft cool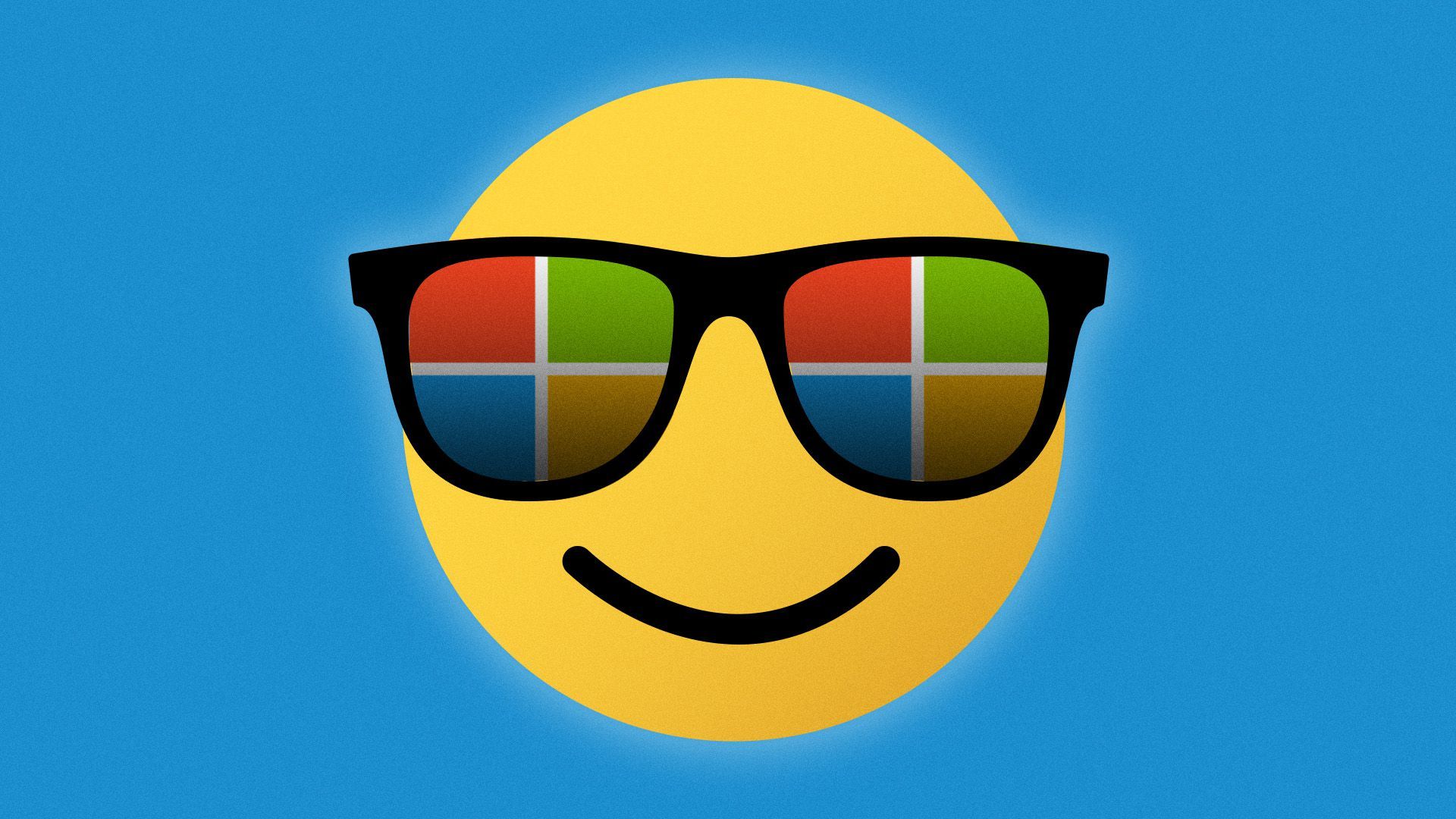 Among the many mind-blowing things that the latest generation of AI seems poised to do: Make Microsoft cool again.
Why it matters: The software giant has invested billions into OpenAI and is betting that tools like Dall-E 2 and ChatGPT across its products will boost flagging products like Bing and reinvigorate franchises such as Office and Windows.
Driving the news: Microsoft this week showed off how it is integrating the latest generative AI technologies into its Bing search engine and Edge Web browser. It's hoping the move will help allow it to take on Google, which dominates both the search and browser markets.
While the revamped Bing will still deliver a series of links or a short definitive answer about half the time, the other half it will use a newer version of the engine that powers ChatGPT to offer up a longer response and allow people to chat for a bit to expand on or hone the answer.
Microsoft's dream is that users of Google Search and Google Chrome who haven't had a strong reason to sample Microsoft's alternatives for years might try Bing or download Edge just to check out the new AI features.
It's also planning to incorporate similar AI technologies across other tools, including venerable Office titles like Word, PowerPoint and Excel.
Between the lines: The AI projects are underpinned by Microsoft's big investments in OpenAI, which gives it dibs on commercializing that firm's latest technologies. Microsoft recently announced an expansion of the deal, that will see it invest billions more in the San Francisco-based startup.
The big picture: Microsoft was once the dominant force in personal technology, thanks to its ubiquitous Windows operating system and the popularity of its Office apps.
In the late '90s it parlayed that into strong market share for its Internet Explorer web browser, despite the early lead held by Netscape Navigator. At that point, regulators in the U.S. and Europe stepped in.
While the Justice Department didn't succeed in its quest to break up Microsoft, the company emerged chastened and slower to move, paving the way for the rise of Google and other rivals.
It also pursued a broad array of consumer businesses, including its ill-fated Zune music player and multiple efforts to take on the iPhone.
Under Satya Nadella, who became CEO in 2014, the company has largely focused on serving businesses.
That has bolstered Microsoft's market position in recent years, even without the cool factor. The company has managed to turn its large software and server businesses into even bigger, more predictable cash flows from cloud computing and subscriptions.
Although Microsoft has been less of a factor in consumer tech in recent years, it still has some important consumer-facing franchises, including Xbox as well as parts of its Surface PC business.
Yes, but: With all this success, Microsoft has most recently seen its business cool off. The company last month announced its slowest sales growth in years, thanks in large part to a PC market that has turned sluggish after a pandemic-inspired boom.
What to watch: Microsoft has an advantage in bringing generative AI to a wide market thanks to its integration of OpenAI's technology, but it's a slim lead, and the field will get crowded fast.
Go deeper