Moderate PAC prepares to flex against progressives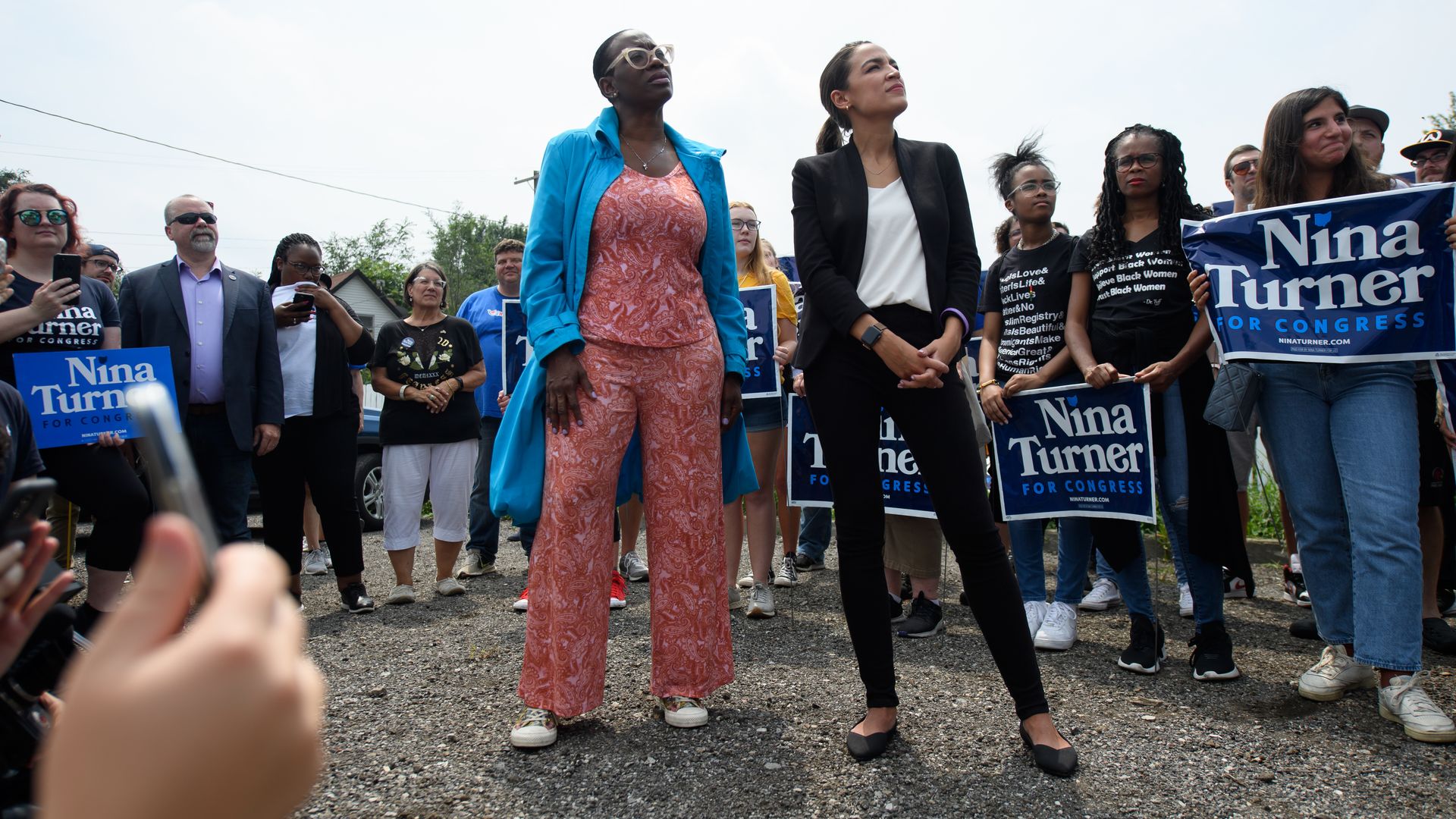 The Moderate PAC, an organization of centrist Democrats, plans to raise $20 million to defend a handful of Democratic lawmakers — as well as open-seat candidates — in 2024 primary fights with progressives, Axios has learned.
Why it matters: The PAC is looking to scare off progressive groups like Justice Democrats from targeting moderates or tipping the scales for any seat in which an established Democrat might retire.
With only four seats to reclaim the majority, the group wants to avoid what they see as unforced errors.
That includes losing Oregon's 5th Congressional District in 2022 after progressive Jamie McLeod-Skinner knocked out incumbent Rep. Kurt Schrader — only to be defeated in the general election.
What they're saying: "We've built a PAC and Independent Expenditure to strengthen Moderate House Democrats," said Ty Strong, the president of The Moderate PAC.
"These members often face primary challenges from the far-left, while also facing competitive general elections."
"We've seen the Republican Party cannibalize its moderate faction," he said. "Replicating this on the Democratic side would be a big mistake."
The other side: "The corporate-backed establishment will stop at nothing to prevent more nurses, bartenders, principals, community organizers and regular people from entering the Democratic Party in Congress," Justice Democrats executive director Alexandra Rojas told Axios.
"They would rather buy elections than let working-class progressives even run. They will do everything in their power to make themselves richer at the expense of robbing poor and working-class Americans."
The big picture: The Republican Party learned this cycle that picking their most conservative candidates — even those who received the endorsement from former President Trump — was a losing campaign strategy.
In recent years, Democrats have avoided a similar civil war — for the most part.
Progressive groups like Justice Democrats were much more active in endorsing non-incumbents in 2018 than in the last two congressional cycles.
While the group only endorsed a handful of non-incumbents in 2022, the prospect of a primary challenge contributed to the decision to retire by some of the 22 House Democrats incumbents that didn't contest in 2022.
Given the powers of incumbency, Democrats want to convince as many members as possible to stay on the ballot in 2024.
Flashback: In the fourth quarter of last year's campaign, the Moderate PAC raised some $1.3 million across its PAC and 501(c)4 to help defend Rep. Jared Golden (D-Maine) and Don Davis (D-N.C.). Both won their races.
Between the lines: The group's proposed $20 million is a significant increase from last cycle's spending.
They hope to attract donors by promising to defend centrists like Golden and Rep. Abigail Spanberger (D-Va.), while also jumping into open primaries.
What we're watching: Last year, Rep. Shontel Brown (D-Ohio) fended off a challenge from Nina Turner, a former Bernie Sanders aide, in the special election to replace now-Housing and Urban Development Secretary Marcia Fudge.
The group plans to support Brown, who had come under fire from progressives, yet again.
Go deeper