Brazil's Supreme Court to investigate Bolsonaro over capital riot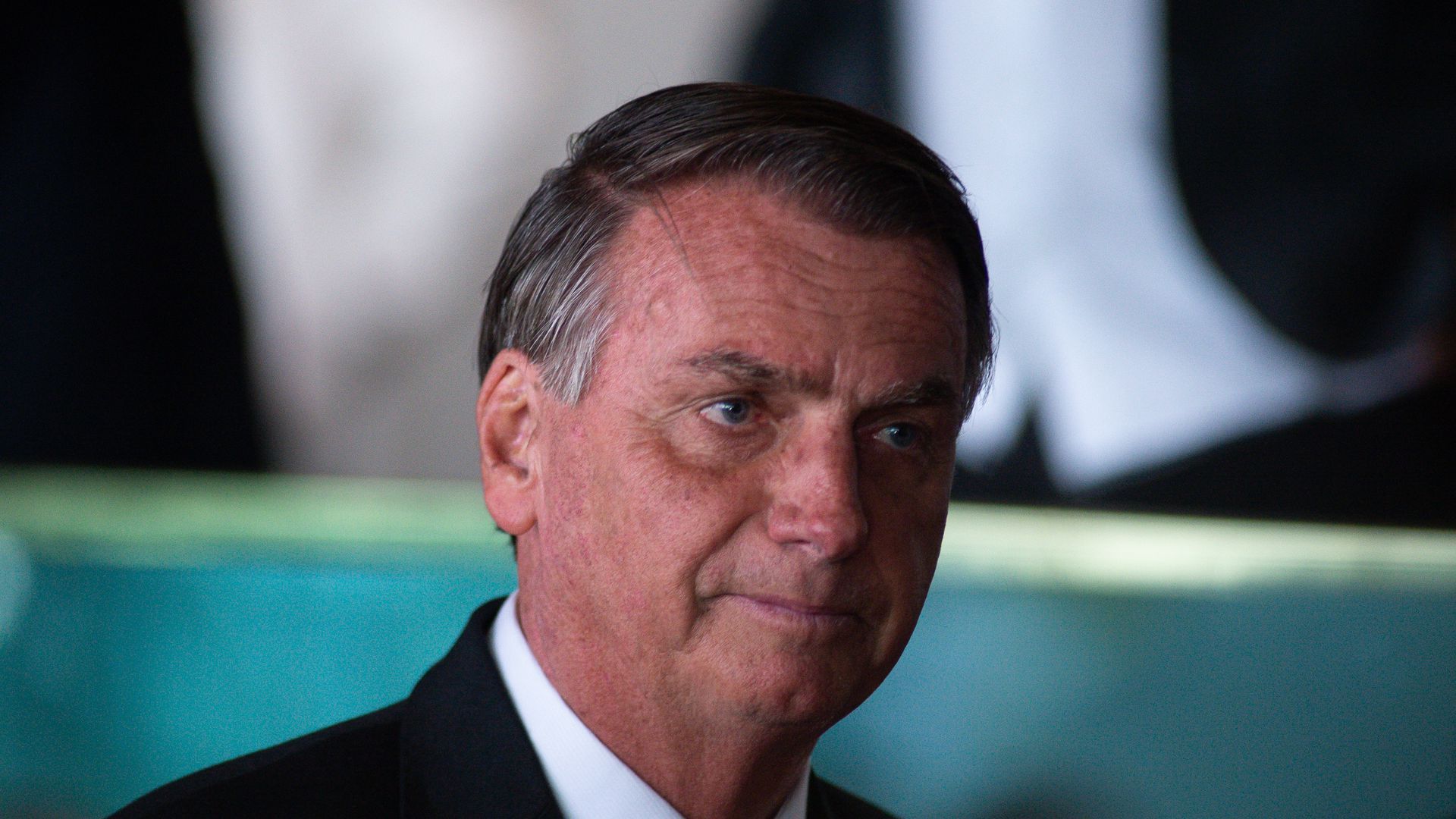 Brazil's Supreme Court late Friday said it will investigate whether former President Jair Bolsonaro incited last Sunday's attack on Congress and other government buildings in the capital Brasília.
Driving the news: The prosecutor-general's office requested that Bolsonaro, who is currently in the U.S., be included in the investigation, citing a video he shared on Facebook two days after the attack, per AP. The video falsely claimed President Luiz Inácio Lula da Silva's election win was fraudulent.
Prosecutors argued that because the post, which has since been deleted, could "have the power to incite new acts of civil insurgency," Bolsonaro's actions before the attack should be investigated, the Washington Post reported.
What they're saying: "Public figures who continue to cowardly conspire against democracy trying to establish a state of exception will be held accountable," Supreme Court justice Alexandre de Moraes said in his decision authorizing the investigation, per Reuters.
De Moraes added that Bolsonaro's repeated questioning of the country's electronic voting system ahead of last year's election "may have contributed, in a very relevant way, to the occurrence of criminal and terrorist acts," according to the New York Times.
Frederick Wassef, Bolsonaro's lawyer, said in a statement following the Supreme Court's announcement that the former president "vehemently repudiates the acts of vandalism and depredation of public property committed by those infiltrating the demonstration," per the Times.
Bolsonaro "has never had any relationship with or participation in these spontaneous social movements carried out by the population," Wassef added.
Catch up quick: Thousands of Bolsonaro supporters stormed the National Congress, Supreme Court and presidential palace buildings last Sunday in an attack reminiscent of the Jan. 6, 2021, U.S. Capitol riot by supporters of former President Trump.
The attack took place less than a week after Lula was sworn in as president. Lula has vowed to hold all those responsible for the attack accountable.
Bolsonaro, who flew to Florida just before Lula's inauguration, criticized the attack in a series of tweets posted several hours after his supporters stormed the buildings on Jan. 8.
He said peaceful protests were a part of democracy, but not the "destruction and invasions of public buildings, like what occurred today." He also rejected assertions that he shared responsibility for the attack.
The big picture: Brazil's Supreme Court had already ordered the arrest of Anderson Torres, the former head of security in the nation's capital, over allegations he sabotaged Brasília's security operations ahead of the attack.
Torres, who was also in Florida on the day of the riot, was fired following the attack. He has denounced the riot and vowed to return to Brazil to defend himself, saying he has always acted ethically and legally.
Go deeper: Democrats want Bolsonaro expelled from U.S. after attack in Brazil
Go deeper