Democrats want Bolsonaro expelled from U.S. after attack in Brazil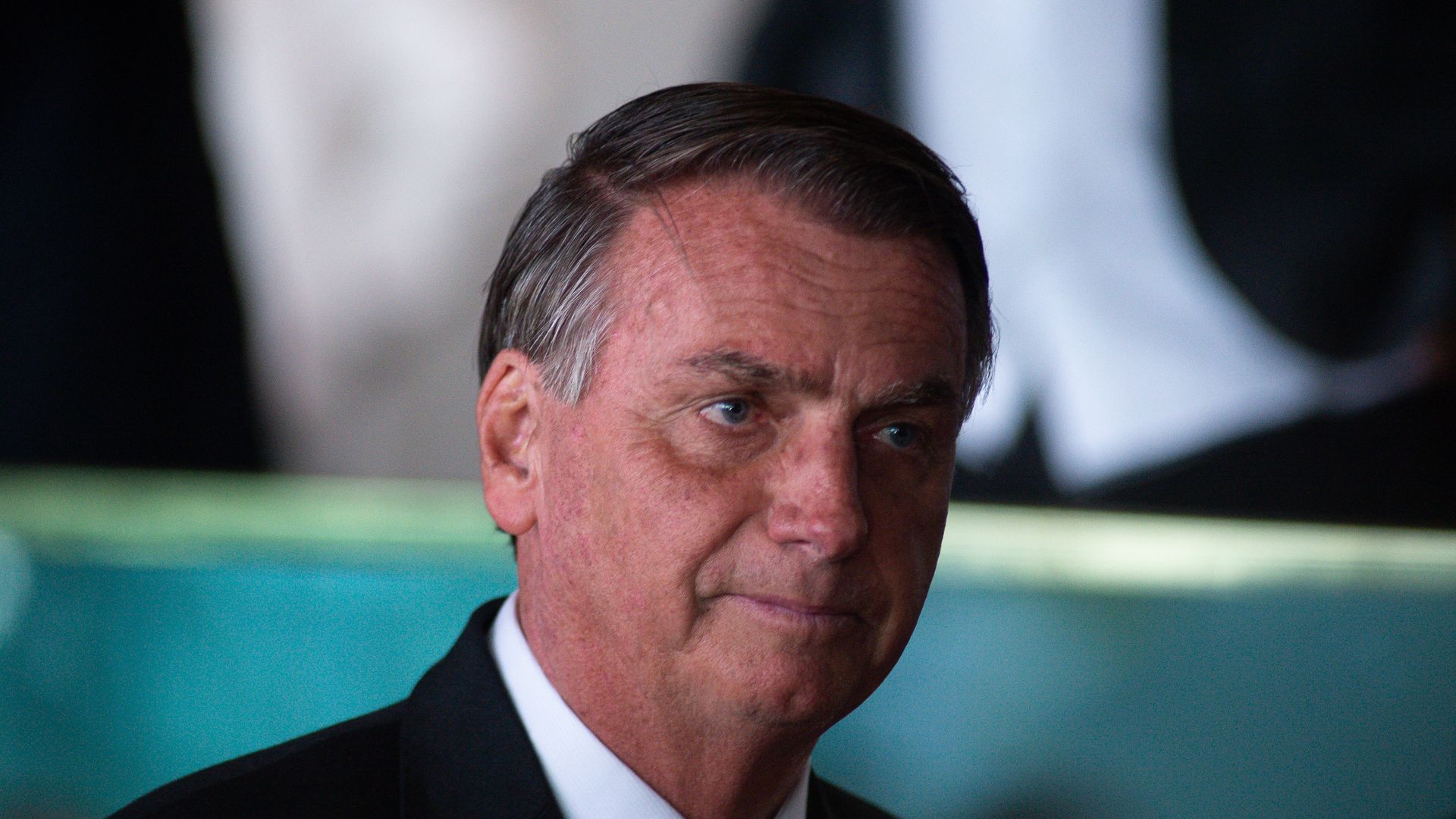 Some Democratic lawmakers are urging the Biden administration to eject former Brazilian President Jair Bolsonaro from the U.S. after a mob of his right-wing supporters stormed Brazil's National Congress and other government buildings on Sunday.
Driving the news: Bolsonaro, who lost to leftist rival Luiz Inácio Lula da Silva in the presidential election, flew to Florida two days before the end of his term on Jan. 1. Bolsonaro has criticized and denied involvement in the attack, which some are comparing to the Jan. 6, 2021, Capitol insurrection in the U.S.
What they're saying: "Nearly 2 years to the day the US Capitol was attacked by fascists, we see fascist movements abroad attempt to do the same in Brazil," Rep. Alexandria Ocasio-Cortez (D-N.Y.) tweeted. "We must stand in solidarity with [Lula's] democratically elected government. The US must cease granting refuge to Bolsonaro in Florida."
Rep. Ilhan Omar (D-Minn.) echoed her House colleague. "Two years ago our Capitol was attacked by fanatics, now we are watching it happen in Brazil," she tweeted. "Democracies around the world must stand united to condemn this attack on democracy. Bolsonaro should not be given refuge in Florida."
"Domestic terrorists and fascists cannot be allowed to use Trump's playbook to undermine democracy," Rep. Joaquin Castro (D-Texas) tweeted. "Bolsonaro must not be given refuge in Florida, where he's been hiding from accountability for his crimes."
In an appearance on CNN, he also called on the U.S. to extradite Bolsonaro to Brazil.
The big picture: President Biden and Vice President Kamala Harris have both condemned the attack, which saw protesters climb onto the Congress building's roof, smash glass windows and doors, and damage furniture.
Biden said in a statement Monday that he spoke with Lula over the phone and conveyed the U.S.'s "unwavering support" for Brazil's democracy and its people's free will.
It's unclear what type of visa Bolsonaro used to enter the U.S. At a press briefing Monday, State Department spokesperson Ned Price declined to comment on individual cases, but noted that anyone who enters the country on an A-1 visa — reserved for heads of state and other government officials — but is no longer engaged in official business must leave the U.S. within 30 days or apply for a change in immigration status.
"If an individual has no basis on which to be in the United States, an individual is subject to removal by the Department of Homeland Security," Price said.
Go deeper