Focus groups: Florida swing voters open to some GOP investigations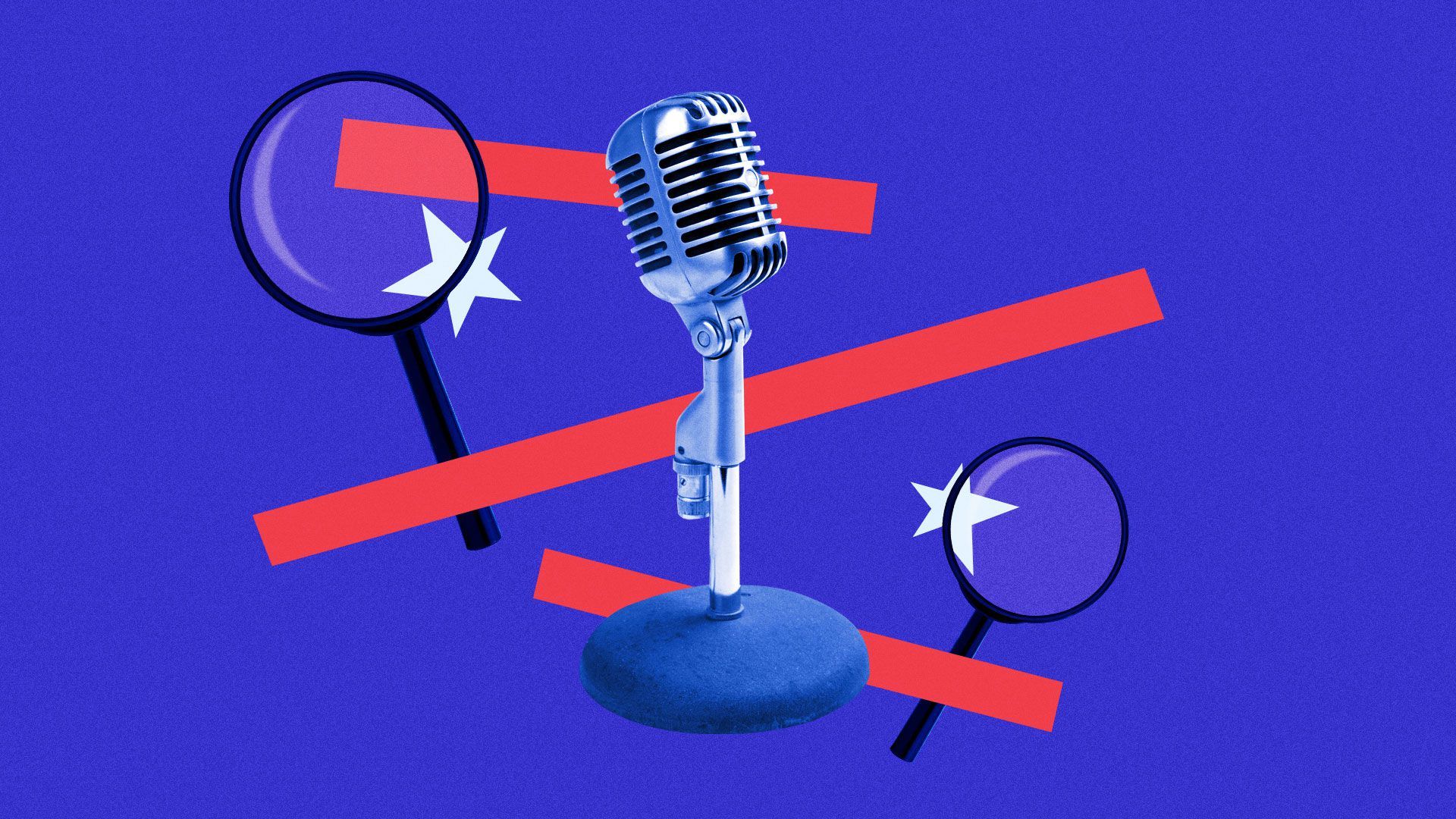 Florida swing voters were supportive of House Republicans' plans to investigate the FBI and Justice Department as well as the Biden administration's handling of the immigration crisis, in the latest Axios Engagious/Schlesinger focus groups.
Why it matters: The new GOP majority risks overreach if it pursues too broad of a political investigative agenda.
Focus-group participants expressed little appetite to go after Hunter Biden, Anthony Fauci, the U.S. withdrawal from Afghanistan or whether Twitter leaned left before Elon Musk's acquisition.
But they said they do see legitimacy in holding the administration accountable for the crisis at the southern border and applying extra scrutiny to law enforcement agencies given how much power they hold.
A majority of participants said the recent disclosure of classified documents in an office used by Biden after his vice presidency is a serious matter, but a majority said Trump's mishandling of classified documents was more serious.
Driving the news: These were among the key takeaways from two Engagious/Schlesinger online focus groups conducted Tuesday with 13 Floridians who voted for Donald Trump in 2016 but Joe Biden in 2020.
Six of the 13 are registered as Democrats, four as Republicans, and three as independents.
While a focus group is not a statistically significant sample like a poll, the responses show how some voters are thinking and talking about current events.
What they're saying: Most of these voters said most planned House GOP investigations they'd heard about would waste taxpayer dollars.
But 11 of the 13 participants support investigating the administration's immigration policies, saying they don't like the influx of undocumented immigrants into the U.S. and they'd like to see a more empowered Border Patrol given more funding.
"The policies that are in place right now, it's a mess. More people are coming in illegally. ... The fact of them being here could have been avoided altogether had we had stronger border laws," said William V. from Orlando.
Nine of the 13 want an investigation into the FBI and DOJ.
Jason G. of Delray cited the Steele dossier, Hunter Biden's laptop and the recent disclosure about the discovery of classified documents at Biden's post-vice presidential office space as concerns. "Clearly there's been some favoritism and weaponization of parts of those departments," he said. "And if so, they need to be rooted out and stamped out."
"I'm not a Trump man myself," said Steven L. "But it just seemed that they were going a little too hard and heavy on that as though they were being pressured to do it rather than that this is just a regular investigation."
Between the lines: Treatment of Trump isn't their only concern about law enforcement. Some want more accountability for bad police and revelations from body cameras.
What we're watching: When the panels were shown clips from Florida Gov. DeSantis' (R) inauguration speech in which he vowed never to "surrender to the woke mob," few swing voters felt the same way, with some confused and some unenthusiastic.
"I understand he's pandering to his base, but it's just a little bit too much," said Jason, 51, a registered Democrat from Palm Beach County who voted for DeSantis in 2022.
The bottom line: "To win over swing voters, Republicans would be wiser to investigate the border rather than the Bidens," said Rich Thau, president of Engagious, who moderated the focus groups. 
Go deeper