3 more atmospheric rivers to slam flood-hit California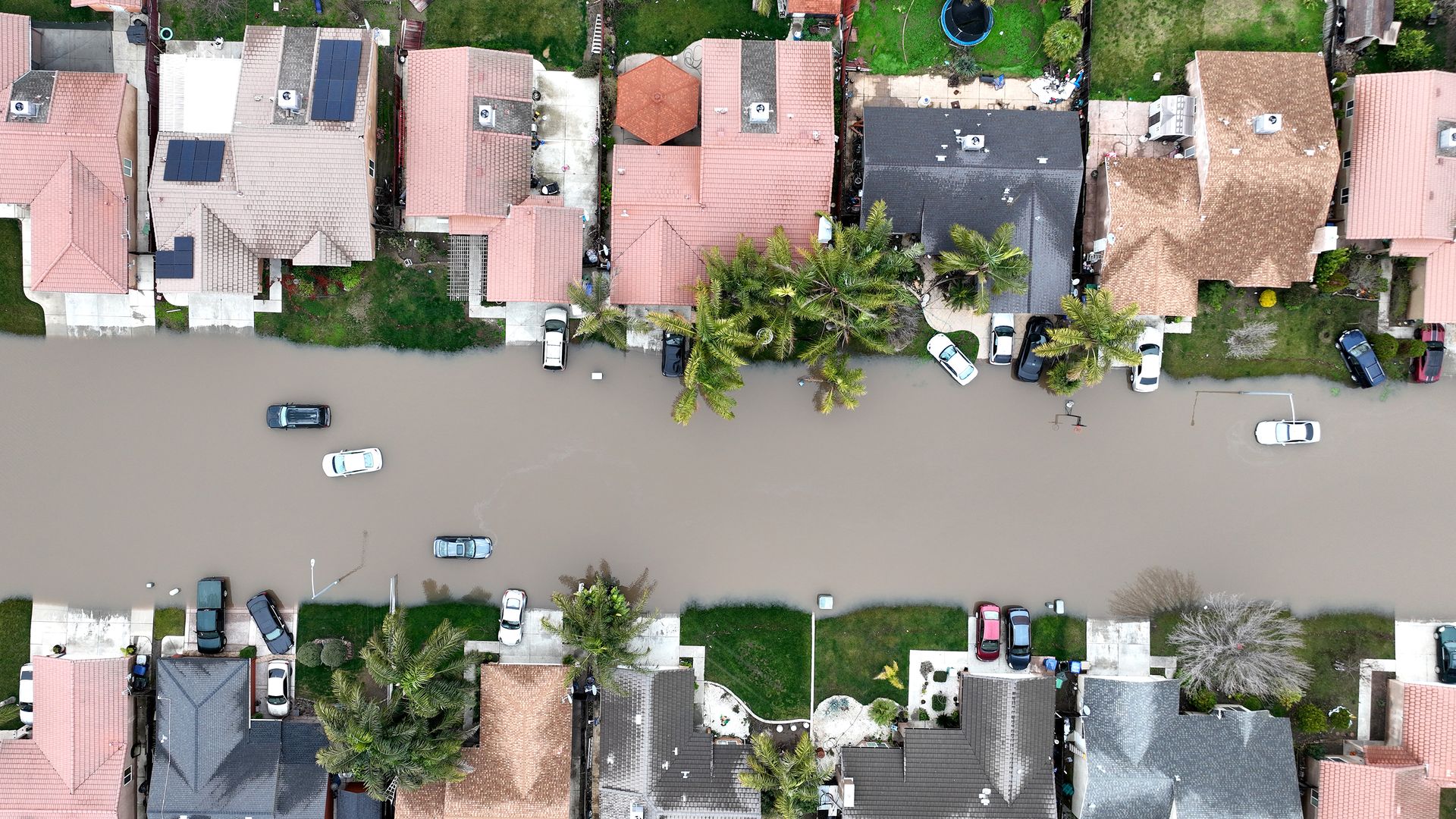 The death toll from California's relentless stream of extreme storm systems rose to 18 Wednesday, as the state's National Guard joined the search for a missing 5-year-old boy who was swept away in floodwaters.
The big picture: The latest in the barrage of atmospheric river events that have been unleashing heavy rains and destructive winds across the state was taking aim at the Pacific Northwest Wednesday, as flooding concerns remained in the storm-battered Bay Area ahead of the next major downpour there later this week.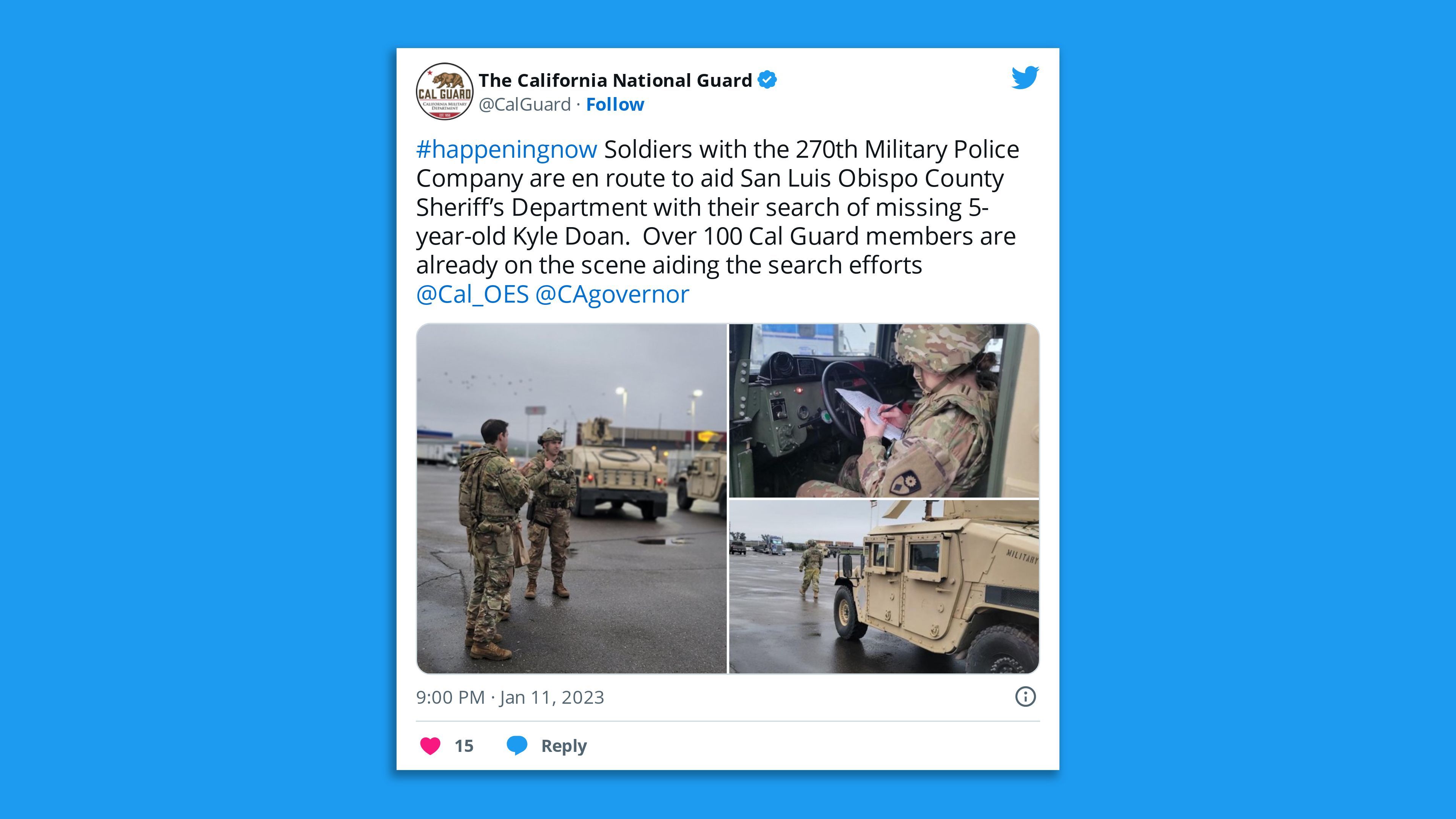 Authorities confirmed an 18th death from the storms on Wednesday after they found the body of a 43-year-old woman inside her submerged car in Forestville, the Sonoma County Sheriff's Office said.
Of note: Six atmospheric rivers had struck California since late last month and three more were expected over the next week, Gov. Gavin Newsom said Wednesday as he noted Californians were in the calm between the storms with "a few more difficult days ahead of us."
By the numbers: The storms that have forced thousands to evacuate and caused widespread destruction and power outages have dumped up to 20 inches of rain across California since the atmospheric river events began.
The NWS Weather Prediction Center said that as of Wednesday afternoon its offices in California had logged 955 reports of flooding, flash flooding or debris flow since Dec. 26 and over 10 feet of snow had been observed at the highest elevations of the Sierra Nevada.
Several cities had received more than half their annual normal precipitation in the past 16 days — including Oakland (69%), Santa Barbara (64%), Stockton (60%) and downtown San Francisco (59%).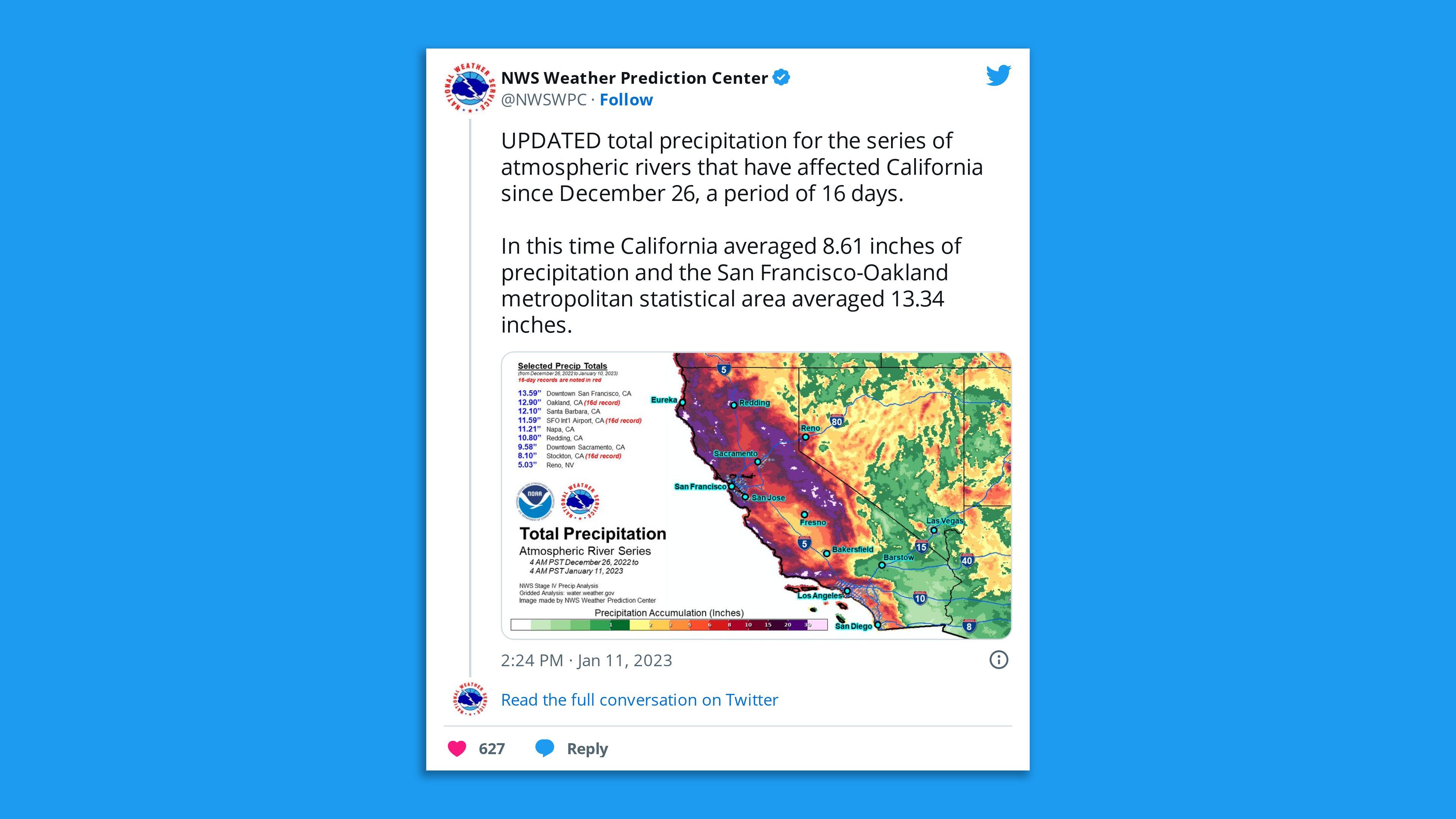 State of play: "The steady moist onshore flow and atmospheric river regime into the West Coast will continue on Thursday, especially in portions of saturated California," per the National Weather Service. "Heavy to excessive rainfall is expected from northern California to coastal areas of Oregon and Washington."
The threat of rain and flooding remained for the northern Bay Area into early Thursday, according to the local NWS office.
"Hydro concerns will continue," it added, noting more rain was expected for the Bay Area Friday into the weekend.
Meanwhile, an estimated 37,546 customers were without power in California early Thursday.
Context: Atmospheric river events are potent because narrow currents in the air can carry vast amounts of water vapor thousands of miles.
Axios' Andrew Freedman notes that climate change is adding even more moisture to atmospheric rivers — which enables them to dump higher rain and snow totals.
California is still in a historic, long-term drought, and this extreme weather event underscores what studies had shown — that climate change would bring dramatic swings from extremely dry to very wet conditions, and back again.
Editor's note: This article has been updated with additional details throughout.
Go deeper