Biden visits El Paso in first trip to southern border as president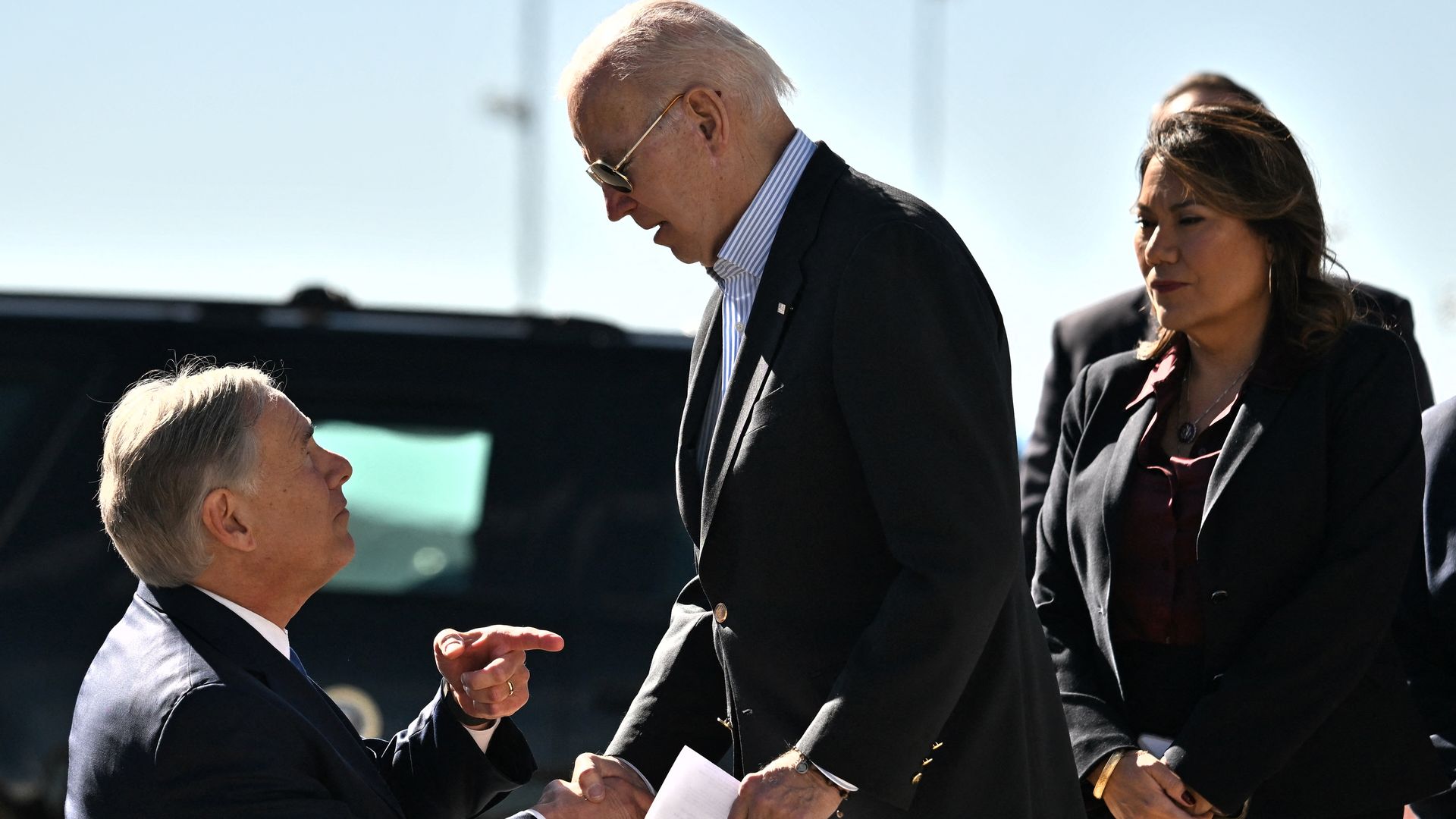 President Joe Biden arrived in El Paso, Texas, on Sunday as part of his first trip to the U.S.-Mexico border as president amid a major influx of migrants and asylum seekers arriving at the border.
Why it matters: Republicans, who made border security one of their top campaign issues in the 2022 midterms, have argued that Biden's lack of a visit is evidence the president is unserious about addressing illegal immigration across the southern border.
Biden, after announcing the El Paso visit, unveiled a new policy last week to curb illegal border crossings, telling migrants from Cuba, Nicaragua and Haiti in a rare public address dedicated to the border issue to "not just show up at the border," Axios' Stef Kight reports.
The big picture: During his visit, Biden met with local officials, faith leaders and non-governmental groups who've supported migrants fleeing political oppression and economic collapse in their home countries at the El Paso County Migrant Services Support Center.
"If I could wave the wand, what should I do?" Biden asked aid workers there, per a pool report.
Biden also inspected the Bridge of the Americas Port of Entry, the busiest port in El Paso, with Customs and Border Protection (CBP) officers, members of Congress, and local officials and law enforcement.
He was joined by Secretary of Homeland Security Alejandro Mayorkas, several Democratic members of Congress, El Paso Mayor Oscar Leeser and El Paso County Judge Ricardo Samaniego.
The other side: After the president departed Air Force One at El Paso International Airport, Biden briefly spoke to Texas Gov. Greg Abbott (R), whose office said Abbott gave Biden a letter containing five actions the governor would like the president to carry out to secure the border.
Among the steps mentioned in the letter was to continue enforcing the pandemic-era border policy called Title 42, which the Supreme Court last month allowed to remain in force as legal challenges against it unfold.
Abbott also demanded that Biden resume construction of a border wall along Texas' portion of the border.
What he's saying: Asked about the letter, Biden told reporters that he hadn't read it yet, according to a pool report.
Asked what he's learned from his border visit, he replied: "They need a lot of resources. We're going to get it for them."
Details: El Paso has been seeing a soaring number of migrants come through the border for several months, but the situation escalated last month when thousands of migrants and asylum seekers arrived, leaving shelters and city resources strapped.
Many migrants slept on the streets even as temperatures dipped below freezing.
Agents began detaining dozens of migrants sleeping downtown last week, according to a report by El Paso Matters.
Yes, but: Customs and Border Protection said in a statement that it has increased the number of agents patrolling in El Paso in response to "migrants evading apprehension" and that it was conducting increased patrols before the president announced his visit.
A report by NBC News captured agents detaining migrants in other areas of El Paso last week.
The El Paso Times reported dozens of migrants who had not yet been processed by the Border Patrol were detained this week.
What's next: After the El Paso visit, Biden headed to Mexico for the North American Leaders' Summit with Mexican President Andrés Manuel López Obrador and Canadian Prime Minister Justin Trudeau on Monday and Tuesday.
Go deeper ... Scoop: Biden's inflation-immigration pitch
Editor's note: This article has been updated to reflect Biden's departure for Mexico.
Go deeper