Hispanic lawmakers grill Mayorkas over new border policies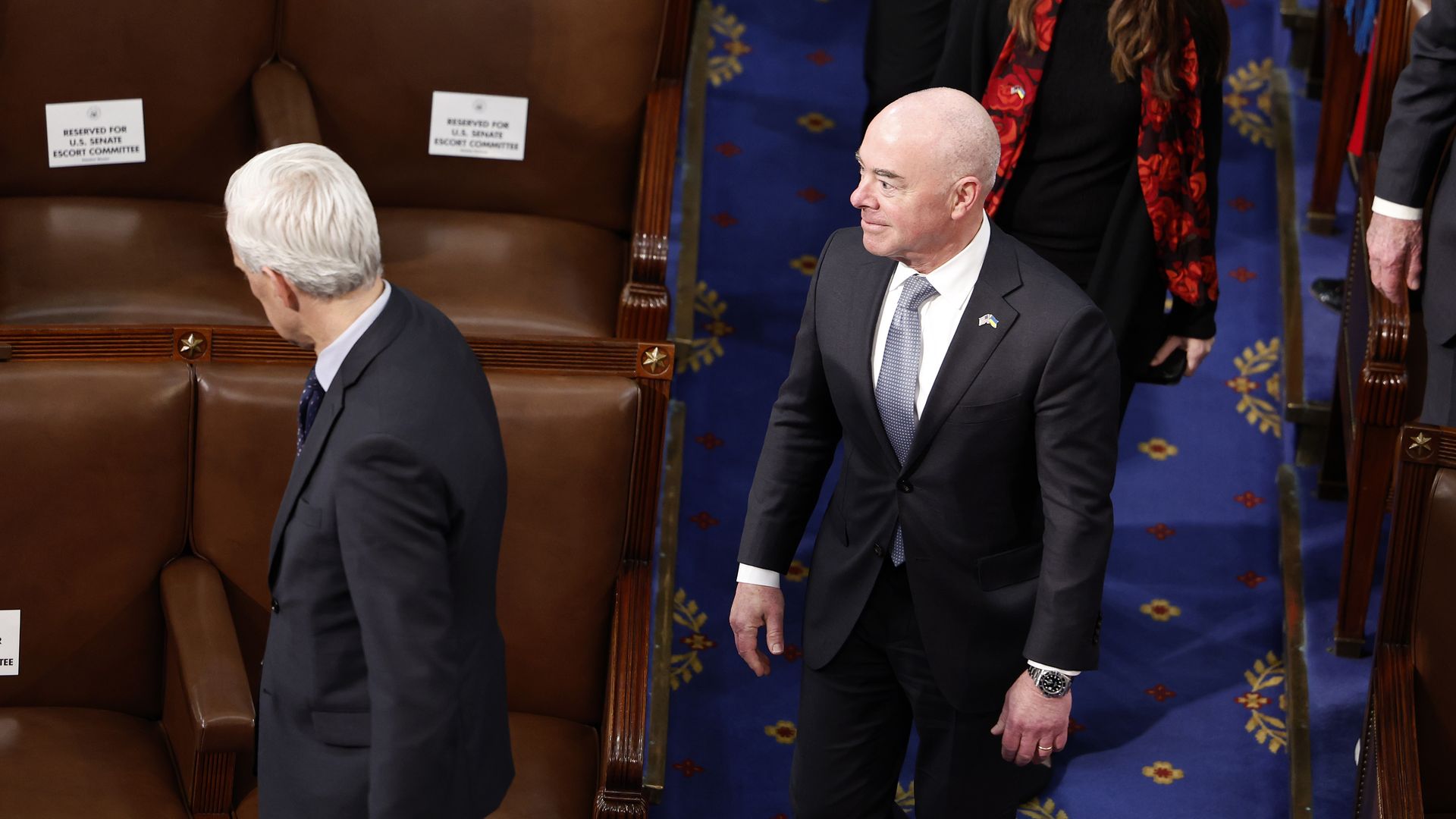 In an heated closed-door virtual meeting, leading Hispanic lawmakers pressed Homeland Security Secretary Alejandro Mayorkas to explain Biden's new immigration policies, with some angry lawmakers making comparisons to policies promulgated by Stephen Miller.
Why it matters: Republicans already plan to make immigration a focus and have threatened an impeachment inquiry into Mayorkas— if the House can move past the Speaker stalemate. Now, Mayorkas is once again facing heat from the left.
What we're hearing: Some members on the call felt blindsided by the policies announced by the president and the secretary on Thursday, two Congressional Hispanic Caucus members told Axios.
There was particular concern about the proposed rule, which would potentially bar from asylum migrants who do not first seek legal pathways to the U.S. or apply for protection in a country they transited through to get to the U.S.
Comparisons to the Trump administration — and specifically Stephen Miller policies— were raised, the sources said.
Still, some border legislators were more supportive of the administration.
Stephen Miller took to Twitter on Thursday to criticize the administration over the new policies, drawing attention to the 30,000 a month who could be granted entry to the U.S. using parole.
What they're saying: Several Democrats have already been outspoken about their disappointment in the policy announcements.
In the meeting, Sen. Bob Menendez (D-N.J.), the powerful chair of the Senate Foreign Relations Committee, was particularly critical of the administration's approach and indicated that he would continue to demand changes.
Menendez in a statement called the expanded use of Title 42 a "disastrous and inhumane relic of the Trump Administration's racist immigration agenda" — an "affront" to solving the border crisis.
He joined Democratic Sens. Ben Ray Luján (N.M.), Alex Padilla (Calif.) and Cory Booker (N.J.) in a separate statement: "we are deeply disappointed by the Biden Administration's decision to expand the use of Title 42."
The senators added their concern that the so-called transit ban regulation would "disregard our obligations under international law by banning families from seeking asylum at the border," likely "stranding migrants fleeing persecution and torture in countries unable to protect them."
The bottom line: Border policy continues to be a near-impossible political needle to thread.
Go deeper