North Korea's Kim calls for "exponential increase" of nuke arsenal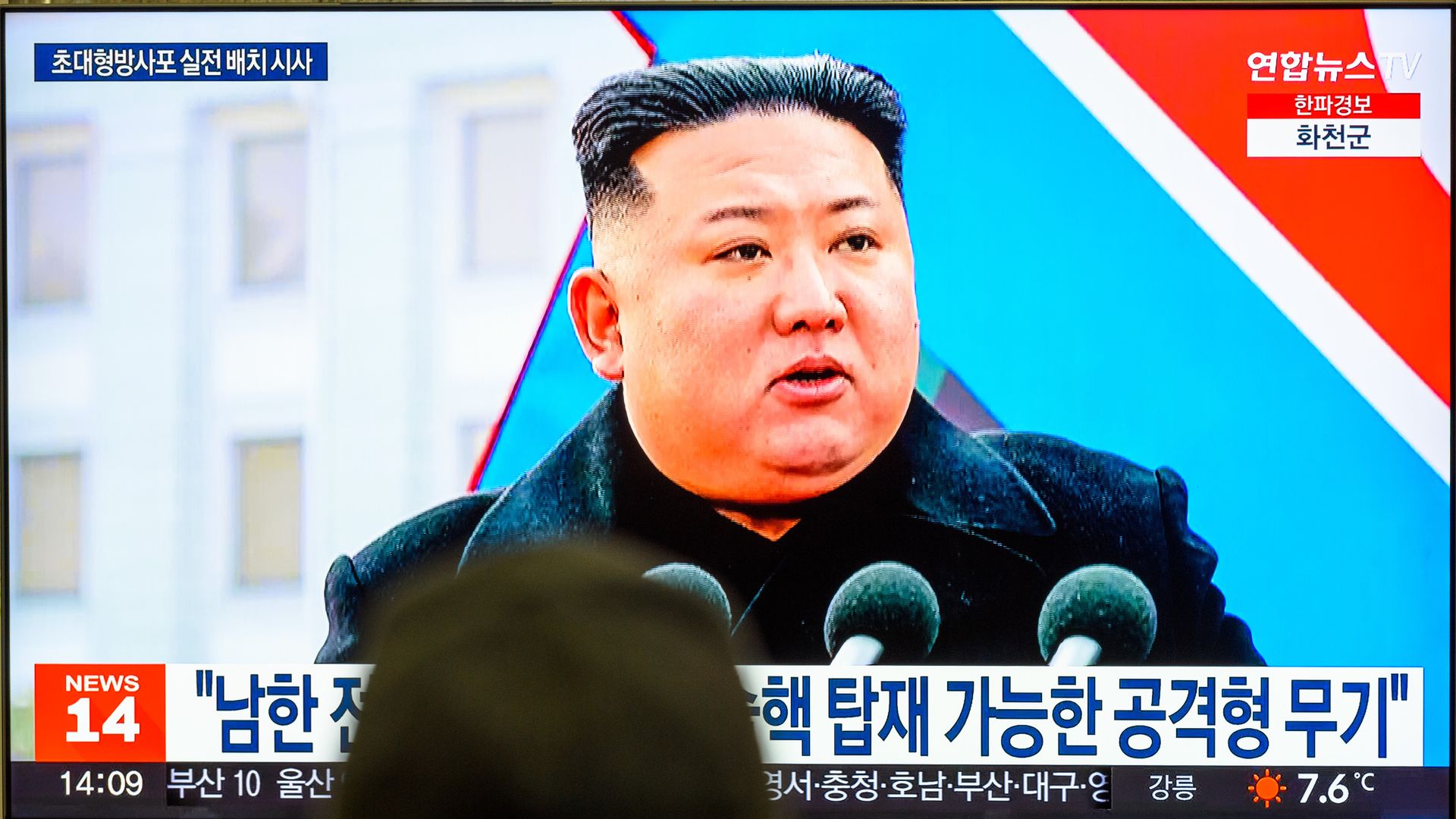 North Korean leader Kim Jong-un called for "exponential" growth of the country's nuclear arsenal in a recent ruling party meeting, per the Associated Press, citing state media reports Sunday.
Why it matters: Kim's remarks underscore his intent to push for more nuclear production and potentially run more weapons tests, which took place at an unprecedented rate last year.
Details: Kim called for mass production of short-range nuclear missiles and ordered the development of a more powerful intercontinental ballistic missile during a multi-day meeting of the country's ruling Workers' Party, per AP.
Per AP, experts say Kim's push for more weapons production indicates a desire to reinforce his negotiating power and help him "win greater outside concessions." He has previously called for boosting the arsenal to deal with the United States, AP reports.
"They are now keen on isolating and stifling (North Korea), unprecedented in human history," Kim said at the meeting, AP reports. "The prevailing situation calls for making redoubled efforts to overwhelmingly beef up the military muscle."
Zoom in: The North Korean leader said at the meeting that South Korea has become the North's "undoubted enemy" under its new president, Yoon Suk Yeol, according to the New York Times.
Kim cited Yoon's government, which has had a tough stance on the North, as an impetus for the "mass-produc​tion of tactical nuclear weapons​" and "exponential increase of the country's nuclear arsenal​," according to the Times.
North Korea will "respond with nuke for nuke, and an all-out confrontation for an all-out confrontation, in order to deal with the enemy's rash acts and reckless moves," Kim said to the ruling party, per the Times.
The other side: The South's Defense Ministry warned Sunday that Kim's regime "will meet its end" if it tries to deploy nuclear weapons, per The Times. "It must realize that the only way to improve the lives of its people is through denuclearization," the ministry added.
Context: North Korea has been testing more missiles than ever before in recent years, Axios' Dave Lawler writes. The amount of tests has been growing exponentially since 1984.
Experts told Axios that Kim has increased the amount of weapons tests in order to push the United States to set an agenda on North Korea, even though President Biden would rather focus on China, Ukraine and Russia.
More from Axios:
Kim Jong-Un's daughter makes second public appearance
North Korea's military claims missile tests were practice for attack
Kim Jong-Un reveals daughter during a ballistic missile launch
North Korea test-fires missile with range to strike U.S. mainland, Japan says
Go deeper