What we know about the Club Q shooting that killed 5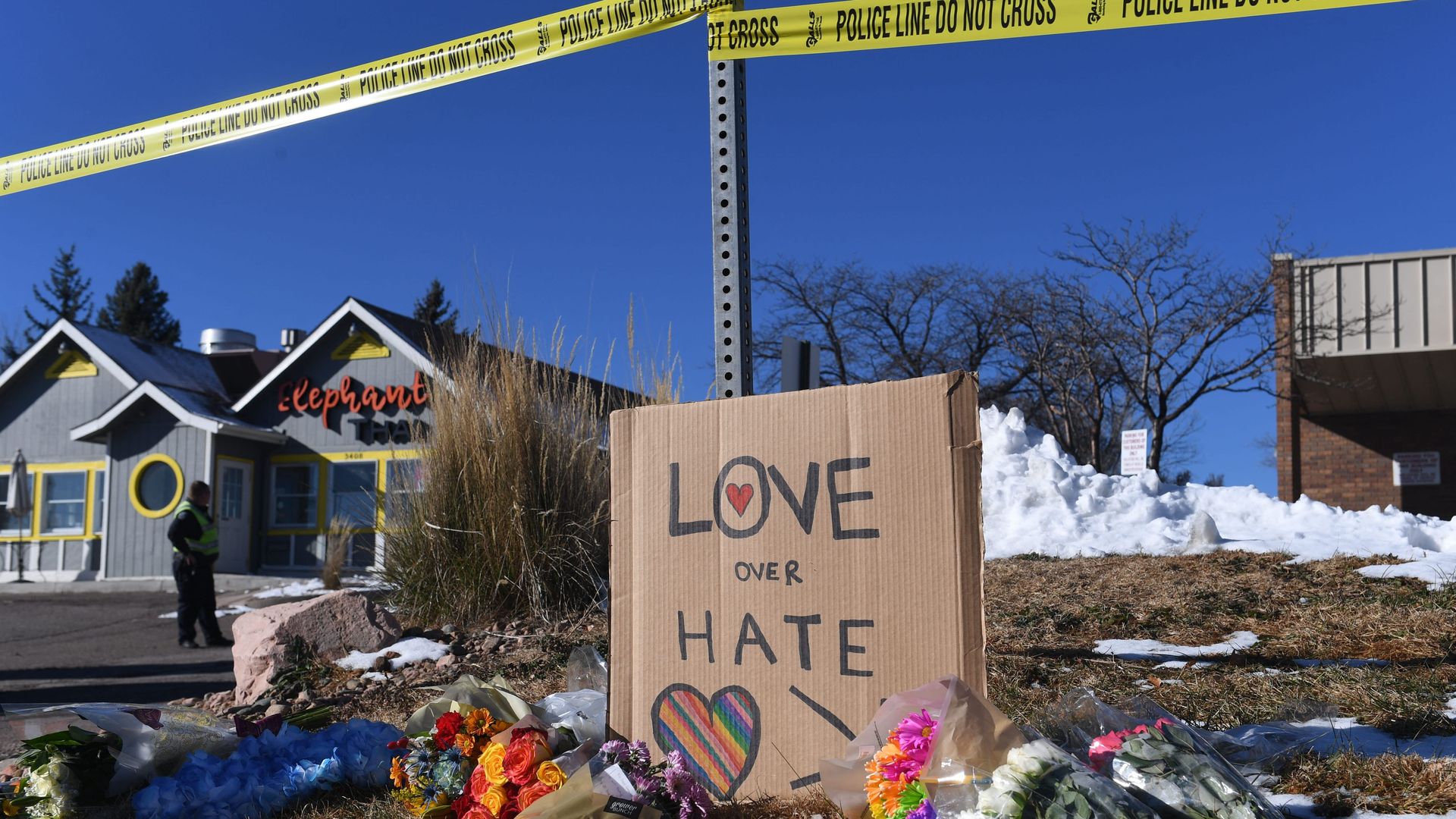 Police have named a suspect in the Saturday night shooting at an LGBTQ nightclub in Colorado Springs that killed five people.
The big picture: Police said Monday 18 people were injured in the shooting, 17 of whom suffered gunshot wounds. The suspect in the deadly shooting is facing multiple murder and hate crime charges, according to Max D'Onofrio, a city spokesperson.
"We know many more community members were present at Club Q during the shooting, who may be victims with no visible injuries," the Colorado Springs Police Department said online.
Police and city officials initially said Sunday 25 people had been wounded.
Zoom in: Law enforcement said the shooter used an AR-15-style rifle in Club Q.
Colorado Springs Mayor John Suthers told the Washington Post Monday that the suspect's actions appear to have "the trappings of" a hate crime, but underscored that the motive remains unknown.
Authorities said two patrons tackled the shooter, including U.S. Army veteran Richard Fierro, who hit the suspect with his own handgun.
Suthers told AP the situation "could have been exponentially more tragic" if Fierro hadn't done that.
For the record: Police identified the alleged shooter as Anderson Lee Aldrich, 22. They were also wounded during the shooting, police said.
Aldrich was released from a local hospital on Tuesday, when public defendants said in a court filing that the accused is non-binary and uses they/them pronouns.
In June 2021, Aldrich had another run-in with law enforcement after they allegedly threatened his mother with a homemade bomb, weapons and ammunition, AP reported.
However, no records indicate that prosecutors moved forward with charges against Aldrich at the time, and neither police nor relatives tried to trigger Colorado's red flag law, which would have enabled Aldrich's weapons and ammunition to be seized, per AP.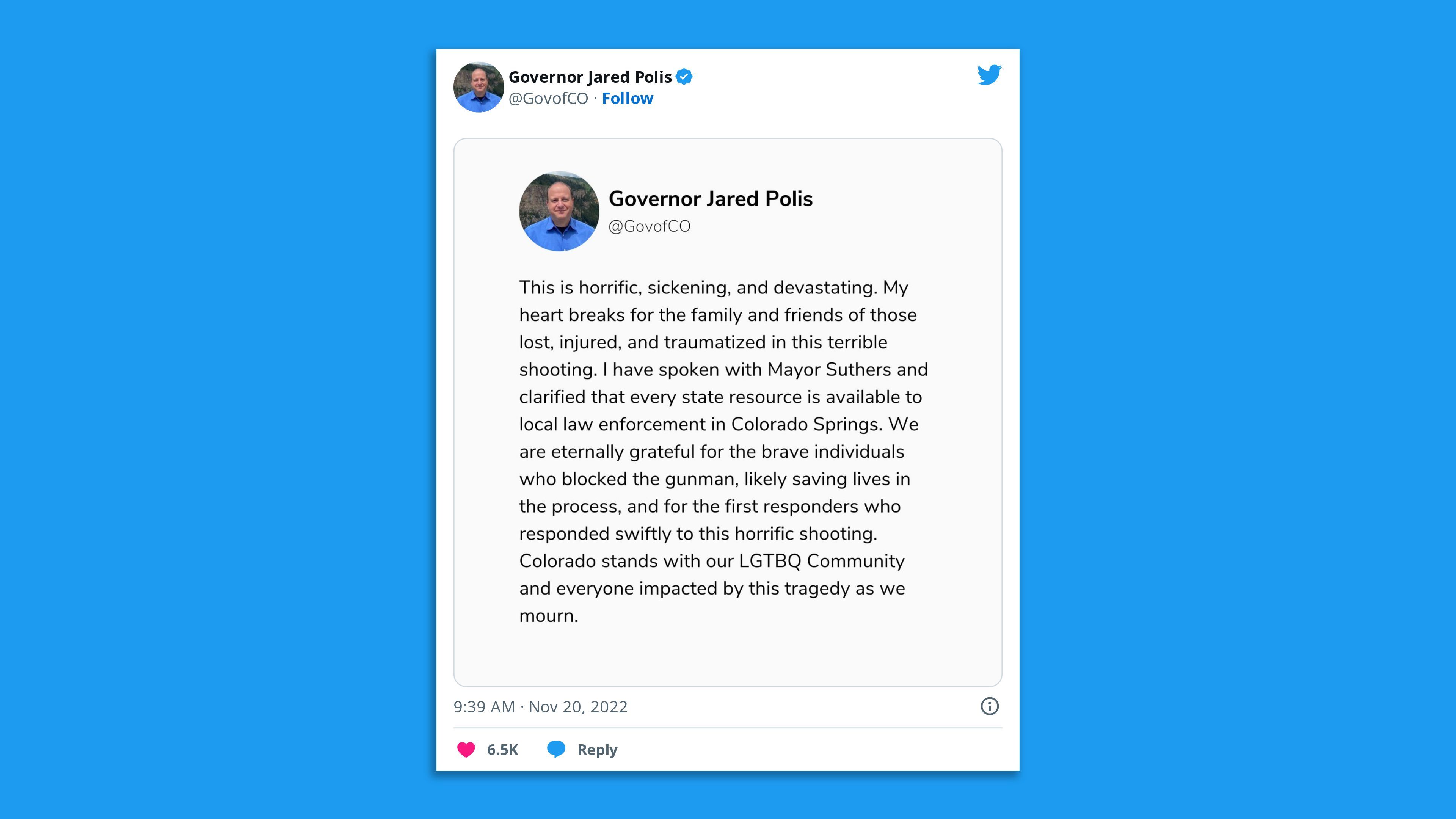 Of note: Colorado Gov. Polis said in a statement Sunday night that he's ordered flags on public buildings statewide be flown at half-staff from sunrise Monday until sunset on Nov. 26 to "honor and remember the victims of the horrific shooting at Club Q." A vigil was held for the victims on Sunday.
Zoom in: Club Q in a Facebook post thanked the "quick reactions of heroic customers that subdued the gunman and ended this hate attack."
The first police officers arrived on the scene within three minutes of being dispatched and apprehended the suspect two minutes later, police said at a briefing Sunday.
The shooter entered Club Q and "immediately began shooting at people inside," Colorado Springs Police Department Chief Adrian Vasquez said.
Vasquez said the suspect used a long rifle and law enforcement recovered at least two firearms at the scene.
What they're saying: "The club was a place of safety and belonging and community, and it was attacked.  We don't know everything but we don't have to to see a pattern," Transportation Secretary Pete Buttigieg, one of the highest-ranking out LGBTQ officials in the U.S., told Axios' Monica Eng in Chicago Monday.
"I don't think you can separate the pattern of physical violence against LGBTQ Americans, from the pattern of leaders or would-be leaders singling out LGBTQ+ Americans for hate or fear. Those words have consequences."
"And in this case ... for example, trans high schoolers. They're not a threat to anybody. But this kind of rhetoric is a clear and present threat to them."
President Biden said in a statement Sunday: "Places that are supposed to be safe spaces of acceptance and celebration should never be turned into places of terror and violence. Yet it happens far too often. We must drive out the inequities that contribute to violence against LGBTQI+ people."
House Speaker Nancy Pelosi tweeted that the shooting occurred on Transgender Day of Remembrance, adding: "The horrific shooting at Club Q is a call to mourn victims, thank heroic responders, and take more actions to disarm hate and end gun violence."
Zoom out: 49 people were killed in 2016 at Pulse Nightclub, an LGBTQ venue in Orlando, Florida. The shooter claimed affiliation with ISIS.
Editor's note: This article has been updated with new details throughout.
Go deeper