Veteran hailed a hero in Colorado shooting says he did what he was trained to do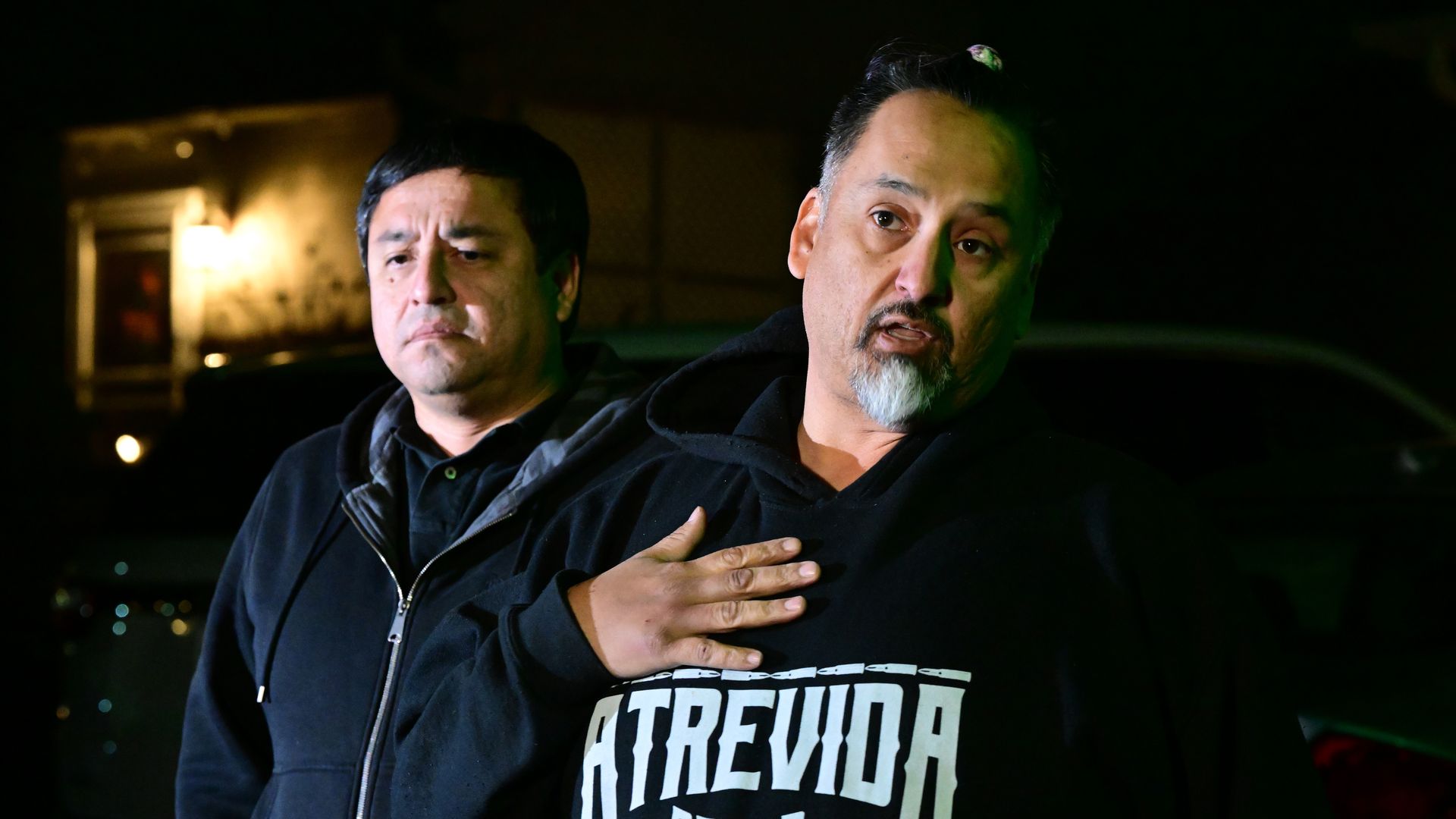 A U.S. Army veteran who co-owns a Colorado brewery popular among Mexican Americans around the country is being hailed as a hero for helping subdue the suspect in last weekend's mass shooting at a Colorado Springs LGBTQ club.
Driving the news: Richard Fierro was one of two patrons praised by authorities for disarming the suspect at Club Q after five people were killed and 17 others were left with gunshot wounds. Fierro told reporters a passing drag performer stomped on the gunman's face at his request.
The latest: The League of United Latin American Citizens, the oldest Latino civil rights organization, on Tuesday recognized Fierro with its presidential medal and $5,000 for his actions during the shooting.
"Rich Fierro protected his family first and without hesitation leaped into the breach to place his own body between them and those enemies who would do us harm," LULAC President Domingo Garcia said in a statement.
"Throughout our modern history, this is the price Latinos heroes have paid for our nation's freedoms," he added.
What they're saying: Authorities said Fierro's actions likely prevented further deaths.
Colorado Springs Mayor John Suthers said he had "never encountered a person who had engaged in such heroic actions who was so humble about it."
Yes, but: Fierro told reporters outside his Colorado Springs home Monday night he tackled the suspect because "that is what I was trained to do."
His four tours in Iraq and Afghanistan had prepared him for it and he got into "combat mode," Fierro said.
"I need to save my family. And that family... was everybody in that room," he said.
The big picture: The Fierro family told reporters they were at Club Q with their daughter and friends to celebrate a friend's birthday.
"There are five people I could not help, one of which was family to me," Fierro said. "I feel no joy. That guy is still alive ... and my family is not."
Of note: Activists, artists, and scholars have taken to social media, urging fans to purchase merchandise from the brewery's website in support of the Fierro family.
Flashback: Axios Latino featured Jessica Fierro in 2021 as one of the nation's few Latina brewery owners.
She told Axios that her husband, co-owner of the Atrevida Beer Company in Colorado Springs, was a motivator in helping her turn a passion for brewing craft beer into a business.
Atrevida means "daring" or "brave" in Spanish.
The intrigue: Atrevida's slogan is "Diversity, It's on tap!" The Fierros' Dolores Huerta Mexican Lager, named after the Mexican American civil rights icon, recently won a best lager award at a Denver brew fest.
Editor's note: This article was corrected to note that the attack took place at Club Q, not Q Club. It has also been updated with a statement from LULAC.
Go deeper