Updated Aug 5, 2022 -

World
Pelosi says China "will not isolate Taiwan" as drills ramp up near island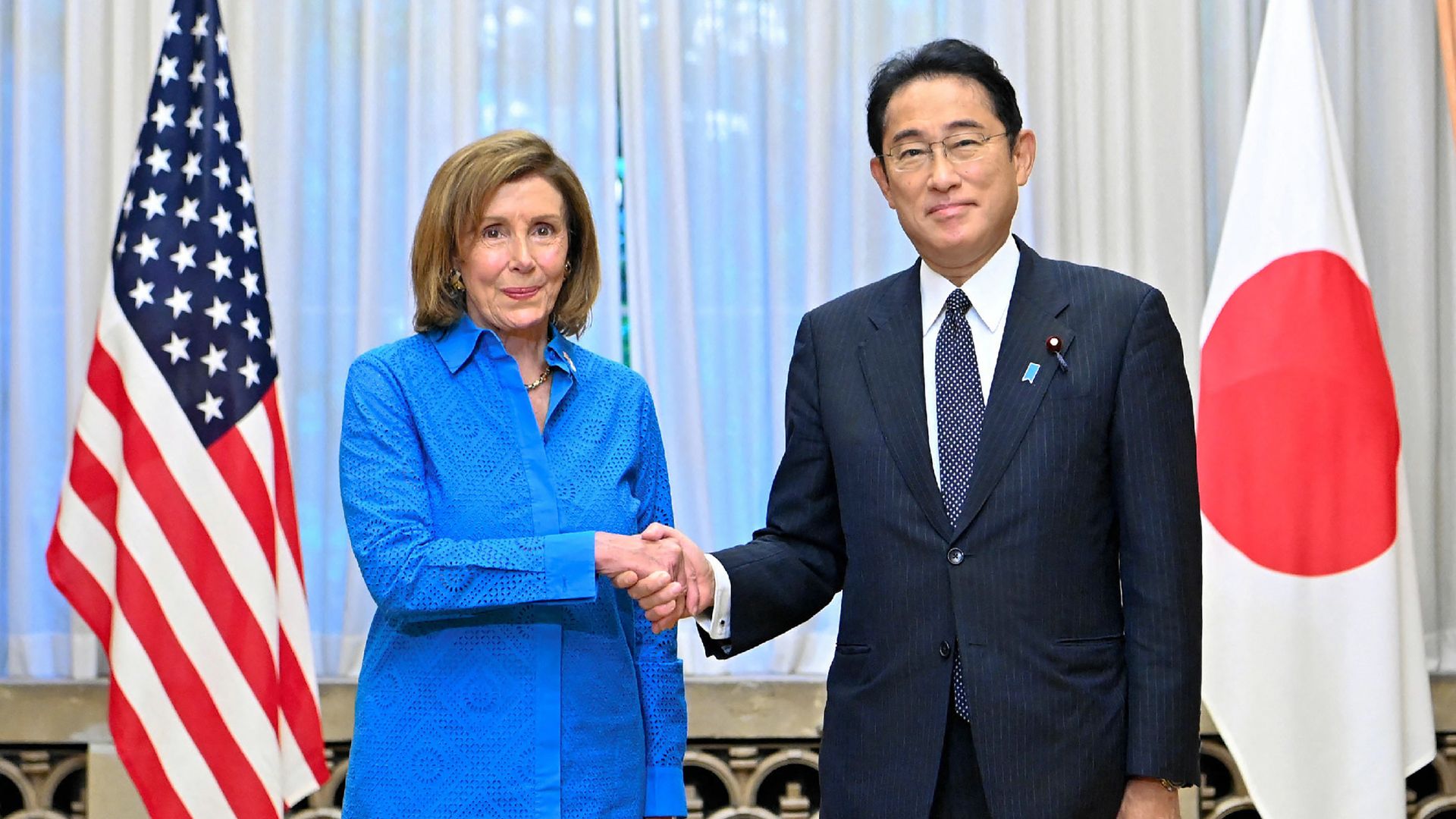 House Speaker Nancy Pelosi on Friday responded to China's live military drills around Taiwan by saying that Beijing won't succeed in isolating the self-governing island nor stop U.S. officials from visiting Taipei.
Driving the news: Pelosi made the comments after meeting with Japanese Prime Minister Fumio Kishida in Tokyo as she wrapped up this week's congressional delegation trip to Asia that included a visit to Taiwan, which triggered the drills that Beijing plans to last for several days.
Pelosi denounced China's military for firing missiles into the sea near Taiwan on Thursday, demanding it "immediately" stop the launches as Japanese officials estimated that five ballistic missiles landed in Japan's exclusive economic zone.
There were no immediate reports of China's military firing missiles on Friday, but Taiwan's Defense Ministry said multiple Chinese warships and fighter aircraft were "participating in drills around Taiwan Strait and have crossed the median line."
What they're saying: Pelosi said Beijing had tried to isolate Taipei with action such as opposing the World Health Organization from granting recognition to Taiwan.
"The Chinese made their strikes, probably using our visit as an excuse," she said.
"They may try to keep Taiwan from visiting or participating in other places but they will not isolate Taiwan," Pelosi said. "They are not doing our traveling schedule, the Chinese government is not doing that."
Of note: Secretary of State Antony Blinken raised concern on the sidelines of the Association of Southeast Asian Nations (ASEAN) summit in Cambodia that Beijing might be trying to change the status quo in the Taiwan Strait.
""We and countries around the world believe that escalation serves no one and could have unintended consequences that serve no one's interests, including ASEAN members, and including China," Blinken said.
Flashback: China's foreign minister said the day before Thursday's live ammunition drills near Taiwan that Pelosi's Taipei visit was a "farce" and those "who offend China will surely be punished."
Context: The ruling Chinese Communist Party considers the democratically run island as a breakaway province.
Editor's note: This article has been updated with new details throughout.
Go deeper