25 dead in Kentucky after catastrophic flooding in Appalachia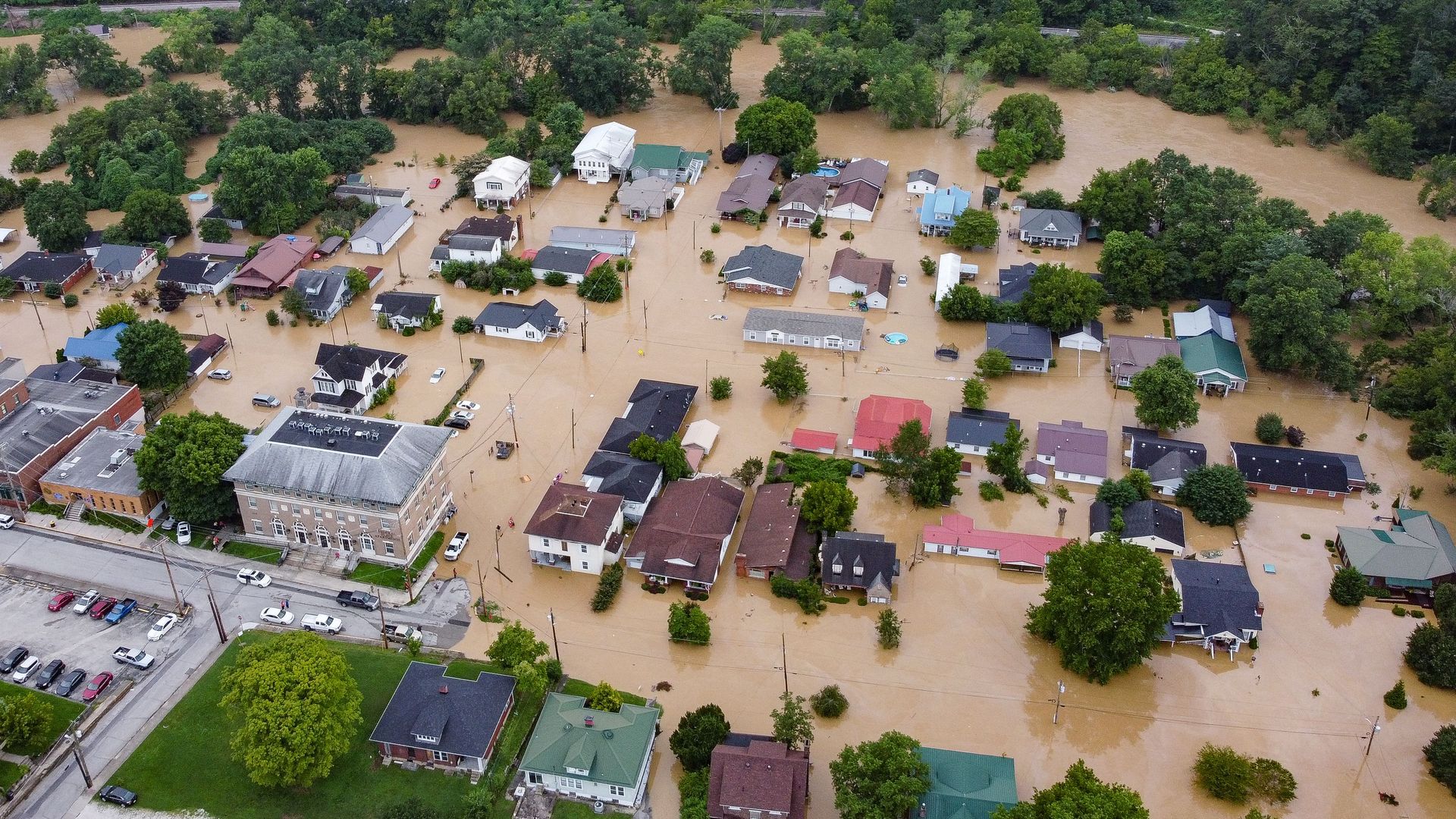 More heavy rains are forecast after catastrophic flooding across Appalachia left at least 25 people dead in Kentucky as of Saturday afternoon.
The latest: The death toll "is likely to increase," Kentucky Gov. Andy Beshear said at a press conference Saturday. Search and rescue teams could be recovering bodies for weeks to come, he added.
Beshear said the state is still trying to get an accurate count of missing people, but communication has been difficult. People trying to report missing loved ones should call the Kentucky State Police, he said.
More rain has been forecasted for early next week, which could impact rescue efforts, per the New York Times.
There have been more than 5,000 donations to the state's relief fund, totaling more than $680,000, he said. The first expenditure from the fund will pay for the funerals of those lost in the flooding, Beshear said.
What he's saying: "To everyone in Eastern Kentucky, we are going to be there for you today and in the weeks, months and years ahead. We will get through this together," Beshear tweeted earlier Saturday.
State of play: Search and rescue officials located the bodies of four children in Kentucky, Beshear said at a conference Friday afternoon. At least six children were among those killed in the flooding.
Beshear said the state received new information on other deaths but did not have an official death toll update, as Kentucky's Department for Public Health was still in the process of verifying them.
"As governor, I've seen a lot. I've certainly done three-plus flights and/or tours of flooded areas. This is by far the worst," Beshear said.
"There's still a lot of people out there. Still a lot of people unaccounted for, and we're going to do our best to find them all," he added.
Threat level: Homes, businesses and roads have been inundated by floodwaters in eastern Kentucky. Beshear said Thursday that he expected the death toll to "get a lot higher."
Las Vegas and parts of western Virginia and southern West Virginia also faced significant flooding.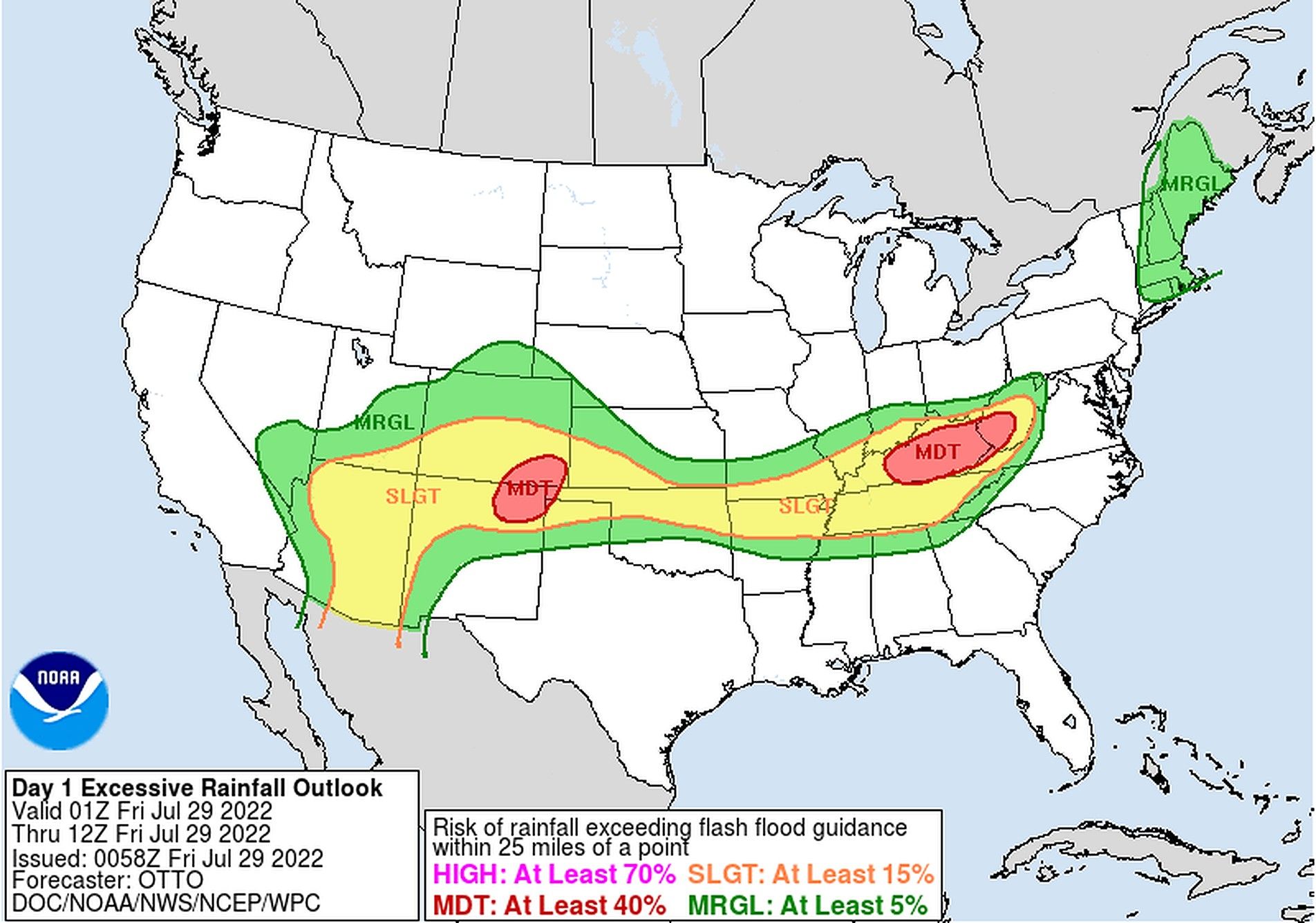 The governors of Kentucky, Virginia and West Virginia have declared states of emergency due to the extreme weather events. Beshear asked President Biden on Thursday for federal assistance.
The National Weather Service issued flash-flood warnings for areas near San Bernardino County, California; Clark County, Nevada; and Mohave County, Arizona, on Friday morning.
Meanwhile, Las Vegas Fire Rescue tweeted that crews were "responding to a variety of calls" overnight due to flooding.
Local reporters shared video online showing parts of the Las Vegas Strip inundated with floodwaters, including Planet Hollywood, as severe thunderstorms swept through the area.
By the numbers: More than 21,300 customers were without power in Kentucky on Friday afternoon, according to the national utility tracker poweroutage.us.
What they're saying: "Tonight we need your continued prayers for the people of Eastern Kentucky," Beshear said at a briefing on Thursday evening. "This is an ongoing natural disaster, with more rain expected tonight that could worsen the situation." 
Beshear noted there were "a lot of people that need help that we can't get to at the moment" due to dangerous conditions, but, he added, "we will."
The big picture: St. Louis had its heaviest 24-hour rainfall on Tuesday, and much of the rain fell in just six hours.
In Kentucky, similar torrential downpours hit, in both instances turning typically calm creeks into raging rivers. Both flash floods resulted from thunderstorms repetitively forming in and striking the same area, known to meteorologists as "training."
More heavy rain resulted in additional flash flooding on Thursday in St. Louis, resulting in road closures and evacuations in the city. Six children were among several people rescued from rising floodwaters.
Driving the news: The flooding has resulted from a stalled-out frontal boundary. Extremely humid, warm air lies to the south of it, with cooler and drier air to the north.
Jet stream disturbances and low pressure areas have been rippling along this front, like waves on a pond, causing thunderstorms to bubble up and dump extraordinary amounts of rain.
Context: Climate change is upping the odds of heavy precipitation events as well as their intensity in these regions, along with much of the world, as warm air holds more moisture and warmer oceans add more water vapor to the atmosphere as well.
What to watch: "Continued heavy rain and thunderstorms will exacerbate flooding and cause flash flooding in the next few days across parts of the Ohio and Tennessee Valleys into the central Appalachians," the National Weather Service forecast on Friday morning.
"Daily rounds of heavy downpours could cause flash flooding across portions of Arizona to the Four-corners region for the next few days," the NWS said.
There's a level 3 of 4 risk for excessive rainfall in Virginia and West Virginia on Friday, according to NOAA.
Editor's note: This article has been updated with new details throughout.
Go deeper