Liz Cheney: GOP can't be loyal to both Trump and the Constitution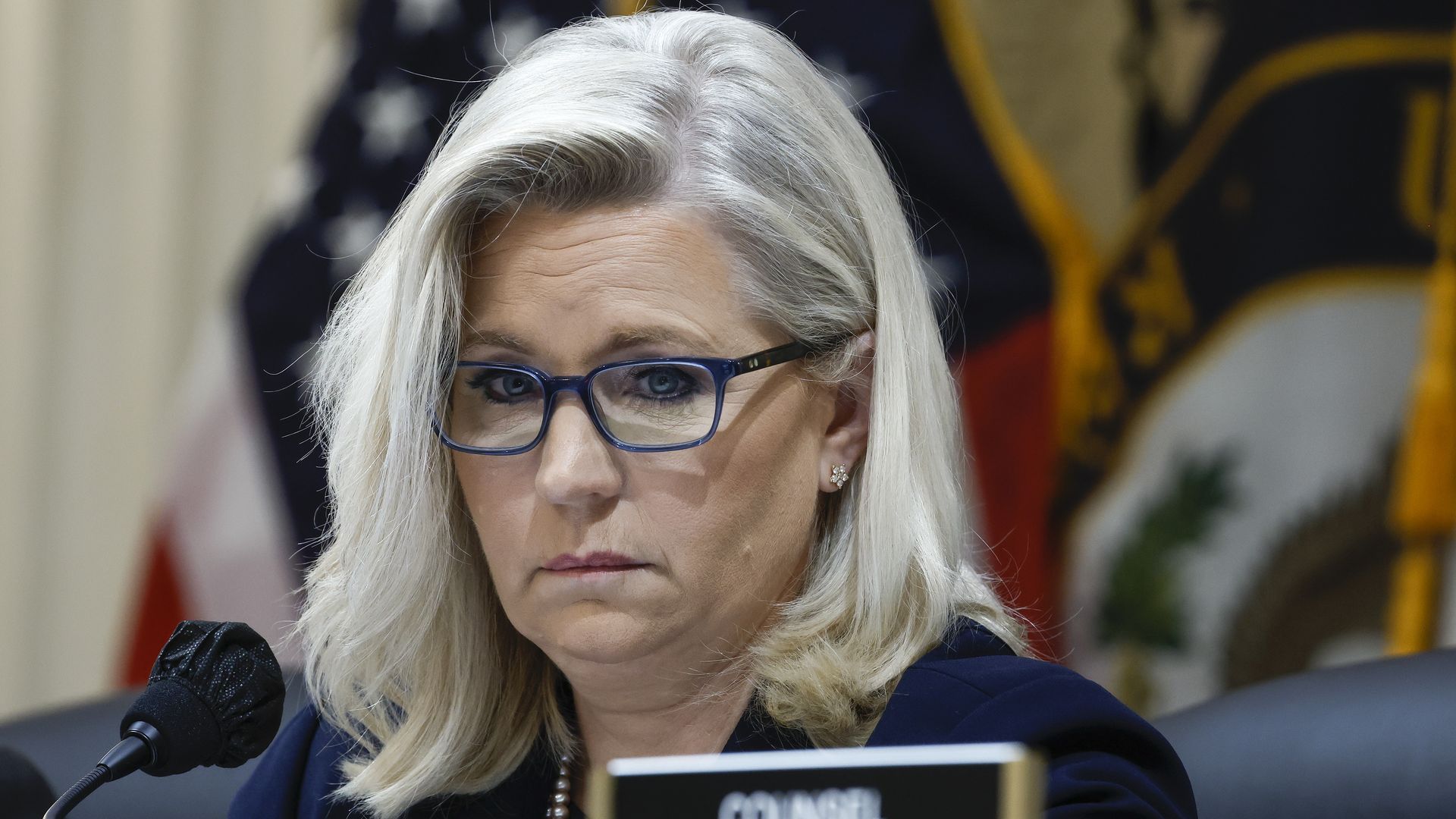 Rep. Liz Cheney (R-Wyo.) said Wednesday it's become clear from what the Jan. 6 select committee has learned that former President Trump's alleged efforts to overturn the 2020 election were "more chilling and threatening than we imagined."
What she's saying: The U.S. faces a domestic threat it's never faced before — a former president who's "attempting to unravel the foundations of our Constitutional Republic ... aided by Republican leaders and elected officials," the vice chair of the House panel investigating the Capitol riot said at the Ronald Reagan Library in California.
In doing so, they had "made themselves willing hostages to this dangerous and irrational man," Cheney said.
"It is undeniable — the Republican Party cannot be both loyal to Donald Trump and loyal to the Constitution."
— Excerpt from Rep. Liz Cheney's speech
The big picture: The Wyoming Republican Party voted last November to no longer recognize Cheney as a member of the GOP — months after censuring the daughter of former George W. Bush administration Vice President Dick Cheney for voting to impeach Trump for inciting insurrection against the U.S. government.
Cheney is polling behind her Trump-backed primary challenger for the state's at-large House seat, but she said in her Wednesday night speech that neither she nor other Republicans should ignore "the threat posed by Donald Trump."
"No party and no people and no nation can defend and perpetuate a constitutional republic if they accept a leader who's gone to war with the rule of law, with the democratic process, or with the peaceful transition of power, with the Constitution itself," Cheney said.
"We must not elect people who are more loyal to themselves or to power than they are to our Constitution," she said.
Worth noting: Cheney praised Cassidy Hutchinson, a former top aide to Trump White House Chief of Staff Mark Meadows, for her testimony Tuesday before the Jan. 6 panel, during which she said the former president lunged at his security detail when he learned he would not be taken to the Capitol on Jan. 6, 2021.
"Her superiors — men many years older — are hiding behind executive privilege, anonymity and intimidation," Cheney said. "Her bravery and patriotism were awesome to behold. Little girls all across this great nation are seeing what it really means to love this country, what it really means to be a patriot."
The other side: The Trump-endorsed Wyoming candidate, Harriet Hageman, accused her rival after the Reagan Library speech of using her congressional seat "to further her own personal war on President Trump."
"Liz Cheney is the last one who should be giving lectures about the future of the Republican Party when she is singlehandedly trying to burn it to the ground," Hageman said in a statement.
Representatives for Trump did not immediately respond to Axios' request for comment.
Editor's note: This article has been updated with comment from Hageman, more comment from Cheney and further context.
Go deeper