Commander of Mariupol's last stronghold: "We will not lay down our weapons"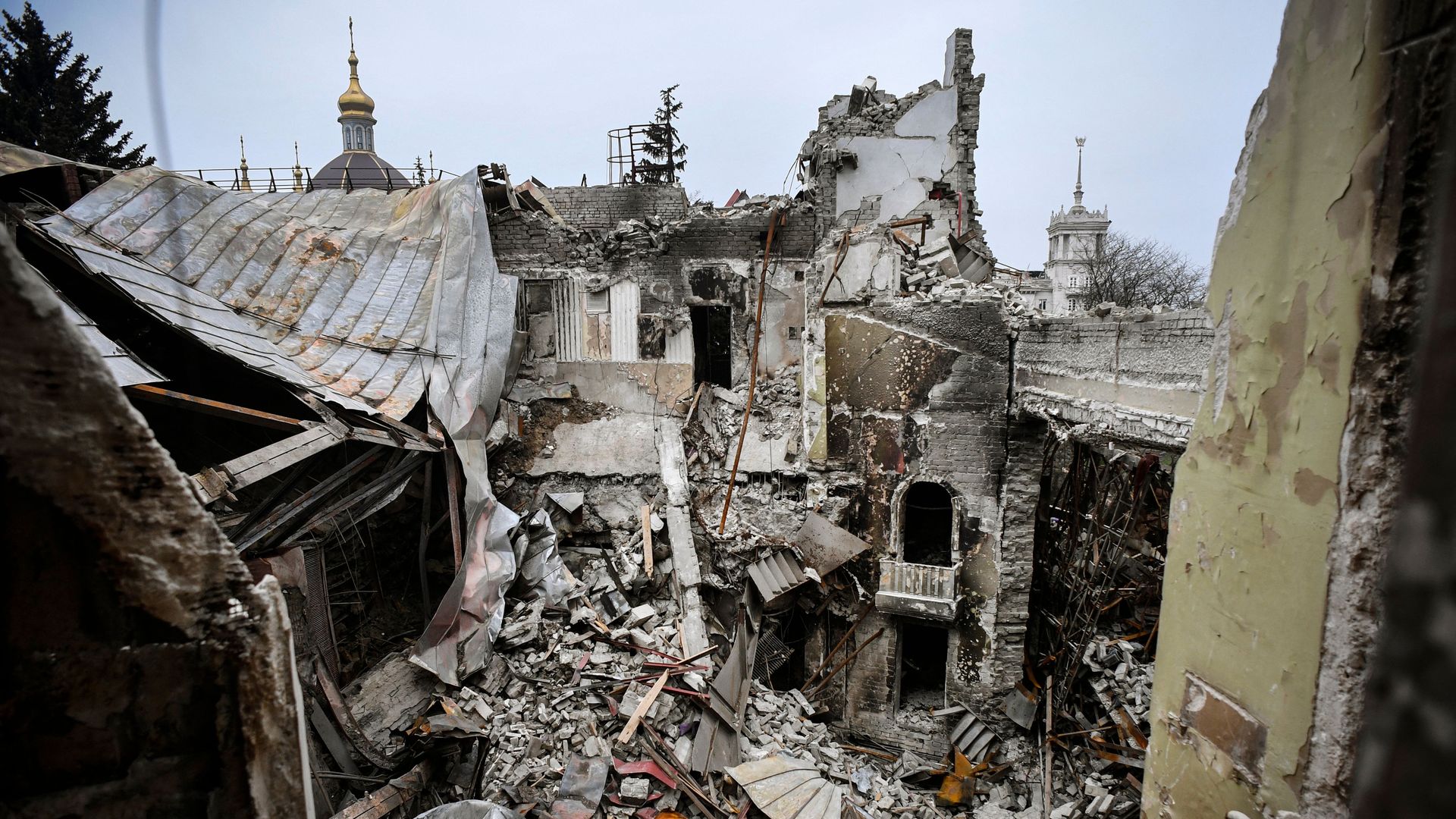 The commander of the last Ukrainian forces in Mariupol pleaded Wednesday with world leaders to help, saying, "We are probably facing our last days, if not hours."
Why it matters: Capturing the key strategic southeastern port city would mark a major victory for the Kremlin, which demanded that Ukrainian soldiers in Mariupol surrender by 2pm Wednesday local time.
Yes, but: The 36th Separate Marine Brigade, Ukraine's final stronghold in Mariupol, resisted earlier demands to surrender and has held out despite being vastly outnumbered, per the Washington Post.
Major Serhiy Volyna, commander of the brigade, told WashPost Tuesday that his soldiers will continue "to conduct combat operations and to complete our military tasks as long as we receive them. We will not lay down our weapons."
What he's saying: "The enemy is outnumbering us 10 to one," Volyna said in a video posted to his Facebook page on Wednesday morning.
"We appeal and plead to all world leaders to help us," Volyna continued. "We ask them to use the procedure of extraction and take us to the territory of a third-party state."
State of play: Volyna said in the video that civilians were sheltering in the Azovstal steel plant his troops were defending and Russian forces had the advantage "in the air, in artillery, in their forces on land, in equipment and in tanks."
He noted to WashPost that civilians were among "at least 500 people" wounded in the plant. "It's in the basement where people just rot. There is no medication," Volyna said.
He implored President Biden to help the soldiers and civilians who had "fallen into this trap" find safe passage.
"We very much hope that President Biden will hear us and help resolve our situation," Volyna added. "We believe that this is one of the few people who can really influence and solve this situation in a short time."
Meanwhile, in a separate interview with CNN on Tuesday, Volyna said his forces would "fight to the last, but we have very little time left."
He declined to disclose the number of Ukrainian soldiers holding out in the city.
The big picture: Russia's government on Tuesday rejected calls from United Nations chief António Guterres for a ceasefire in Ukraine from this Thursday through the Orthodox Easter Sunday to allow for civilians to evacuate the country.
Go deeper... In photos: Inside Mariupol as Russian forces close in
Editor's note: This article has been updated with more comment from Volyna and further context.
Go deeper