Updated Apr 11, 2022 -

World
Zelensky: "Of course I'm ready to give my life for my country"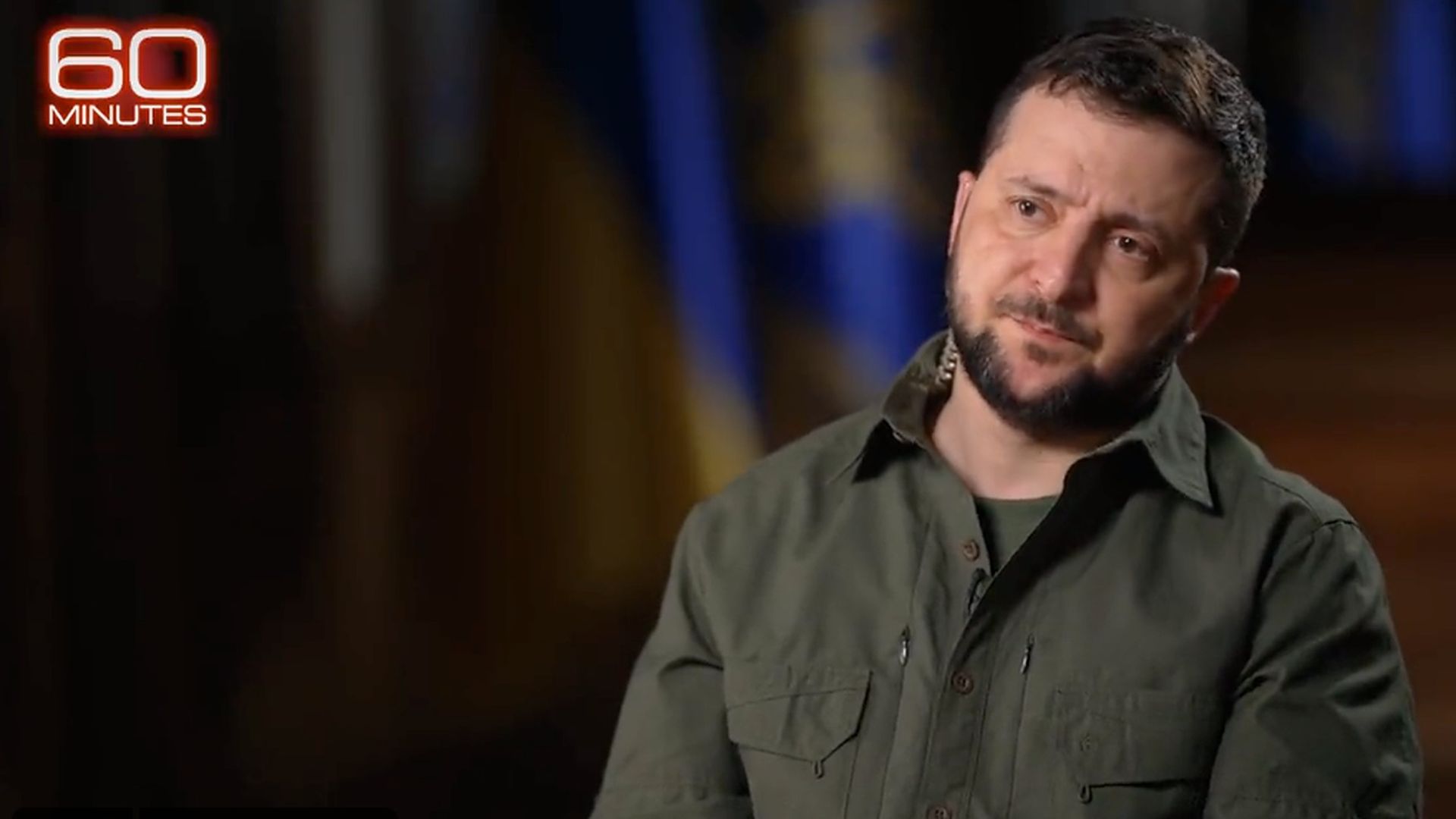 Ukrainian President Volodymyr Zelensky explained to CBS' "60 Minutes" in an interview broadcast Sunday why he chose not to flee Ukraine when Russian forces launched their invasion of the country on Feb. 24.
Driving the news: "When everyone is telling you, you need to go, you need to think. Before I do something, I analyze the situation. I've always done it calmly, without any chaos," Zelensky told CBS' Scott Pelley in the interview via an interpreter. "I might not be the strongest warrior. But I'm not willing to betray anyone."
He said he explained to his wife and children that he had to stay because he's the president of Ukraine and they supported his decision.
The bottom line: Pelley put it to Zelensky that he made a decision to give his life for his country if it came to that.
Zelensky replied: "I don't want to make myself out to be a hero. I love my family. I want to live many more years, but choosing between running or being with my people, of course I'm ready to give my life for my country."
What else they're saying: Zelensky told Pelley he would be willing to meet with Russian President Vladimir Putin for negotiations to end the war but said Ukrainian officials were "not ready to give away our country" when asked if he would give up any part of Ukraine for peace.
Pelley noted that President Biden and NATO leaders expressed outrage over reported Russian military atrocities in the Kyiv region city of Bucha and asked Zelensky what they should do next, to which he replied: "They have to supply weapons to Ukraine."
Zelensky said Ukrainians were defending the right to live.
"I never thought this right was so costly," he added. "These are human values. So that Russia doesn't choose what we should do and how I'm exercising my rights. That right was given to me by God and my parents."
Worth noting: White House national security adviser Jake Sullivan told ABC News' "This Week" earlier Sunday that the U.S. was "going to get Ukraine the weapons it needs to beat back the Russians to stop them from taking more cities and towns where they commit these crimes."
Go deeper... Dashboard: Russian invasion of Ukraine
Editor's note: This a breaking news story. Please check back for updates.
Go deeper