Jan. 6 panel: Trump "may have engaged in criminal acts" to overturn election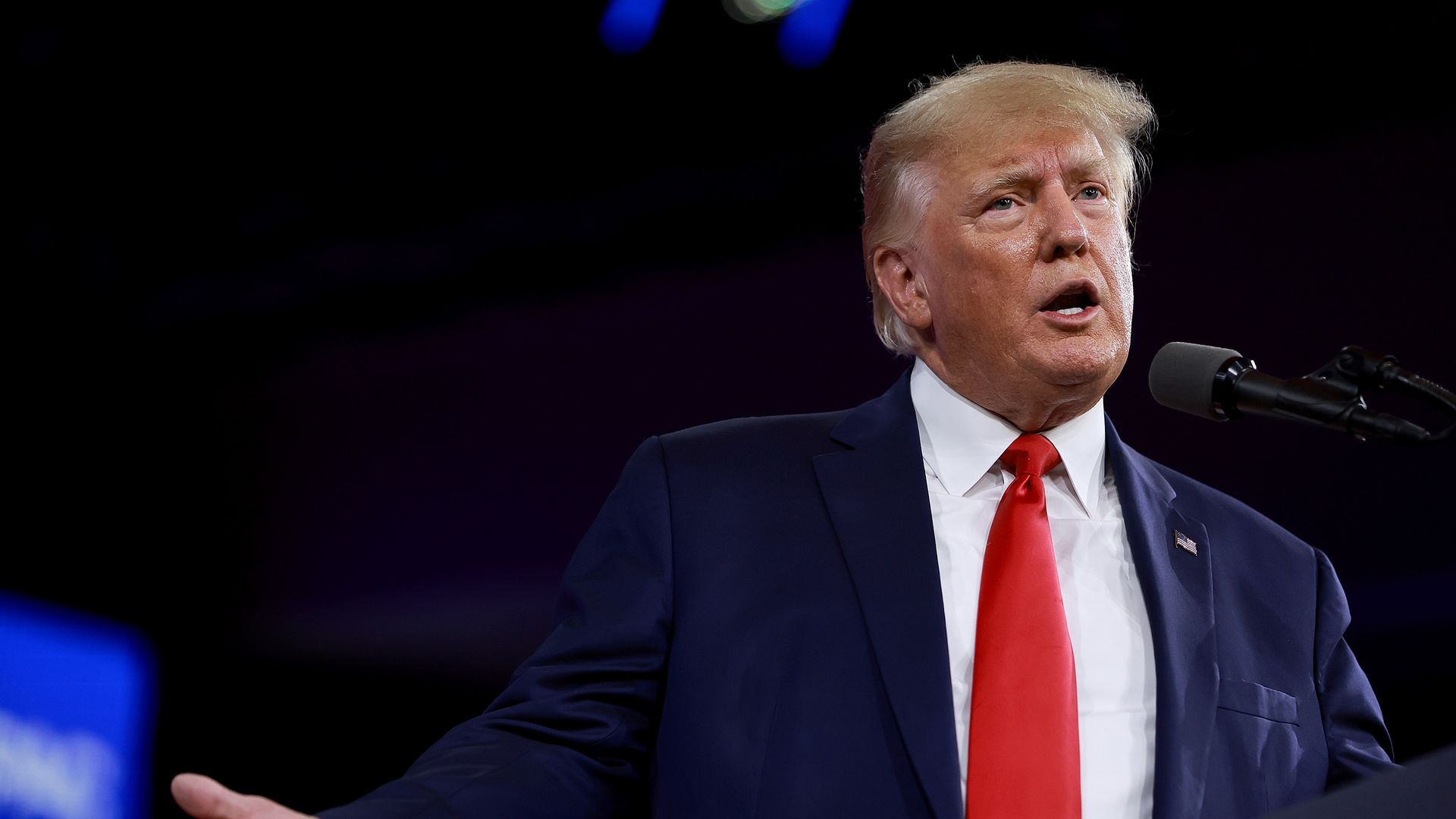 The Jan. 6 select committee said it believes former President Trump "may have engaged in criminal acts" to overturn the results of the 2020 presidential election, according to court documents.
Why it matters: This is the first time that lawyers for the House committee investigating the Capitol riot have outlined allegations of a potential criminal case against Trump, per the New York Times.
The committee "also has a good-faith basis for concluding that the President and members of his Campaign engaged in a criminal conspiracy to defraud the United States," according to the court documents.
They allege they have evidence that could lead to the former president, Trump ally John Eastman and others potentially facing criminal violations charges, such as "obstructing an official proceeding of Congress and conspiracy to defraud the American people."
Driving the news: The documents were filed in response to Eastman, one of Trump's former lawyers, who is withholding documents citing attorney-client privilege. Eastman allegedly tried to convince then-Vice President Mike Pence that he could overturn the election results.
The House panel alleges that Trump and his campaign tried to illegally obstruct Congress' counting of electoral votes by pressuring Pence to delay the count.
What they're saying: "We believe evidence in our possession justifies review of these documents," said Jan. 6 panel chair Bennie Thompson (D-Miss) and vice chair Liz Cheney (R-Wyo.) in a joint statement.
"The facts we've gathered strongly suggest that Dr. Eastman's emails may show that he helped Donald Trump advance a corrupt scheme to obstruct the counting of electoral college ballots and a conspiracy to impede the transfer of power."
Details: The court documents included depositions from aides who worked for Trump and Pence, and also a deposition of Eastman — which shows he invoked his Fifth Amendment right against self-incrimination almost 150 times during questions from the panel.
The former president then allegedly pushed his advisers to come up with ways to overturn election results, Politico writes.
The other side: Charles Burnham, a lawyer for Eastman, said the panel "has responded to Dr. Eastman's efforts to discharge this responsibility by accusing him of criminal conduct," per the NYT.
"Because this is a civil matter, Dr. Eastman will not have the benefit of the constitutional protections normally afforded to those accused by their government of criminal conduct," Burnham added. "Nonetheless, we look forward to responding in due course."
Representatives for Trump did not immediately respond to Axios' request for comment, but the former president has previously accused the Jan. 6 committee of "seeking evidence of criminal activity."
Of note: Pence said in February that Trump "was wrong about overturning the 2020 elections."
Editor's note: This article has been updated with new details throughout.
Go deeper