Sports world leads Russia boycotts after Ukraine invasion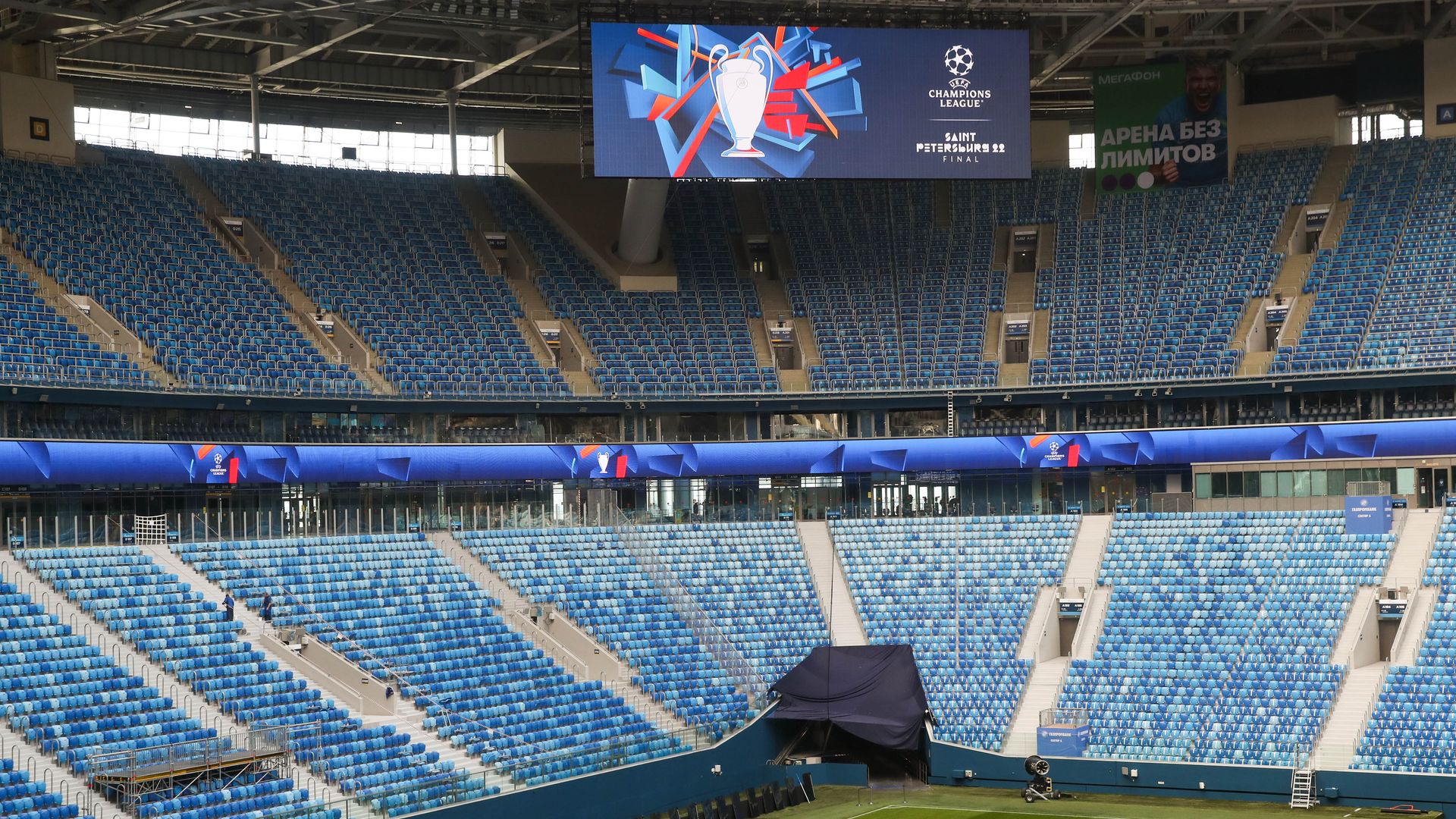 International sports organizations, teams and athletes quickly moved to boycott Russia after it invaded Ukraine, leading to the cancellation of major events in the country and the suspension of its national team from international soccer.
Why it matters: The sports world's rebuke of the invasion signals a swift change of tune about the Russian government, which has spent vast sums of money hosting international events.
Russian President Vladimir Putin has repeatedly sought to use the events — including the 2014 Winter Olympics and the 2018 World Cup — to bolster the country's reputation abroad.
What's happening:
Wimbledon
Wimbledon has banned Russian and Belarusian players from this year's event in June. The tournament hasn't barred athletes from specific countries since the aftermath of World War II.
World Cup
FIFA and UEFA announced that they will suspend Russia's national and club teams from all international competition "until further notice" due to the country's invasion of Ukraine.
Russia was scheduled to play against Poland in a qualifying match on March 24. If the suspension lasts until that date, the team will be excluded from the World Cup.
The Poland, Czech Republic and Sweden soccer federations said last week that they would not participate in World Cup qualifier matches slated to take place in Russia.
"The military escalation that we are observing entails serious consequences and considerably lower safety for our national football teams and official delegations," the soccer federations of Poland, Czech Republic and Sweden said in a statement.
Poland was scheduled to play Russia on March 24 in Moscow. The winner of that game would play the winner of the Czech Republic vs. Sweden game.
The federations called on FIFA and the Union of European Football Associations to find "alternative solutions regarding places where these approaching playoff matches could be played."
England's Football Association announced that "out of solidarity with Ukraine" the nation's soccer team won't "play against Russia in any international fixtures for the foreseeable future."
UEFA:
European soccer's governing body moved the 2022 Champions League final, one of the world's most prominent sports events, away from St. Petersburg after the invasion.
The Champions League finals were scheduled to be held at Kresovsky Stadium in St. Petersburg, but will now be held at the Stade de France just outside of Paris.
"UEFA wishes to express its thanks and appreciation to French Republic President Emmanuel Macron for his personal support and commitment to have European club football's most prestigious game moved to France at a time of unparalleled crisis," the governing body said in a statement.
The game is scheduled to take place on May 28.
UEFA joined FIFA in banning all Russian teams from international competition. The move ejected Russia's Spartak Moscow from the Europa League.
International Olympic Committee:
The IOC urged sports organizations to ban Russian and Belarusian athletes from participating in international events citing both countries' violation of the Olympic Truce.
International Paralympic Committee:
The International Paralympic Committee announced that athletes from Russia and Belarus will be allowed to compete at the upcoming 2022 Beijing Paralympic Games but not as representatives of their countries.
The athletes will compete under the neutral Paralympic flag and will also not be included in the medals table, the IPC said.
IPC President Andrew Parsons condemned Russia's invasion, calling it "a gross violation of the Olympic Truce."
Formula 1:
International Tennis Federation:
The ITF Board announced it would suspend the Russian and Belarus Tennis Federations memberships and that it would withdraw from all international team competitions.
Athletes will be allowed to compete in tour events, but will not be able to compete under Russian or Belarusian flags.
International Gymnastics Federation:
The International Gymnastics Federation announced that it would prohibit any Russian and Belarusian athletes and officials from events starting March 7.
World Curling Association:
The World Curling Association announced on Friday that Russian Curling Federations would be removed from the 2022 curling championship events. They also said they would make decisions on the 2022-2023 season after the annual general assembly.
FC Schalke 04:
German soccer club FC Schalke 04 said it would remove the logo of Russian oil company Gazprom, the team's main sponsor, from their uniform.
International Ski Federation:
Multiple skiing events that were scheduled to take place in Russia over the coming weeks were canceled, including the World Cup event for freestyle aerials in Yaroslavl, Women's ski jumping competitions in March in Nizhny Tagil and Chaikovsky and cross-country races in Tyumen in March, according to AP.
FIS also followed the IOC recommendation and voted not to allow Russian and Belarusian athletes compete.
International Ice Hockey Federation
The International Ice Hockey Federation suspended all Russian and Belarusian National Teams and Clubs from participating in IIHF events, it announced. It also withdrew the 2023 IIHF World Junior Championships hosting rights from Russia.
International Skating Union:
The International Skating Union announced that it would ban Russian and Belarusian athletes and officials from figure skating competitions until further notice following the IOC recommendation.
International Swimming Federation
The International Swimming Federation will allow Russian and Belarusian athletes to compete, but it will not be able to do so with their country's name or symbols and must compete as neutral athletes.
FINA withdrew the FINA Order award given to Vladimir Putin in 2014.
Badminton World Federation
The Badminton World Federation followed IOC guidelines and suspended athletes from Russia and Belarus from competing at the BWF events.
Boston Athletic Association
Russian and Belarusian runners who reside in either country are barred from participating in this year's Boston Marathon and the B.A.A. 5k, the Boston Athletic Association announced on Thursday.
Barcelona:
Barcelona said it would not send its basketball team to play two Russian teams in the Euroleague.
Editor's note: This article has been updated with new details throughout.
Go deeper