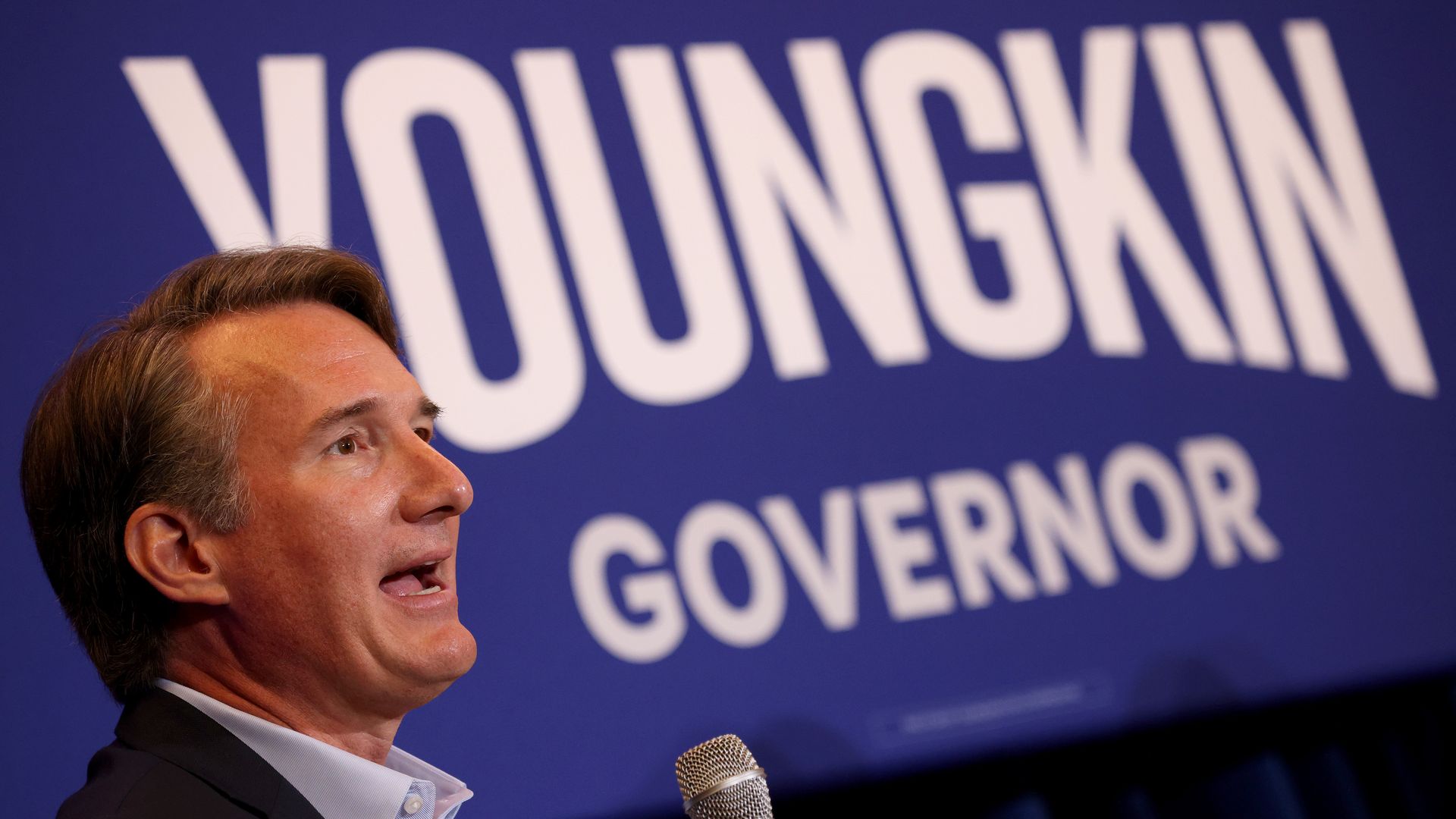 A group tied to prominent Democratic strategists is posing as a conservative outfit to try to drive a wedge between the Republican candidate for Virginia governor and his core voters, Axios has learned.
Why it matters: The state's gubernatorial race is expected to be tight and could be a national bellwether. As Republican candidate Glenn Youngkin's campaign hypes improving poll numbers, Democrats are trying to chip away at his support in GOP strongholds.
What's happening: During the past week, Virginians have been targeted with ads on Facebook, Instagram, Google and Snapchat questioning Youngkin's commitment to the Second Amendment.
They're the work of a new political group called Accountability Virginia PAC. Its website says nothing about the individuals or organizations behind it.
"While the NRA backs Donald Trump, they REFUSED to endorse Glenn Youngkin. We can't trust Glenn Youngkin on guns," one of the ads says.
Public records show the PAC has spent more than $25,000 on the ads, which have been viewed between 1 million and 5 million times.
The intrigue: While clearly designed to hit Youngkin from the right, all indications point to Democrats behind the PAC.
Accountability Virginia's online donation page is hosted by the Democratic fundraising platform ActBlue. Its bank account is at Amalgamated Bank, a labor union-owned financial institution popular with Democratic political groups.
The PAC was incorporated in Virginia by compliance consultants at the MBA Consulting Group, which works uniformly with Democrats.
Its ads on Snapchat were purchased by Gambit Strategies, a firm founded this year by the Biden presidential campaign's digital director and the former head of Democratic super PAC Priorities USA.
"Fake information is prevalent on the internet," Gambit's website warns. "Research shows time and time again that the best way to combat false negative information is to provide people positive information about a candidate, cause, etc."
Neither Gambit nor MBA Consulting responded to requests for comment.
Between the lines: The Snapchat ads, which are scheduled to run through Nov. 2, show how Accountability Virginia is going after Youngkin's core voters.
Its ads were targeted at users in 207 specific ZIP codes, largely in rural parts of western Virginia where Republicans are most heavily concentrated.
The ads appear to be part of "an attempt to undermine Youngkin's support in western rural areas, where gun ownership is sacred and the Republican has a big lead — as all Republicans do these days," according to Larry Sabato, the director of the Center for Politics at the University of Virginia.
The big picture: Accountability Virginia's ads come as polls show a close contest between Youngkin and Democratic nominee Terry McAuliffe.
McAuliffe has sought to tie his opponent to former President Donald Trump, who endorsed Youngkin in June.
This month, Virginia Democrats sent out a round of direct mail pieces designed to look like positive promotion of Trump's endorsement.
Go deeper