Biden's DOJ defends Trump in E. Jean Carroll's defamation lawsuit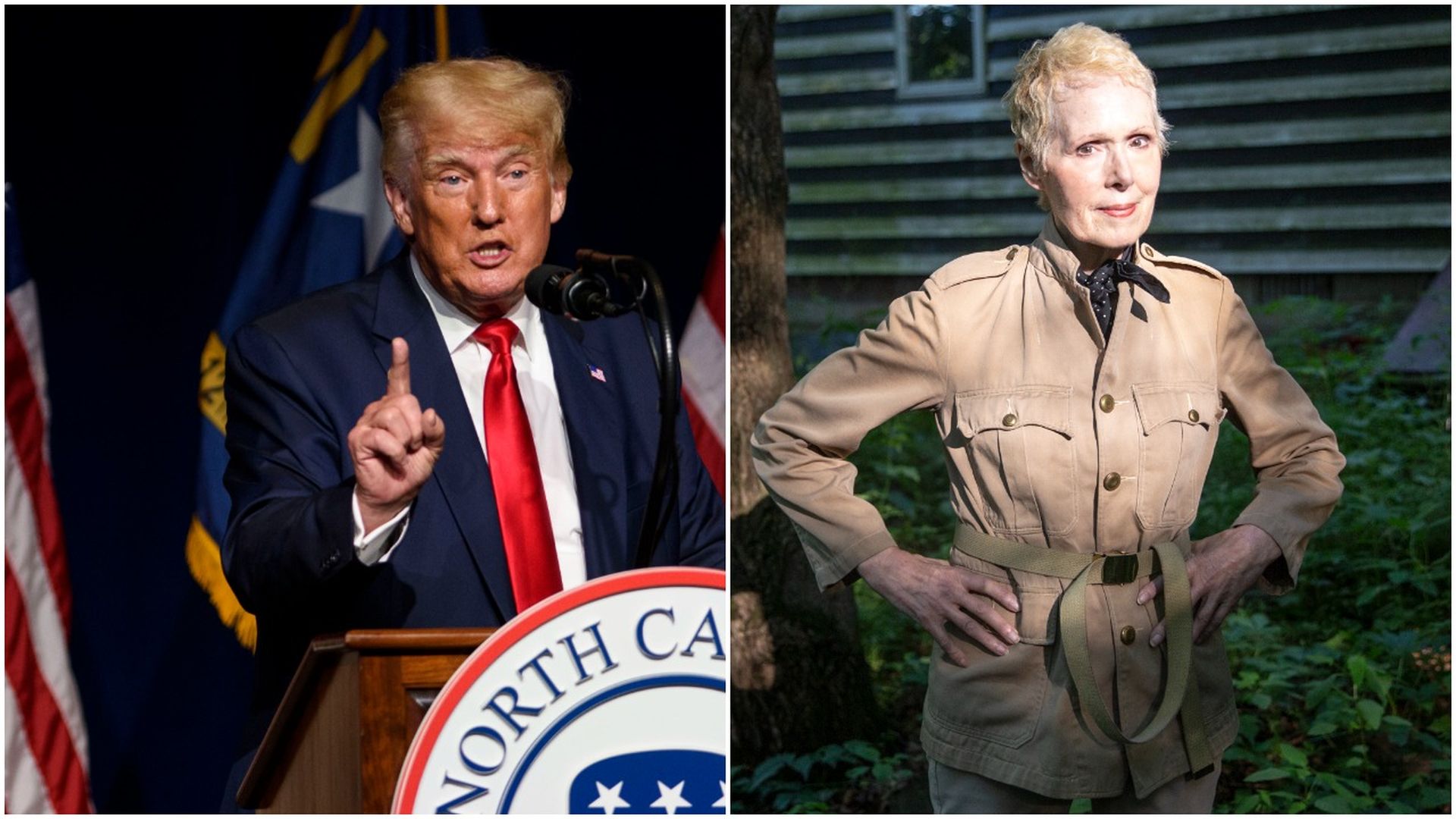 President Biden's Department of Justice indicated in a court filing Monday night that it's continuing with the DOJ's defense of former President Trump in a defamation lawsuit brought by writer E. Jean Carroll.
Why it matters: When President Biden was a presidential candidate last year, he criticized the DOJ's highly unusual move to intervene and replace Trump's private lawyers with attorneys from the department, per the New York Times.
But Biden's DOJ is continuing with the previous administration's argument that Trump was acting "within the scope of employment" as president when he said in 2019 that Carroll was "totally lying" about claims that he raped her in the mid-1990s, according to the new filing to the Second US Circuit Court of Appeals.
Driving the news: The Justice Department is appealing a federal judge's decision last October that Trump couldn't use a law protecting federal employees from lawsuits for actions conducted within their scope of office.
Details: "Even reprehensible conduct ... can fall within the scope of employment," attorneys for the DOJ wrote in a brief, alongside supporting arguments from Trump's personal lawyers.
Trump's response to Carroll's "serious allegations of sexual assault included statements that questioned her credibility in terms that were crude and disrespectful," they said.
"But this case does not concern whether Mr. Trump's response was appropriate. Nor does it turn on the truthfulness of Ms. Carroll's allegations."
What they're saying: Roberta Kaplan, Carroll's attorney, said in a statement the Biden administration's legal action was legally and morally wrong. Addressing her client's rape allegation, she said:
"It is horrific that Donald Trump raped E. Jean Carroll in a New York City department store many years ago. But it's truly shocking that the current DOJ would allow Donald Trump to get away with lying about it, thereby depriving our client of her day in court."
Carroll said in an emailed statement, "As women across the country are standing up and holding men accountable for assault — the DOJ is trying to stop me from having that same right. I am angry! I am offended!"
The other side: White House spokesperson Andrew Bates said in an emailed statement that the White House "was not consulted by DOJ on the decision to file this brief or its contents."
"While we are not going to comment on this ongoing litigation, the American people know well that President Biden and his team have utterly different standards from their predecessors for what qualify as acceptable statements," added Bates, stressing that it was a DOJ matter as it's active litigation.
Representatives for the Biden administration, Trump and Carroll did not immediately respond to Axios' request for comment.
Editor's note: This article has been updated with new details throughout.
Go deeper