Trumpworld coronavirus tracker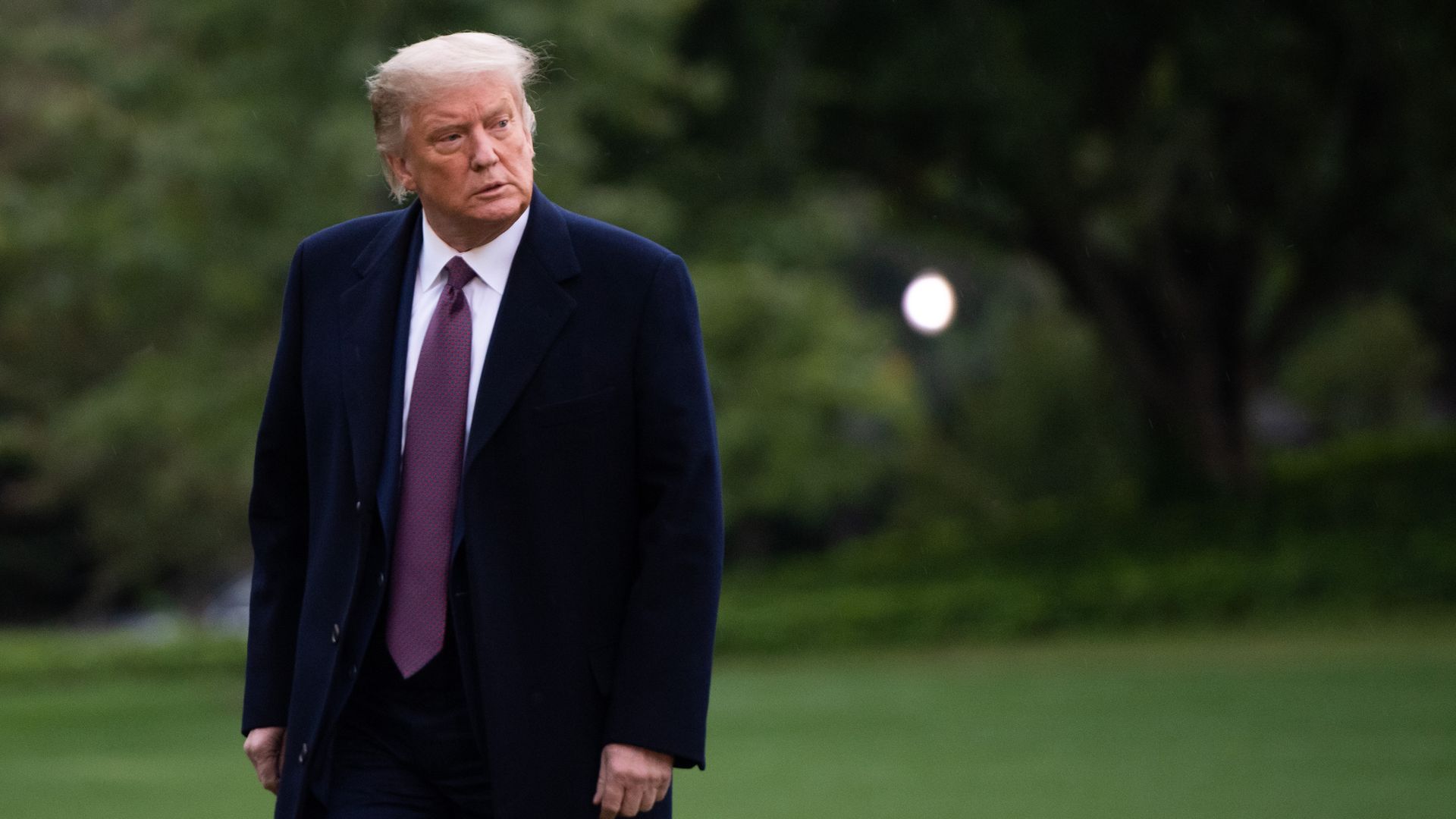 An outbreak of COVID-19 has struck the White House — including the president himself — just weeks before the 2020 election.
Why it matters: If the president can get infected, anyone can. And the scramble to figure out the scope of this outbreak is a high-profile, high-stakes microcosm of America's larger failures to contain the virus and to stand up a contact-tracing system that can respond to new cases before they have a chance to become outbreaks.
COVID-19 positives
Wednesday, Sept. 30
Republican National Committee chairwoman Ronna McDaniel
Thursday, Oct. 1
White House communications aide Hope Hicks
President Trump
First Lady Melania Trump
Sen. Mike Lee (R-Utah)
Friday, Oct. 2
Sen. Thom Tillis (R-N.C.)
Former White House counselor Kellyanne Conway
Trump campaign manager Bill Stepien
Saturday, Oct. 3
Sen. Ron Johnson (R-Wis.)
University of Notre Dame President John Jenkins, who attended the Rose Garden ceremony for Amy Coney Barrett's nomination to the Supreme Court
Three unidentified White House reporters also who attended the ceremony
Former New Jersey Gov. Chris Christie
Sunday, Oct. 4
Director of Oval Office operations Nick Luna
Monday, Oct. 5
White House press secretary Kayleigh McEnany
Two unidentified White House communications aides
Tuesday, Oct. 6
White House senior adviser Stephen Miller
Wednesday, Oct. 7
White House security office chief Crede Bailey (positive test date unconfirmed)
Tuesday, Oct. 13
Trish Scalia, who attended the Rose Garden event with husband, Labor Secretary Eugene Scalia, (though it's unclear where she contracted the virus)
Wednesday, Oct. 14
First lady Melania Trump said her son, Barron Trump, contracted the virus but had no symptoms. She did not say when exactly he tested positive.
Saturday, Oct. 24
Vice President Mike Pence's chief of staff Marc Short.
COVID-19 negatives (per most recent known test)
Friday, Oct. 2
Rep. Jim Jordan (R-Ohio)
Eric and Lara Trump
Sen. Ben Sasse (R-Neb.)
President Trump's son Barron Trump
Ivanka Trump
Jared Kushner
Supreme Court nominee Judge Amy Coney Barrett (previously tested positive this summer)
Senate Judiciary Chairman Lindsey Graham (R-S.C.)
Health and Human Services Secretary Alex Azar
Secretary of State Mike Pompeo
White House economic adviser Larry Kudlow
Saturday, Oct. 3
White House social media director Dan Scavino
Sen. James Lankford (R-Okla.)
Monday, Oct. 5
House Speaker Nancy Pelosi (D-Calif.)
President Trump's personal attorney Rudy Giuliani
Tuesday, Oct. 6
Attorney General Bill Barr
Katie Miller, press secretary to Vice President Mike Pence (She tested positive in May)
Wednesday, Oct 7
Sen. Kamala Harris (D-Calif.)
Vice President Mike Pence and Second Lady Karen Pence
Thursday, Oct. 8
Democratic nominee Joe Biden
Monday, Oct. 12
Tuesday, Oct. 13
Secretary of Labor Eugene Scalia
Editor's note: This article has been updated with the latest coronavirus results.
Go deeper