Updated Aug 26, 2020 -

World
New Zealand mosque attacks terrorist jailed for life with no parole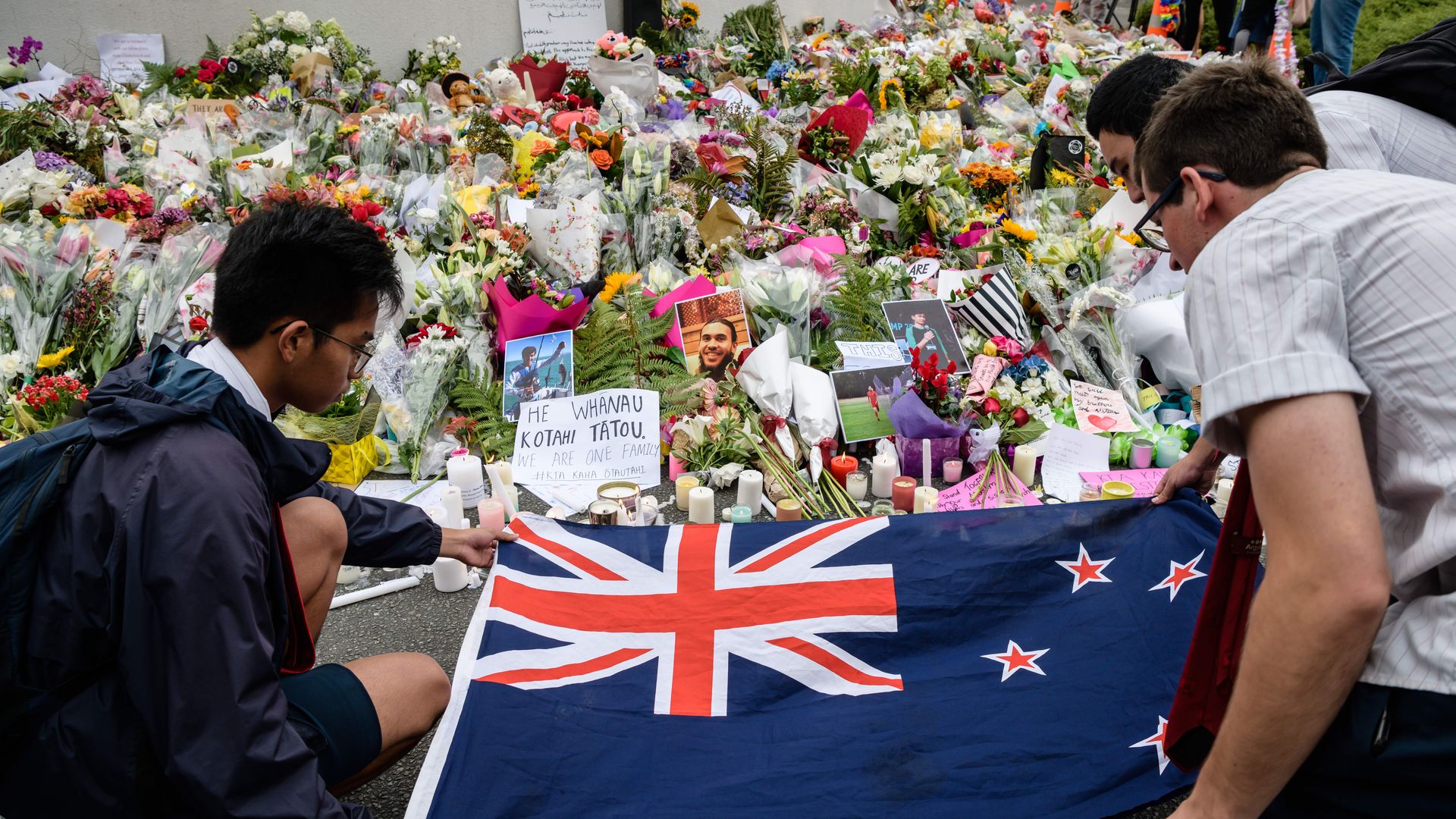 New Zealand's High Court sentenced the Australian white supremacist who admitted killing 51 people in two Christchurch mosques to life in prison with no parole.
Why it matters: Brenton Tarrant, 29, is the first person in New Zealand to receive the sentence. The 2019 attack is considered the worst in the country's history and one of the world's worst shootings by a single gunman. Prime Minister Jacinda Ardern said she'd been moved by the dozens of survivors who faced him in court to give victim impact statements this week.
"His deserves to be a lifetime of complete and utter silence."
— Ardern
What they're saying: Ardern said during a brief news conference that it gave her "relief to know that this person will never see the light of day."
Ardern noted that "nothing will take the pain away" of the survivors of the attack and the victims' families, "but I hope you felt the arms of New Zealand around you through this process."
"I hope you continue to feel that through all the days that follow," she added.
The big picture: Tarrant was sentenced on Thursday afternoon local time. He pleaded guilty in March and was convicted of 51 counts of murder, 40 counts of attempted murder and one charge of terrorism after changing his plea.
New Zealand banned military-style semi-automatic weapons and assault rifles in response to the March 15, 2019, massacre at the Al Noor Mosque and the Linwood Islamic Centre.
The attack prompted Ardern to lead an international campaign that resulted in the Christchurch Call, an initiative to reduce violent extremist content online that was launched by governments and tech companies.
Of note: The prosecution told the court on Monday that Tarrant intended to "burn the mosques down" and planned a third mosque attack.
The mother of one victim told him: "You gave yourself the authority to take the souls of 51 innocent people. Their only crime in your eyes was being Muslim," per RNZ.
Tarrant's sentencing lasted four days to enable survivors and victims' families to speak to the impact of his actions.
The court banned live reporting to avoid Tarrant from using the hearing to spread hate and to minimize the re-traumatization of victims and their families.
Some victims' families and survivors were exempted from New Zealand's coronavirus border ban on nonresidents to attend the hearing after spending 14 days in managed quarantine facilities.
Editor's note: This article has been updated with new details throughout.
Go deeper