Biden says Trump's foreign policy will likely boost ISIS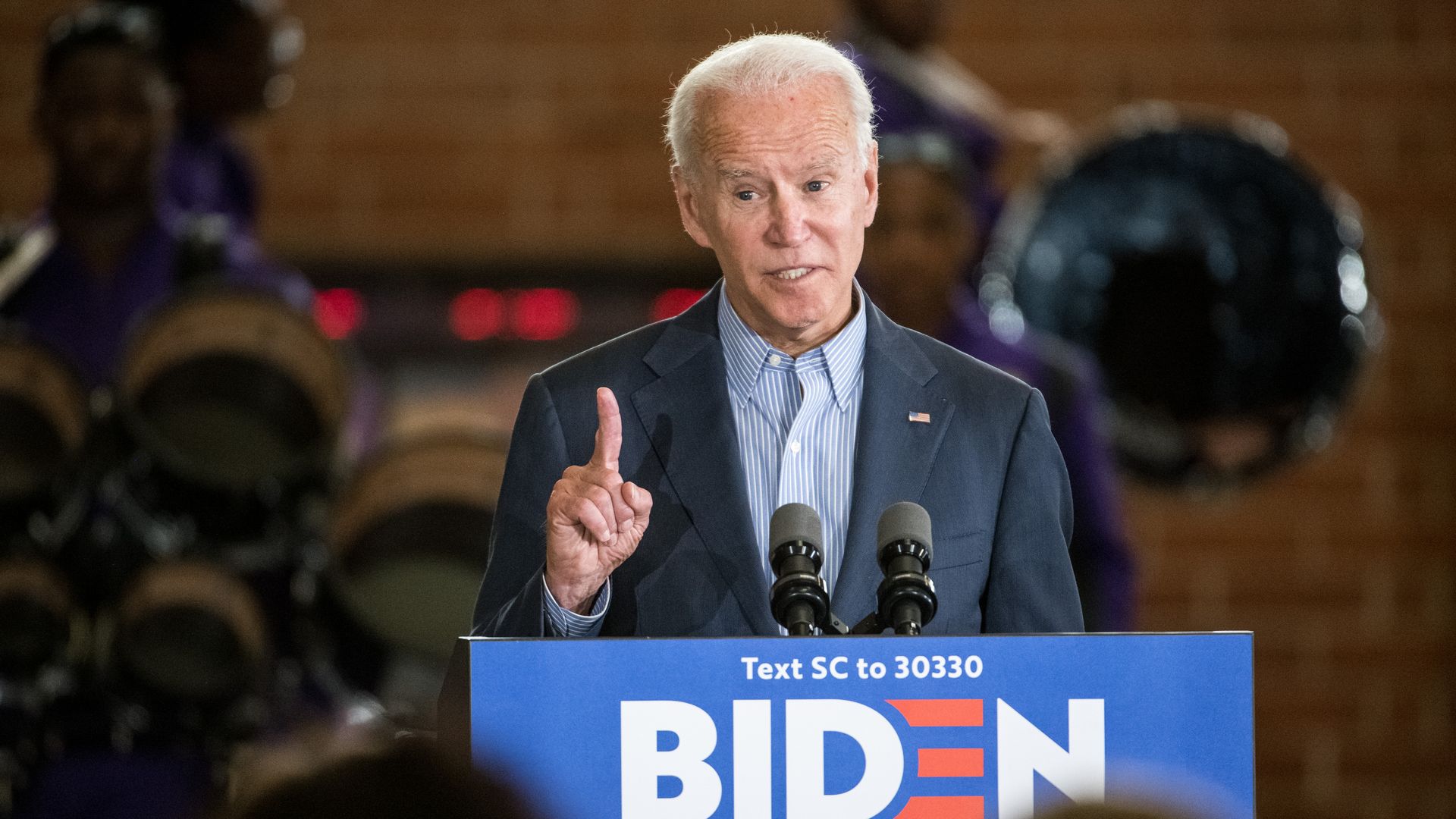 Democratic presidential candidate Joe Biden told the Washington Post President Trump's conduct would likely bolster Islamic State recruitment and cause more instability in the Middle East because he "has no foreign policy" and "seems to act on a whim."
Why it matters: Those comments and further criticism in a Medium blog of Trump's conduct following the death of Islamic State leader Abu Bakr al-Baghdadi during a U.S. operation in northwestern Syria show that foreign policy is a key strategy of the Biden campaign.
The former vice president is making the case for being an international statesman by touting his experience in the Obama administration to point out differences in his and Trump's foreign policy records. WashPost notes Biden is "one of the few Democratic candidates who supports keeping some U.S. troops in Syria."
It's like dealing not with a commander in chief, but a whiner in chief. It's bizarre."
— Biden to WashPost on Trump's conduct
The big picture: In the interview published Tuesday, Biden doubled down on his criticism of Trump in the Medium post that the death of Baghdadi happened "despite his ineptitude as Commander-in-Chief."
Biden said "there's no coherence" on what would happen next regarding the U.S. and Syria, given Trump's decision to withdraw troops from the country.
He said national security officials were treating him "like a baby" and that Trump's allies "essentially tricked him into leaving some troops in Syria by telling him he could control the oil there."
The former vice president noted that the Obama administration always stressed that U.S. troops were not in Iraq for the country's oil because that would be a "recruiting tool" for terrorists.
"The death of [Baghdadi] is proof in the wisdom of the strategy, that without committing our troops to endless wars, you can still in fact protect our interests and the interests of friends and allies. You need people on the ground. You need allies on the ground.
"I don't think [Trump] has any sense of geopolitical concerns that exist, where interests lie, why we need allies and why we don't need forever troops. He doesn't seem to understand that the ability of ISIS to reconstitute itself is real."
The other side: The president was praised following Baghdadi's death by Republican allies and adversaries alike, including Trump critic Sen. Mitt Romney (R-Utah) and Sen. Lindsey Graham (R-S.C.), who previously criticized Trump over the planned troop withdrawal.
Graham said Trump "had a determination to destroy the caliphate, unlike anybody I've ever met. Now, the question is how to keep it down," per Fox News.
Go deeper:
Go deeper