Updated Sep 1, 2019 -

World
Hong Kong protesters ignore government ban in 13th weekend of protests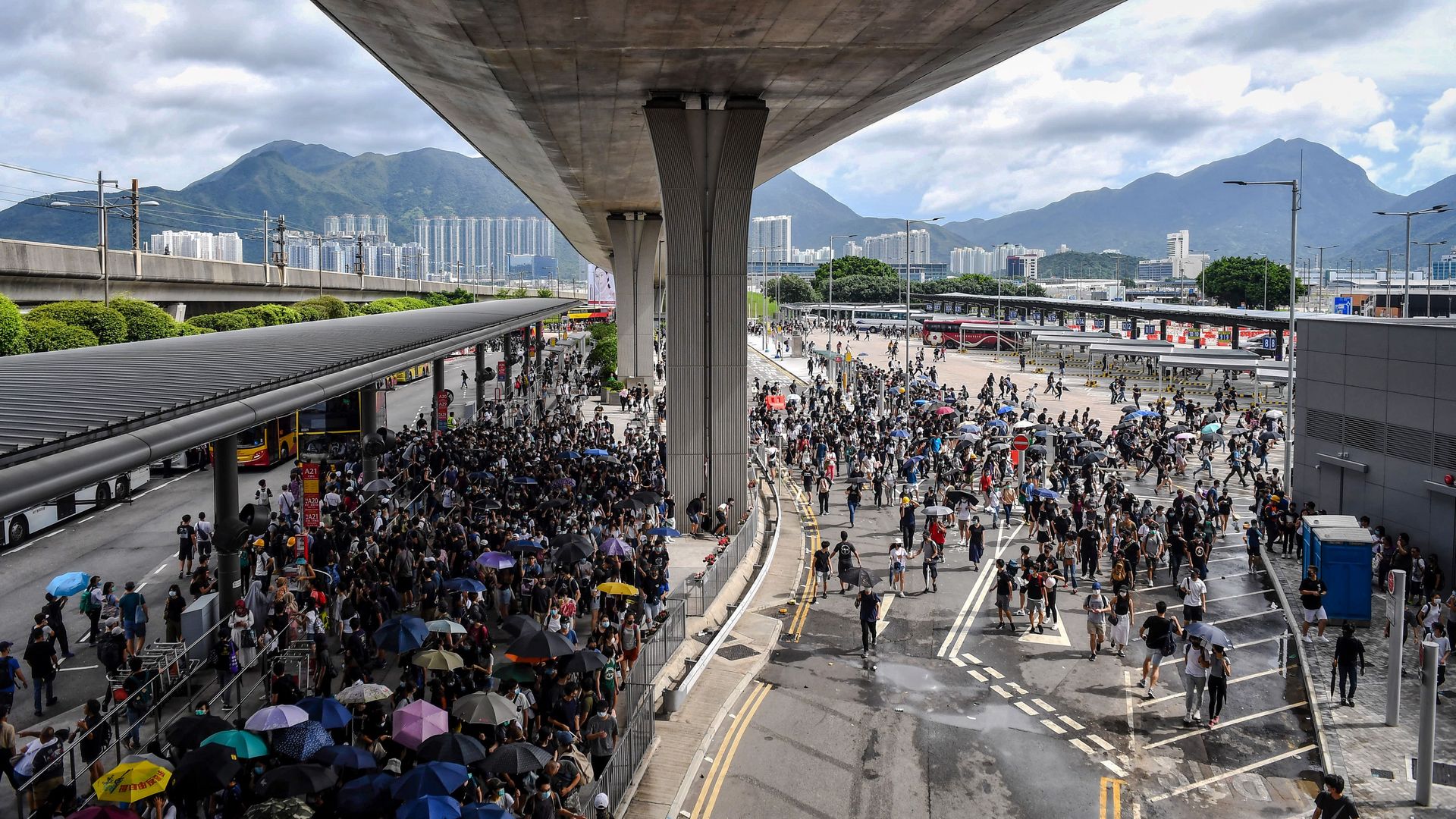 Protesters blocked roads with burning barricades near Hong Kong International Airport and damaged a train station, AP reports. It followed a night of running battles between police and activists in Hong Kong's 13th weekend of pro-democracy protests.
Why it matters: Hong Kong is embroiled in the worst political crisis to hit the former British colony since it was returned to Chinese control in 1997. Protesters are rallying despite authorities issuing a ban on Hong Kongers gathering near central government offices. The airport has been off-limits to protesters since mid-August, when activists clashed with police while occupying the main terminal, the New York Times notes.
The latest: Trains to the airport and 10 other stations were suspended and traffic was heavy after protesters called on members of the public to overwhelm road and rail links to one of the world's busiest airports, per Reuters.
An MTR spokesperson urged passengers to stay away from the railroad stations, according to the South China Morning Post.
Hong Kong police said in a statement that they would soon conduct a "dispersal operation" to remove protesters from the airport, urging them to stop what they called "illegal acts" and leave immediately, according to Channel News Asia.
Protesters disrupted Hong Kong International Airport by packing key areas before thousands headed toward the nearby town of Tung Chung on Sunday, Reuters reports.
The protesters left the airport early Sunday evening local time, per Reuters.
The big picture: In these latest protests, organizers are hoping a repeat of their occupation of the main terminal two weeks ago, when almost 1,000 flights were canceled. Rallies are also planned for Tin Shui Wai and outside the British consulate in Admiralty, per the South China Morning Post.
Saturday night saw the worst clashes between police and protesters since demonstrations began in the city in June. Protesters' frustrations built up this week as Chinese central government continued to make threats and arrest prominent activists, including Joshua Wong.
Wong and fellow activist leader Alex Chow had a message for authorities in a New York Times op-ed published Saturday that they penned: "You can arrest us. But more protesters will keep coming out."
The government's failed attempt to prevent protesters from flooding the streets of Hong Kong Saturday resulted in tens of thousands of people gathering, and an intense clash with the police as fire and water spewed across the city, per the New York Times. Protesters are demanding the suspended extradition bill be pulled, along with fresh democratic elections and an investigation into police brutality, AP notes.
Protesters organized in defiance of the government on Saturday, but also to remember the 5th anniversary of the "Umbrella Movement" — which came about in 2014 when the central Chinese government in Beijing tried to reform Hong Kong's voting process, per the Times.
Masked protestors torched the streets as government helicopters fluttered above the city and riot police detonated pepper spray, tear gas and water cannons. By sundown, the throngs had built a makeshift barrier near a burning road, expelling black smoke overhead.
American flags waved across the city as some protesters called for the U.S. to intervene, reports Bloomberg. China has accused President Trump of "stoking the protests."
Between the lines: Hong Kong officials are not looking to ease up any time soon. The volume of arrests has increased, and the government refuses to compromise on any of the protestors demands. In a statement, Hong Kong's government indicated its resistance to political reform negotiations despite being pressed for a "one person, one vote" system to protect against Beijing's intrusion, per the NYT.
In photos: Hong Kong's 13th weekend of protests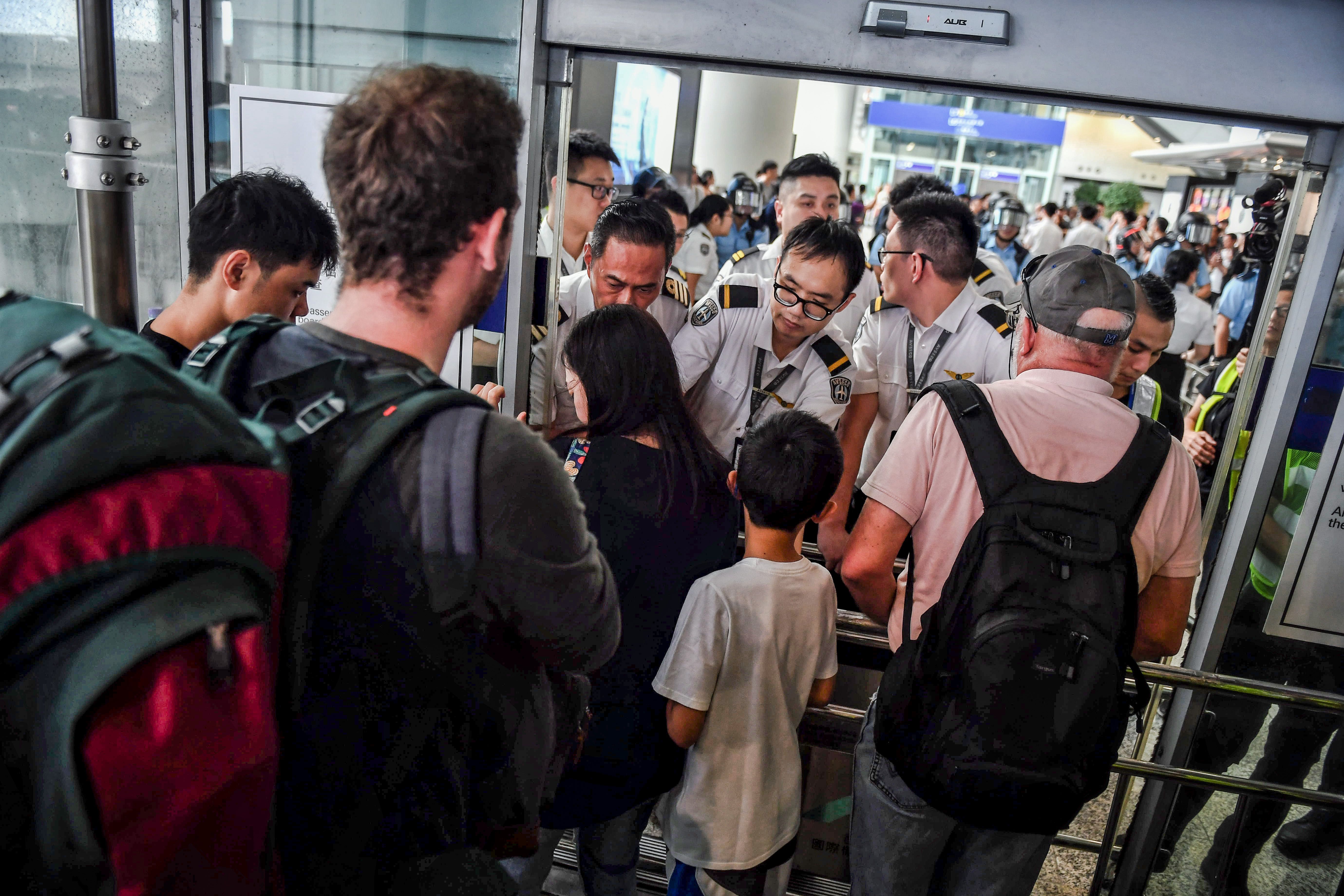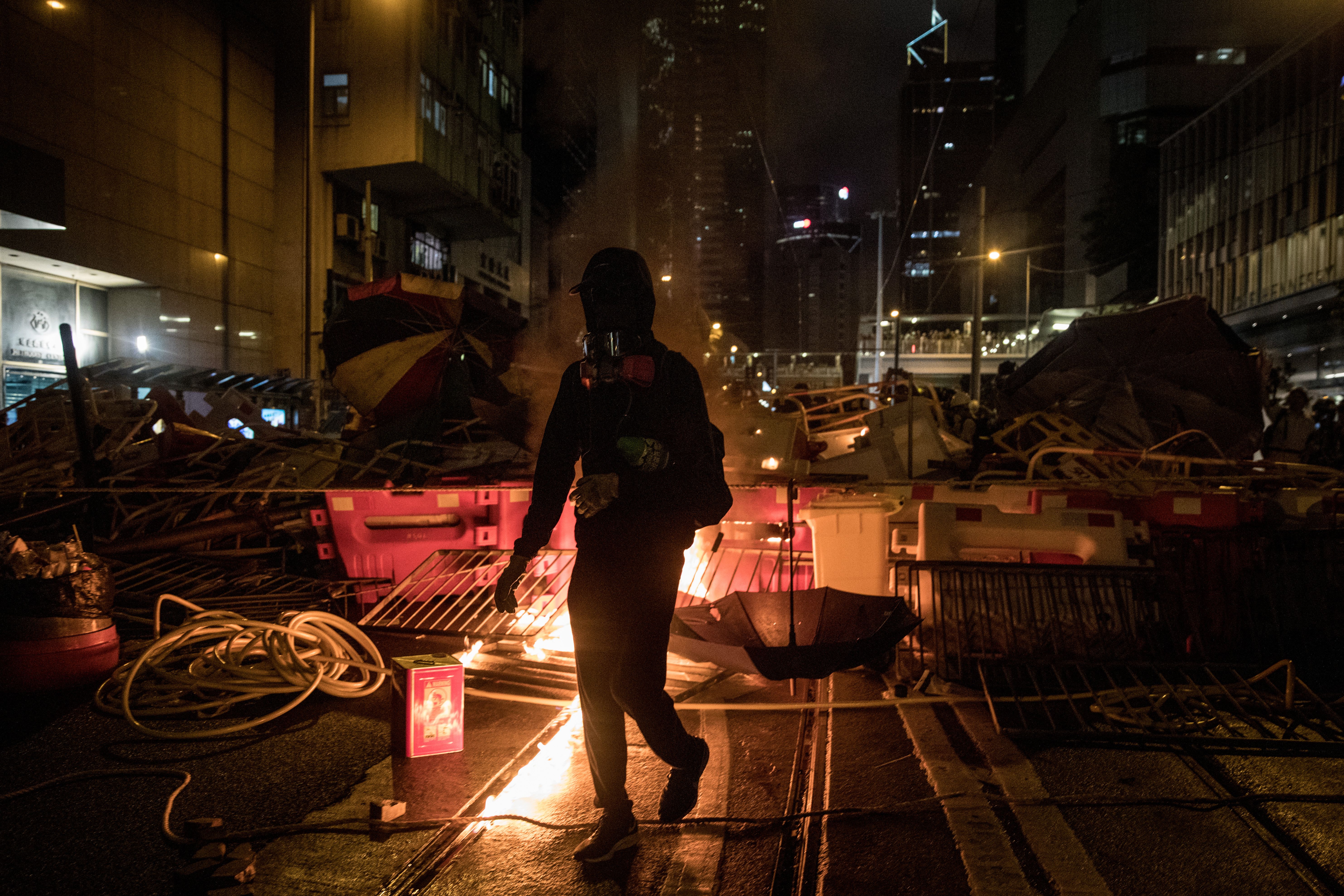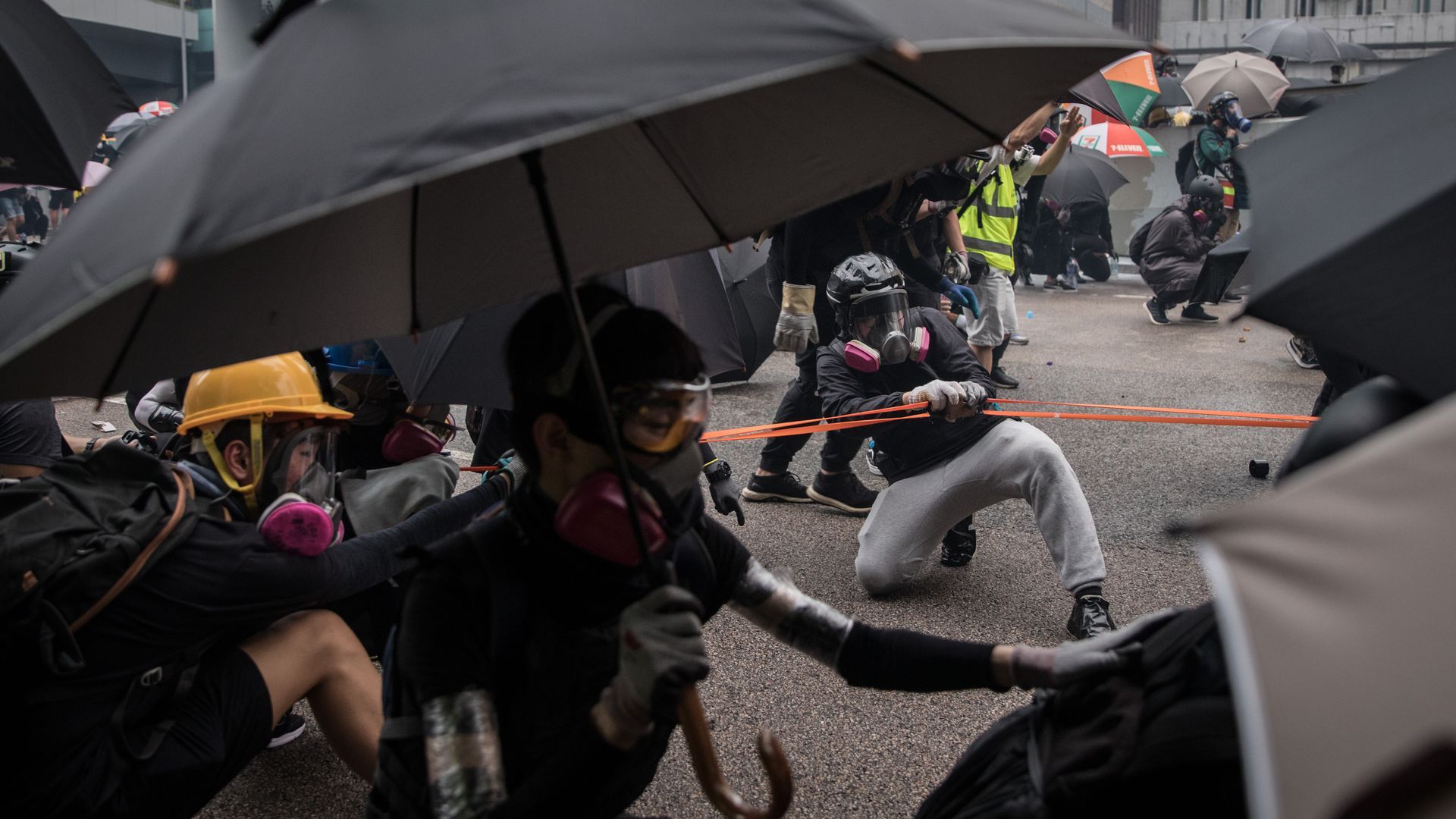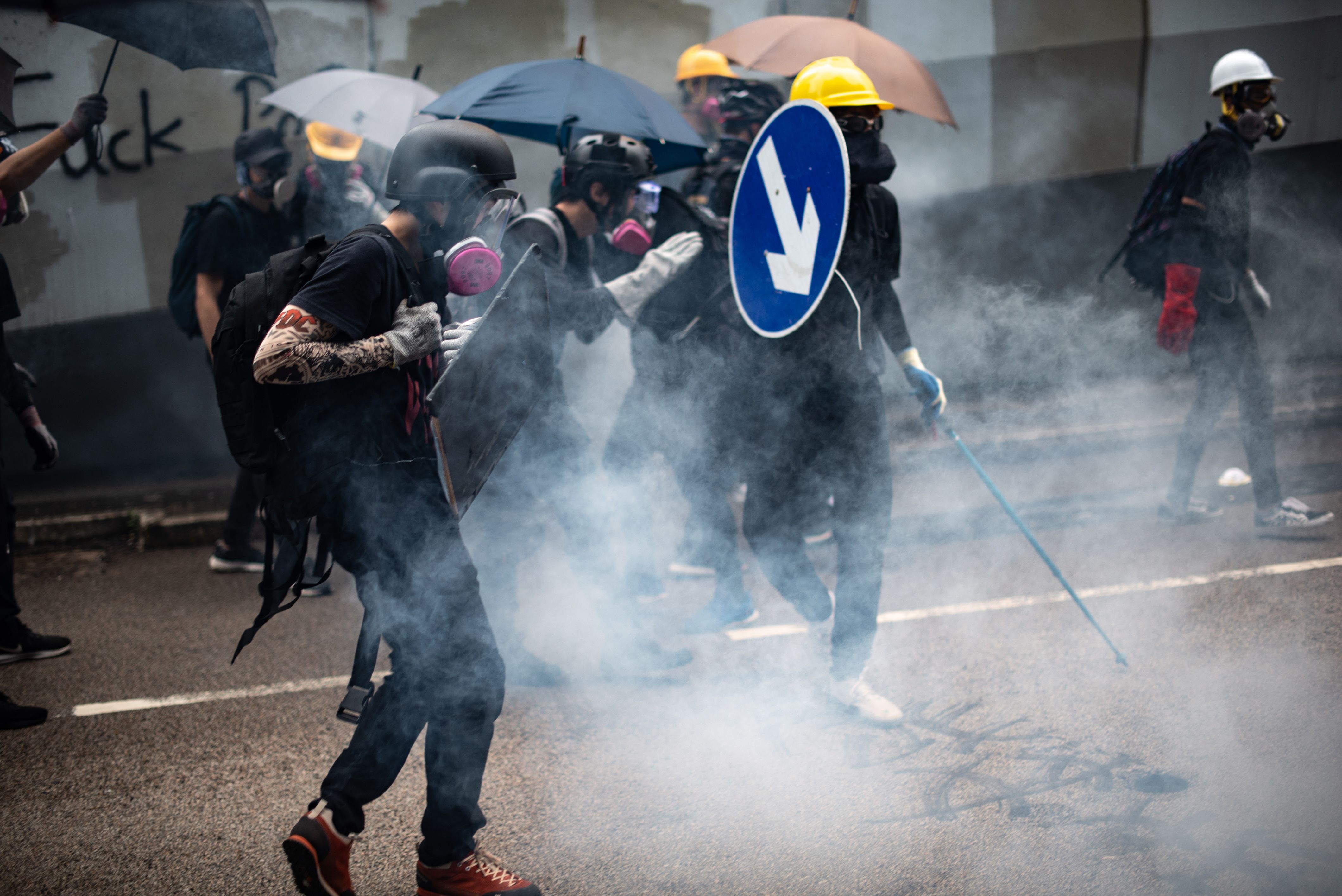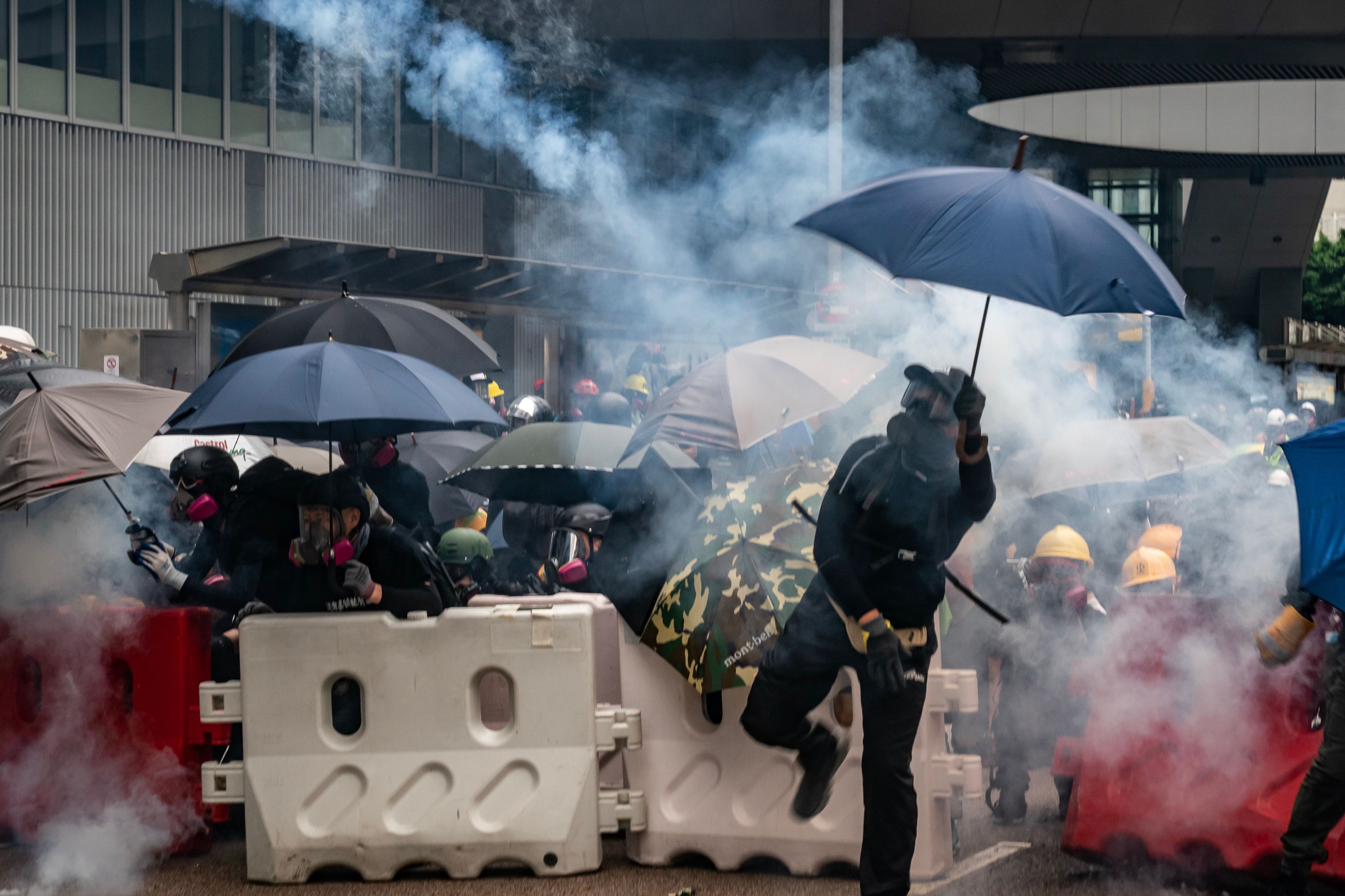 Editor's note: This is a developing news story. Please check back for updates.
Go deeper