China trade war: White House clarifies Trump comments about "second thoughts"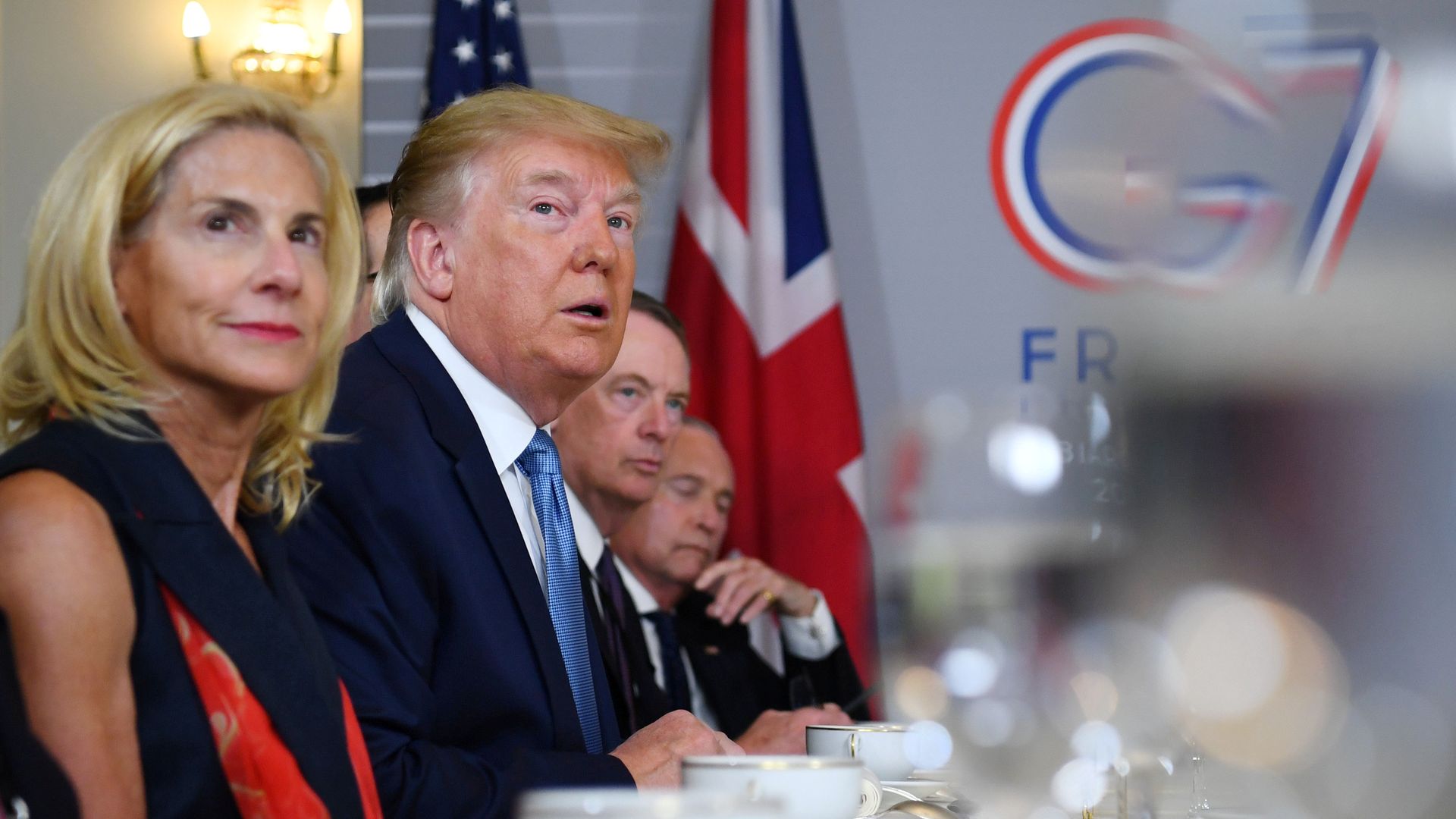 White House press secretary Stephanie Grisham clarified remarks that President Trump made at the G7 summit in Biarritz, France, in which he appeared to express regret about the United States' escalating trade war with China.
"The President was asked if he had 'any second thought on escalating the trade war with China.' His answer has been greatly misinterpreted. President Trump responded in the affirmative — because he regrets not raising the tariffs higher."
Context: Telling reporters that he "might as well" have "second thoughts" about escalating the trade war was viewed as the first time Trump has indicated any regret that the dispute with China had spiraled into an international crisis.
Driving the news: Trump said Friday he would raise tariffs against China, hours after the Chinese government announced it would levy retaliatory duties on earlier U.S. action. China has since vowed to continue fighting the trade war "until the end."
Sources briefed on Trump's thinking tell Axios' Jonathan Swan that the president wanted to go harder against China on Friday. Trump's initial impulse was to immediately move on all the tariffs and ratchet them up dramatically.
What they're saying: British Prime Minister Boris Johnson gave his take on the issue at a breakfast with Trump, as the 2 leaders talked up a new trade deal between the U.S. and the United Kingdom, per the Guardian.
"[J]ust to register a faint, sheeplike note of our view on the trade war — we are in favour of trade peace on the whole."
— British Prime Minister Boris Johnson
The big picture: Just before his meeting with Johnson, Trump tweeted that "the Leaders are getting along very well" at the G7 summit, dismissing reports of tension as "false."
Reality check: Reuters notes leaders have spoken out on policy differences including climate change, tariffs and trade protectionism. French President Emmanuel Macron told a news conference this week he would abandon the tradition of a joint final communiqué because it would highlight disagreements, according to the FT.
"I know the points of disagreement with the U.S. If we draft an agreement about the Paris [climate] accord, President Trump won't agree. It's pointless."
— French President Emmanuel Macron
Editor's note: This article has been updated with new details throughout.
Go deeper:
Go deeper