The synchronized global slump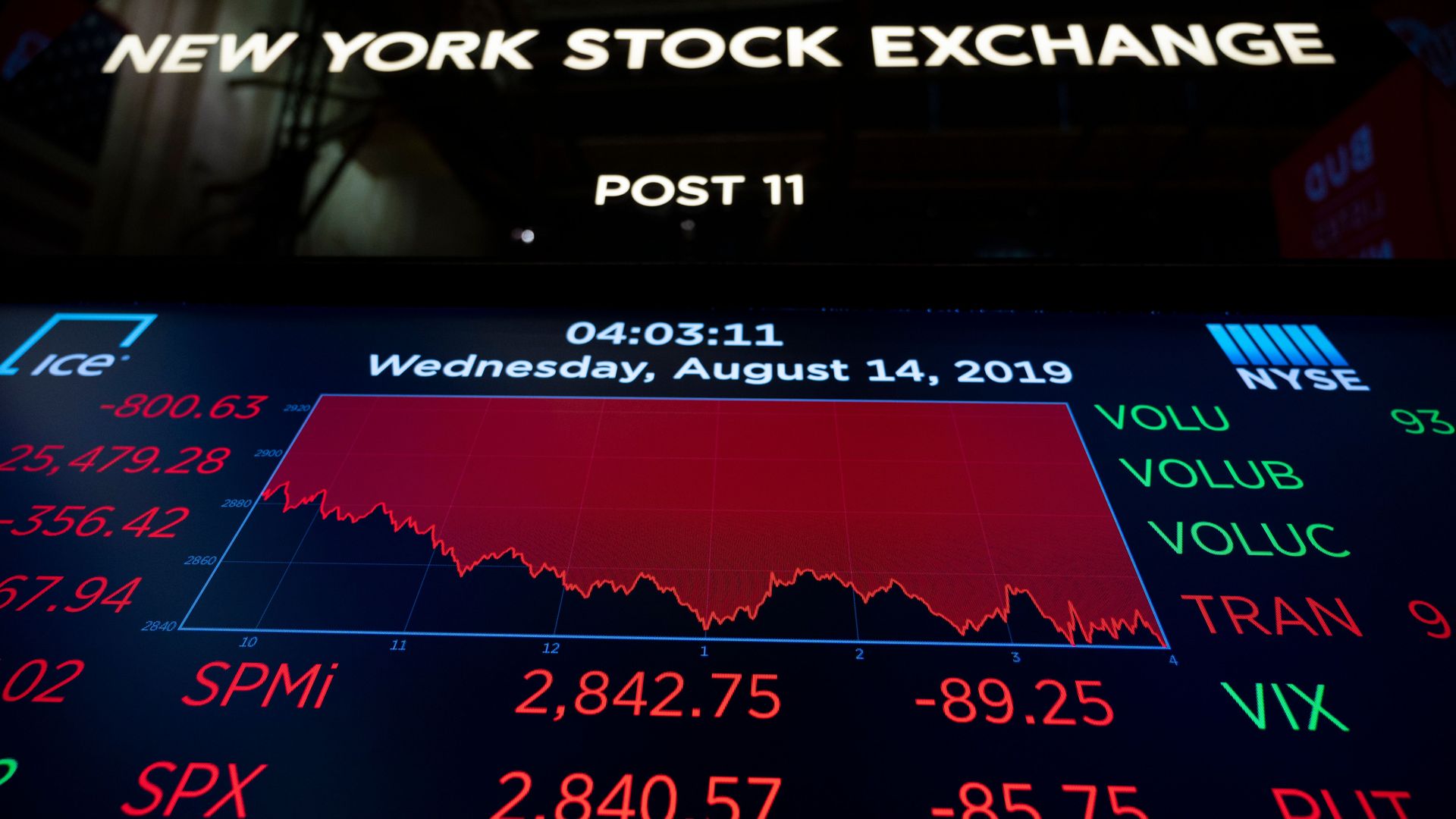 It was 20 months ago that we told you about the highly unusual dynamic of synchronized global growth — the world's 10 biggest economies growing at once.
The state of play: Now, we seem headed for the Synchronized Slump — and we had the rise of inward-looking, finger-pointing nationalism in relatively good times. Imagine the world as things go south.
Global economic data has consistently worsened this year:
Japan and three of Europe's four largest economies — Germany, Italy and the U.K. — are heading toward recession by year-end, with China growing at its slowest pace in 27 years.
The IMF cut its global growth forecast again last month after warning in April that this was a "delicate moment" for the world.
Today's N.Y. Times lead: "Markets Shudder as Signs Point to Global Slowdown ... Trade War Dims Outlook in Germany, China and U.S."
Signs of a looming U.S. recession abound:
Why it matters: These inversions have preceded every U.S. recession of the last 70 years.
Other warning signs: 
U.S. manufacturing is in recession, as is transportation across all sectors — air, rail, freight and passenger. 
Airlines are expecting their worst year since 2014, and the auto industry has laid off more people than it has in a decade.
A growing number of businesses are citing "greater risk aversion," largely because of tariffs, as a reason for not making more purchases or investments.
Economists say Trump's policies have introduced a real risk of stoking inflation — absent for more than a decade — as retailers large and small say the tariffs will force them to raise prices.
Why things could get worse: The levers that have saved the economy in previous times of crisis look exhausted.
Central bankers around the world are cutting interest rates at a level not seen since the financial crisis — but studies show that monetary policy is not as powerful as it once was.
The world is already deeply in debt — and democratic institutions are extremely polarized — making government spending more difficult as well.
Reality check: The U.S. economy is still like a "choose-your-own-adventure" game, with plenty of other data points saying the economy is in fine shape. 
Consumer spending — responsible for two-thirds of economic growth — is still strong, and consumers haven't expressed the same dip in confidence that businesses have. 
The economy has added jobs for 106 consecutive months.
Unemployment is near a 50-year low. 
The bottom line: A recession is always coming — it's just that no one knows when. And the mere fear of recession is just as likely to push the economy into a recession as anything else.
Go deeper: Stocks plummet on fears of recession
Go deeper