El Paso shooting: 2020 hopefuls back gun control, blame NRA and Trump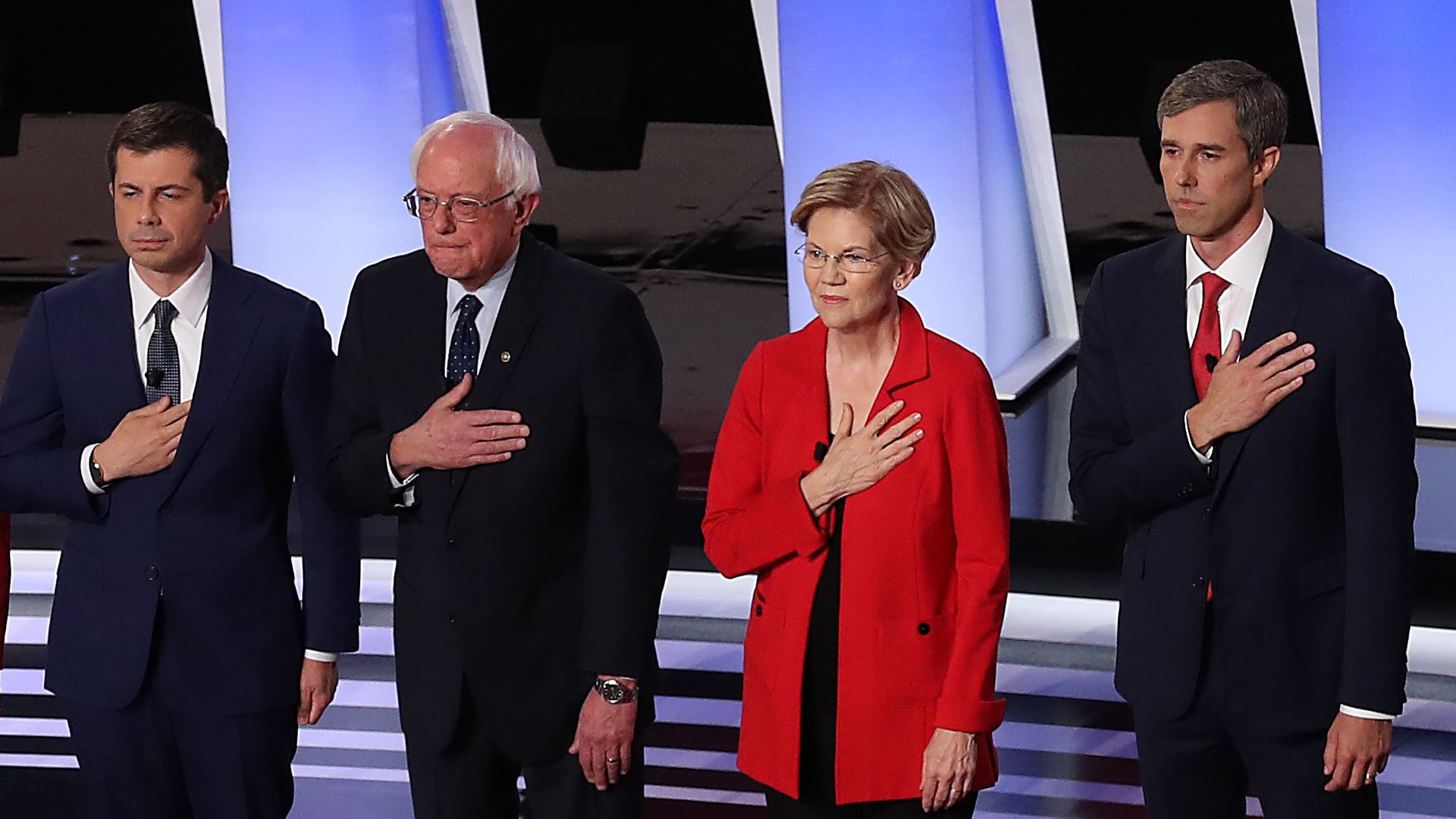 Several 2020 Democratic presidential candidates called for tighter gun control Saturday after a mass shooting in El Paso, Texas, blaming the National Rifle Association and President Trump following the latest massacre to rock the U.S.
Details: Some blamed Trump for a rise in white supremacist-related incidents and hate crimes, pointing to the president's singling out people of color in Twitter attacks in recent weeks, and for his administration's strict immigration policies.
Context: Police arrested a 21-year-old white man following Saturday morning's shooting in El Paso, per AP. Hate crime is among the motives police are investigating.
What they're saying
"We've had a rise in hate crimes — every single 1 of the last 3 years — during an administration where you have a president who's called Mexicans rapists and criminals."
"White nationalism is evil, and it is inspiring people to commit murder, and it is being condoned at the highest levels of the American government ... The president of the United States is condoning white nationalism. ... We are the only country in the world with more guns than people. It has not made us safer. We can respect the Second Amendment and not allow it to be a death sentence for thousands of Americans."
"After every tragedy the Senate, intimidated by the NRA's power, does nothing. This must change. We need a president and congress that listen to Americans, not the ideology of a right-wing extremist organization. We must pass common sense gun safety legislation. ...
"We must treat this violent racism like the security threat that it is. That means investing in law enforcement resources to combat the growing population of white nationalists who are engaging in violence."
Sen. Kamala Harris (Calif.) tweeted that Trump must "have the courage to act" on gun violence. (Harris has pledged previously that if elected, she would use executive action within her first 100 days of office to impose gun control.)
"We shouldn't have to live in fear of mass shootings. Congress must have the courage to pass reasonable gun safety laws. If they won't act, I will."
Sen. Sen. Elizabeth Warren (Mass.) tweeted, "Far too many communities have suffered through tragedies like this already. We must act now to end our country's gun violence epidemic."
Sen. Amy Klobuchar (Minn.) told the AFSCME forum, "The NRA have long dominated American politics to the point where they have stopped sensible legislation that would have prevented deaths and prevented killings. They have done it time and time again."
The other side
Go deeper: In photos: Shooting sparks chaos at El Paso Walmart and shopping mall
Go deeper