Everything you need to know about Falcon Heavy and SpaceX's other key rockets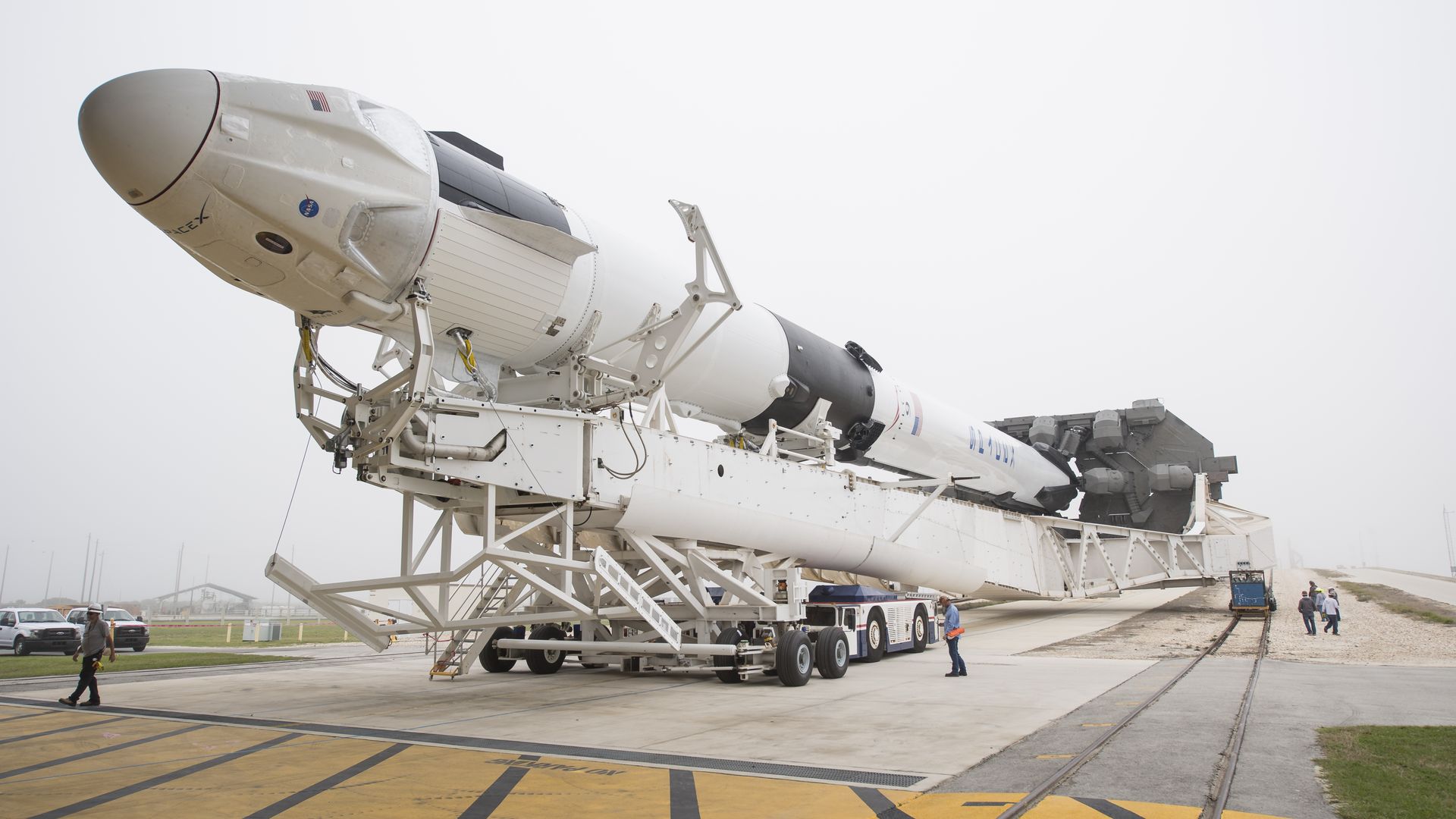 SpaceX, Elon Musk's private space company, has big plans for space exploration — and a growing arsenal of rockets to achieve its goals.
Driving the news: NASA has pushed back an announced Falcon Heavy launch at least two days to no earlier than June 24 at 11:30 p.m. from Launch Complex 39A at the Kennedy Space Center in Florida.
SpaceX's rockets:
Falcon 9: In 2012, the 2-stage rocket made history when it delivered the Dragon spacecraft to the International Space Station, making SpaceX the first commercial company to visit the ISS, per SpaceX's website.

In December 2018, SpaceX successfully reused a Falcon 9 rocket booster for a third time — a company first — simultaneously setting the record for the largest single launch of satellites from the U.S.
Reusing rockets is central to SpaceX's business plan for lowering the cost of access to space.
The rocket costs $62 million.
It's also nearly 230 feet tall and 12 feet in diameter.

Falcon Heavy: In April, SpaceX launched and landed the rocket's 3 boosters, which delivered a payload to orbit for a paying customer for the first time.

It's the most powerful rocket flying today.
The rocket made its debut launch in February 2018.
SpaceX says it generates about 5 million pounds of thrust during launch. It's basically 3 of the Falcon 9 rockets strapped together.
The rocket costs $90 million and can lift nearly 141,000 pounds into orbit.
It's the same height as the Falcon 9, but nearly 40 feet in diameter.

Starship: The Starship will be bigger, have more thrust and be able to carry a larger payload than any of the Falcon rockets. This is the vehicle Musk thinks they'll use to build a city on Mars.

Musk recently tweeted that SpaceX is building its new Starship, its biggest rocket yet, at launch facilities in both Boca Chica, Texas and Cape Canaveral, Florida in a "competition to see which location is most effective." He added the "answer might be both."
Musk said it'll be 348 feet high and 30 feet in diameter, and will be able to deliver a payload of 330,000 pounds — that's about 2.5 times the payload of the Falcon Heavy.
Musk also said he expects the first orbital launch to happen in 2020. He added that he expects its first crewed flight in 2024.
SpaceX's other equipment:
Dragon: SpaceX has been flying uncrewed Dragon capsules to the International Space Station for NASA since 2012. The company now has the Crew Dragon, which is designed to carry up to 7 people to space in a single day.
A Crew Dragon capsule was destroyed during a ground test on April 20, after a history-making uncrewed flight to the International Space Station in March.
It was expected to start flying NASA astronauts to and from the space station as early as this summer, but that's now been delayed, per Axios' Miriam Kramer.

Starlink: SpaceX's project designed to use thousands of relatively low-cost satellites to provide broadband globally, even to remote areas without access to the internet today.

In November 2018, SpaceX won permission from the FCC to launch 7,000 Starlink satellites into space with the eventual goal of building a network of 12,000 satellites that surround Earth.
Musk has said Starlink's goal is to provide a revenue stream to help fund an eventual city on Mars, but it's unclear whether it'll be successful business-wise.
It'll likely take dozens of launches to get the satellite constellation up and running, with many more over the years to keep them functioning.
Go deeper:
Go deeper