All 2020 Democrats want to impeach Trump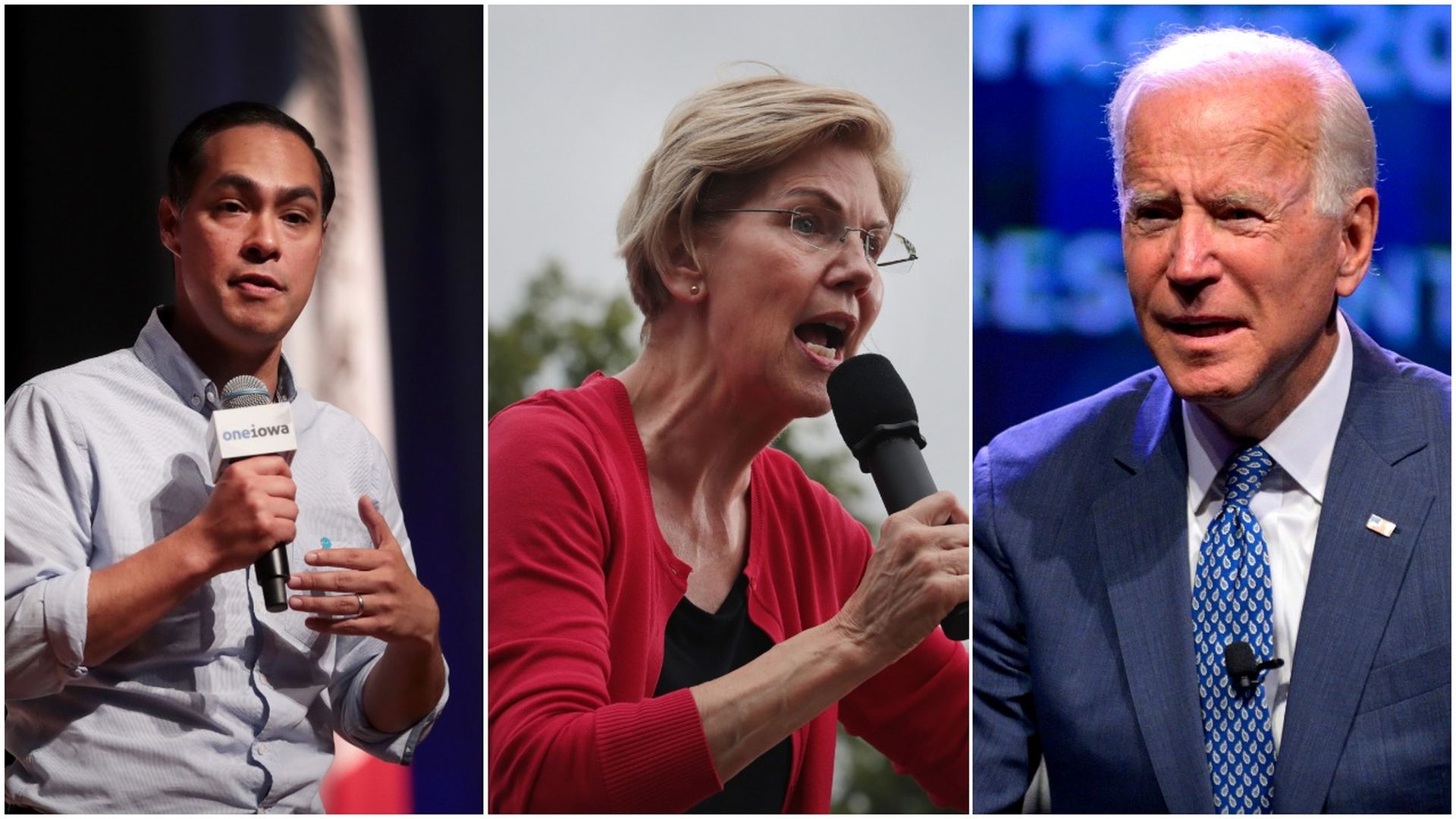 All major 2020 Democratic candidates have joined the call to launch an impeachment inquiry against President Trump.
Driving the news: Speaker Nancy Pelosi announced on Sept. 24 that the House will open a formal impeachment inquiry into the president.
Want to impeach Trump
Former Rep. John Delaney in a statement: "Speaker Pelosi has exercised extremely good judgment on this question thus far, and I agree with her decision today to move forward with an official impeachment inquiry. She deserves our support."
Sen. Cory Booker (N.J.): "In 2016, Trump welcomed foreign adversaries to meddle in our democracy for his own gain. Now he appears to be using the same playbook to remain in power. I applaud Speaker Pelosi's announcement of an impeachment inquiry—it's our one remaining path to ensuring justice is served."
Former Texas Rep. Beto O'Rourke: "We have a lawless president, who has undermined our democracy; a racist president, who has incited violence; a reckless president, who has let our planet burn and fleeced taxpayers for his own benefit. To my former colleagues in Congress: Finish the job and impeach him."
Former HUD Secretary Julián Castro expressed his support for an impeachment inquiry in late September, writing: "The President is a criminal. The House must start impeachment hearings today."
Former Vice President Joe Biden announced his support for impeachment in an Oct. 9 speech: "He believes he can and will get away with anything he does. We all laughed when he said he could stand in the middle of 5th Avenue and shoot someone and get away with it. It's no joke. He's shooting holes in the Constitution, and we cannot let him get away with it."

He previously had attached conditions to his support, saying that "if the President does not comply — if he continues to obstruct Congress and flout the law — Donald Trump will leave Congress no choice but to initiate impeachment." 
Warren's original call to impeach: "The severity of this misconduct demands that elected officials in both parties set aside political considerations and do their constitutional duty. That means the House should initiate impeachment proceedings against the President of the United States."

In late September, Sanders said it would be "irresponsible" to commit to how he would vote on removing Trump in the Senate if the House effort succeeds, adding, "Maybe I'm old fashioned, I'd like to hear the evidence before I make a decision."

Following the whistleblower's complaint, Ryan wrote: "This President's behavior is illegal and I once again call on Congress to impeach him—immediately. Any right-minded American should support this."

Buttigieg shifted his position Monday, saying he supports "the House on taking on impeachment proceedings."
Entrepreneur Andrew Yang has endorsed the impeachment effort, writing: "Given the President's latest actions I think impeachment is the right path forward. Asking foreign leaders to political help in return for aid and then suppressing your own agency's inquiry is egregious. There have to be limits and Congress is right to act."
Billionaire Tom Steyer has poured millions of dollars into the Need to Impeach initiative, writing in a statement on Sept. 24: "I started Need to Impeach almost two years ago because I believed it was important to protect our country from this lawless president. Over 8 million Americans joined in that effort and today their voices are being heard loud and clear — this is their victory. I applaud Speaker Pelosi and Democrats in Congress who are calling for an investigation into Trump's criminal behavior. No one, not even the President, is above the law and he must be held accountable."
Author Marianne Williamson in statement said: "Our president has apparently no respect for the demands, the responsibilities, or the limits to his power. Because of that, I have decided that impeachment is the only responsible way that we, as citizens, can take a stand against the president's egregious overreach and careless use of the powers of the presidency..."
Sen. Michael Bennet (Colo.) said in a statement: "I support the decision to open an impeachment inquiry. As a member of the Senate Select Committee on Intelligence, I will continue to exercise my role in conducting oversight and uncovering the facts. We need to ensure that the Congress has access to the whistleblower's complaint and that the whistleblower is protected to the full extent of the law."
Rep. Tulsi Gabbard (Hawaii), who had previously been a holdout on the issue, said in a Sept. 27 statement: "I believe that if we do not proceed with the inquiry, it will set a very dangerous precedent."
The bottom line: In a race that has been characterized by 2020 Democrats creating new litmus tests to measure themselves against Trump, calling for his impeachment is now the standard for all candidates.
Go deeper ... 2020 presidential election: Track which candidates are running
Editor's note: This piece is being updated as 2020 candidates refine their positions.
Go deeper