Pinterest pivots retail strategy to ads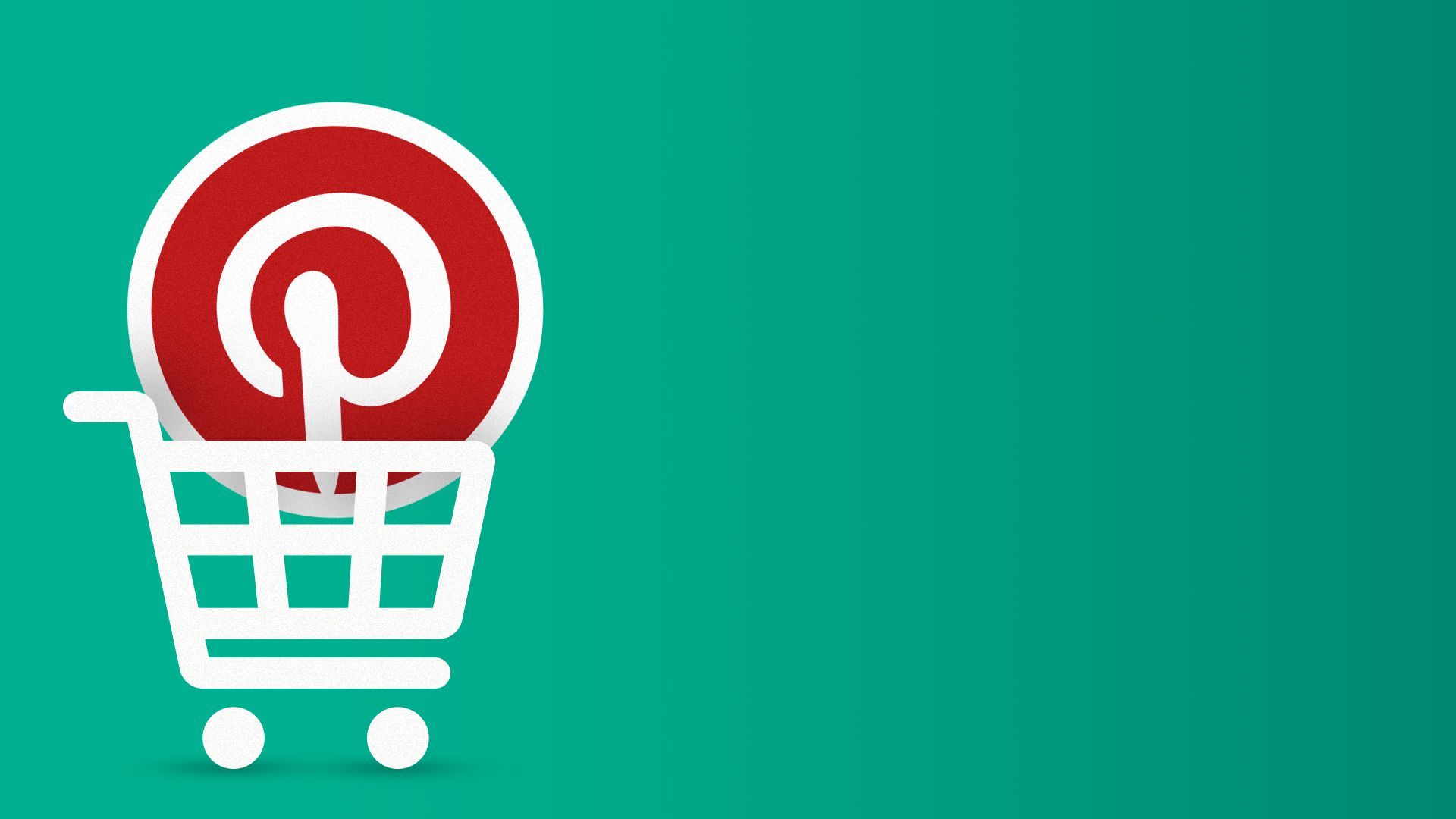 Pinterest is pivoting its retail strategy to focus on advertising as its main squeeze.
Why it matters: Pinterest isn't looking to be an e-commerce platform, but it does hope to facilitate shopping.
What they're saying: Pinterest is investing in technology that would "drive the best shopping experience fulfilled by merchants that are already on our platform," chief revenue officer Bill Watkins told Axios at Shoptalk.
"Our users are coming with purpose and they're coming with intent," he says.
Pinterest is investing in computer vision, machine learning and artificial intelligence to "render the most personalized shopping experience" for its users, who can use the merchant of their preference.
Zoom out: Pinterest hopes its platform will facilitate consumers' shopping behaviors, he says.
"When you take a look at what they're doing on the platform, it's categories that you really can't engage with absent retail," Watkins says, referring to popular categories like home, fashion, food, beauty and travel.
Its shopping ad catalogs are its fastest-growing revenue stream, he says.
Context: Pinterest is adjusting its go-to-market strategy with aims to get advertisers to pay a premium cost-per-impression or cost-per-action, for an ad, D.A. Davidson analyst Tom Forte tells Axios.
"It should result in higher margin transactions," Forte says, even though it could result in less revenue.
"Success looks like getting the consumer to purchase the merchandise on the retailer's website rather than Pinterest," he adds.
Between the lines: Pinterest is abandoning plans for a direct checkout solution.
The company has rolled out mobile deep linking, which takes users directly to a merchant's app to check out — bypassing the "friction of multiple clicks," Watkins says.
The company is also partnering with e-commerce platforms like Shopify, and tapping into their merchant ecosystem.
Of note: Meta company Facebook shuttered its live shopping feature in October of last year — not long after TikTok dropped plans to expand its live e-commerce "TikTok Shop" initiative.
Flashback: As Axios surmised, the disclosure of hedge fund Elliott Management's 9% stake in Pinterest last year could be a hindrance to the company's e-commerce play.
In December, the company added Marc Steinberg, a senior portfolio manager at Elliott, to its board of directors.
This comes after a few months after the company tapped Google commerce executive Bill Ready as CEO.
The intrigue: Elliott may be taking a similar tack to its approach with eBay in 2019, Forte says.
Elliott is emphasizing cost discipline, helping Pinterest generate free cash flow (which he believes the advertising business can do well) to buy back shares or give back to shareholders in the form of dividends.
That said, he noted the difficult timing of Elliott's strategic investment, given the downturn in digital advertising and a weakened economy.
The bottom line: Pinterest will continue to invest in building first- and third-party performance ad solutions to make it easier for the brand or merchant to measure, Watkins says.
Go deeper