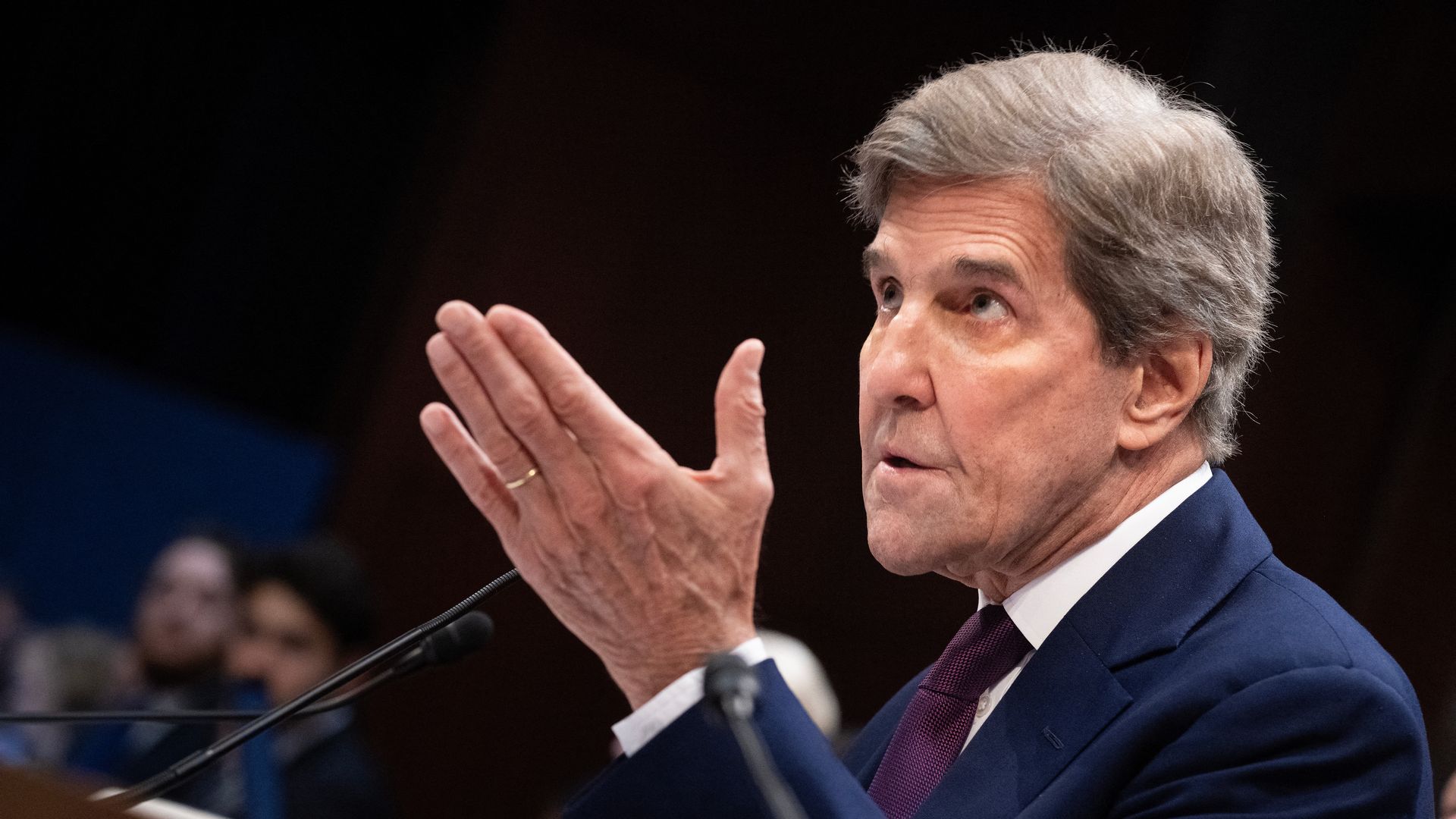 Special U.S. climate envoy John Kerry on Thursday gave an aggressive defense before House Republicans of the Biden administration's global efforts.
Why it matters: Hidden beneath partisan fireworks on the House Foreign Affairs' Oversight and Accountability Subcommittee today were big nuggets of insight on global climate policy and congressional intrigue.
Here are our three major takeaways:
🇨🇳 CBAM China defense: Kerry confirmed the U.S. is considering a carbon border adjustment mechanism to persuade China to decarbonize at a faster pace.
"We're exploring with a lot of countries what the various approaches might be, and President Biden has charged us to examine cross-border adjustment mechanisms in order to understand how we can deal with the question of very carbon intensive-produced goods coming into our country," Kerry said.
Kerry leaned heavily on the CBAM discussions to bat back at Republican fury over U.S. engagement with China on climate issues. He emphasized that he wants Congress to take action, specifically noting efforts by Sens. Chris Coons and Sheldon Whitehouse.
"You can legislate a CBAM," Kerry said during a heated back-and-forth with Texas Republican Nathaniel Moran.
He also gave a clear explanation for his upcoming diplomatic journey to China: "Every step forward depends not on one country acting alone but acting all together."
💸 Money for 'loss': Kerry left climate policy watchers scratching their heads in a tense moment with Florida's Brian Mast over "loss and damage" funding, a critical aspect of this year's COP28 talks.
Loss and damage payments go to nations that have played almost no role in causing global warming, yet face harm from encroaching seas, stronger storms and other escalating effects.
Asked if the U.S. would fund loss and damage, which Mast called "climate reparations," Kerry replied: "Under no circumstances."
This would be a big deal because the U.S. agreed last year to clear the path for eventual loss and damage support, and Kerry has previously committed to continued dialogue with other nations on U.S. loss and damage support.
A State Department spokesperson later clarified the hearing comment to Axios' Ben Geman: "Secretary Kerry was answering Chairman Mast's question regarding whether the United States would commit to climate reparations. He did not rule out U.S. payments into a loss and damage fund."
🔎 Oversight work: Kerry also discussed his office's responses to various GOP oversight requests that have led to recent subpoena threats.
Kerry said the pace of responses is dictated by the level of funding given to his team: "There's a massive amount of requests and a very small office.... If we could get additional funding, we could have people speed it up."
That answer's unlikely to appease Republicans because their oversight includes probing his office's budget.
Go deeper