Axios World
April 11, 2022
Welcome back to Axios World.
Tonight's edition (2,005 words, 7½ minutes) has stops in France, Pakistan, Sri Lanka, Mexico and India.
But first, we look at the view from Russia with reporting drawn from the latest episode of our podcast, "How it Happened: Putin's Invasion."
1 big thing: Inside wartime Russia, Putin isn't losing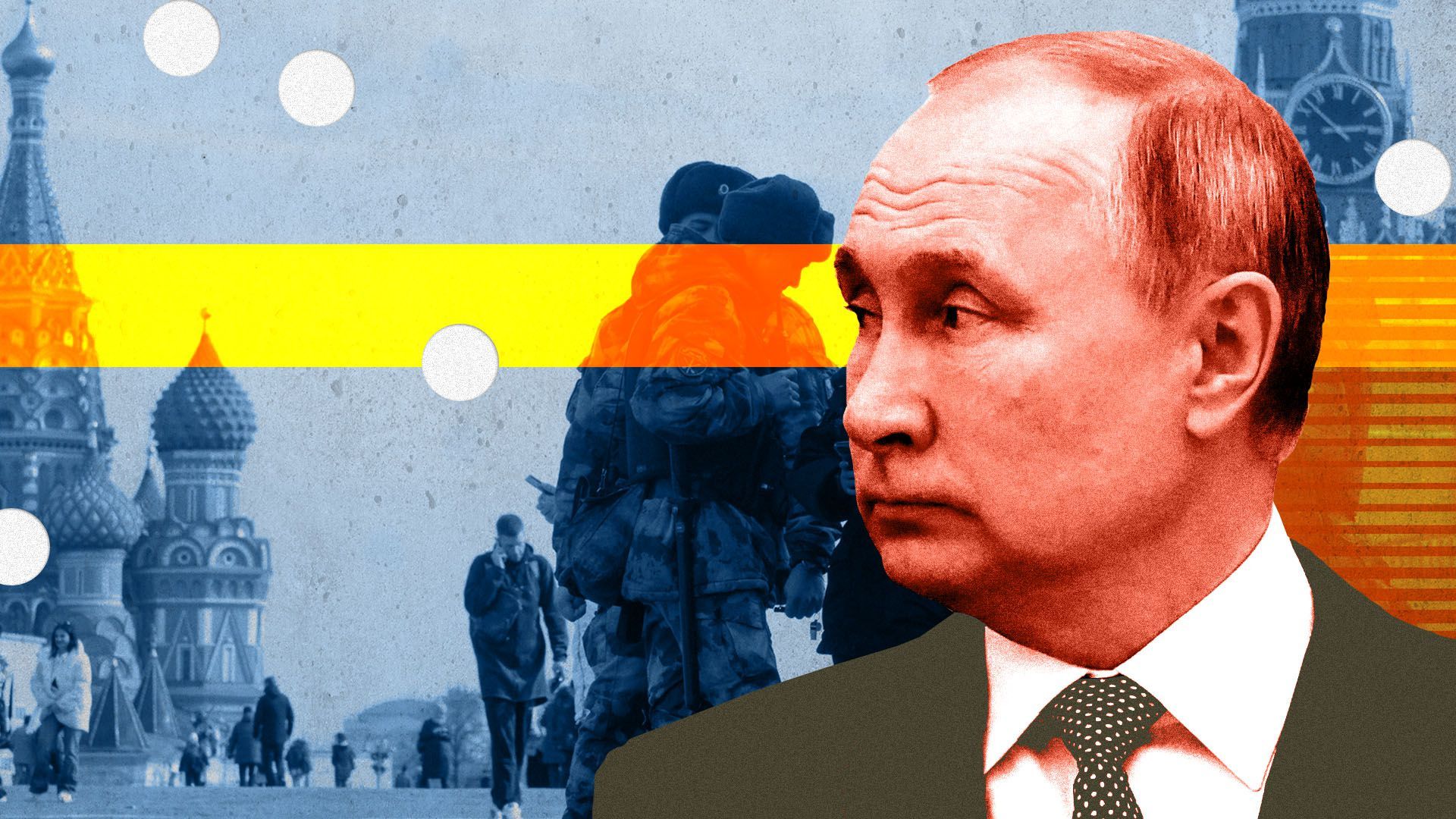 Western sanctions and condemnations intended to pile pressure on Vladimir Putin instead seem to be rallying Russians behind him.
What they're saying: The more horrific the allegations against Russia — such as the apparent massacre of civilians in Bucha— the stronger the impulse to reject them as lies, says Grigory Yudin, a sociologist at the Moscow School of Social and Economic Sciences. "Otherwise, it's just impossible to live with."
Yudin says Russians believe implicitly that it's impossible to change Putin's behavior. And so while perhaps half of the population supports Putin unconditionally, many others do so out of self-preservation.
"You need some storyline that tells you how things are fine. And basically the government provides them with this storyline, so they're willing to support it because it helps them to survive," he says.
On the ground: Russian shoppers can no longer buy many Western products, and many goods they can buy are now more expensive. But they don't blame Putin, says Yana, a journalist in Moscow who asked that we not use her last name.
"Oh, what is this West doing to us?'" she recalls a cashier saying when she visited a town outside the city. "The sanctions just reassured people that the West is evil."
"For the majority, it's not about Ukraine. It's about Russia and the West fighting inside Ukraine," says Denis Volkov, director of the Levada Center, Russia's top independent pollster.
In focus groups, Russians will complain that their lives are getting harder, while at the same time praising Putin for standing up to the U.S., he says.
By the numbers: 81% of Russians approved of the invasion as of March 30, and Vladimir Putin's approval rating has climbed to 83%, according to Levada's polling — though the fact that opposition to the war has been criminalized makes those numbers harder to interpret.
Even among supporters of the war, "there is no euphoria," Volkov says. "Deep down, there is some understanding that the situation is serious," and even some of Putin's supporters feel "traumatized" by what's taking place, he says. He thinks most Russians want the conflict to end.
Driving the news: Anyone who doesn't support the Kremlin line is being suppressed. Demonstrators and journalists face up to 15 years in prison for protesting the war or reporting truthfully on it.
The protests that began after the invasion have largely died down. Many educated Russians are fleeing the country, including Yana's best friend.
"For those Russians who oppose the war, what is going on now is a complete national tragedy," Yudin says. "Not simply because Russian troops are participating in doing terrible things to our closest neighbor, but also because it destroys the future of the country."
There is one figure in Russia who has called tens of thousands of protesters into the streets in the past. But Alexei Navalny was just sentenced to nine more years in a remote prison, and his Anti-Corruption Foundation is banned as an "extremist" group.
"People don't join the Russian opposition because they expect quick victories," says Vladimir Ashurkov, who runs the foundation from exile in London.
The bottom line: Discontent in Russia stemming from this war could eventually become dangerous for Putin. But for now, most Russians appear to be standing behind him.
🎧 Hear more of my interviews on this morning's new episode of our podcast series, "How It Happened: Putin's Invasion" ... Part IV: "The view from Russia."
2. The latest from Ukraine
Ukrainian and U.S. officials said Monday that Russia is preparing for a major operation in the eastern Donbas region, shifting thousands of troops eastward and sending an 8-mile long convoy to resupply its forces.
They're expecting a shift in the fighting, from mainly artillery bombardments to grinding land battles for territory. The U.S. and other countries are trying to rush weaponry in while they still can.
A senior Defense Department official told Axios' Glen Johnson that Russia may be seeking a breakthrough before May 9, Victory Day in Russia.
The battle to hold Mariupol is "the heart of the war" right now, Ukrainian President Volodymyr Zelensky told AP. The besieged port city's mayor says more than 10,000 civilians have been killed.
What to watch: Russia named a new commander in Ukraine, Gen. Aleksandr Dvornikov, who is best known for helping to turn the tide in Syria in part by relentlessly bombing cities.
More headlines:
Slovakia has transferred an S-300 missile defense system to Ukraine, fulfilling one of Zelensky's top requests for capabilities to help "close the skies."
France is sending in war crimes investigators, including to Bucha. National security adviser Jake Sullivan claimed Sunday that "there was a plan from the highest levels of the Russian government to target civilians who oppose the invasion."
Japan says it will expel eight Russian diplomats and phase out imports of Russian coal and oil. Meanwhile, U.K. Prime Minister Boris Johnson pledged military aid including 120 armored vehicles while on a surprise visit to Kyiv.
3. Macron vs. Le Pen: The race is on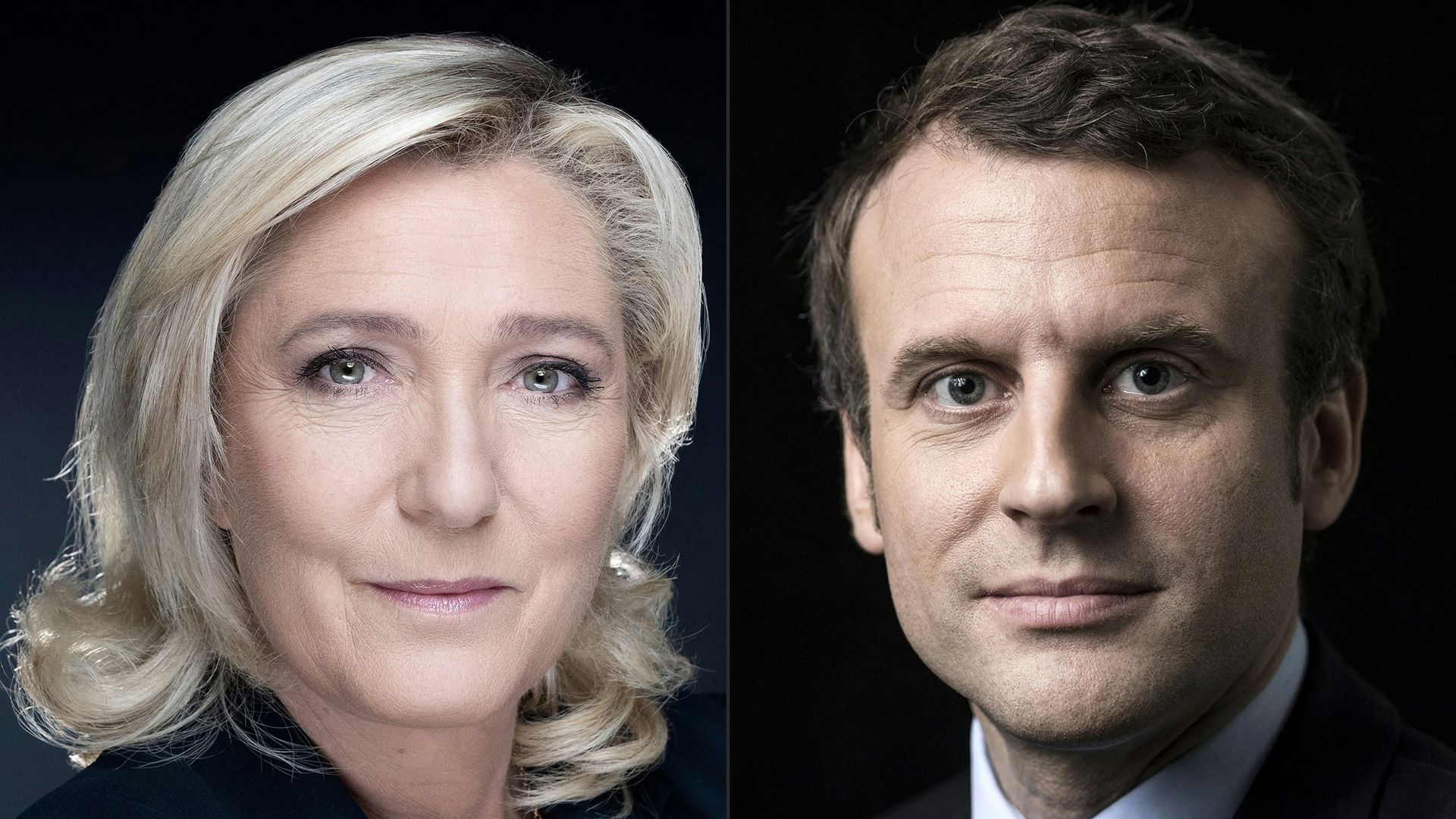 French President Emmanuel Macron and far-right leader Marine Le Pen are headed into a run-off for the French presidency on April 24 after topping Sunday's first round with 27.8% and 23.2%, respectively, Axios' Ivana Saric writes.
Driving the news: Both candidates hit the campaign trail on Monday, with Macron visiting towns in the north that voted heavily for Le Pen.
He was criticized for neglecting to campaign prior to the first round, focusing instead on Ukraine, while Le Pen toured the country, criticized the high cost of living and climbed in the polls.
Three key takeaways:
1. Macron fared slightly better than expected given Le Pen's late surge in the polls, beating her by slightly more than he did in 2017's first round.
Macron won 66% to 34% in the 2017 run-off, but his lead is now just 53% to 47%, per Reuters, and Le Pen has the momentum.
2. Sunday's results were a brutal blow for France's traditional leading parties, the center-right Republicans and the center-left Socialists, which combined for a mere 6.5% of the votes.
Valérie Pécresse — who at one point polled neck and neck with Macron after winning the Republicans' nomination — told reporters Monday that she is personally indebted 5 million euros after receiving just 4.8%, short of the 5% threshold for public reimbursement.
3. Roughly half the electorate is now up for grabs.
Far-left candidate Jean-Luc Mélenchon, who finished third with 22%, advised his supporters not to vote for Le Pen in the second round, but pointedly made no mention of Macron. An Ifop poll on Sunday found that 44% of his voters plan to sit out the second round.
Extreme-right candidate Éric Zemmour called on his supporters to back Le Pen, while Pécresse, Greens candidate Yannick Jadot, and Socialist candidate Anne Hidalgo endorsed Macron.
What's next: Macron and Le Pen will face off in a prime-time television debate on April 20.
Bonus: Where in the world?
10 countries contain "land" in their names. 
I'll give you two — Solomon Islands and Marshall Islands — because isLANDs would feel like a bit of a trick.
I'm only including countries with UN recognition (apologies to England, Scotland and Somaliland).
Can you name the other 8?
Scroll to the bottom for the answer.
4. Global news roundup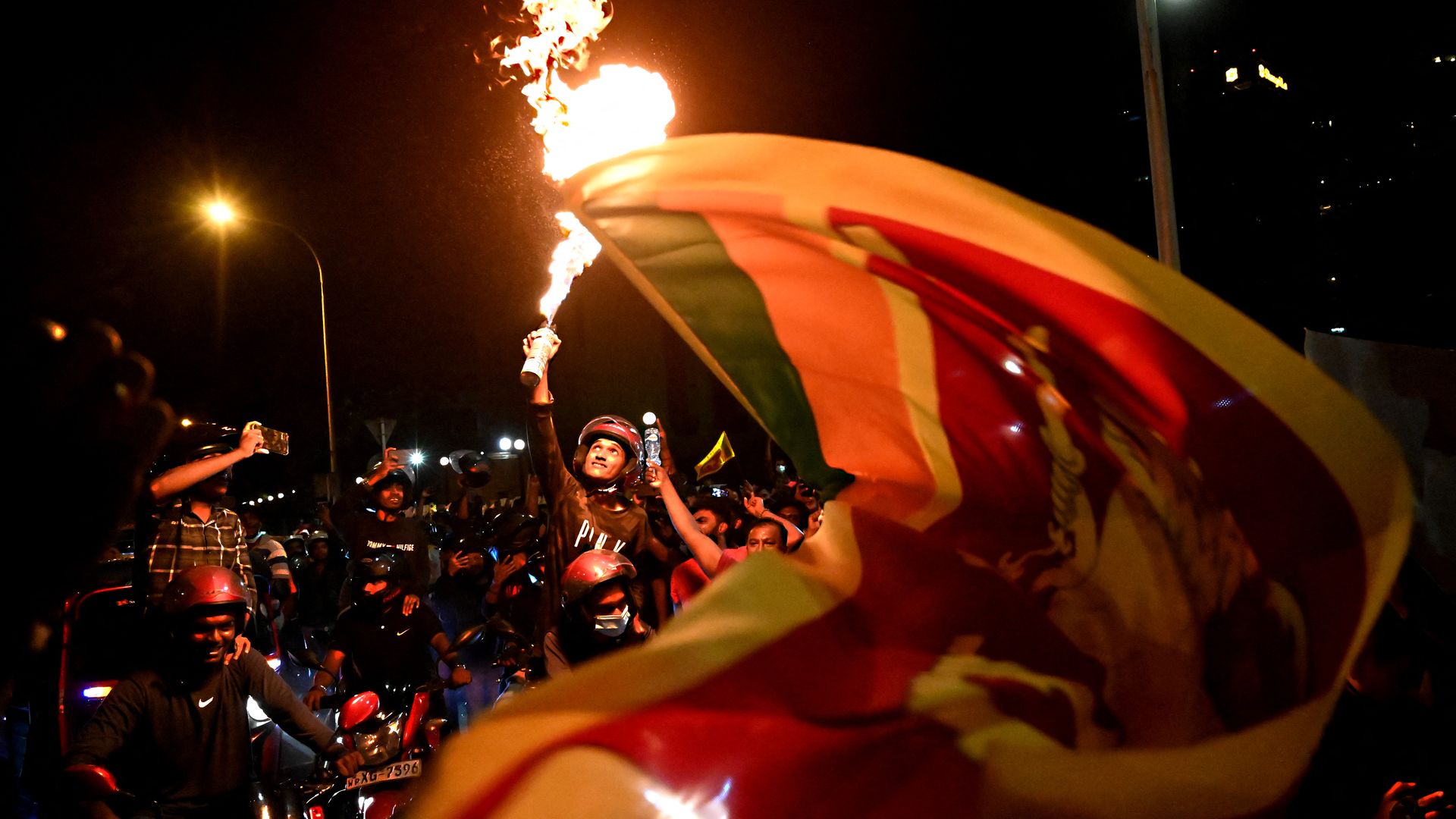 1. Pakistan's parliament voted in Shehbaz Sharif as prime minister on Monday, but around 100 lawmakers loyal to Imran Khan walked out in protest and said they would resign their seats.
The backstory: Khan, a populist ex-cricket star, has called his supporters out into the streets to protest his ouster, which he claims (without evidence) was part of a U.S.-backed conspiracy.
Sharif is friendlier to the West than Khan and more low-key than his brother, Nawaz, a former prime minister who now lives in exile and faces corruption charges (which he denies).
What to watch: Some see Sharif's rise as a window to reset relations with Washington and Delhi, but it could be brief. Elections are due next year and are likely to be called before then.
2. Sri Lankans continue to take to the streets to demand the resignation of President Gotabaya Rajapaksa as they grapple with the worst economic crisis in decades and shortages of everything from fuel to life-saving medicines.
State of play: The country is almost entirely out of the foreign currencies it needs to import essentials, and the new finance minister told Reuters it will take $3 billion in external assistance just to cover the gap for the next six months.
Many of the president's allies are abandoning him, but he's resisting calls to resign.
3. Mexican President Andrés Manuel López Obrador won a self-imposed recall election on Sunday with more than 90% of the vote … on a turnout of less than 17%, Axios Latino co-author Marina E. Franco writes.
Driving the news: López Obrador accused the independent electoral institute, INE, of undermining the election by having fewer poll sites than last year's congressional election and not promoting it enough.
Analysts say that could become part of a bigger battle to discredit, or even dismantle, Mexico's electoral institutions ahead of the next general election.
What to watch: López Obrador said Monday he plans to introduce an electoral reform measure requiring election commissioners to be directly elected, among other steps.
5. Modi meets Biden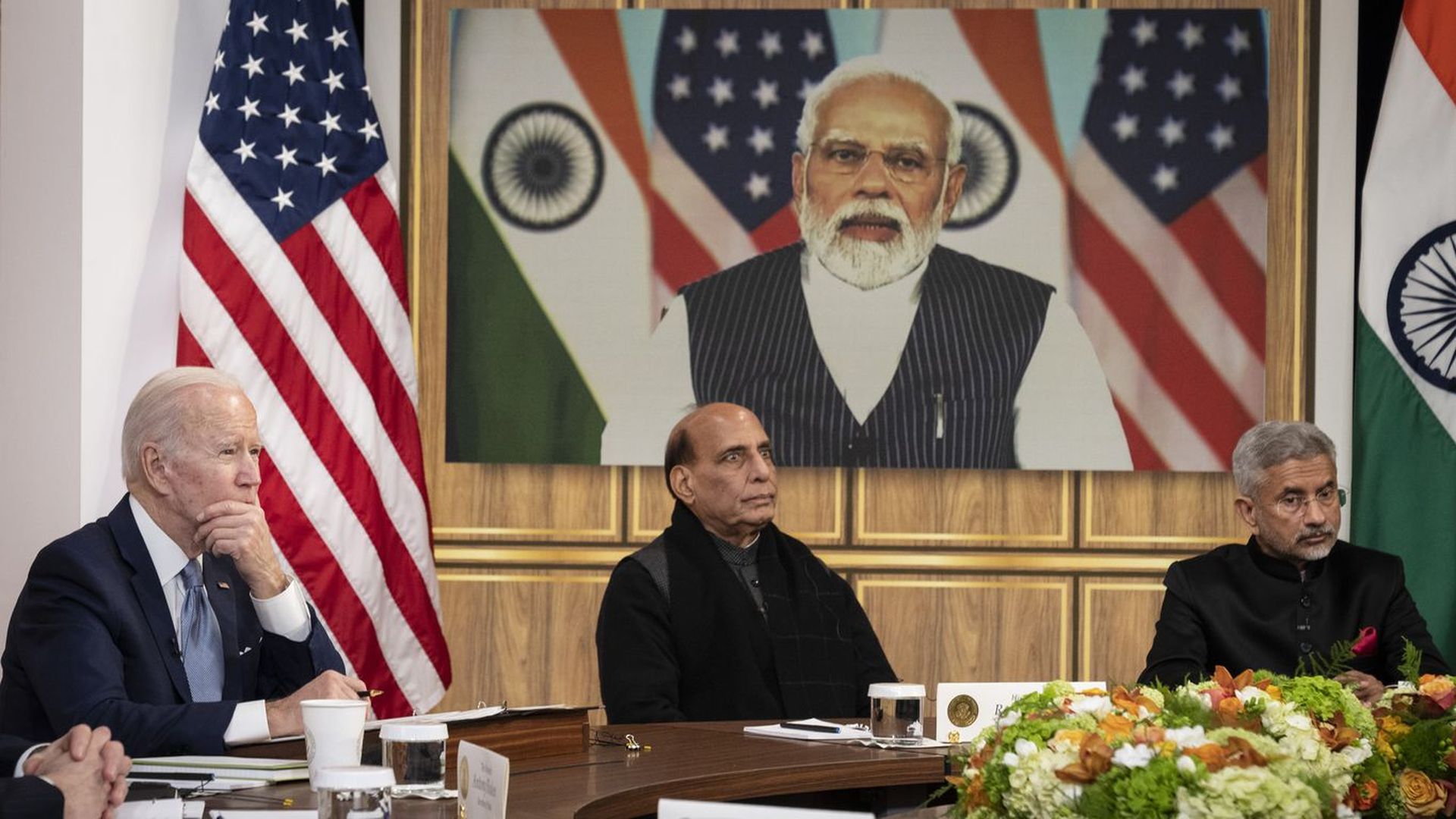 President Biden and Indian Prime Minister Narendra Modi held a virtual meeting today at an awkward moment, as India has rebuffed U.S. calls to isolate Russia over its invasion of Ukraine.
Behind the scenes: Asked repeatedly whether Biden had urged Modi to take a harder line, a senior administration official told reporters that discussions focused mostly on what India could do to mitigate food supply shocks and other destabilizing effects of the war, Axios' Zach Basu reports.
"There was no concrete ask or concrete answer, but the leaders were able to step back and have a pretty detailed and candid exchange of views," the official said.
"I think India will make its own decisions, but we're going to continue the discussions," they added.
Driving the news: Modi said he had spoken several times with both Putin and Zelensky and proposed that they hold direct talks.
He also condemned the apparent massacre of civilians in the Kyiv suburb of Bucha and called for an "independent investigation," without naming Russian forces as the perpetrators.
What to watch: Biden said he looked forward to seeing Modi in person in Japan "on about the 24th of May," in what is likely a reference to an upcoming Quad leaders' summit planned for the spring.
6. What I'm reading: Three types of Russian soldier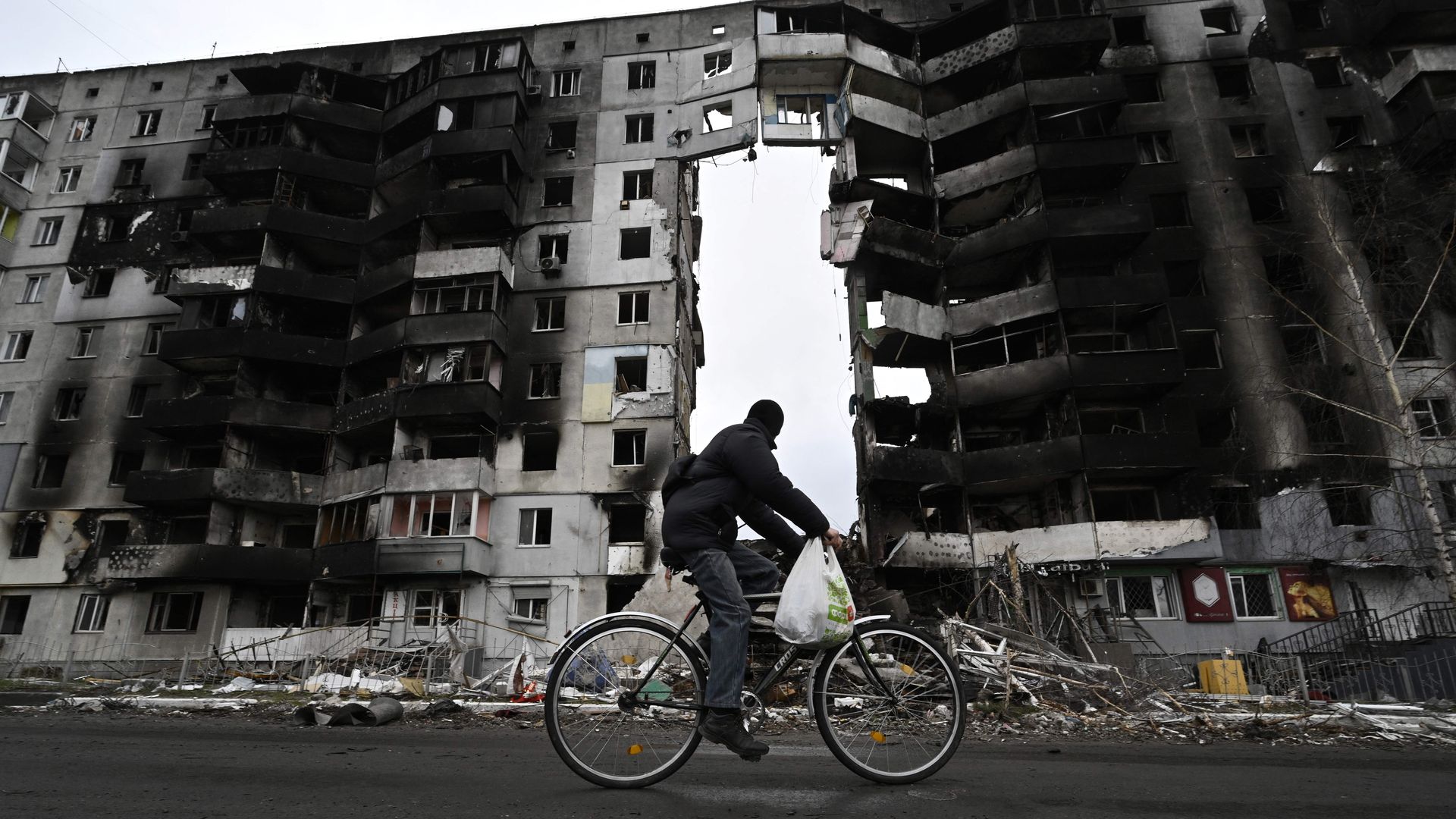 Russian soldiers locked the entire population of the village of Yahidne, near Chernihiv, in the basement of a school, Oliver Carroll reports in a dispatch for the Economist.
A dozen of the 370 villagers died of suffocation. Their bodies remained in the basement. A father and daughter were killed when they tried to escape.
Occupying Russian soldiers would visit for inspections.
Some were cruel and often drunk, looting, taunting and in a few cases even killing.
"But another category went out of their way to make life easier for the villagers," Carroll writes, providing water and even medical care. One young soldier kept apologizing. He said his mother had no idea he was in Ukraine.
One villager described a third, larger category: "Oblivious to the destruction they were creating, yet arrogant enough to believe they were doing God's work."
When the soldiers retreated, they left behind "a crate of military propaganda" that was "apparently used to explain to the soldiers why they were fighting in Ukraine," Carroll writes.
"Teaching aids sketch key dates of glorious Russian history and the Russian military oath; a map shows most of Ukraine as historic Russia."
Read the piece (paywall)
7. Stories we're watching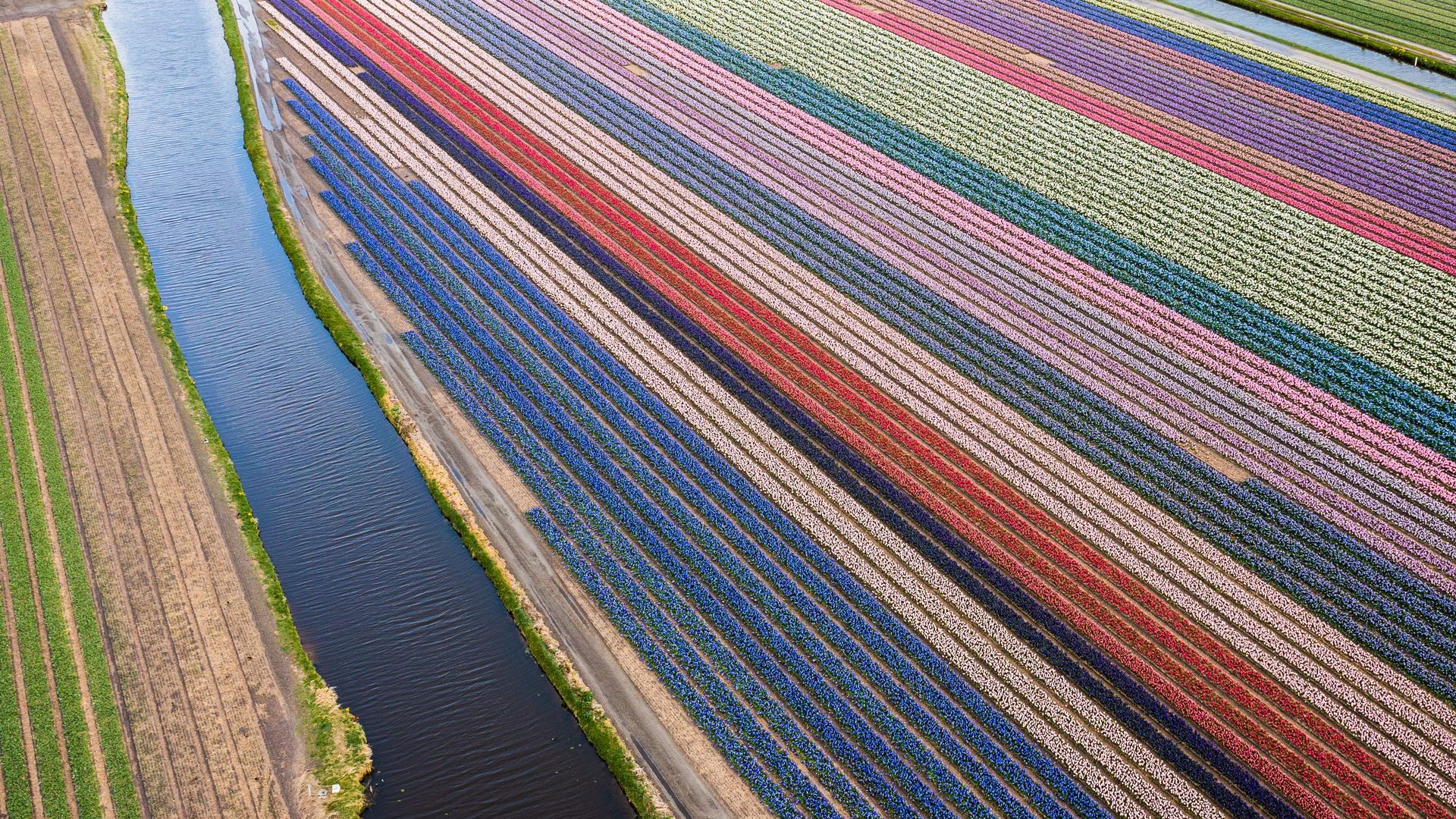 Quoted:
"This regime that is in power in our country today is not just corrupt, it's not just kleptocratic, it's not just authoritarian. It is a regime of murderers."
— Russian opposition politician Vladimir Kara-Murza to
CNN
today. He was arrested shortly after the interview was posted.
Answers: Finland, Iceland, Ireland, Netherlands, New Zealand, Poland, Switzerland, Thailand.