Welcome back to Axios World. Buckle up for tonight's 1,521-word (6 minute) global journey.
Does your spouse get Axios World? How about kids? Parents? Tell them to sign up!
I'm off to Europe for a couple of weeks, but you'll be in the capable hands of my colleagues Zach ([email protected]) and Shane ([email protected]). I might even send a postcard.
1 big thing: Macron sticks the landing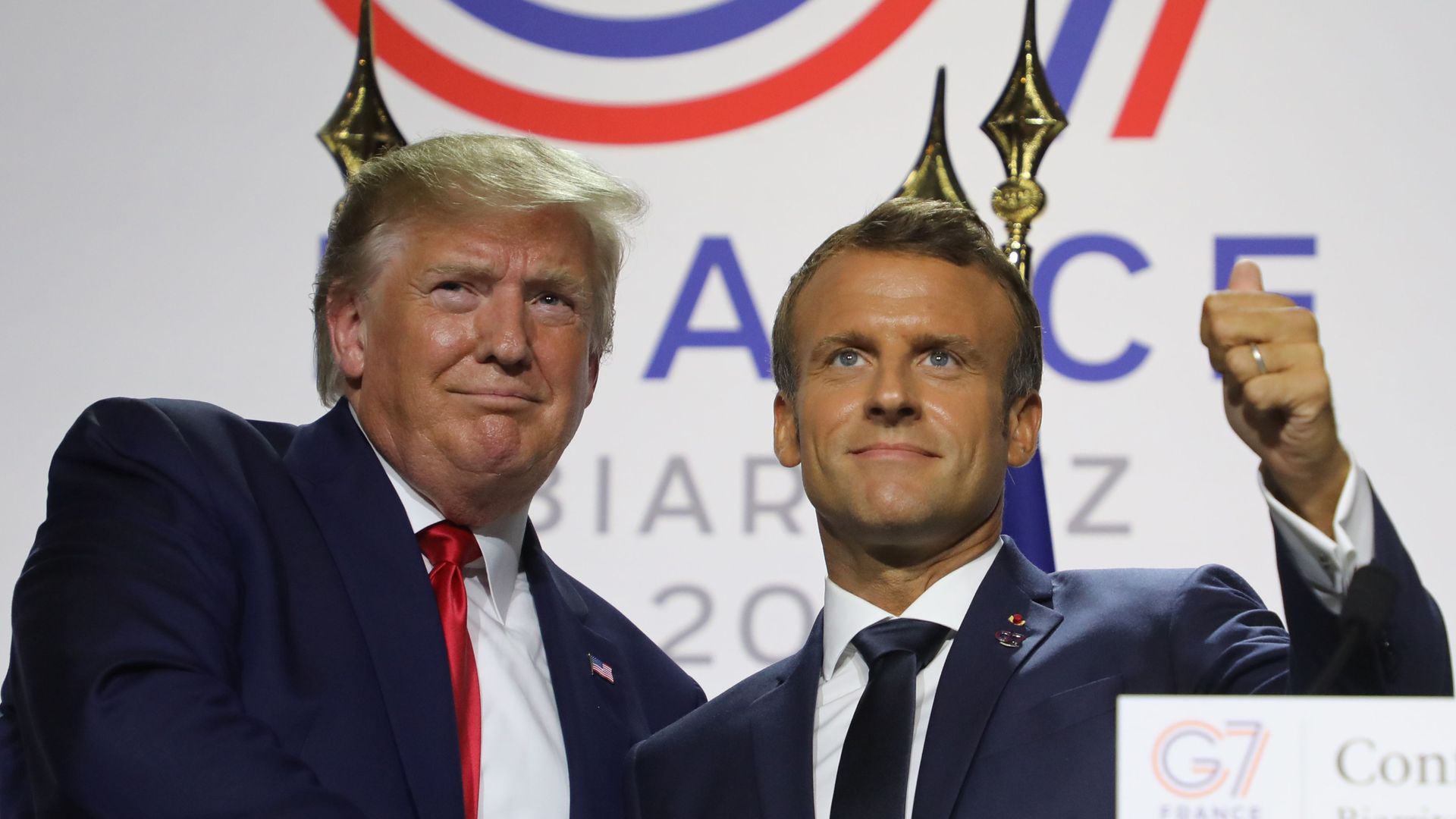 The G7 summit began with a sense of impending doom and included a twist in the form of a surprise guest, but ended with smiles and a delicate breakthrough — President Trump may now be on course to meet with Iranian President Hassan Rouhani.
Driving the news: French President Emmanuel Macron, the host, revealed during a joint press conference with Trump today that he has been working to broker such a meeting. That explained his decision to invite Iranian Foreign Minister Mohammad Javad Zarif to Biarritz, a move that raised eyebrows around the world yesterday.
The big picture: Trump has long wanted to meet Rouhani, but Iranian officials have rejected the idea on grounds that the U.S. is waging "economic warfare" against them.
Macron said he told Zarif yesterday that a deal can be made if Iran agrees to a meeting. He touted Rouhani's statement today that he would be willing to meet with an "individual" if it was in Iran's interest.
Macron said the idea to invite Zarif came after Saturday's dinner with the other leaders, and he added that he informed — but did not ask — Trump before issuing the invitation.
Flashback: Trump unilaterally withdrew from the 2015 Iran nuclear deal last May, calling it the worst deal in history. Macron has led the remaining signatories in attempting to salvage the deal.
Iran's patience is growing thin amid suffocating U.S. sanctions, and it has begun to creep outside the deal's obligations.
Macron has clashed vigorously with Trump on the issue, but was conciliatory today. He said he and Trump share the same objectives — to prevent Iran from obtaining a nuclear weapon and to avoid further escalation in the Gulf.
There are obstacles to a meeting on both sides, though.
Rouhani answers to Iranian Supreme Leader Ayatollah Ali Khamenei, who has previously ruled out negotiations with the U.S.
Trump's administration is stocked with Iran hawks who are more wary than the president of breaking from the "maximum pressure" approach.
But Trump was relatively concrete in terms of what was on the table.
He said he's not seeking regime change in Tehran, but instead wants a longer-term nuclear deal that includes increased surveillance and also covers ballistic missiles.
Trump said he'd be willing to offer a "letter of credit," sourced from "numerous countries" and backed by oil, to help relieve Iran's short-term crunch. In the meantime, he said, "they have to be good players" or risk "very violent force."
Macron sounded bullish, saying he hoped the meeting would take place within weeks and ultimately lead to a new nuclear deal.
What to watch: Macron dismounted the diplomatic tightrope with a hug and warm words from Trump. Afterward, Trump tweeted a video captioned: "THANK YOU FRANCE!"
It's a stark contrast with a year ago, when Trump lambasted Canada's Justin Trudeau as "dishonest and weak" upon exiting the G7.
We're a long way from a new Iran deal, though, and Macron knows from his history with Trump how ephemeral moments like this can be.
2. Israel worries Trump will loosen Iran pressure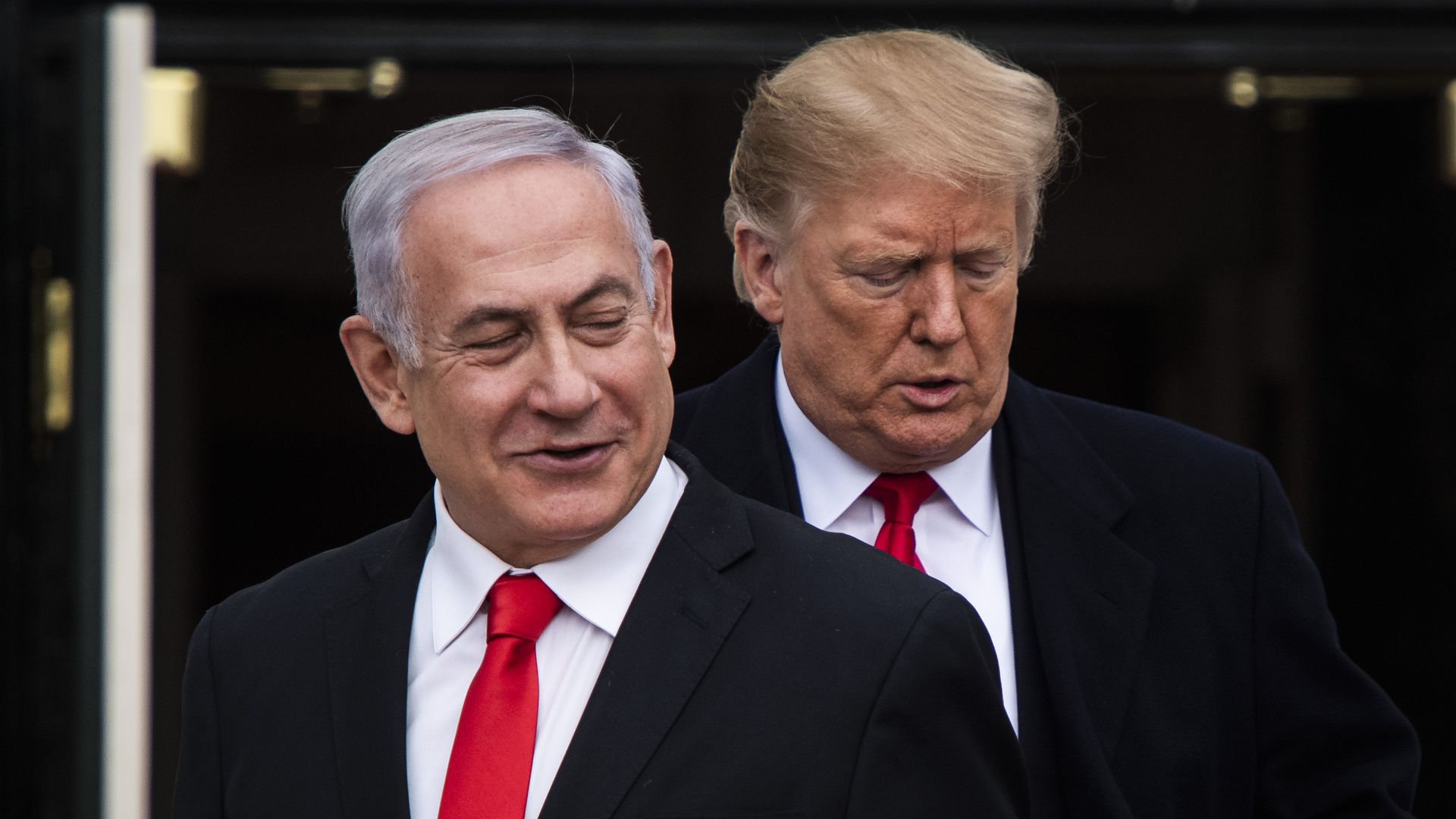 There's at least 1 world leader who's deeply concerned about the prospect of Trump sitting down with Rouhani, Axios contributor Barak Ravid reports.
The pressure campaign against Iran has been the main point of collaboration between the Israeli government and the Trump administration, and Israeli Prime Minister Benjamin Netanyahu sees Trump's withdrawal from the Iran nuclear deal as a signature foreign policy achievement.
The Israeli government is concerned that a summit between Trump and Rouhani could happen very soon. They fear the ensuing process will be similar to U.S.-North Korea talks, thus taking pressure off the Iranian regime.
What they're saying:
"We have no interest in talks between the U.S. and Iran, but our ability to influence Trump or confront him on this issue is pretty limited."
— Israeli Cabinet minister
"We were very lucky that until now the Iranians rejected all of Trump's proposals for talks."
— Senior Israeli official involved in Iran policy
What to watch: One possible venue for a Trump-Rouhani meeting could be next month's UN General Assembly meeting in New York.
Trump, Rouhani and Macron are all expected to attend.
Netanyahu, meanwhile, might not be at the annual meeting because it falls 10 days after Israel's elections. He has his work cut out to hang on to power.
3. G7 odds and ends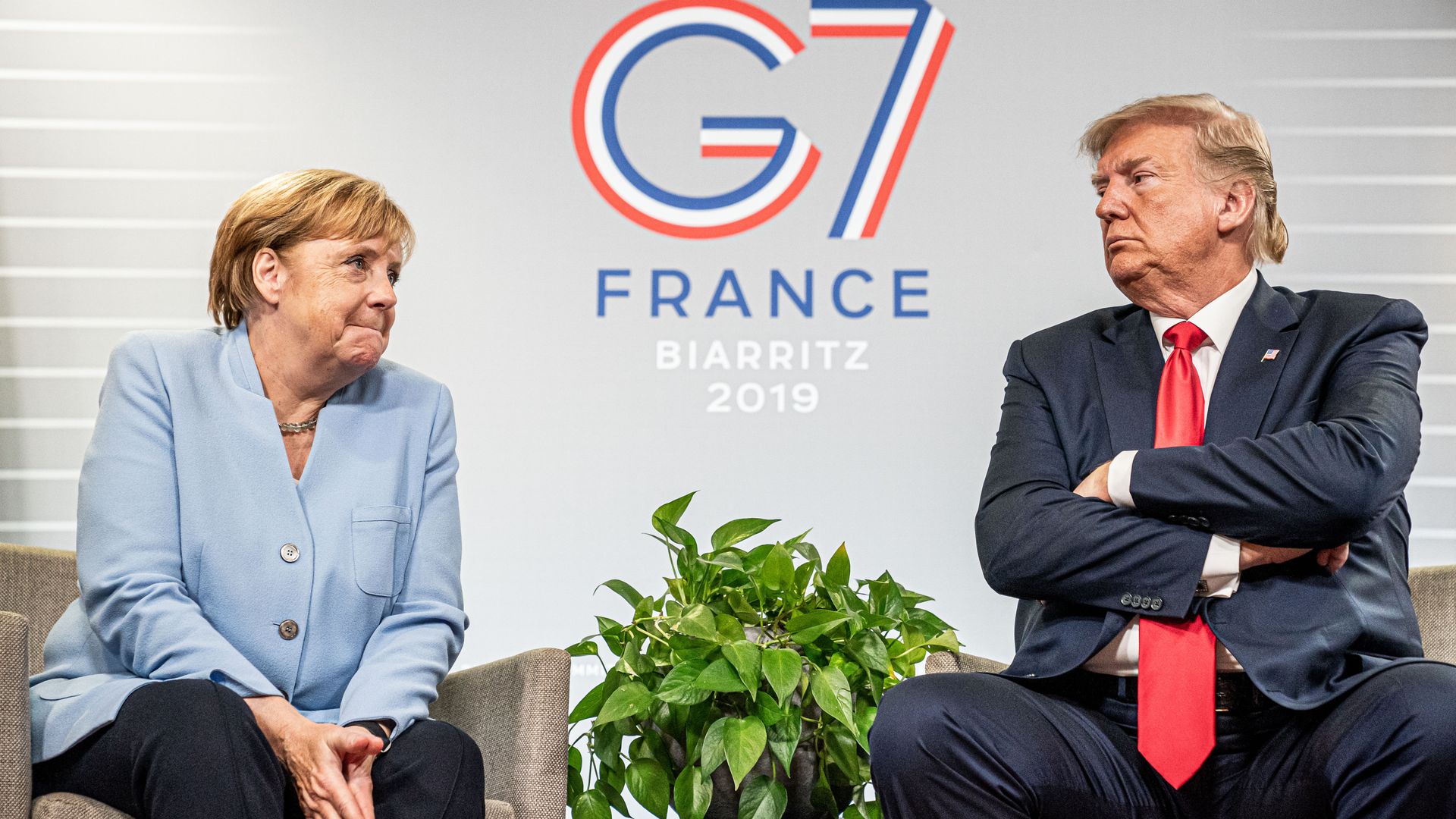 Outside of the Iran news, the G7 summit was more spectacle than substance.
Trump claimed Russia was expelled from the G8 because "President Putin outsmarted President Obama," blaming his predecessor for Russia's invasion of Crimea and reiterating that he'd like to see Putin back at the table.
Trump was conspicuously absent from a meeting on climate change. He also continued to promote his property in Doral, Florida, as the ideal venue for next year's gathering, despite concerns that he'd personally profit from its selection.
Trump announced a trade deal "in principle" with Japan. The details could be ironed out by next month.
He praised Chinese President Xi Jinping as a "great leader" who wants a deal and will ultimately get one. Days earlier, he'd called Xi an "enemy" and said the U.S. would be "better off without" China.
The big picture: Macron was wise to rule out a joint statement in advance. The leaders didn't collectively agree to much other than a fairly paltry sum to fight fires in the Amazon.
The bottom line: "It's hard to think of a topic the US isn't allergic to or doesn't push back on now," a senior European diplomat told FT. "Or if there is agreement between the participants, it's the lowest common denominator — at the level of 'the sun rises and the sun sets.'"
4. By the numbers: Brazil burns, Jokowi moves, Rohingya rally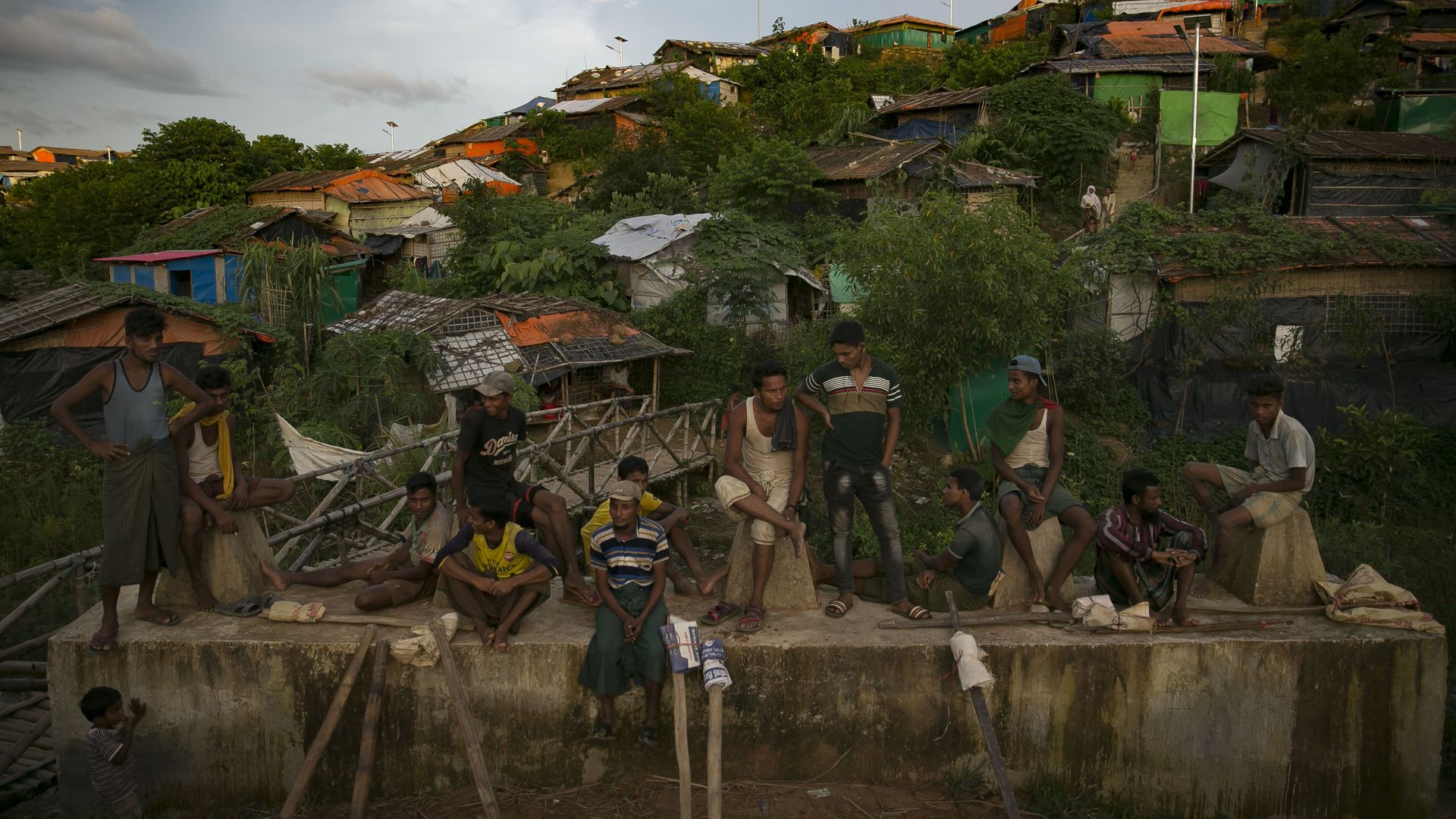 85%: That's how much wildfires in Brazil have increased this year, according to Brazil's National Institute for Space Research.
3,571 square miles of the Amazon were lost to deforestation between January and July of this year, a massive increase tied to President Jair Bolsonaro's policies.
$20 million was pledged by G7 countries. Bolsonaro is furious not about the amount, but that it was offered at all. He's lashing out at almost anyone who mentions the fires.
Few of the 44,000 troops he's promised to fight the fires have deployed thus far, per AP.
$33 billion: That's the projected cost of moving Indonesia's capital from Jakarta, which is overcrowded and sinking, to a planned city on the island of Borneo.
President Joko Widodo unveiled the plan today. Jakarta, a city of 10 million, has been Indonesia's capital for 70 years.
700,000: That's how many Rohingya people fled Myanmar during ethnic cleansing that began 2 years ago. 50,000 marked the anniversary with protests Sunday at refugee camps in Bangladesh.
Myanmar has announced plans to repatriate 3,450 Rohingya Muslims. 0 have agreed to return amid safety concerns.
12: That's how many weeks protests have continued in Hong Kong. It's also the age of the youngest of 86 protesters arrested over the weekend.
Police say 21 officers were injured when clashes turned violent on Sunday. They report 215 rounds of tear gas were fired along with 74 rubber bullets, while 6 officers drew their pistols and 1 fired a warning shot, per Reuters.
5. Middle East: No CIA in UAE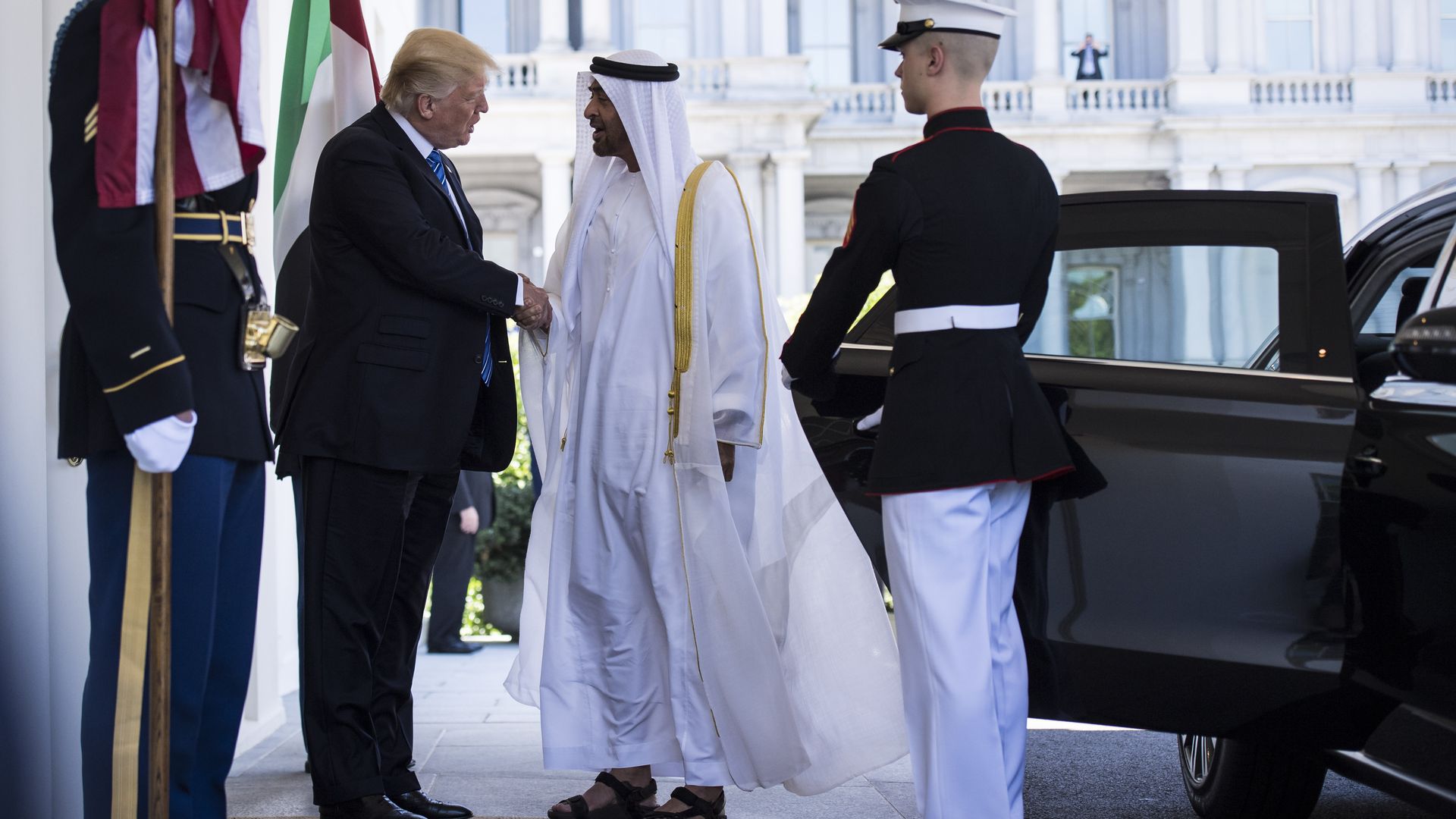 The CIA doesn't spy on the United Arab Emirates, Reuters reports, a rare arrangement that puts the kingdom in the category of America's Five Eyes partners — the U.K., Australia, New Zealand and Canada.
Why it matters: "The CIA's posture isn't new," per Reuters. "What's changed is the nature of the tiny but influential OPEC nation's intervention across the Middle East and Africa — fighting wars, running covert operations and using its financial clout to reshape regional politics in ways that often run counter to U.S. interests."
The big picture: It's a sharp contrast with Saudi Arabia, where the CIA is active.
The UAE is involved in conflicts in Libya and Yemen, has recently built military bases in the Horn of Africa, is strengthening ties with Russia and China, and is generally the kind of country on which the U.S. typically spies.
Context: Reuters notes that the NSA does conduct smaller-scale spying on the UAE, but does not make clear why exactly the CIA steers clear.
6. Europe: Update from Italy
I may have been too quick to write a political obituary for Italian Prime Minister Giuseppe Conte.
Driving the news: Italy's center-left Democratic Party had demanded that Conte be replaced before it partnered with the anti-establishment Five Star Movement, which saw its coalition with the far-right League party collapse last week. But Five Star insisted on Conte, and the Democrats relented.
The Democrats and Five Star are now reportedly close to a deal that would sideline Matteo Salvini, who demanded fresh elections that stood to benefit the League.
If a deal between the two is finalized by Wednesday, it would be a major blow to the League, which has seen its approval slide since precipitating the crisis.
But it would also be risky for both the Democrats and Five Star to join hands with a party they long railed against.
What to watch: If the deal falls through, expect elections around November. If not, then Conte, a lawyer who was plucked from obscurity just last year, will be tasked with holding a second rickety coalition together.
7. Stories we're watching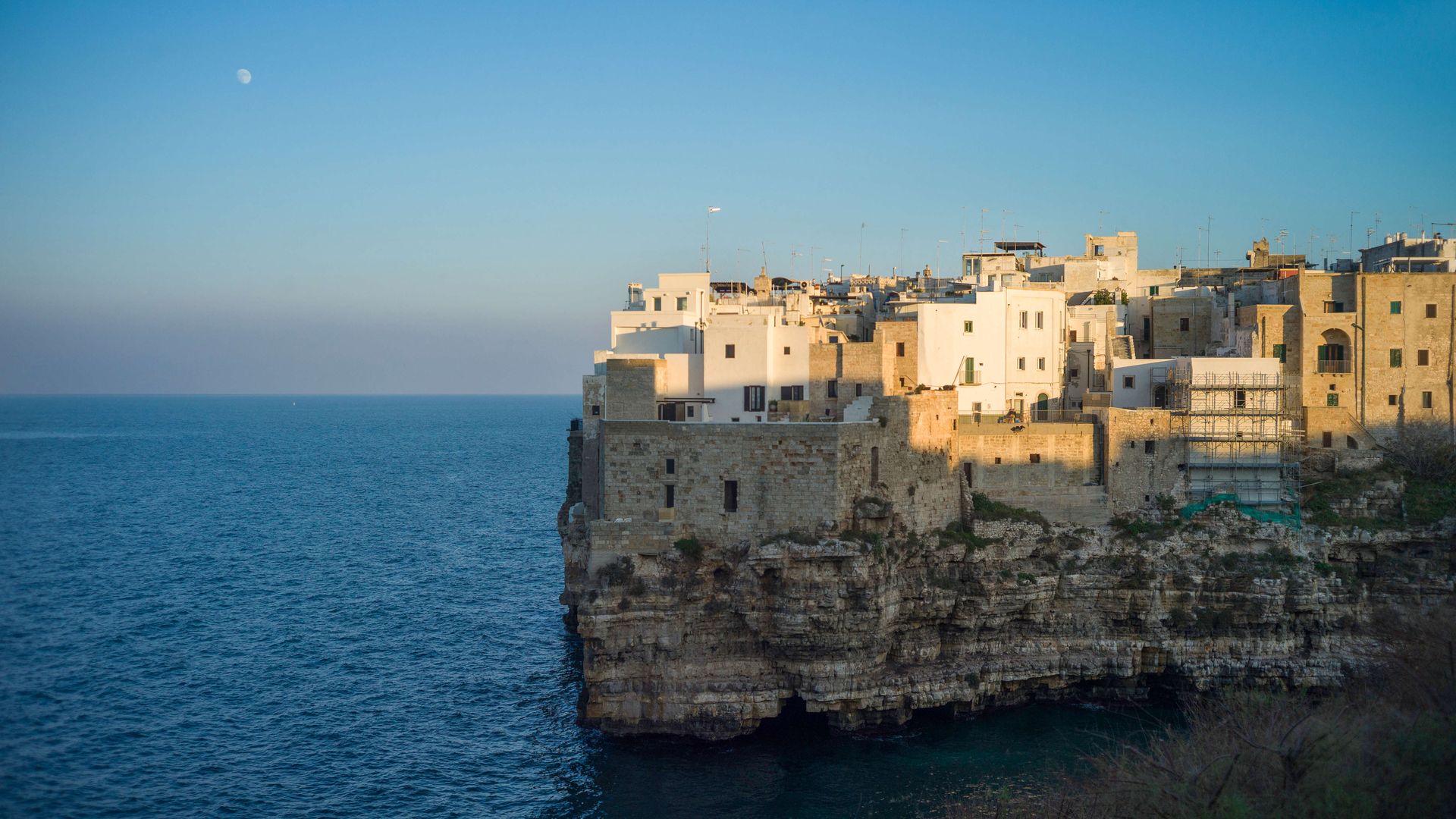 Quoted:
"Don't embarrass the guy."
— Bolsonaro responding to a meme comparing his wife to Macron's
"For him to have made incredibly disrespectful comments about my spouse — what can I say to you? ... I have a lot of friendship and respect for the Brazilian people. I hope they will very soon have a president that acts like one."
— Macron in response. He said the Brazilian people were "a bit ashamed" of their president