Welcome to Axios World, where two evenings a week we break down what you need to know about the big stories from around the globe. I'm filing this week from Tbilisi, Georgia — more on that in Monday's edition.
Thanks for joining me! Please tell your friends and colleagues to sign up here, and I'd love your tips and feedback: [email protected].
1 big thing: Bolsonaro emerges from Brazil's crisis of confidence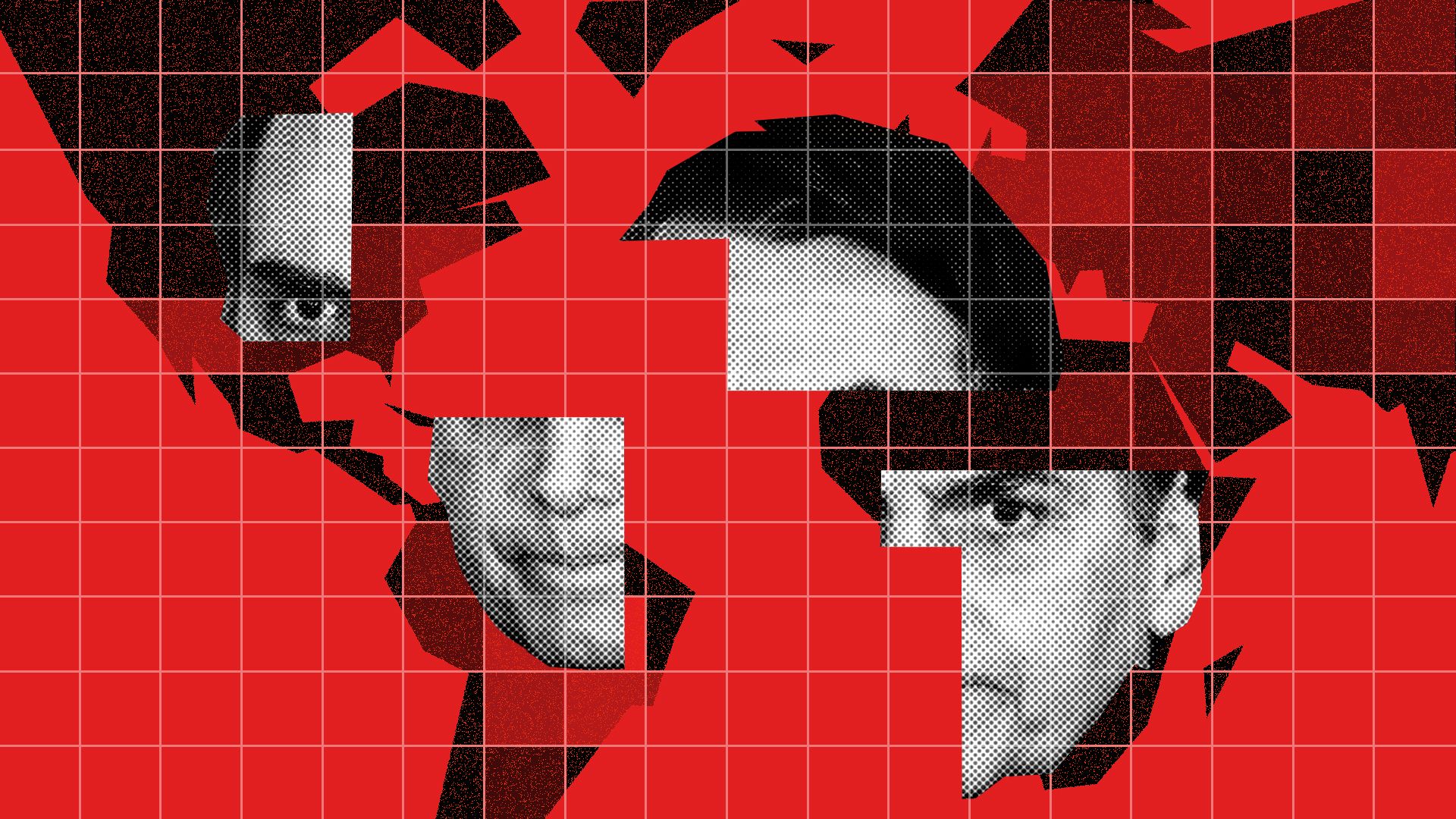 Barring a political miracle, far-right provocateur Jair Bolsonaro will win Brazil's presidency in Sunday's runoff election and bring an end to 15 years of leftist rule.
Why it matters: The political situation in Brazil is a particularly extreme offshoot of the populist wave that continues to upend establishment parties all over the world, Axios' Zach Basu writes. Brazil's economic recession combined with high crime rates and corruption scandals at top levels of government have generated a perfect storm of anger and financial distress ahead the election.
The backdrop: The elephant not on the ballot is Luiz Inácio Lula da Silva, Brazil's president from 2003 to 2011. A once-beloved and now polarizing former union leader, he raised his country's living standards through generous social programs and took part in corruption schemes that resulted in his imprisonment. He was attempting a political comeback before being barred from running in August.
By the end of Lula's presidency in 2011, 20 million Brazilians had been lifted from poverty and direct foreign investment had tripled to $30 billion a year, per The Guardian. With the economy humming, Lula left office with an approval rating near 90%. The good days didn't last.
In 2014, Brazilian authorities launched a sprawling corruption investigation that ended with the conviction of Lula and the impeachment of his successor, Dilma Rousseff. Meanwhile, the economy fell into a recession.
Between 2011 and 2018, per Gallup ...
The percentage of Brazilians who say they have confidence in their government has dropped from 50% to 17%.
The percentage of Brazilians who view their government as corrupt has grown from 63% to 80%.
The percentage of Brazilians who have struggled to afford food has increased from 17% to 32%.
The big picture: Conditions are bleak, Brazil's government is suffering from a crisis of confidence and Bolsonaro is capitalizing on it.
Joshua Kurlantzick of the Council on Foreign Relations writes for Axios Expert Voices that while Bolsonaro has drawn comparisons to a wide range of populist figures, including President Trump, he may have the most in common with Philippine President Rodrigo Duterte.
The two come from different ideological backgrounds — Bolsonaro a conservative former army captain, Duterte a professed socialist and champion of some liberal social programs. But they share an authoritarian, populist style that promises tough action, simple solutions to complex problems and a strongman's determination to fight crime and right the economy — ignoring democratic norms if needed.
What to watch: Like Duterte, Bolsonaro will probably try to assume vast power from day one if he wins. And since scandal and offensive rhetoric fail to dent his public image, his opponents will have all the more trouble combating him.
2. Brexit breeds tension in Northern Ireland and Scotland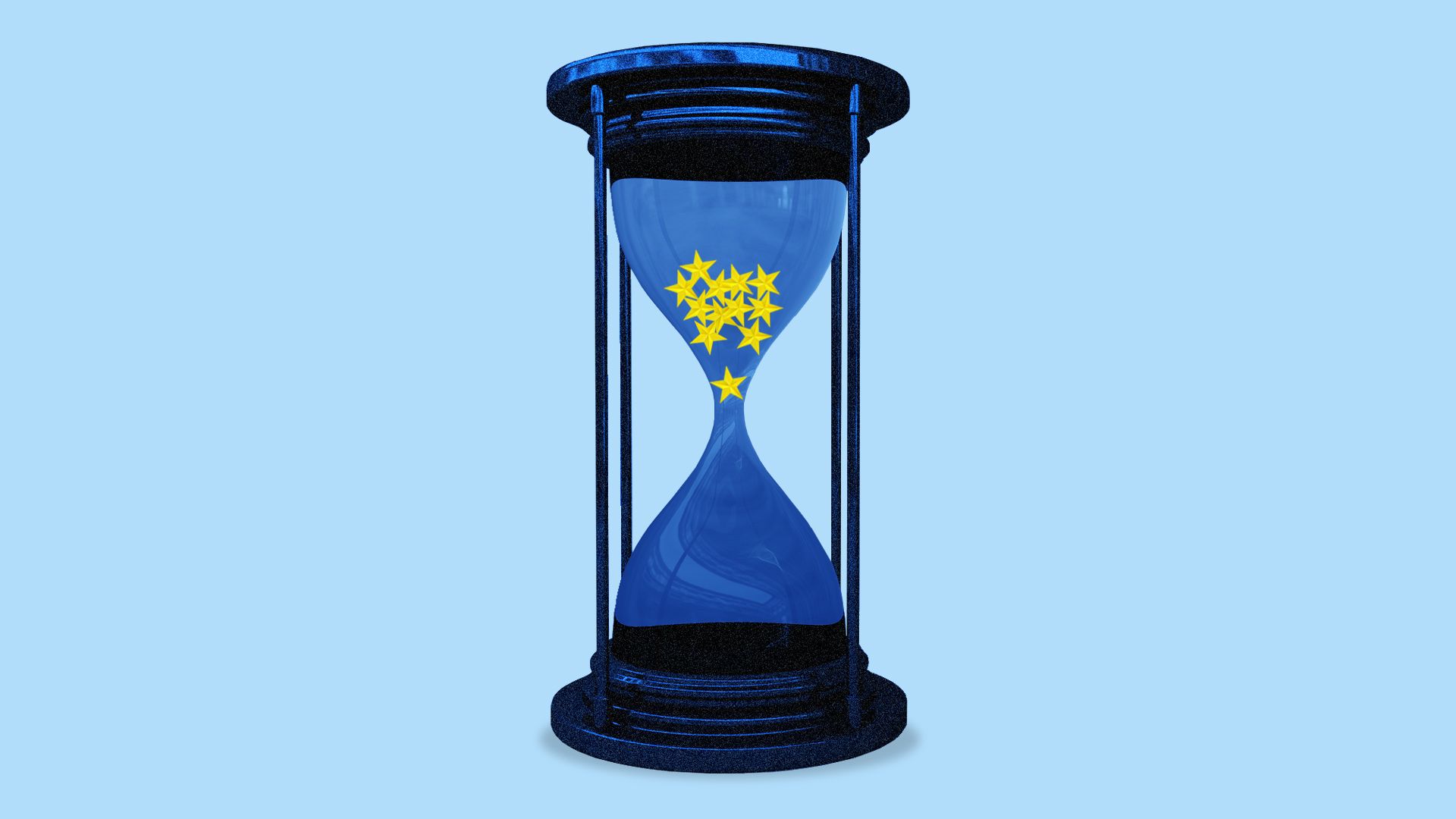 Ed Luce of the Financial Times began a panel on Brexit this week at Brookings by noting that it now seems "as plausible" that the U.K. will finalize an exit deal with the EU by the March deadline or ...
Crash out of the EU without a deal because Prime Minister Theresa May fails to break the deadlock with Brussels.
Reach a deal that's rejected in Parliament, and subsequently crash out.
End up so hopelessly stuck that a second referendum, once unthinkable, is offered.
All of that uncertainty is particularly destabilizing in Northern Ireland and Scotland, both of which voted to remain in the EU, said Brookings' Amanda Sloat: "It's raised questions about identity, it's raised questions of the constitution."
The prospect of a "hard border" going up between Northern Ireland and the Republic of Ireland that would undermine the 1998 Good Friday Agreement has led to "a huge degree of concern in Dublin and in Belfast," said Lucinda Creighton, former Irish minister for European affairs.
"Peace is hard won, and it's fragile, and it's very easily lost," she said. Unionists in Northern Ireland, meanwhile, are wary of a border between them and the rest of the U.K.
In Scotland, which voted to remain in the U.K. in 2014 and then voted overwhelmingly to remain in the EU, there has been speculation about a second independence referendum, or even a separate referendum on EU membership.
Douglas Alexander, former U.K. secretary of state for Scotland, said neither is likely. After witnessing the bruising Brexit process, he said, "Scots have a view at the moment that if we've shot ourselves in the foot, let's not cut off the leg."
Alexander did raise the alarm over "no deal," though: "It seems the assumption in Downing Street is the Labour Party will step in and save Theresa May. ... I don't see a parliamentary majority for any of the deals under discussion."
Counterpoint: Sir Kim Darroch, the U.K. ambassador in Washington and a veteran of numerous European negotiations, said the incentives for a deal that resolves the Irish border issue are so strong on both sides that one will probably be reached in December. Even he admits, though, that the arithmetic is daunting in the House of Commons, which will vote on the deal May delivers.
Update: The Saudis' shifting story
Saudi Arabia's public prosecutor today said evidence shared by Turkish authorities has led the kingdom to conclude the killing of Washington Post columnist Jamal Khashoggi was premeditated.
CIA Director Gina Haspel has listened to an audio recording of Khashoggi's killing while in Turkey, the Post reports.
Where things stand: The Saudis denied but later confirmed Khashoggi was held in the embassy, denied but later confirmed that he was killed, and denied but later confirmed that the operation was intentional. They still deny Crown Prince Mohammed bin Salman had any involvement.
3. Poll: Americans think Trump too soft on Saudis
Most Americans think President Trump hasn't been tough enough with Saudi Arabia in response to the killing of Jamal Khashoggi, according to a new Axios/SurveyMonkey poll.
Why it matters: Trump's approval rating on foreign policy has actually jumped, from 41% in August to 45% now, just shy of his 46% overall approval rating. But when it comes to the Khashoggi case, 37% of Republicans believe he has been too soft on the Saudis, along with 55% of independents and 78% of Democrats.
Trump's repeated statements that Saudi Arabia is a "strong ally" of the U.S. are also out of step with public opinion. Asked whether Saudi Arabia is an "ally" of the U.S., "friendly but not an ally," "unfriendly" or an "enemy," more Americans chose "unfriendly" (the top choice) or "enemy" than the first two options.
By the numbers:
Ally: 11% overall, 16% of Republicans, 9% of Democrats
Friendly: 35% overall, 47% of Republicans, 26% of Democrats
Unfriendly: 36% overall, 28% of Republicans, 44% of Democrats
Enemy: 11% overall, 7% of Republicans, 17% of Democrats
The bottom line: The Khashoggi case has been a top news story for three weeks now leading up to the midterms, and Americans generally disapprove of how Trump is handling it. Still, they have bigger concerns. Just 4% consider foreign policy their top issue.
4. Latin America: AMLO starting populist push early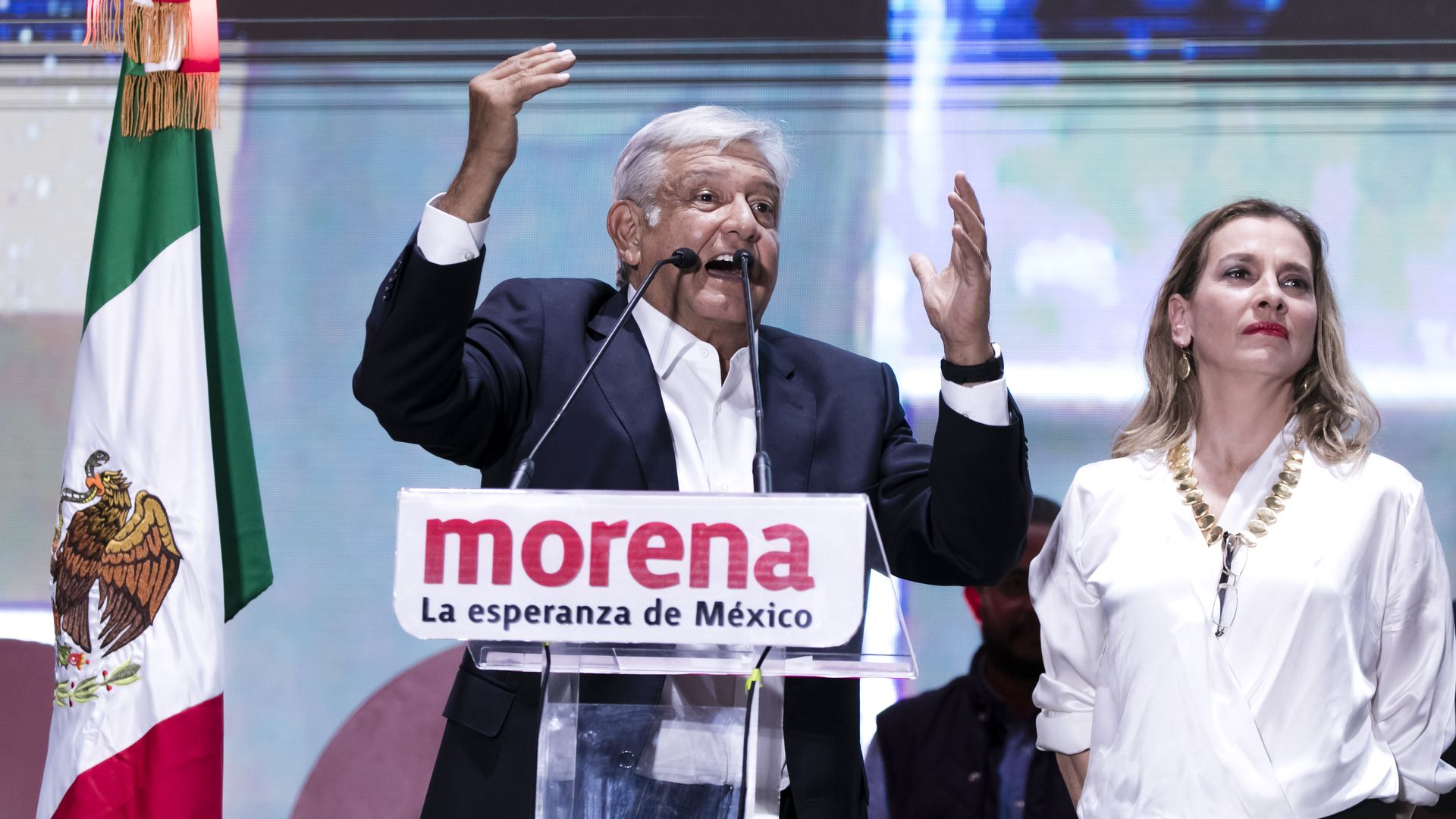 A fight over a $13 billion project to expand Mexico City's airport offers an early test for President-elect Andrés Manuel López Obrador (known as AMLO), who has pledged to totally upend his country's politics, GZERO Media's Gabe Lipton writes in the latest Signal newsletter.
Why it matters: Although he won't take office until December, AMLO has already waded into national politics in a controversial way — organizing a nationwide referendum on an ongoing project to transform the airport into the largest in the world.
The vote, which begins today and continues through Sunday, isn't legally binding, but López Obrador has pledged to honor the result when he becomes president.
Taking policy directly to the streets is part of AMLO's style, and this common touch enabled him to turn out millions to protest when he claimed he was cheated out of the presidency in 2006. Politically he has little to lose here.
Many Mexicans view the airport project as a boondoggle for an out-of-touch elite. (Two-thirds of Mexicans have never been on an airplane.) AMLO's commitment to pare back the excesses and luxuries of Mexico's political class is part of what got him elected president.
And if the results do favor construction of the airport, as current polls suggest is the case, he can claim popular legitimacy and support the project without being politically tainted by the project's costs and complications.
Opponents of the vote see a more sinister power play that skirts usual checks and balances. This non-binding referendum will be overseen by a nongovernmental organization rather than the government. Ballots will be set up in just 500 of the country's 2,448 municipalities, and fewer than 2% of citizens will likely cast ballots.
5. India and Ethiopia: #MeToo and Madame President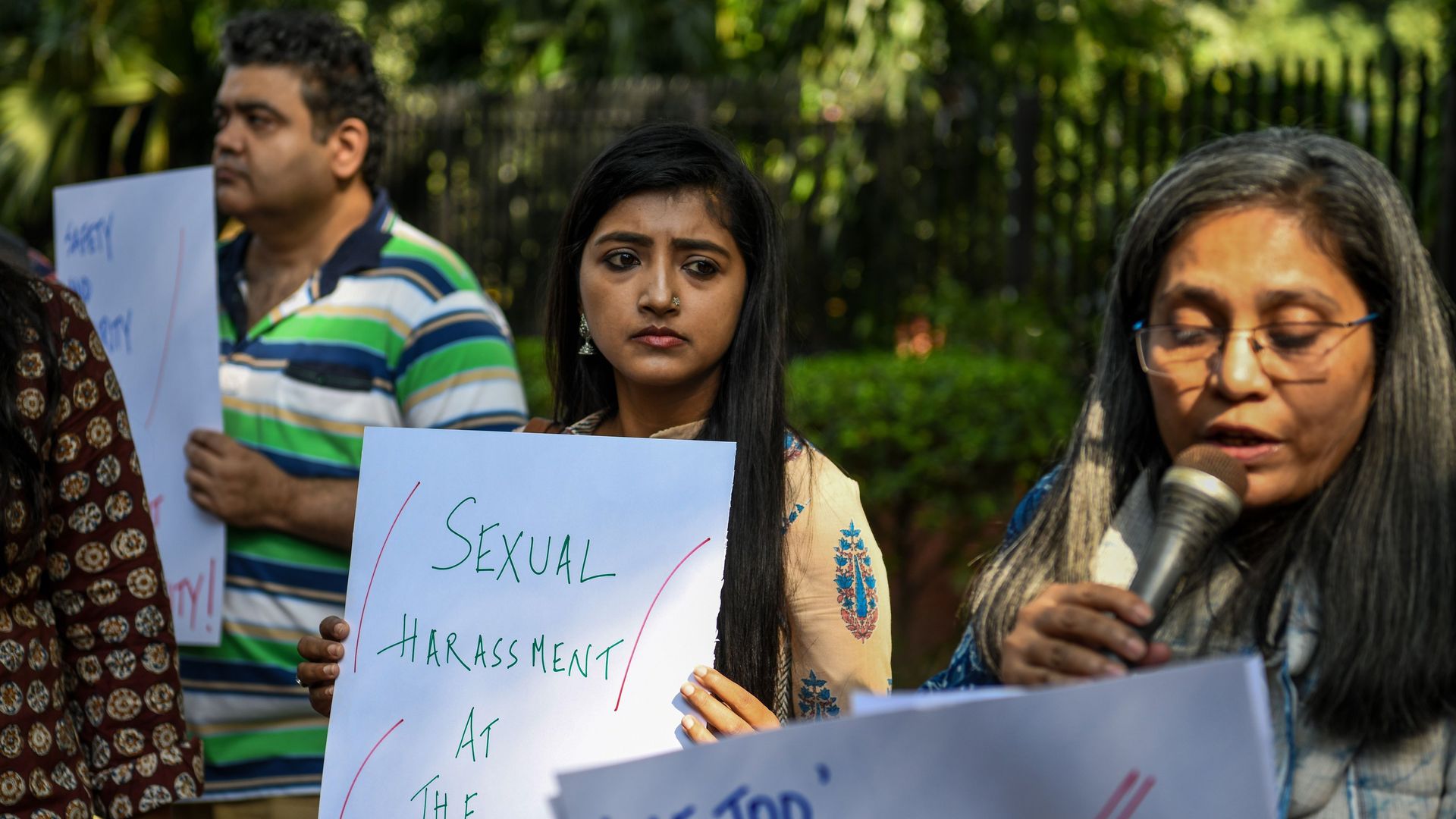 India is experiencing a #MeToo reckoning, which was a long time coming, writes Axios' Haley Britzky.
Women in India — "where fathers make the rules, husbands enforce them, and male bosses reiterate them" — were wary of putting their hope in the kind of #MeToo movement they saw in the U.S., Sonia Faleiro writes in Foreign Policy. But after actress Tanushree Dutta publicly spoke of her assault by another actor in 2008, "Indian Twitter blew up," leading to a wave of allegations against powerful men.
What to watch: Falerio argues that Prime Minister Narendra Modi has "never been held to account ... for his behavior toward women." India has a general election in the spring, and according to Milan Vaishnav of the Carnegie Endowment for International Peace, women could make up the majority of the electorate.
Ethiopia now has its first female president and the only female head of state in Africa.
Sahle-Work Zewde, a longtime diplomat, assumes the largely ceremonial office just days after reform-minded Prime Minister Abiy Ahmed named a half-female Cabinet.
What to watch: Ethiopia experienced rapid economic growth and intense political turmoil in the tumultuous years before Abiy took office in April. "This young, charismatic prime minister is going to have to prove his serious chops as a mega political master in negotiating the various power centers in Ethiopia to institutionalize these reforms," says Reuben Brigety of the Council on Foreign Relations.
6. U.S. and Russia: New START to risky arms race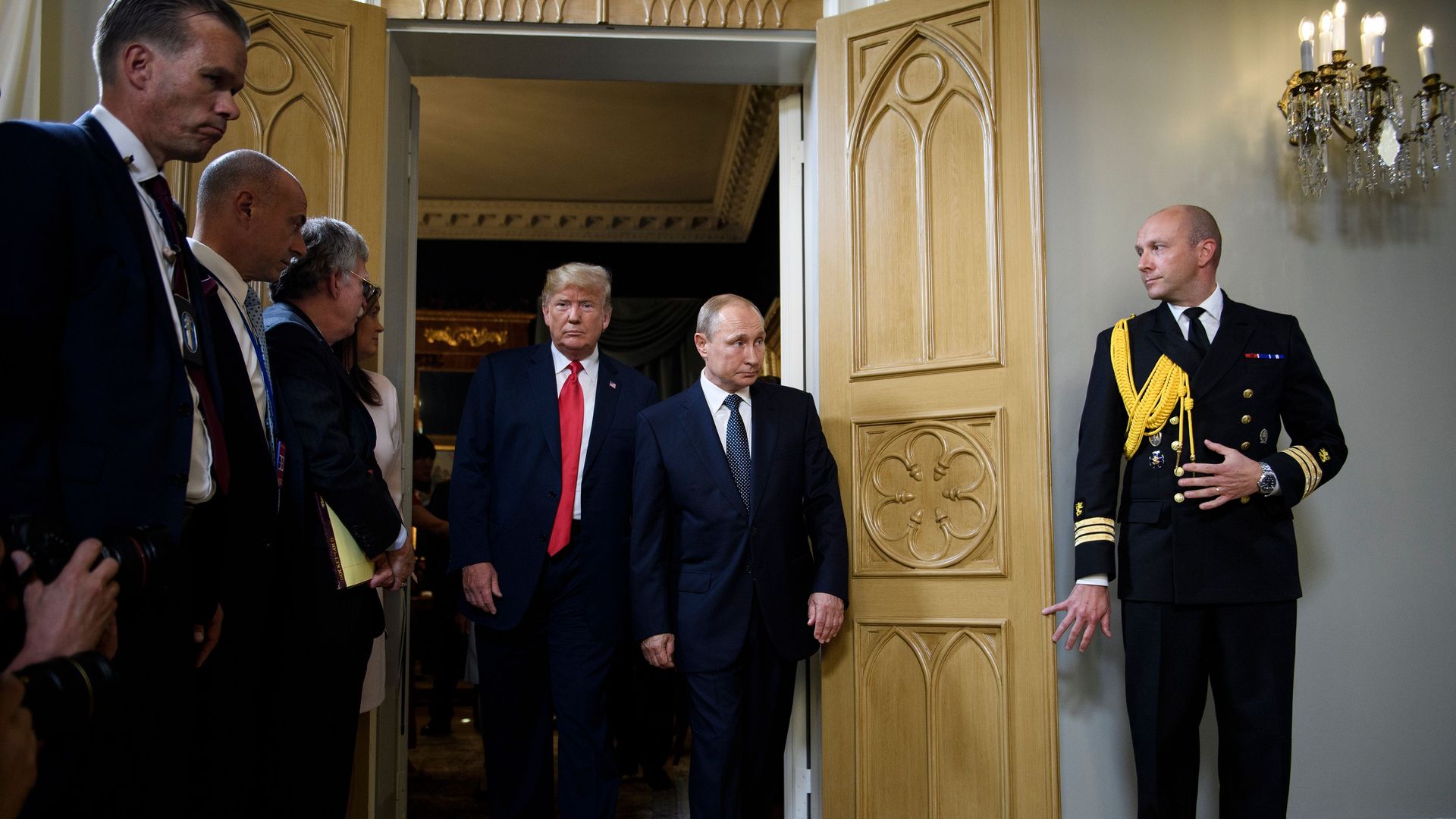 With the 1987 Intermediate-Range Nuclear Forces (INF) Treaty on the verge of collapse there could soon be only one remaining treaty — the New Strategic Arms Reduction Treaty (New START) — regulating U.S. and Russian nuclear stockpiles, Greg Thielmann of the Arms Control Association writes for Axios Expert Voices.
Why it matters: The U.S. and its allies now risk losing another, more vital arms control agreement that provides predictability and transparency regarding Russia's nuclear arsenal. If Trump and Putin fail to extend New START, an even more dangerous phase in U.S.-Russia relations will be on the horizon.
The details: New START caps the countries' strategic nuclear arsenals at 1,550 deployed warheads and 700 bombers and missiles equipped to carry them. The treaty is due to expire in 2021 unless Trump and Putin agree to extend it by 5 years. Without New START, there would be no legally binding constraints on the world's two largest nuclear arsenals for the first time since 1972.
The bottom line: Unconstrained U.S.-Russian nuclear competition — in both numbers and technology — could spark an arms race as dangerous as that of the early 1980s and add billions in additional costs to an already unrealistic U.S. nuclear upgrade plan.
7. Stories we're watching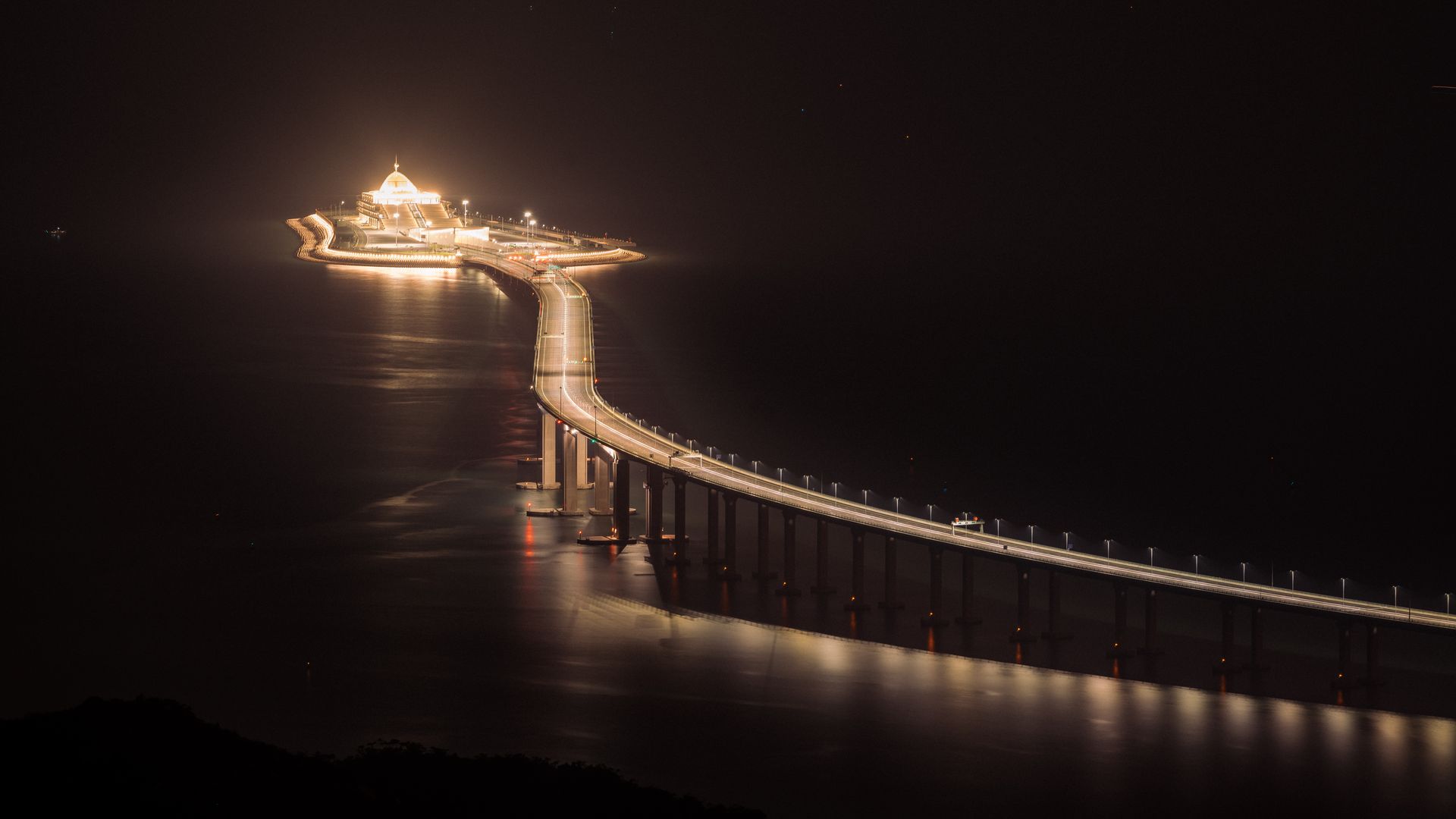 Quoted:
"If they are worrying about iPhones being tapped, they can use Huawei."
— Chinese Foreign Ministry spokesman responds to
NYT report
that Chinese spies are listening in to Trump's calls
Thanks for reading — see you Monday evening!