Good morning. I regret to inform you that I am back from vacation, which means that you will no longer have Sam's intros hitting your mailbox. I vow to do a better job finding useless tidbits of information to spice up your morning, although I am not nearly as funny, snarky or active on Twitter as he is.
Today's word count is 877, or ~3 minutes.
1 big thing: Trump's drastic proposals for hospitals and doctors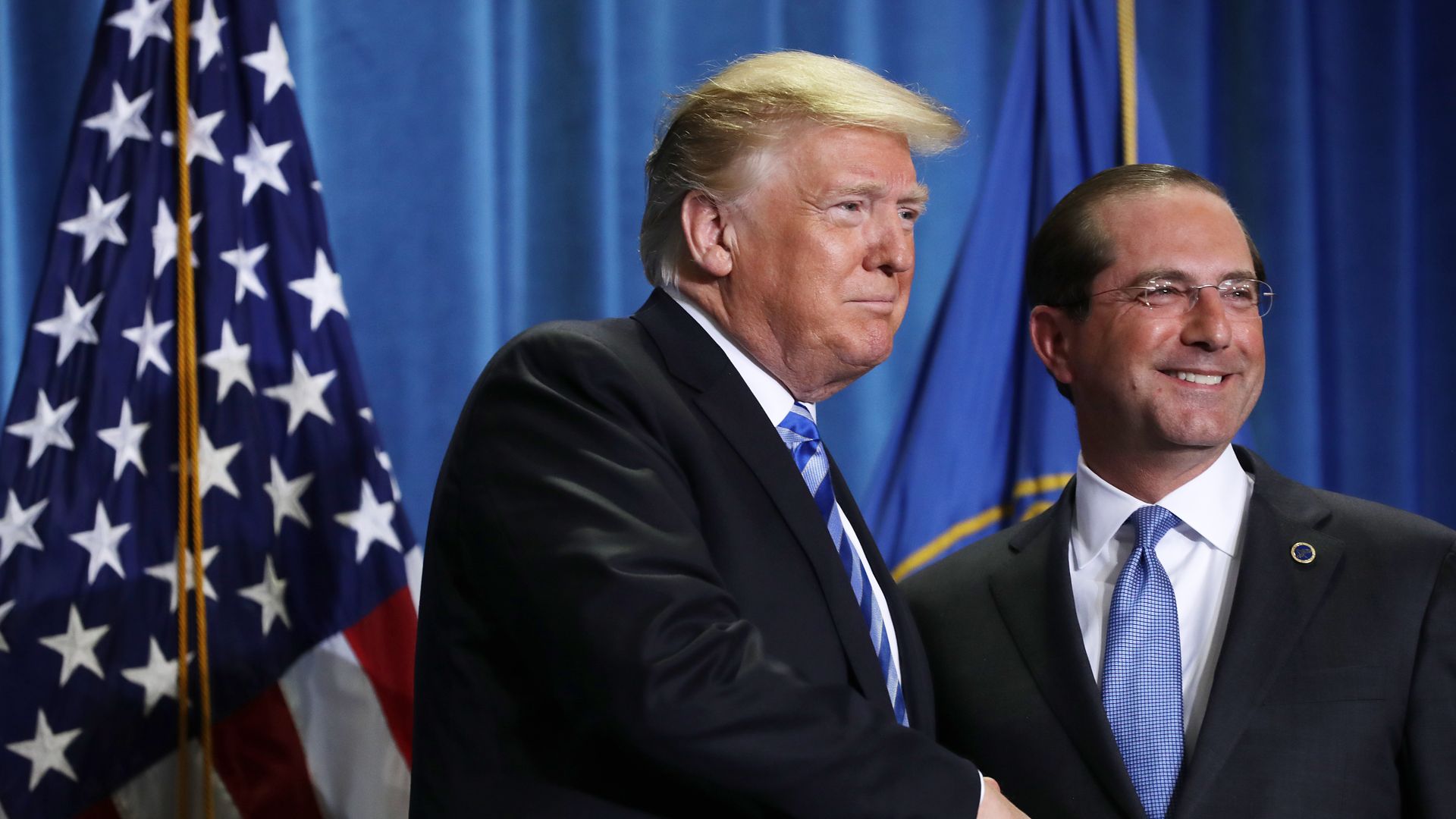 The Trump administration released 3 proposed rules yesterday that would shine a light on how hospitals negotiate with health insurers and further cut payment rates for some doctor services, Axios' Bob Herman reports.
The big picture: The long-debated policy is now here — hospitals have to start publishing their negotiated payment rates with every commercial insurer for at least 300 services or face a maximum fine of $300 per day. (Read the rule.)
The rule would also finish its phase-in of lower payments for basic doctor visits performed in hospital-owned clinics, which we previewed last week.
Total spending: $79 billion in outpatient payments, up $6 billion from this year.
What they're saying: "Disclosing the negotiated rate between insurers and hospitals will not help patients make decisions about their care. Instead, this disclosure could harm patients by reducing patient access to care," several hospital groups said in a statement.
Medicare's physician rule: The rule is again loaded with adjustments to how every physician specialty is paid, based in large part on what the American Medical Association says.
Notably, Medicare says it will pay more for primary care doctors to spend more time with chronically ill patients.
Medicare's kidney care rule: Medicare expects to dish out $11.1 billion in dialysis-related payments in 2020, $210 million higher than what is expected this year.
The bottom line: Some of the most dramatic health policy changes don't happen in Congress. They happen in these annual payment rules from the Centers for Medicare & Medicaid Services.
Reach out to us: We'll be reading through the rules over the coming days, but if you find some surprising Easter eggs, let us know: caitlin@axios.com, bob@axios.com, baker@axios.com. 📷
2. Pfizer and Mylan create a new drug giant
Mylan is combining with the off-patent drug business owned by Pfizer, creating a merged company of prescription drugs that have seen steep price increases and face a ton of generic competition, Bob writes.
The big picture: Mylan and Pfizer are combining for different reasons, and the benefit to patients is unclear. 
Mylan is working on biosimilars as it recovers from lagging generics sales and public outcry over its EpiPen price hikes.
Pfizer is unloading a declining business that includes household names — Viagra, Lipitor, Lyrica and Zoloft among others — so it can focus on more profitable, patented areas like cancer medicines and vaccines.
Bob's thought bubble: The deal, first reported by the Wall Street Journal, will create a profitable company with $20 billion of annual revenue.
But Mylan and Pfizer will be focused on selling their drugs in China and other Asian "emerging markets" partially because their high U.S. prices are increasingly viewed as unjustified. 
Pfizer's off-patent products cost U.S. consumers a lot. For example, before discounts, a 30-day supply of Viagra costs 140 times what the generic version costs.
Mylan still controls a big chunk of the epinephrine injection market, but lower-cost options are eating into that.
3. Behind a Philly hospital closure
As a safety-net hospital in downtown Philadelphia prepares to close, there's some speculation that the value of the land that it's on was a factor in the decision to file bankruptcy, CNN reports.
Hahnemann University Hospital was bought in 2018 by a private equity firm, which recently filed for bankruptcy saying that the hospital's financial situation was beyond repair.
But the hospital's location makes the land incredibly valuable. That has fueled accusations from the city, the state, unions and even Sen. Bernie Sanders, who rallied outside the hospital recently, that the owner allowed it to slide into bankruptcy in order to profit from a sale.
The big picture: Similar scenarios have already played out when private equity firms have bought struggling retail and grocery stores only to profit from the real estate.
Some advocates are worried that if this happens with Hahnemann, it'll encourage other private equity firms to replicate the move with other hospitals in gentrifying neighborhoods.
"If you have a success like Hahnemann — that will blow up," Eileen Appelbaum, co-director of the left-leaning Center for Economic and Policy Research, told CNN. "Everybody will know that you can make money on the real estate of a hospital."
4. California secures huge pay-for-delay settlement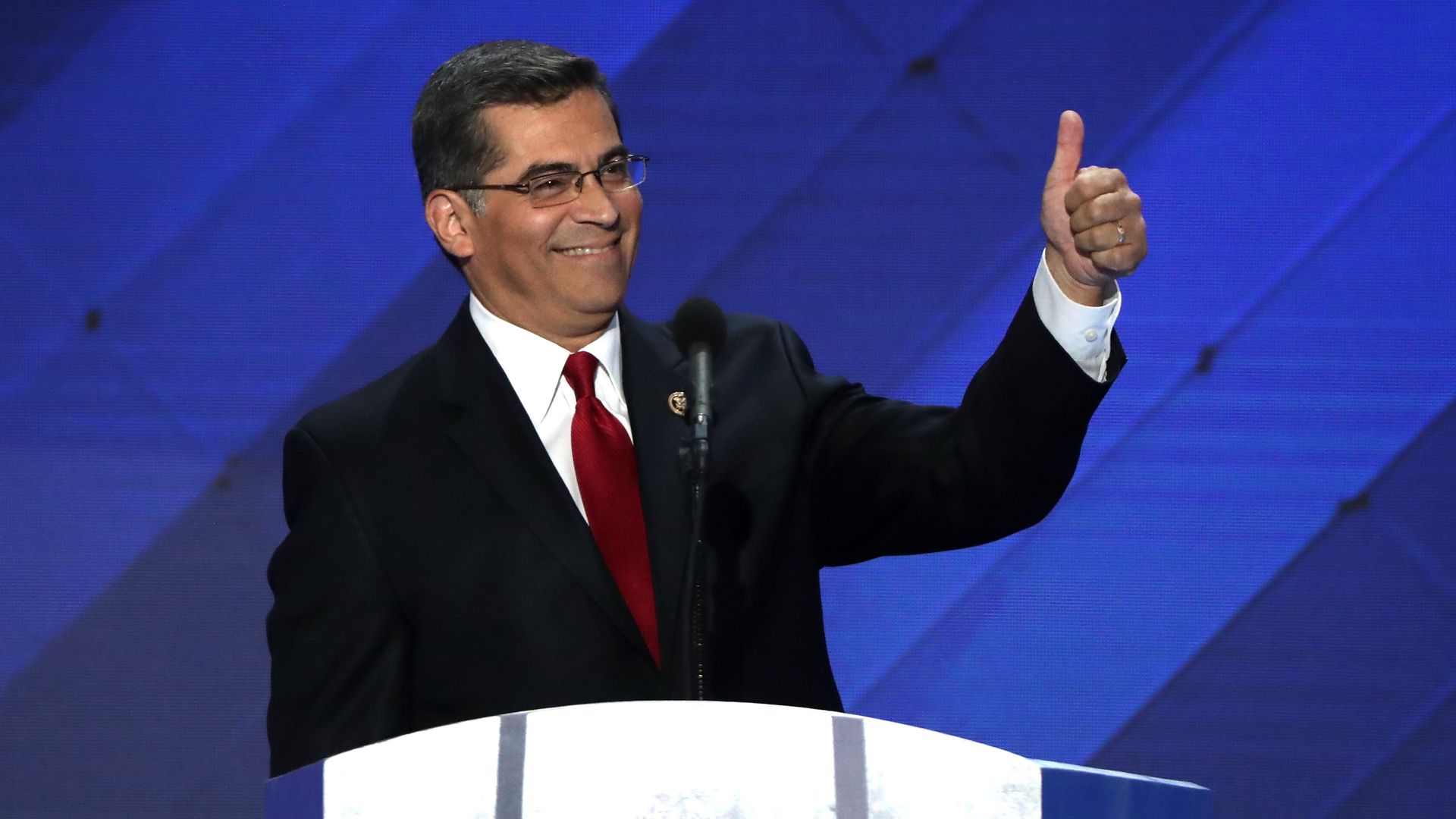 State Attorney General Xavier Becerra announced yesterday 4 settlements with generic drug companies — including a $69 million payment from Teva — over allegations that they colluded to delay competition.
The settlements, made with Teva, Endo Pharmaceuticals and Teikoku, include the largest state "pay for delay" settlement to date.
Part of the settlement money will be used to create a more than $25 million fund for consumers who purchased the drugs for which competition was delayed.
Yes, but: There have been a lot of headlines about bad behavior by generic companies. But the industry overall is delivering savings to patients.
A working paper out yesterday in the National Bureau of Economic Research found that what consumers pay out of pocket for generics decreased less than the overall price for generics did between 2007 and 2016, but both still declined.
"The U.S. generic prescription pharmaceutical market continues to drive overall prices downward, although pharmacy price declines are not fully passed through to consumers," the authors write.
"Our evidence suggests that overall affordability is not the main problem in the generic drug market."
5. Aetna expands Zolgensma coverage
Aetna will now cover Zolgensma — a $2.1 million one-time treatment for spinal muscular atrophy — for kids up to 2 years old, Business Insider reports. It previously was covering the treatment only for children younger than 9 months.
What we're watching: Zolgensma is the first of many million-dollar-plus drugs that the health system will have to figure out how to pay for — and who will receive it.
Let me know what I missed while on vacation (and what's going on now) at caitlin@axios.com.