Axios Vitals
June 26, 2019
Good morning. Today's word count is 975 words, <4 minutes.
1 big thing: With cash to burn, pharma deals are all the rage
The pharmaceutical industry has already shelled out more than $200 billion for acquisitions during the first half of 2019, capped off yesterday by AbbVie's $63 billion buyout offer for Allergan, Axios' Bob Herman reports.
The big picture: This year's deal-making has already surpassed 2017 and 2018, as drug companies plan for patent losses and jockey for lucrative assets that are advancing in clinical trials, including gene therapies.
Driving the news: The AbbVie-Allergan combination makes 2019 one of the busiest for pharmaceutical deals in the past several years.
The running theme in almost all of these deals: scoop up cancer drugs and gene therapies, which command the highest prices.
Yes, but: AbbVie-Allergan is different. Wall Street has been down on both companies, and this buyout is focused on Allergan's aesthetics drugs, like Botox. It's largely about protecting economic moats, based on AbbVie CEO Richard Gonzalez' comments.
The big question: The Federal Trade Commission is increasing its scrutiny of pharma mergers, including BMS-Celgene and Roche-Spark. So, don't assume every deal will get clean antitrust approval.
"There will be some divestment" in the AbbVie-Allergan combo because the companies have some overlap with gastrointestinal medicines, Bernstein analyst Ronny Gal wrote to investors.
The bottom line: These companies have been sitting on piles of cash, and now they want to spend that money to get new returns for their investors — all while patients stare down the barrel of unaffordable medications and even more expensive future treatments.
2. Hospitals' profits costing patients billions
Once you pull together Medicare, Medicaid and private insurance, hospitals end up with an average payment rate that's about 34% higher than what Medicare pays on its own, according to a new report by the left-leaning Center for American Progress.
Why it matters: Hospitals are by far the biggest driver of U.S. health care spending the most money by far on hospital care, making it a prime target for payment cuts — but the industry maintains that it couldn't survive solely on the rates government programs pay.
What they're saying: Those are the top-line numbers for hospitals overall. CAP also broke out a group limited to acute care hospitals.
Among those facilities, total profit was $63.6 billion, suggesting that "stronger rate regulation could save Americans tens of billions of dollars on hospital expenditures, even if rates were tailored to keep afloat loss-making hospitals that are crucial to patient access," CAP's Emily Gee writes.
By the numbers: The acute care hospitals included in the analysis had a 7% total profit margin, on average, in 2016 — less than drug companies' margins but greater than insurers'.
Hospital margins have increased over the last decade.
Yes, but: Not all hospitals are the same.
For-profit hospitals had an average total margin of 11%, nonprofit hospitals had a 7% margin, and public hospitals had a 5% margin.
About a quarter of hospitals lost money in 2016, including 40% of public hospitals.
3. Non-profit hospitals sue more patients
Non-profit hospitals are aggressive about suing patients to collect unpaid bills — in some ways, even more aggressive than their for-profit counterparts, Axios' Sam Baker writes.
Driving the news: 36% of Virginia hospitals sued former patients and garnished their wages in 2017, according to a new study. And non-profit hospitals account for the lion's share of those suits.
One hospital in particular — Mary Washington, in Fredericksburg, Va. — sues so many patients that the local court sets aside one morning each month just to hear those cases, NPR reports.
By the numbers: The money is negligible for hospitals but potentially "ruinous" for individual patients, one expert told NPR.
On average, garnished wages account for 0.1% of Virginia hospitals' revenues.
The average garnished amount is about $2,800, which can put a big dent in workers' checks, though some patients have been sued for more than $10,000.
The other side: Mary Washington told NPR it has to recoup its costs, that it makes many other efforts to contact patients before suing them, and that filing a lawsuit is a way "to open that door of communication so that we can work with them."
👀, from the WSJ's writeup of the same study:
"The Trump administration has pushed for aggressive action aimed at nonprofit-hospital monopolies, but was rebuffed by career staff at the U.S. Treasury Department, according to a person familiar with the negotiations."
Go deeper: Non-profit hospitals increasingly act like for-profit companies
4. Report: Biosimilar delays cost billions
The delayed market entrance of biosimilars has cost the U.S. health care system $7.6 billion since 2015, according to a new paper by the Association for Accessible Medicines Biosimilars Council.
This includes $1.2 billion in unrealized savings to Medicare.
Biologics' "patent schemes" — stacking patents based on small changes to the original product — are the main reason why more than a dozen approved biosimilars have yet to come to market, the paper argues.
Only 7 of the 20 approved biosimilars are being sold.
The bottom line: Biosimilars are our system's primary way of keeping the price of expensive biologics in check, but the market is struggling to take off.
Go deeper: How cheaper drugs are kept off the market
5. San Francisco bans e-cigarettes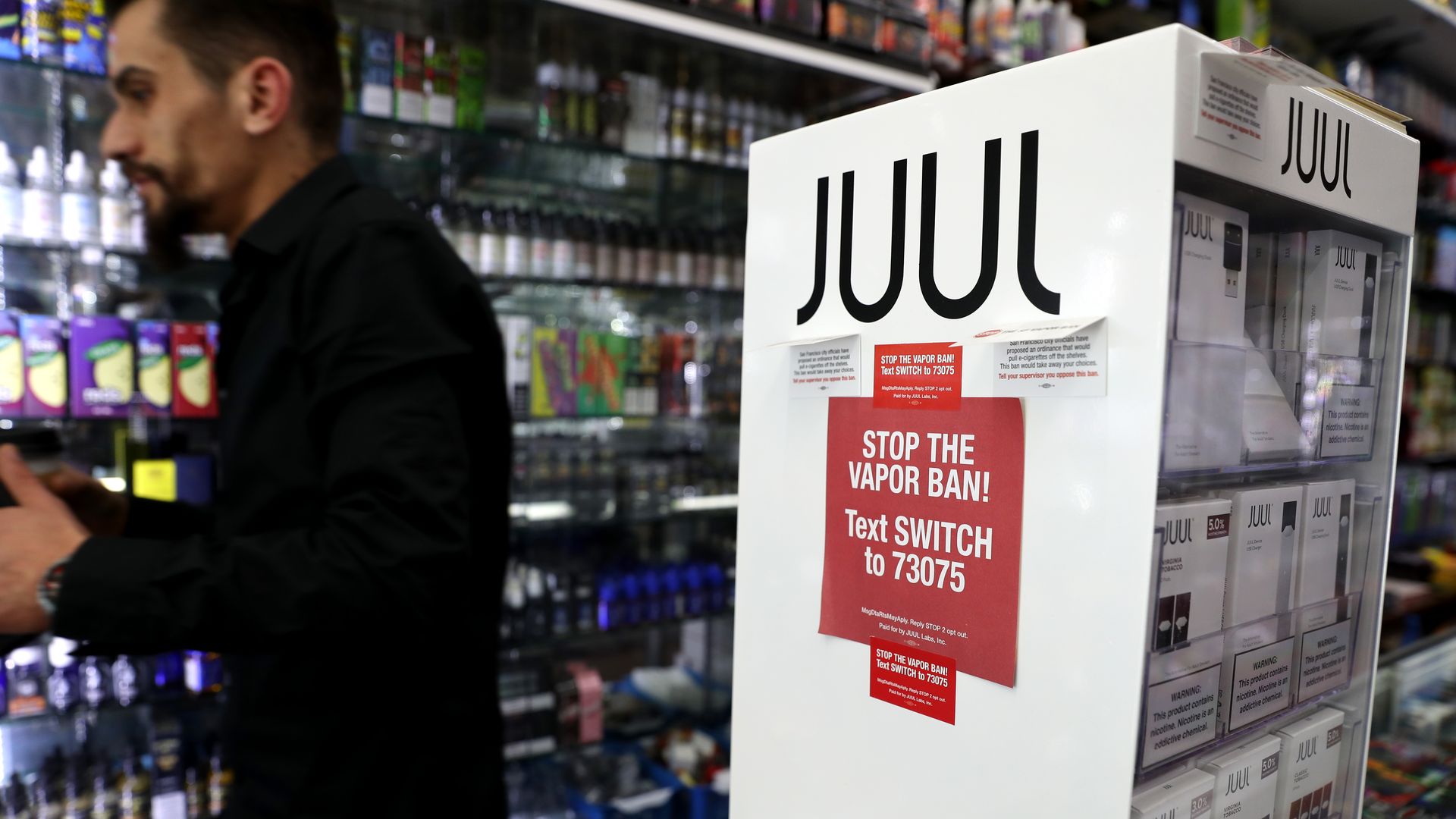 San Francisco yesterday became the first major U.S. city to ban e-cigarettes, citing a "growing health epidemic of youth vaping," Axios' Orion Rummler writes.
The big picture: Juul, which is headquartered in San Francisco, tried to crack down on youth vaping in 2018 before the FDA stepped in to address the problem.
The city's ban will "prohibit the sale, distribution, and manufacture of all tobacco products — including electronic cigarettes," according to the new health code ordinance.
Flashback: In an effort to reduce youth vaping, the FDA released its formal proposal to restrict the sale of flavored tobacco products in March.
A Juul Labs spokesperson said in a statement:
"This full prohibition will drive former adult smokers who successfully switched to vapor products back to deadly cigarettes, deny the opportunity to switch for current adult smokers, and create a thriving black market instead of addressing the actual causes of underage access and use."
Go deeper: Tobacco use is soaring among U.S. kids, driven by e-cigarettes