Axios Sneak Peek
July 19, 2022
Welcome back to Sneak. Smart Brevity™ count: 940 words ... 3.5 minutes.
⚡ Situational awareness: The Jan. 6 select committee plans to issue a preliminary report and hold at least one additional hearing to examine the findings, Chairman Bennie Thompson (D-Miss.) revealed tonight. Go deeper.
1 big thing: Dems' crime pivot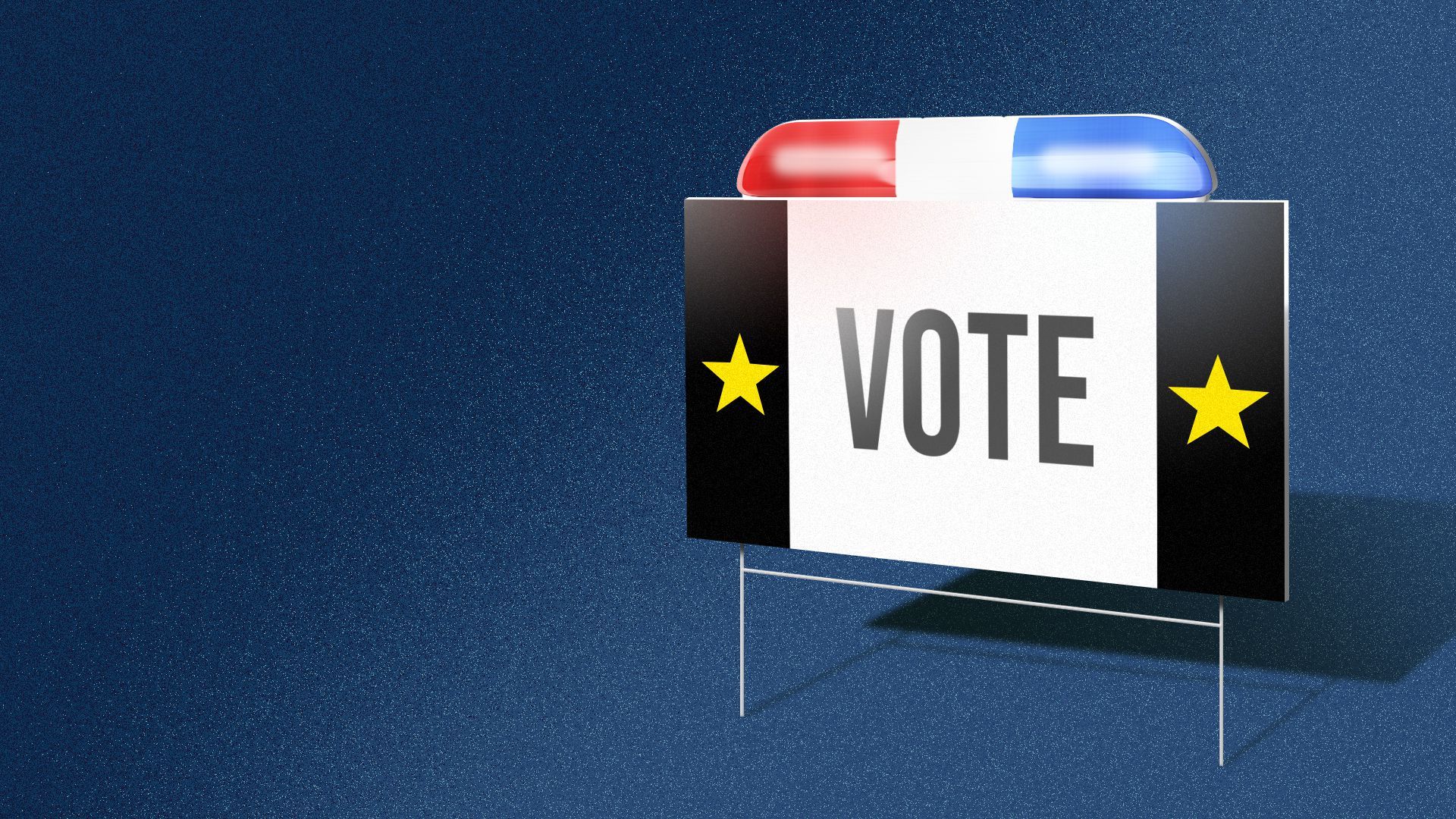 Just two years after calls to defund the police erupted in the wake of George Floyd's murder, Democrats in states like Ohio, Georgia and Florida are spotlighting law enforcement to boost their credibility on fighting crime, Axios' Alexi McCammond reports.
Why it matters: The new effort to ward off Republican attacks comes after the defund debate damaged Democrats' reputation on crime — leading to party infighting and internal reflection over how to best message on police reform.
Some party strategists fear a voter perception that Democrats don't recognize the problem with violent crime and don't respect the role police play in keeping communities safe.
The recent spate of mass shootings in places like Buffalo, New York, and Uvalde, Texas, has given fresh urgency to the issue — as well as a new opportunity for Dems to go on the offensive by linking rising crime rates to gun violence.
What's happening: A new analysis from the Center for American Progress found that in seven states (Tennessee, Ohio, Indiana, Arizona, Iowa, Texas and Missouri), law enforcement groups have publicly opposed bills spearheaded by Republican governors and lawmakers.
In Georgia, Democratic gubernatorial nominee Stacey Abrams has released several campaign ads in the last few weeks using criticism from law enforcement officials to attack her competitor, Republican Gov. Brian Kemp, over crime and safety issues.
In Ohio, the Democratic nominee for Senate, Rep. Tim Ryan, enlisted the help of a sheriff for an ad last month accusing his Republican opponent J.D. Vance of attacking law enforcement.
"Tim Ryan knows defunding the police is ridiculous," the sheriff says, while criticizing a proposal by Vance to eliminate the Bureau of Alcohol, Tobacco, Firearms and Explosives.
Nan Whaley, the former Democratic mayor of Dayton now running against Ohio Gov. Mike DeWine, told Axios: "We've been very clear since before I was running for governor that I thought 'defund' was a terrible idea. This isn't a campaign thing — it's just terrible governance."
In Florida, Democratic Rep. Val Demings — who's running against Republican Sen. Marco Rubio — has leaned heavily on her experience as Orlando's former police chief in campaign ads and events, including hosting a rally last month headlined "Meet the Chief."
"When he says I want to defund the police — I am the police!" Demings has said of Rubio. "Does that make any sense? I mean, come on."
2. 🤝 Fetterman to attend in-person fundraiser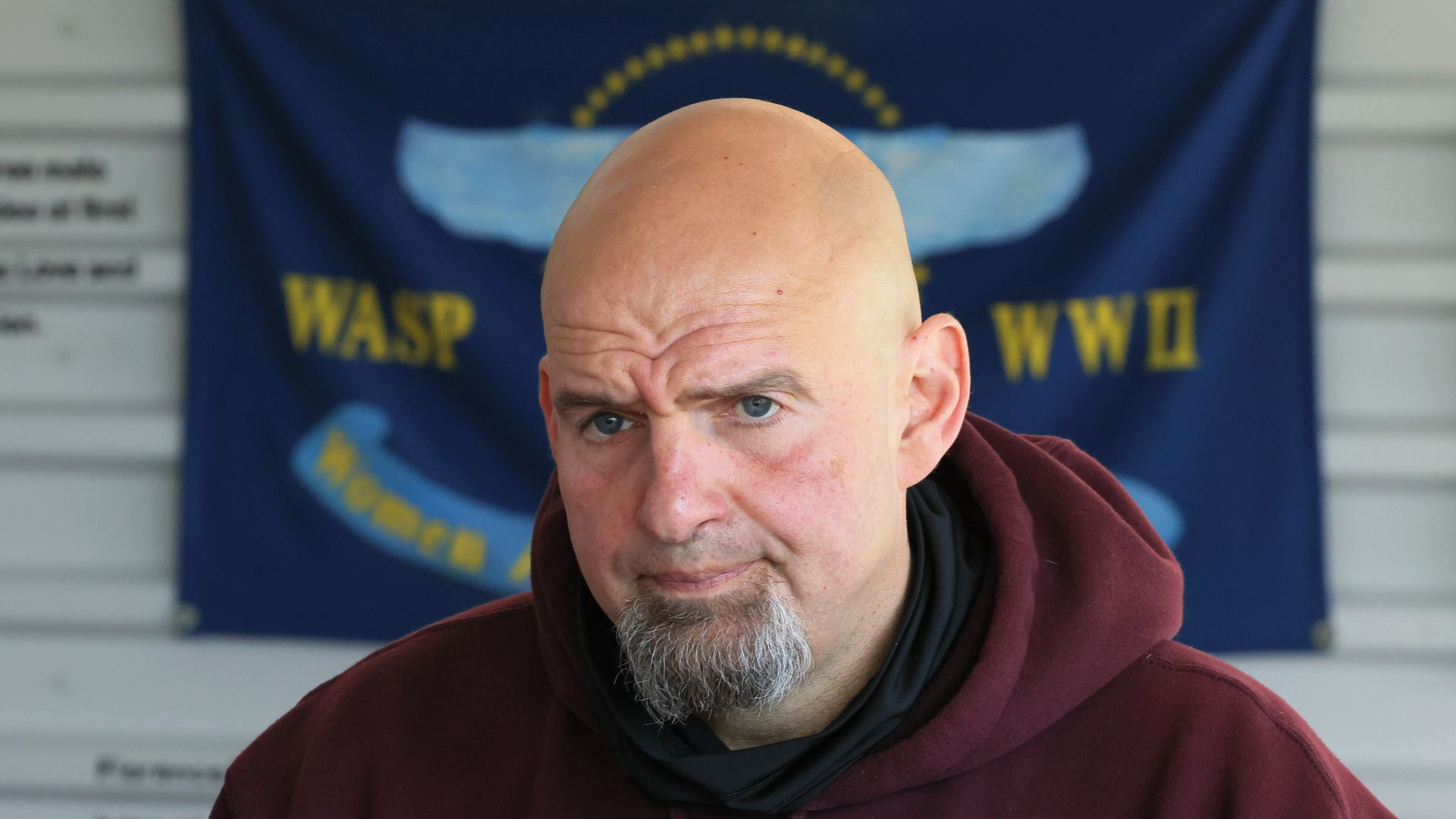 Pennsylvania's Lt. Gov. John Fetterman, the Democratic nominee for U.S. Senate, will attend a fundraiser in Philadelphia on Thursday — his first major in-person appearance since suffering a stroke two months ago, Axios' Sophia Cai reports.
Why it matters: If Fetterman can demonstrate he's well on the road to recovery, it would be welcome news to Democrats who fear his health problems could jeopardize their chances of winning a crucial Senate seat this fall.
What we're watching: Fetterman has ramped up his live conversations with supporters over the last several weeks, including chatting on the phone with Sen. Jon Tester (D-Mt.) and Zooming into a virtual fundraiser with J-StreetPAC, the fundraising arm of the liberal pro-Israel group J-Street.
"He sounded great," Tester told Axios. "There were no glitches, no anything. He could be out on the campaign trail. He felt better today than he did before the stroke happened."
"He's doing really well," Sen. Gary Peters (D-Mich.), chair of the Democratic Senatorial Campaign Committee, said to Axios after joining a Zoom call with Fetterman a few weeks ago. "He just needs a little more time. I'm confident he'll be on the campaign trail and will be doing what he has to do."
3. 🍀 Hassan's lucky break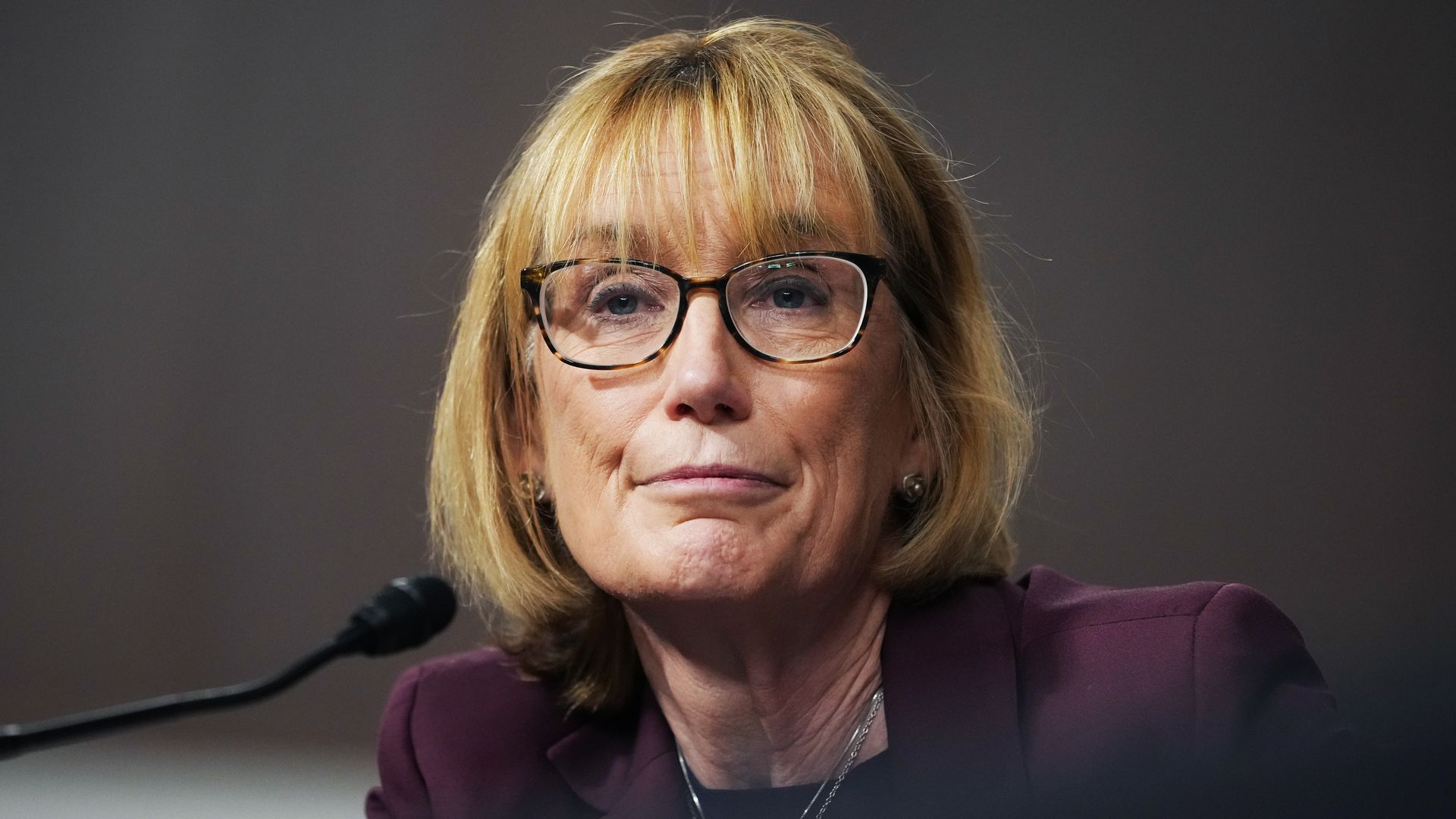 Sen. Maggie Hassan (D-N.H.) was initially seen as one of the most vulnerable Senate Democrats up for re-election this year.
But as New Hampshire's Sept. 13 primary draws closer, there's still no clear Republican frontrunner to take her on in November, Axios' Alayna Treene reports.
Why it matters: The GOP establishment's failure to coalesce around one viable candidate after its initial favorite — New Hampshire's current Gov. Chris Sununu — decided not to enter the race has helped clear the way for the Democratic incumbent.
"Sununu's decision to forego the Senate race turned the race from a slam dunk into a coin toss," Ken Spain, a Republican strategist and former GOP campaign official, told Axios.
"New Hampshire falls into the growing category of races where Republicans are relying on the political environment to carry some of their candidates across the finish line."
Driving the news: Hassan raised $5 million in Q2, with roughly $7 million in the bank, according to her campaign.
That's more than five times the combined amount raised by the three main Republican candidates backed by the GOP establishment: Chuck Morse, president of the New Hampshire Senate; Kevin Smith, former director of a conservative advocacy group, and Don Bolduc, a retired Army general.
4. ⛽ Parting shot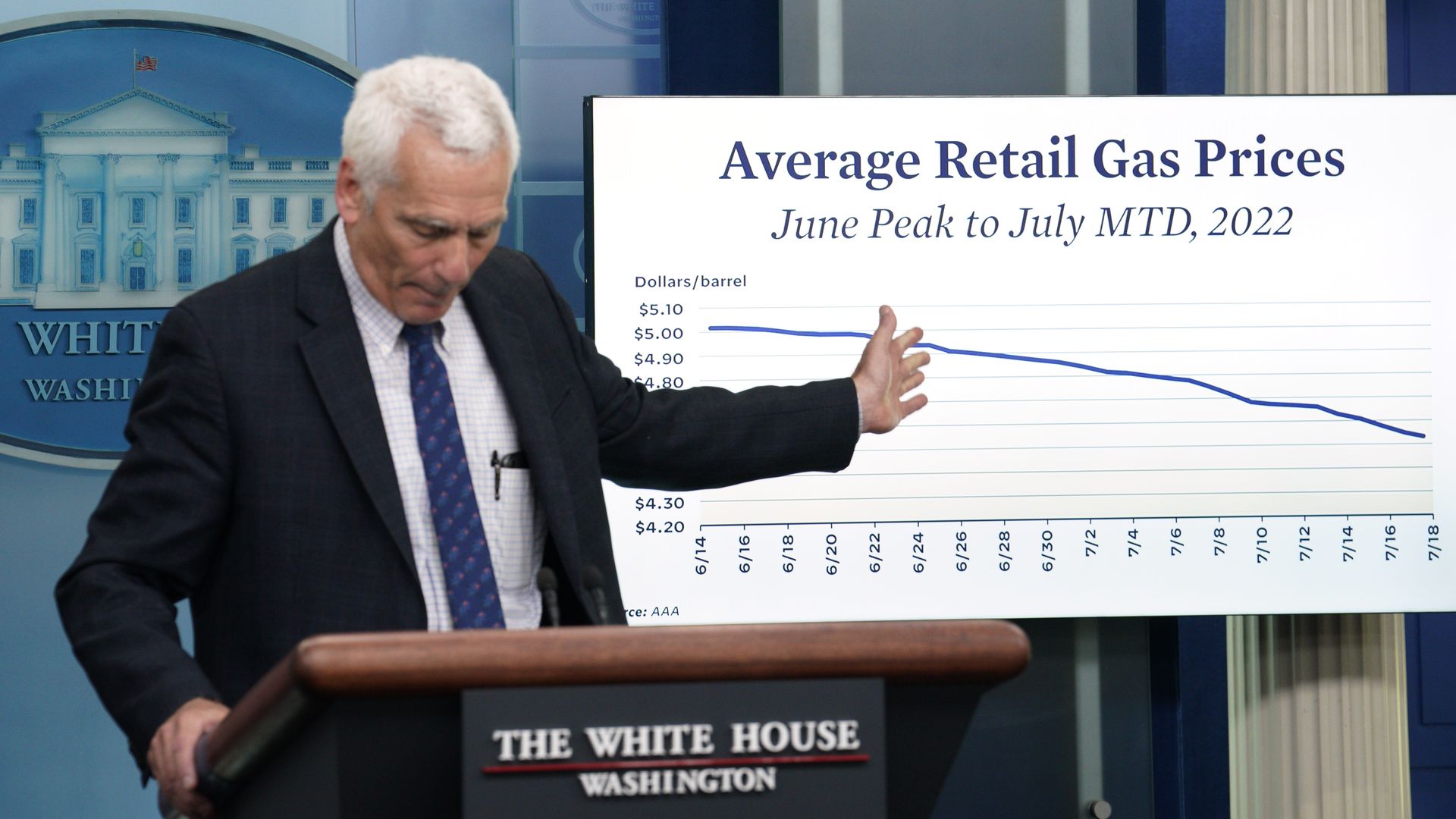 Jared Bernstein, a member of the White House Council of Economic Advisers, shows a chart that the Biden administration can't seem to get enough of: Average gas prices have declined by 50 cents per gallon over the past 34 days.
📬 Thanks for reading! Send us feedback by hitting reply to this newsletter or emailing us at [email protected].