Axios Sneak Peek
May 16, 2023
Welcome back to Sneak. Smart Brevity™ count: 1,080 words ... 4 minutes.
1 big thing: DeSantis' big Iowa bet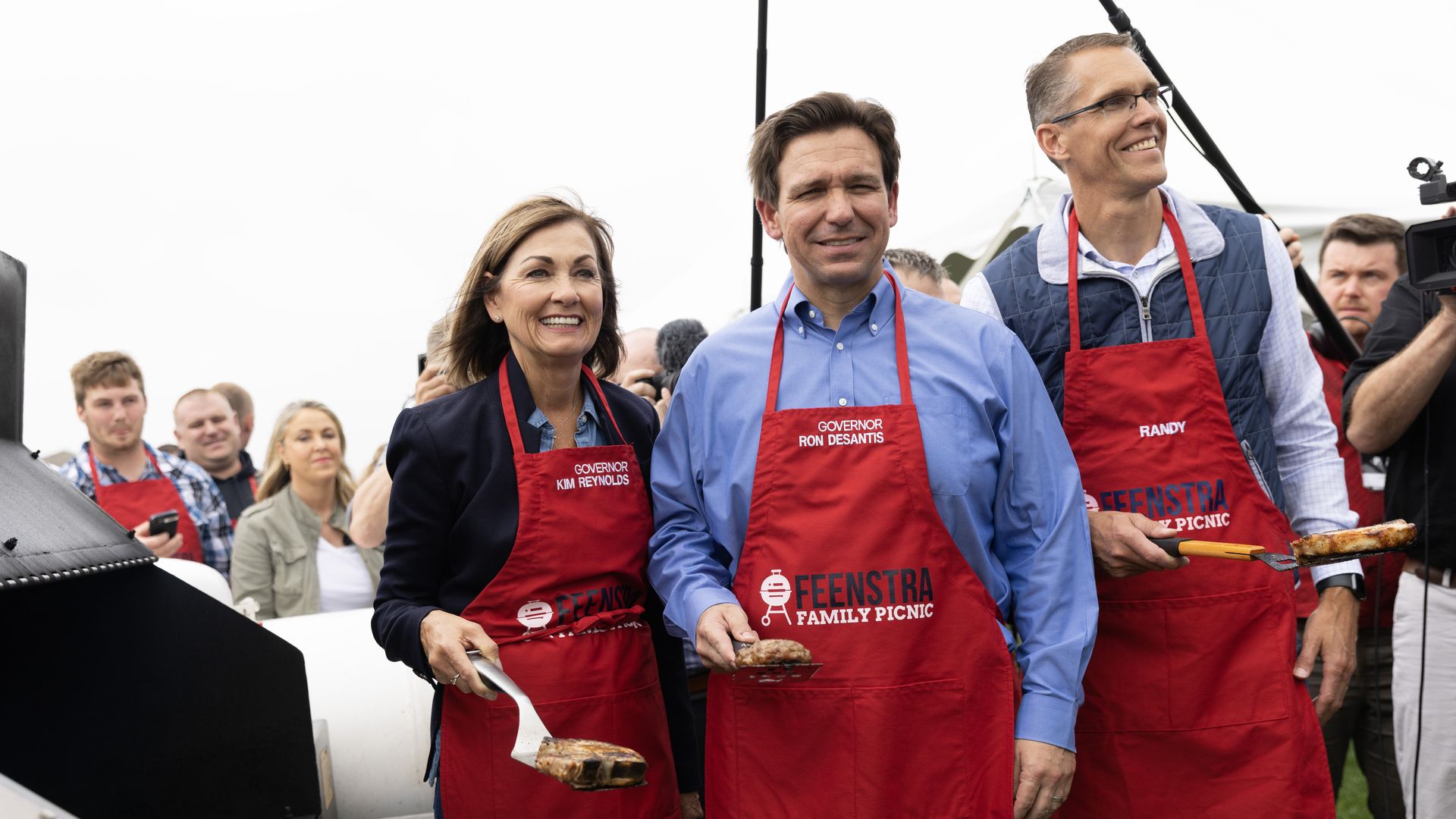 Florida Gov. Ron DeSantis got the contrast he desperately needed this weekend in Iowa, where former President Trump's no-show provided a jolt of momentum in an early primary state key to DeSantis' presidential fortunes.
Why it matters: Trump — who canceled his rally in Des Moines because of "severe weather" — is dominating DeSantis in the polls. The first-in-the-nation Iowa caucuses, which Trump lost to Sen. Ted Cruz (R-Texas) in 2016, could be DeSantis' best bet to prove he's got a fighting chance.
Driving the news: Ahead of a formal campaign launch in the coming weeks, DeSantis headlined two Iowa events on Saturday that were packed with state officials and Republican caucus-goers.
DeSantis flipped burgers at an annual picnic hosted by Rep. Randy Feenstra (R-Iowa), clearing a bar lowered by months of speculation about his comfort with retail politics.
A day earlier, the pro-DeSantis super PAC Never Back Down rolled out endorsements from more than a third of the Republicans in Iowa's state legislature — more than any GOP candidate received in 2016.
The intrigue: Trump on Saturday rolled out his own slate of 150 endorsements from "elected and grassroots leaders" in Iowa — but at least three people on the list tell Axios they were not consulted and remain undecided.
Former GOP congressional candidate Gary Leffler told Axios that a reporter alerted him his name was on Trump's list — while he was attending DeSantis' event on Saturday.
Laura Carlson, vice president of the Iowa Federation of Republican Women and founder of the club Republican Women of Central Iowa, was also surprised to see her name on the list — and told Axios she now wonders about the veracity of the other endorsements.
Another longtime GOP activist who did not wish to be publicly named told Axios that she was added to the list without a request from the Trump campaign or any agreement from her.
Zoom in: The biggest moment of the weekend was an impromptu stop at a barbecue joint in the area of Trump's canceled rally, where DeSantis and his allies trolled the former president with praise for the "beautiful" weather.
"We must reject the culture of losing that has infected our party in recent years," DeSantis said at his earlier event in northwest Iowa, another pointed jab at Trump.
Between the lines: A day after the visit, Trump slammed DeSantis for signing a six-week abortion ban in Florida — claiming "many people within the pro-life movement feel that that was too harsh."
The comment is unlikely to go over well with Christian conservatives in Iowa, where Republican Gov. Kim Reynolds signed a similar six-week abortion ban.
"The #IowaCaucus door just flung wide open," Bob Vander Plaats, an influential evangelical leader in Iowa, tweeted in response to Trump's comment.
The bottom line: Winning in Iowa would be a massive coup for DeSantis, but recent history shows it's not enough to rely solely on that momentum. Not since 2000 has the Republican who won the Iowa caucuses gone on to be the nominee in a contested cycle.
2. 💰 X-date holds firm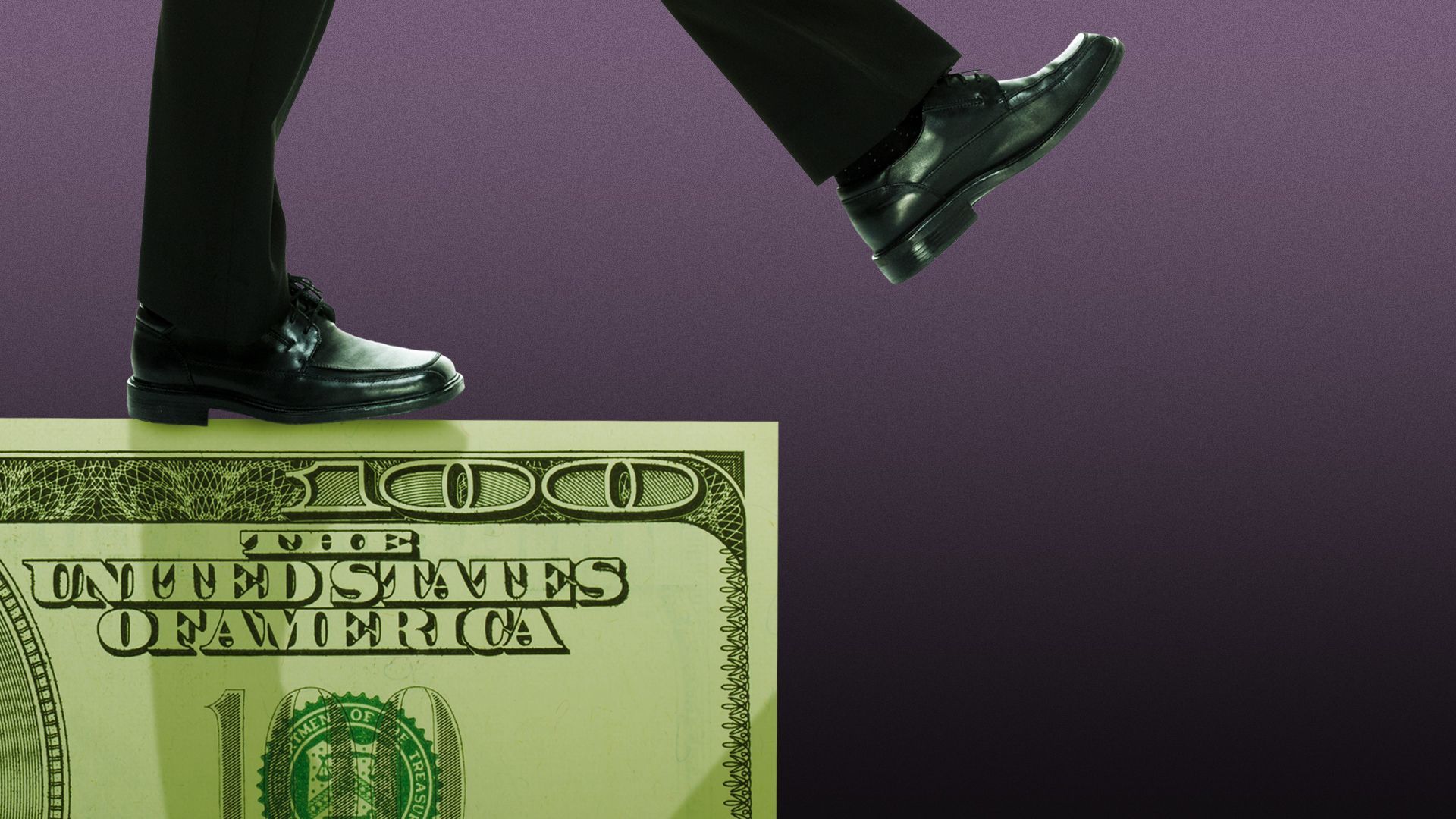 In a new debt ceiling forecast, Treasury Secretary Janet Yellen repeated her warning that the U.S. government could run out of money as early as June 1 — and shortened the potential buffer period to days, not weeks.
What we're watching: As Treasury approaches the X-date, the estimates will become both more frequent and more specific, Axios' Hans Nichols reports.
Every weekday afternoon, the Treasury Department releases fresh data on how much money is flowing into its coffers and how much is flowing out.
If Treasury has enough cash to get past June 15, when a large tranche of corporate tax revenue is expected, it may have a couple more weeks to pay its bills.
The latest: House Speaker Kevin McCarthy (R-Calif.) sounded pessimistic as staff-level negotiations between the White House and congressional leaders continued at the Capitol today.
"There's no progress that I see, and it really concerns me with the timeline of where we are," he told reporters.
McCarthy and the other leaders are expected to return tomorrow at 3pm ET to the White House to meet with Biden — a day before the president is scheduled to leave for the G7 summit in Japan.
3. ⚖️ Special counsel blasts FBI over Trump-Russia probe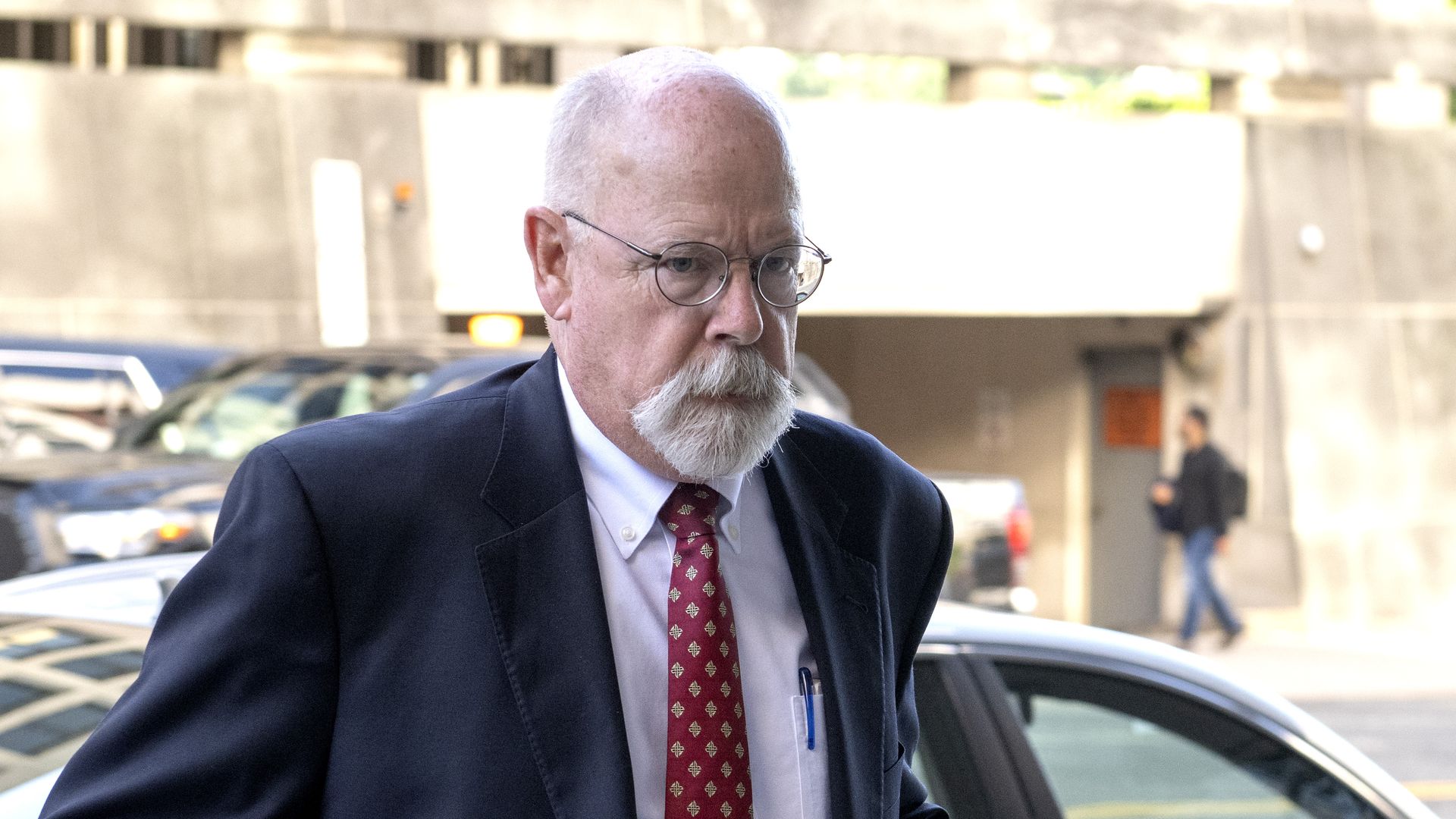 Special counsel John Durham concluded in a long-awaited report that the FBI's basis for launching its explosive investigation into the 2016 Trump campaign's ties to Russia was "seriously flawed."
Why it matters: Durham leveled withering criticism at investigators — accusing them of causing "severe reputational harm" to the FBI. But he did not bring high-level indictments or uncover evidence of what Trump has called "the crime of the century."
Details: Durham concluded that the FBI's decision to open the investigation was rushed and a departure from how the bureau treated other intelligence matters that could affect the presidential election.
In opening the inquiry, "neither U.S. law enforcement nor the Intelligence Community appears to have possessed any actual evidence of collusion" between the Trump campaign and Russia, the report says.
Officials also demonstrated potential "confirmation bias" in favor of continuing to investigate Trump, and "ignored or simply assessed away" evidence that was inconsistent with the premise that the Trump campaign was colluding with Russia.
4. 🗣️ Trading places: 2024 edition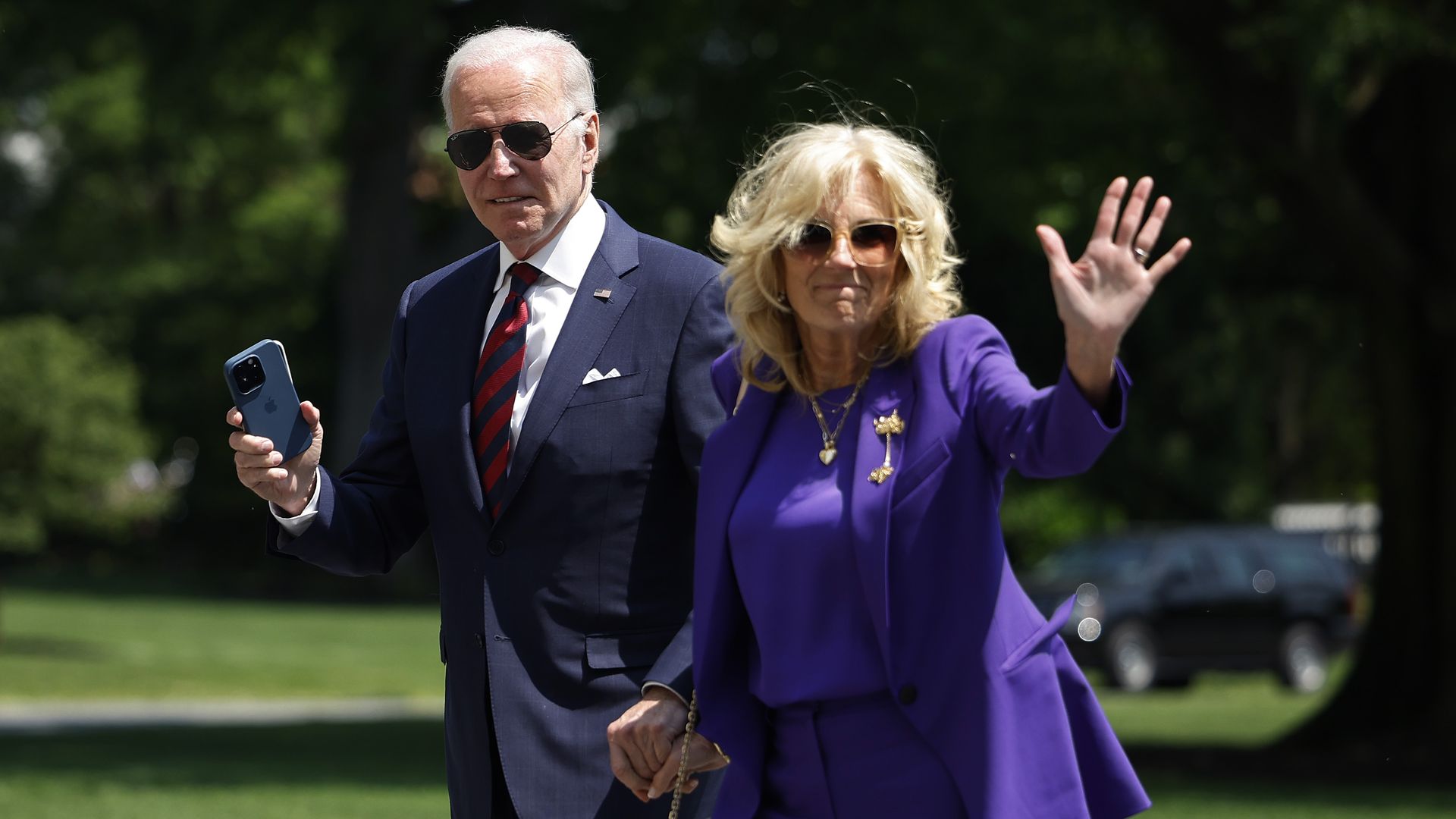 1. White House deputy communications director Kate Berner has told colleagues she expects to leave in the coming weeks, Axios' Alex Thompson scoops.
Why it matters: Berner's departure is part of a broader shuffle in the White House's press and communications shops ahead of Biden's re-election effort. Asked whether Berner planned to join the campaign, the White House declined to comment.
2. DeSantis press secretary Bryan Griffin is also stepping down and plans to join the governor's political operation, Fox News first reported.
What they're saying: In a thinly veiled preview of DeSantis' coming presidential announcement, Griffin said in his resignation letter that he's stepping down "to pursue other avenues of helping to deliver the governor's success to our country."
3. Sen. Tim Scott (R-S.C.) has tapped former Tennessee Gov. Bill Haslam as national co-chair of his presidential campaign, which will officially launch on Monday, Politico reports.
Why it matters: Haslam, a billionaire businessman who left office in 2019, will help open the door to a new network of donors as Scott looks to expand his base of support outside of the Senate.
📬 Thanks for reading tonight. This newsletter was copy edited by Patricia Guadalupe.