May 25, 2021
Top of the Morning
Axios Re:Cap, the afternoon podcast I host, this week is airing a special six-part series on America's small business comeback.
Why it matters: Main Street is finally beginning to rebuild from the hurricane that barely glanced Wall Street.
Small businesses are always particularly exposed when crisis hits, due to limited cash buffers, according to the JPMorgan Chase Institute, which tracks anonymized credit and debit card data.
Three big trends that we've learned while putting together the Axios Re:Cap series.
1. Tech-tonic shift. The pandemic rapidly accelerated the small business sales model move from offline-to-online, and data suggests that much of the shift is permanent. This also helps explain why so many tech startups were able to thrive in the pandemic, because they never had offline products in the first place.
2. Thanks Sam: Most small business owners we spoke with received PPP loans. Some complained a bit about the early application process, but everyone was unanimous in their praise of the program, crediting it with helping them continue to pay employees and, in some cases, keep their doors open.
3. No self-pity: Not a single small business owner expressed even an ounce of "woe is me." I wouldn't have blamed them if they did, given what they faced over the past 14 months, but they didn't (despite continuing labor shortages). If American small business was a bumper sticker, it would be "Shit Happens."
🎧 Take a listen: The podcast series launched yesterday with a view from the shopping centers (e.g., where big national chains rub shoulders with moms-and-pops), in which I speak with a top landlord and several of his tenants in an Allen, Texas property called The Villages. Today's episode will focus on Black-owned small businesses, including a conversation with Shelly Bell, founder of Black Girl Ventures.
Beginning today we're also ending each episode with an "audio postcard" from iconic small businesses, including Pat's Famous Steaks (Philly), First Avenue Club (Minneapolis) and Pike Place Fish Market (Seattle).
You can find the series on Apple Podcasts, Spotify or your favorite pod platform.
The BFD
Amazon (Nasdaq: AMZN) is in advanced talks to buy MGM Studios for upwards of $9 billion, per multiple media reports.
Why it's the BFD: MGM would be Amazon's second-largest acquisition ever, behind Whole Foods. It's also certain to raise the antitrust heat on Big Tech, even if this specific deal doesn't raise DOJ or FTC hackles.
Intrigue: At least in theory, this deal would mean Jeff Bezos owns unaired footage from "The Apprentice."
The bottom line: This is part of an entertainment deal frenzy, with everyone looking for summer blockbuster-size scale. It was kicked off by last week's WarnerMedia/Discovery announcement, while Legendary Studios reportedly is seeking to go public via SPAC.
Venture Capital Deals
🚑 Noom, a New York-based weight and wellness app, raised $540 million in Series F funding. Silver Lake led, and was joined by Oak HC/FT, Temasek, and Novo Holdings. Existing investors Sequoia Capital, RRE, and Samsung Ventures. www.noom.com
• Bowery Farming, a vertical farming company, raised $300 million in Series C funding at a $2.3 billion valuation. Fidelity led, and was joined by Amplo, Gaingels and insiders GV, General Catalyst, GGV Capital, Temsek, Groupe Artémis. http://axios.link/X5Gm
• Forter, a New York-based provider of e-commerce fraud prevention solutions, raised $300 million in Series F funding at a $3 billion valuation. Tiger Global led, and was joined by Third Point Ventures, Adage Capital Management and insiders Bessemer Venture Partners, Sequoia Capital, March Capital, NewView Capital, Salesforce Ventures and Scale Venture Partners. http://axios.link/E8hy
• Printful, a Charlotte-based print on-demand company, raised $130 million from Bregal Sagemount at a valuation north of $1 billion. http://axios.link/qpBs
• FarEye, an Indian supply chain and logistics operation optimization startup, raised $100 million in Series E funding. TCV and Dragoneer co-led, and were joined by insiders Eight Roads Ventures, Fundamentum and Honeywell. http://axios.link/db0A
• Xanadu, a Toronto-based photonic quantum computing startup, raised US$100 million in Series B funding. Bessemer Venture Partners led, and was joined by insiders Georgian Partners, OMERS and Tim Draper. www.xanadu.ai
• Tessian, a London-based "human layer" security company, raised $65 million in Series C funding from March Capital, Sequoia Capital and Accel. www.tessian.com
🚑 Eliem Therapeutics, a Redmond, Wash.-based biotech focused on neuronal excitability disorders, raised $60 million in Series C funding. Intermediate Capital Group and RA Capital Management co-led, and were joined by Access Biotechnology, Samlyn Capital, Acorn Bioventures and LifeArc. http://axios.link/W8zm
🚑 Qualio, a San Francisco-based provider of quality management system software for life sciences, raised $50 million in Series B funding. Tiger Global led, and was joined by Menlo Ventures and insiders Frontline Ventures, MHS Capital, Operator Partners, Sorenson Ventures and Storm Ventures. www.qualio.com
• AnyClip, an Israeli provider of online video analytics, raised $47 million. JVP led, and was joined by La Maison and Bank Mizrahi. http://axios.link/je8K
• Little Birdie, an Australian e-commerce startup, raised A$30 million from Commonwealth Bank of Australia. http://axios.link/cYZT
• Interactio, a Lithuania-based remote interpretation platform, raised $30 million in Series A funding. Eight Roads Ventures and Storm Ventures co-led, and were joined by Notion Capital and Practica Capital. http://axios.link/rqZ8
• SevenFifty, a New York-based supply chain platform for the alcoholic beverage market, raised $23 million in Series B funding led by Level Equity. http://axios.link/O8rL
🚑 Clearing, a New York-based digital healthcare platform for chronic pain, raised $20 million in Series A funding. Bessemer Venture Partners and Founders Fund co-led, and were joined by Breyer Capital, Threshold and individual angels.
• Sentieo, a San Francisco-based financial and corporate research platform, raised $20 million in Series B funding. Ten Coves Capital led, and was joined by insiders Centana Growth Partners and Studio Management. www.sentieo.com
• Atlan, an Indian SaaS data collaboration platform, raised $16 million in Series A funding led by Insight Partners. http://axios.link/eSTl
🚑 Curebase, a Walnut, Calif.-based provider of decentralized clinical trial software, raised $15 million in Series A funding. GGV Capital led, and was joined by Xfund and Bold Capital. www.curebase.com
• Fireflies.ai, a Pleasanton, Calif.-based meeting transcription startup, raised $14 million led by Khosla Ventures. http://axios.link/6SDF
• Beacons, a San Francisco-based mobile landing page builder, raised $6 million in seed funding. Andreessen Horowitz led, and was joined by Atelier Ventures, Mantis Fund and Night Media Ventures. http://axios.link/32v0
⚡ Gridware, a Sacramento-based startup focused on protecting electric grids from climate change, raised $5.3 million in seed funding co-led by True Ventures and 50 Years. http://axios.link/nQDz
🚑 Lydus Medical, an Israeli developer of automated surgical tools, raised $2.7 million in seed funding from Sanara Ventures, Mor Research Applications, Glenrock and Technion. http://axios.link/UjDF
Private Equity Deals
🚑 Elliott Investment Management disclosed a 3.1% stake in UDG Healthcare (LSE: UDG), a Dublin-based provider of services to pharma customers that last month agreed to be taken private for £2.61 billion by Clayton Dubilier & Rice. http://axios.link/nkcC
• Helios Fairfax Partners led an investment in the NBA's expansion into Africa, via a deal that values the new effort at around $1 billion. Other backers include ex-players like Dikembe Mutombo, Grant Hill and Joakim Noah. http://axios.link/Yur8
🚑 H.I.G. Capital agreed to buy CORA Health, a Charlotte-based operator of outpatient physical and occupational therapy clinics, from Gryphon Investors. www.coraphysicaltherapy.com
🚑 Keensight Capital agreed to acquire a majority stake in Symeres, a Dutch pharma research and development firm, from Gilde Healthcare. http://axios.link/TO6i
• L Catterton acquired Kodiak Cakes, a Park City, Utah-based pancake mix maker, from sellers like Sunrise Strategic Partners and Trilantic North America. www.kodiakcakes.com
⚡ PAI Partners agreed to invest in Apave, a Paris-based provider of risk engineering services focused on the energy markets. http://axios.link/dhIJ
• Ranch Creek Partners invested in InSite Telecom, an Orange, Calif.-based provider of wireless and wireline telecom construction, installation and maintenance services. www.insitetelecom.com
• Swander Pace Capital acquired Mighty Spark, a Minneapolis-based protein snacks brand. www.mightysparkfood.com
• Trive Capital acquired Oscar Larson, a Clarkson, Mich.-based provider of fuel infrastructure equipment distributor and services provider. www.larsonco.comeed
• US LBM, a Buffalo Grove, Ill.-based portfolio company of Bain Capital, agreed to buy American Construction Source, a Springfield, Mo.-based lumber and building materials distributor, from Angeles Equity Partners and Clearlake Capital Group. www.acs-lbm.com
Public Offerings
🚑 Centessa, a Cambridge, Mass.-based "asset-centric" pharma platform, set IPO terms to 15 million shares at $18–$20. It would have a $1.8 billion fully diluted value, were it to price in the middle, and plans to list on the Nasdaq (CNTA). Centessa was formed via the merger of 10 startups backed by British biotech VC firm Medicxi, and subsequently raised a $250 million Series A round led by General Atlantic. http://axios.link/WJog
• DLocal, a Uruguayan cross-border payments company, set IPO terms to 29.4 million shares at $16–$18. It would have a $5 billion market cap, were it to price in the middle, plans to list on the Nasdaq (DLO) and reports a $28 million profit for 2020 on $104 million in revenue. DLocal raised $350 million from firms like Alkeon Capital, Bond Capital, D1 Capital Partners and Tiger Global. http://axios.link/yOEM
SPAC Stuff
• BigBear.ai, a Columbia, Md.-based provider of AI solutions to U.S. government clients, is in talks to go public via GigCapital4 (Nasdaq: GIG) at an implied valuation north of $1.5 billion, per Bloomberg. The company is owned by AE Industrial Partners. http://axios.link/26ue
• Fifth Wall Acquisition III, a property tech SPAC, raised $250 million in its IPO. http://axios.link/2A2p
• Mountain Crest Acquisition IV, a new SPAC led by Suying Liu, filed for a $50 million IPO. http://axios.link/fHfA
Liquidity Events
• The New York Times (NYSE: NYT) is in talks to buy The Athletic, a sports media content startup that's raised $145 million in VC funding, Axios' Sara Fischer has learned from multiple sources. Go deeper.
More M&A
⚡ Royal Dutch Shell (LSE: RDS) agreed to sell its controlling stake in Texas refinery Deer Park to partner Pemex for around $596 million. http://axios.link/EUUQ
• Sinch (Stockholm: SINCH), a Swedish rival to Twilio, raised $1.1 billion via a direct share sale to firms like SoftBank and Temasek. http://axios.link/rV9a
• Vonovia (Paris: VNA), Europe's largest residential property group, agreed to buy German rival Deutsche Wohnen (ETR: DWNI) for around €18 billion. http://axios.link/LkHI
Fundraising
• Branford Castle Partners, a New York-based private equity firm, raised $202.5 million for its second fund and said its first fund (2016 vintage) generated a 26.3% net IRR. www.branfordcastle.com
• Kaszek, a Brazilian VC firm, raised $475 million for its fifth early-stage fund and $525 million for its second later-stage fund. http://axios.link/TtoS
It's Personnel
🚑 Adaeze Enekwechi, a former health-focused OMB official in the Obama administration, joined Welsh, Carson, Anderson & Stowe as an operating partner. www.wcas.com
• Carl Settergren joined Nordic PE firm Procuritas as a partner. He previously spent 11 years with PAI Partners. www.procuritas.com
Final Numbers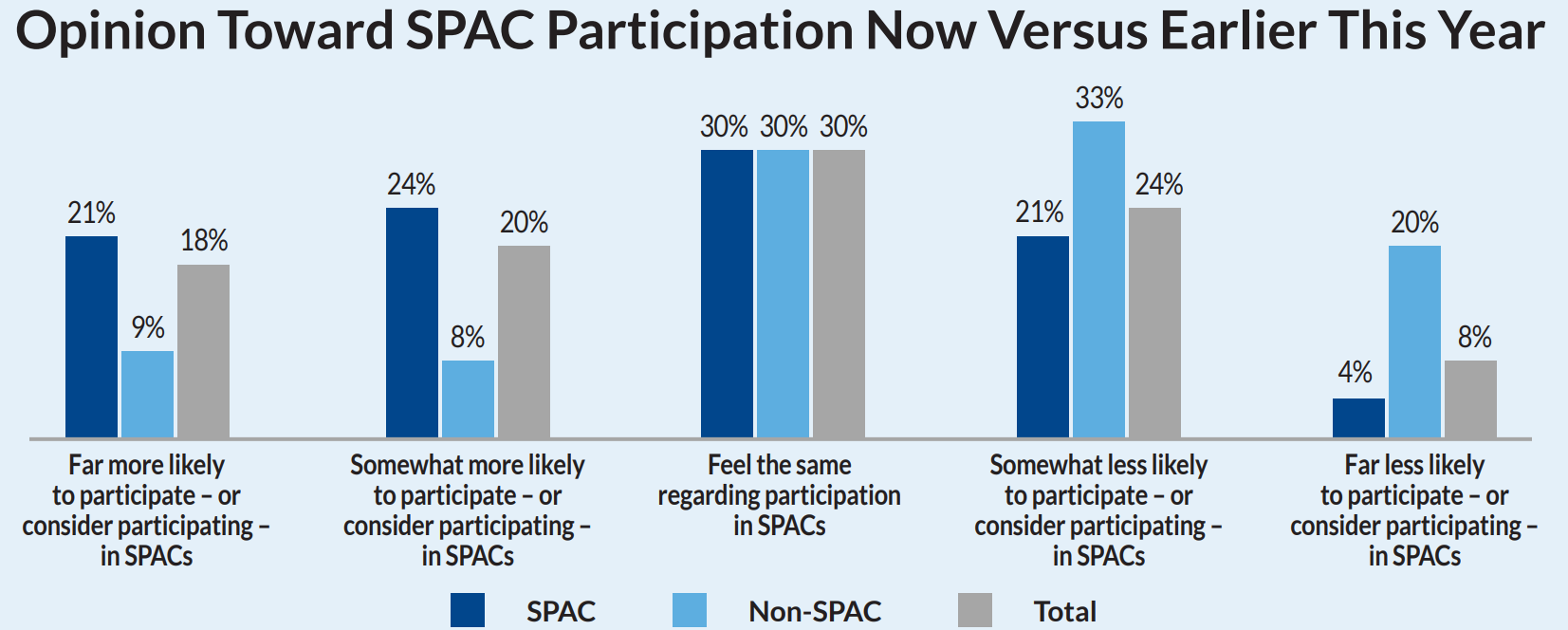 A House Financial Services subcommittee yesterday held a hearing on SPACs, although it didn't actually include any SPAC market participants as witnesses.
The big takeaway, per Axios' Hope King, is that Congress seems poised to drain the safe harbor from SPACs, meaning that target companies would be under the same forward-looking liabilities as companies going public via IPOs or direct listings. Go deeper.
🎧 Thanks for reading Axios Pro Rata! Please ask your friends, colleagues and roaring lions to sign up.