Axios Media Trends
February 27, 2018
Thanks for subscribing to Axios Media Trends. Send tips and ideas to [email protected] and tell your friends to join the conversation by signing up here.
Good morning from San Diego, where the annual Publishers Mega Conference is underway. One big takeaway: Traditional advertising as a lasting revenue stream for the news media seems just about dead. Marketing services, commerce, subscriptions, events and podcasts are the biggest topics of conversation here. "It's all based on consumer relationships," says Ken Doctor in the opening keynote address.
Situational awareness: Comcast is making a bid for the U.K.'s Sky News, offering $31 billion for the Pay-TV provider. Fox is currently bidding $15 billion for a larger stake of the company. (More below.)
1 big thing: Facebook and newspapers are becoming frenemies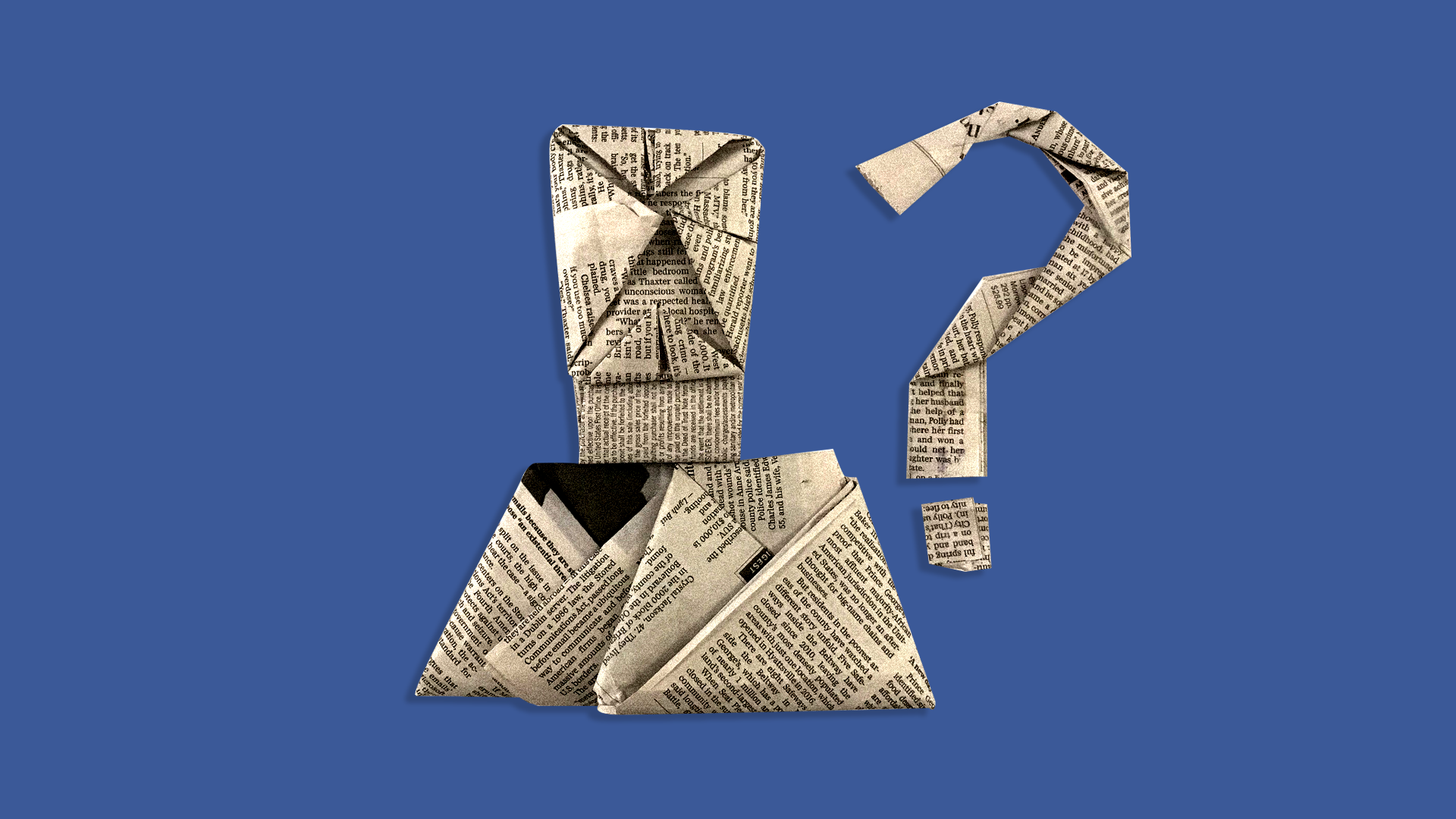 The newspaper industry is working with Facebook to launch a new project called the Local News Subscriptions Accelerator to help local newspapers beef up their digital subscription efforts, Axios has learned. But that doesn't mean they've made peace.
In fact, the News Media Alliance — a newspaper trade group that's working with Facebook on the project — is simultaneously launching a political action committee for the first time in its history to help reward members of Congress for elevating their goals, one of which includes asking Congress for an antitrust safe harbor to better compete against Facebook and Google for audience and ad dollars.
How can both be happening at the same time? While the News Media Alliance wants to work with Facebook to bolster subscriptions, its President David Chavern argues that Facebook (and Google) has a long way to go before presenting a sustainable model for news on platforms, so it needs a two-pronged approach of working with platforms and advocating for greater economic change through Congress. "We're saying, 'Thank you, but we're not there yet," says Chavern, in response to Facebook's efforts.
While it's unlikely members of Congress will take swift action, if any, on a safe harbor, the current administration generally supports deregulating legacy industries (broadcast, telecom) to empower them to compete with tech firms that have traditionally avoided regulation.
Increased calls for regulation to curb the dominance of Google and Facebook make it easier for NMA to argue for repealing existing media competition laws that prevent news organizations from working together to negotiate better deals with major internet platforms.
Our thought bubble: Part of this disparity comes from the split between the way local newspapers and national newspapers work with tech companies. The News Media Alliance, which represents some of the larger national newspapers, feels less dependent on Facebook for its technology tools than some of its local counterparts, which empowers it to take more formalized action against Google and Facebook.
2. Exclusive: Facebook to launch Local News Subscription Accelerator
Facebook Journalism Project will announce the launch of its Local News Subscriptions Accelerator today, a $3 million, three-month pilot program in the U.S. to help metro newspapers beef up their digital subscription efforts.
Why it matters: There's a newfound focus on subscription revenue within the media industry, as advertising dollars become harder to rely on due to Google and Facebook's dominance in that space. The pilot program is designed to help publishers learn about what works to drive people to subscribe to local outlets.
Facebook has brought on Tim Griggs, a former New York Times executive and leading digital media consultant, to helm the program's curriculum focused on understanding digital audiences and building marketing plans for digital subscriber acquisition.
Participating publishers will convene in-person once a month, receive coaching from digital subscription experts, and participate in weekly trainings covering a broad array of digital subscriptions marketing activities, including but not limited to the use of Facebook.
Facebook is working with The Lenfest Institute to distribute learnings from the $3 million investment through the Local Media Consortium, Local Media Association, and the News Media Alliance.
Go Deeper: We've got a list of all of the test publishers on the Axios stream.
3. Scoop: Newspapers launch PAC to take on Google, Facebook
The News Media Alliance (NMA), a newspaper trade group that represents over 2,000 newspapers in the U.S., is launching a political action committee (PAC) to ask Congress for an antitrust safe harbor against Google and Facebook.
Why it matters: It's the first-ever PAC created by the newspaper industry. It's a sign that the newspaper industry feels it needs to step up its lobbying efforts to survive in a digital-first era dominated by tech companies.
"We gotten to the point where we feel we need a political voice to create change for the industry."
— News Media Alliance President David Chavern
PAC dollars will go towards supporting members of Congress that support NMA's two biggest issues: A safe harbor exemption to compete against Google and Facebook and stopping Canadian news print tariffs.
Go deeper: Google makes roughly as much ad revenue globally as all print ad revenue combined.
4. Gut Check: What really gets people to buy subscriptions
Most people decide to buy a subscription to a news outlet after regularly visiting its website and accessing free content first, according to new data out this morning from the American Press Institute and Associated Press-NORC Center for Public Affairs Research.
Key takeaways:
45% of respondents said pricing discounts were the immediate trigger that got them to subscribe, regardless of other motivations
30% of people said the top reasons they buy subscriptions is for access to local news, specifically.
Why it matters: Exposing people to free samplings of content through social and search is a key driver of getting them to subscribe, which is why Google and Facebook will have to be critical drivers of getting local news subscriptions off the ground.
Go Deeper: Free news gets scarcer as paywalls tighten
5. Comcast challenges Fox with $31 billion bid for Sky News
Just weeks after it was rumored to have placed a higher bid for Fox's entertainment assets than Disney, American cable giant Comcast announced that it is placing a $31 billion cash bid for a majority stake (over 50%) in Europe's Sky News, topping 21st Century Fox's $15 billion for an additional 61% of the network that it doesn't already own.
Why it matters: Fox has been pursuing a majority stake in Sky for months, but has been facing regulatory hurdles around the deal. British authorities were supposed to give Fox a final decision this Spring, but Comcast's bid could change the deal outlook for the network, which is simultaneously hoping to complete a $52 billion merger with Disney in the United States.
Between the lines: The bid shows how aggressive the American cable giant, which owns a majority stake in NBCUniversal, is willing to pursue content deals globally.
6. This week in the linear TV crisis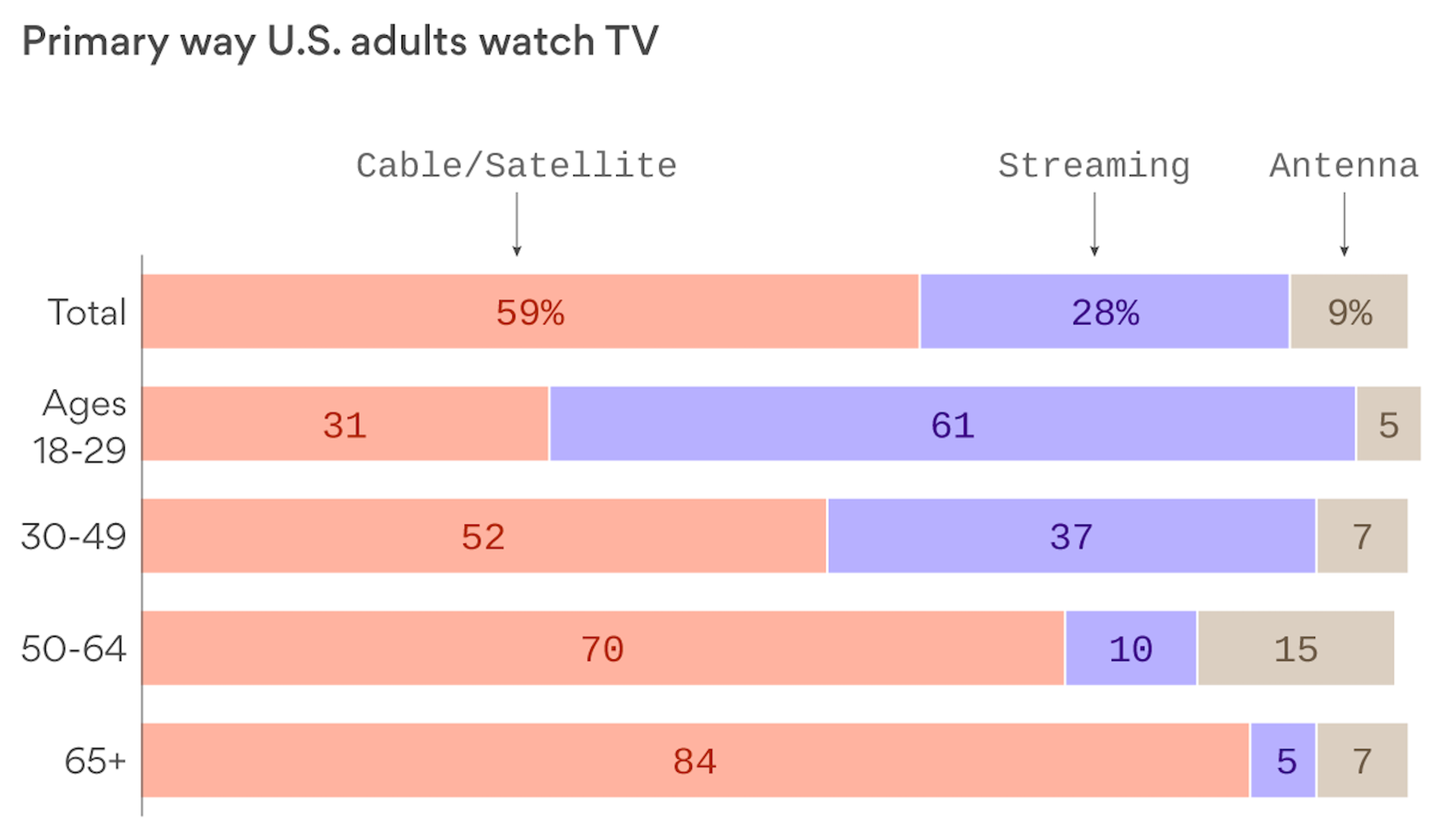 CBS announced the launch of "CBS Sports HQ," a new 24/7 streaming network for sports, highlights and analysis. (Its bigger games will still only be accessible on its main network, as Recode's Peter Kafka notes.)
Disney's new entertainment streaming network will be led by four to five original series from its studio and another four to five original movies, CEO Bob Iger announced yesterday.
On the flip side: NYT is planning a weekly TV news show, CNN's Brian Stelter reports.
Why it matters: The majority of millennials watch TV through streaming, so legacy TV networks are looking to diversify their revenue streams as their core linear TV audience ages out.
7. New advertising research: Reach is no longer enough
The Interactive Advertising Bureau (IAB) will release research today that shows how consumers are creating their own "personal prime times"— or points of high-level engagement throughout the day across devices and content areas (news, sports, weather).
Why it matters: The study suggests that brands should no longer expect a single, universal moment of greatest engagement from consumers throughout the day and that "traditional reach" metrics falter when they don't take consumer focus and intent into consideration.
For example, while majorities of both millennials and baby boomers check social media regularly, the research shows that millennials use social media to "pass the time" and "be entertained" on mobile, while boomers use it to "connect with others" on desktop.
"In the age of 'big data' it makes no sense for advertisers to place their focus solely on big numbers, when they can take advantage of insights that can help them pinpoint the right customer, the right way, at the right time."
— Anna Bager, Executive Vice President, Industry Initiatives, IAB
8. E.U. regulator speaks out on Google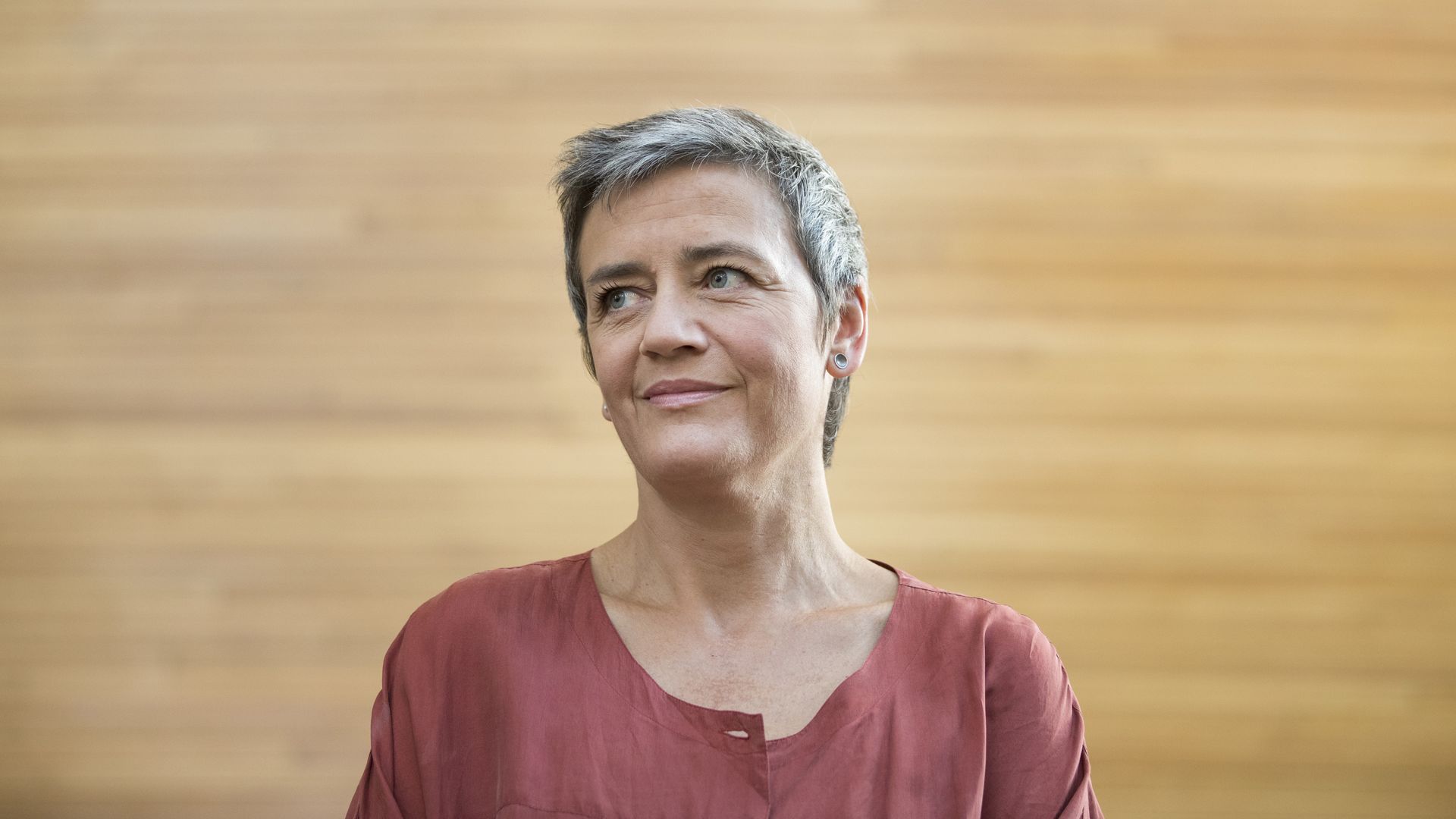 There have been increased calls on regulators to look into the dominance of Facebook and Google. Most notably, CNN boss Jeff Zucker said yesterday that it's "where the government should be looking." George Soros made the same plea two weeks ago.
Why it matters: While calls to regulate these companies in the U.S. seem newer, in Europe, competition regulators have been fiercely monitoring the regulation of American tech giants for years.
At the heart of those probes is EU competition secretary Margrethe Vestager.
Speaking to CNBC this morning, Vestager said the EU is currently eyeing three Google antitrust cases:
Android: The use of the Android to stay dominant.
Play Store: As a phone producer you cannot have the Play Store without taking a number of the other Google products.
AdSense: What rules have Google set out in order to place ads.
"What the three cases have in common is that here you have the dominant company when it comes to search and we find that this dominant position has been misused to do things that a competitor would never be able to do."
— Vestager
Go deeper: Why regulating Google and Facebook like utilities is a long shot
9. 1 encouraging thing: Fact-checking explodes
The number of fact-checkers around the world has more than tripled over the past four years, according to the Duke Reporters' Lab.
The number of fact-checkers has increased from 44 to 149 since the Duke Reporters' Lab first began counting these projects in 2014 — a 239 percent increase.
"Many of those fact-checkers in 53 countries are also showing considerable staying power," according to the report.