Axios Markets
June 25, 2022
There's a sports theme to Axios Markets Weekend today. I know nothing about sports, so I asked my colleagues to explain it to me while I was on vacation in Denmark.
Many, many thanks to (in the order that they filed): Erin Davis, Kate Marino, Jeff Tracy, Sara Fischer, Javier E. David, and Dan Primack for helping make my newsletter dream come true. It's 1,232 words, a 4.5-minute read.
1 big thing: Why valuations only go up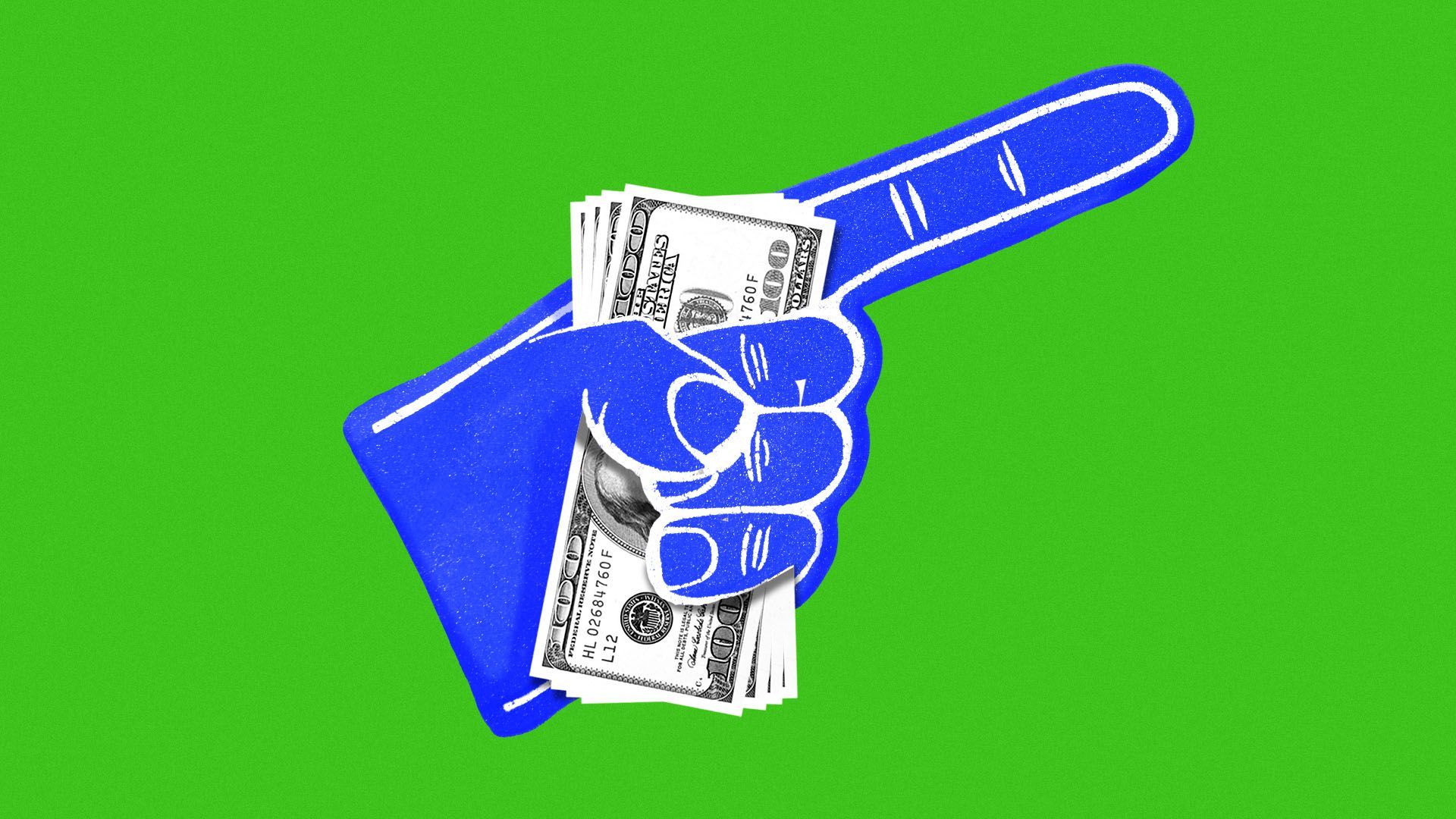 Professional sports team valuations are ruled by the law of scarcity, no matter the geography or game, writes Axios' Dan Primack.
The big picture: This is luxury toy collection at a level above yachts or private islands. Mega-billionaires — and, increasingly, institutions — are barreling into everything from the NFL to the NBA to European soccer.
By the numbers: The all-time record for pro sports team sales has been broken twice in the past month: First when American businessman Todd Boehly bought Premier League club Chelsea F.C. for $3.1 billion, and then again when Walmart heir Robb Walton struck a $4.65 billion deal for the NFL's Denver Broncos.
Deal math: Team sales are as much art as science, but bidders tend to start with a multiple of revenue (rather than of profits).
League health and media market size can add a premium. If the team owns its own stadium property and media rights, that's better still.
Many pro teams aren't profitable. But a pro sports investor tells Axios: "The notion that valuations always keep going up has led everyone to be complacent."
What's changed: Institutional capital, including private equity, has become a major player in team auctions over the past five years — competing with the traditional pool of rich folks who want to own their childhood obsession.
Increasing numbers of both individuals and institutions are also trying to buy multiple teams, across different markets and leagues.
Be smart: The increased demand is meeting static supply, thus price appreciation.
The resulting number-goes-up dynamic is very attractive to private equity.
The bottom line: One pro sports team owner tells Axios that "if you look at the history, what you see is incredible performance and a lack of correlation to the markets. Plus continued growth in media opportunities, like streaming and international expansion. This is a very good business to be in."
2. Yankee imperialism
None of America's football or baseball teams is foreign-owned — but the English Premier League is dominated by foreign owners, especially American ones.
Between the lines: Both Chelsea Football Club and the Denver Broncos sold to American consortiums.
The difference: In the case of the NFL team, it was unthinkable that a foreign bidder could even be in the running.
Go deeper: Dan wrote last month about how American investors now own a majority of the 20 best teams in the Premier League.
3. Follow the money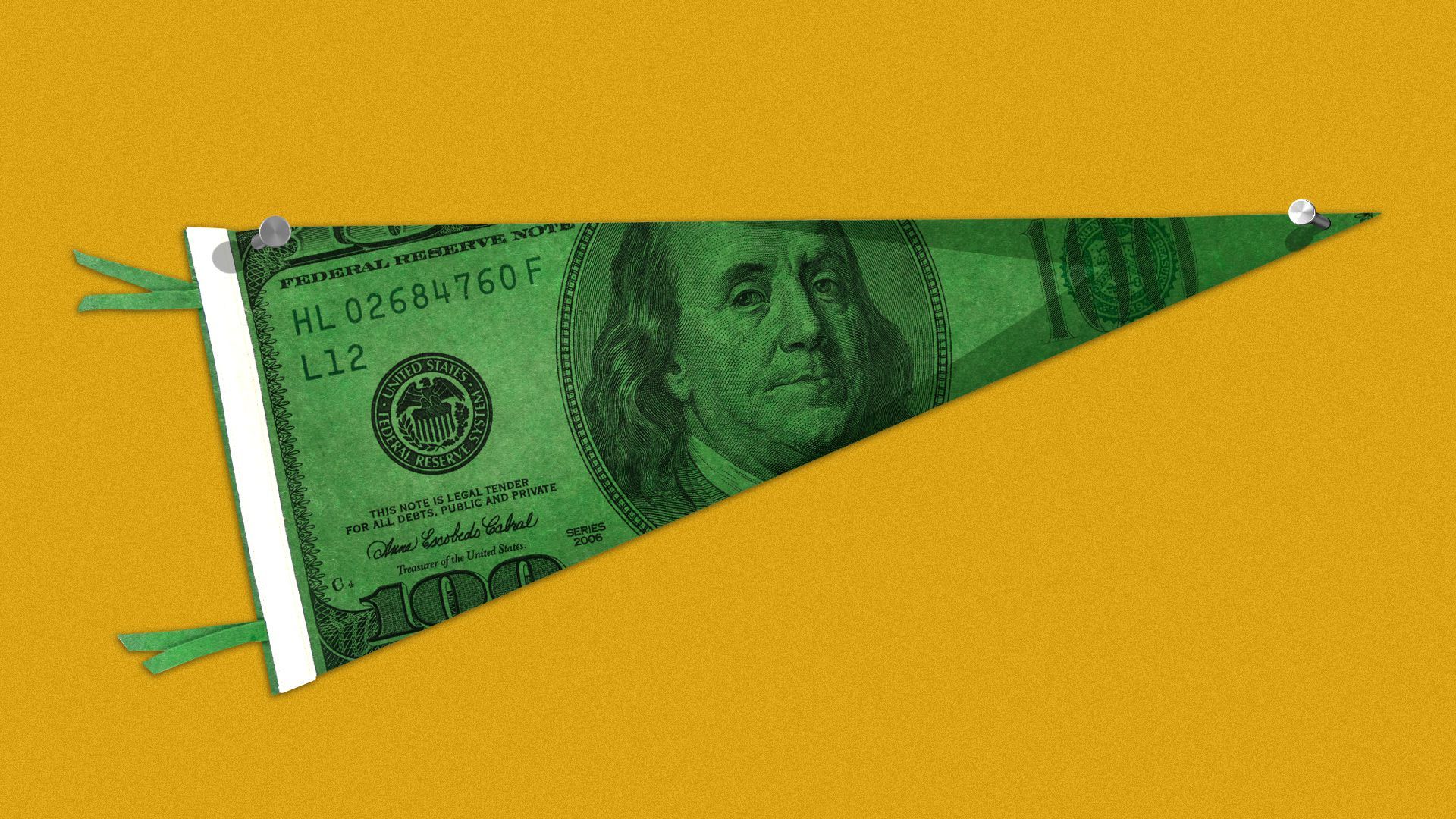 Record-breaking team sales and player contracts get most of the headlines, writes Jeff Tracy of Axios Sports. Less discussed is all the money sloshing around the rest of the sports industry — from season ticket-holders to weekend golfers.
State of play: Sports fans and participants continue to spend big money to follow their favorite leagues, watch their favorite teams, and enjoy their favorite pastimes.
4. The only thing saving linear TV
The vast majority of the most-watched broadcasts on television are sports, and, in particular, NFL games, Axios' Sara Fischer writes.
Why it matters: Sports increasingly trounce news in their influence over the cable bundle.
Last year, for example, news programs made up just 6 of the 100 most-watched broadcasts in primetime, compared to 61 sports broadcasts, 37 of which were NFL games.
An analysis from researchers at MoffettNathanson last year noted that most of the pay-TV erosion in the U.S. "appears to be from consumers who aren't self-classified as sports viewers."
Be smart: Because pro football games are so disproportionately popular compared to any other type of TV content, the NFL is able to command extraordinarily expensive media distribution rights.
NFL games cost more per game to broadcast than any other sport globally by far, surpassing the English Premier League (soccer), the Indian Premier League (cricket), the NBA (basketball) and the MLB (baseball).
What to watch: As traditional TV subscriptions decline in favor of streaming, live sports games have become the last remaining programs that advertisers can rely on to draw massive viewership.
5. Motorsport's increasing reach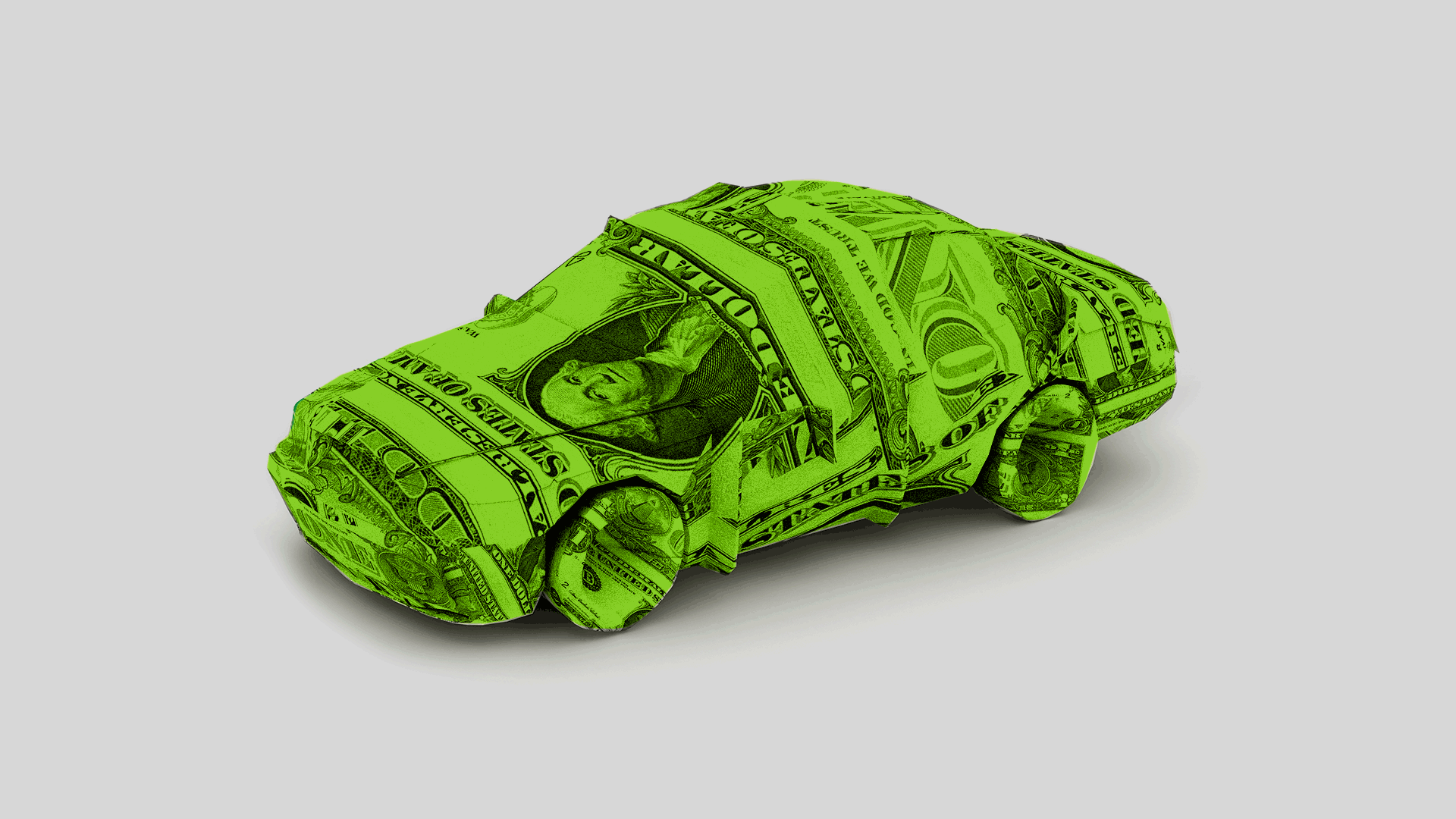 NASCAR, the most watched motorsport in the U.S., is bucking the trend of declining TV viewership. Its 2022 ratings are at their highest in 5 years, writes Axios' Javier E. David.
NASCAR boasts "double-digit percentage increases" in ticket sales, a rep told Axios.
The big picture: Audience size and estimated revenues are dwarfed by other major sports leagues like the NFL, but the sport still punches above its weight in terms of cultural import.
Between the lines: NASCAR faces stiffening competition from Formula 1 (F1). Last month, F1's Grand Prix in Miami narrowly edged NASCAR's Cup Series race in Darlington in the coveted 18–49 viewer demographic — though the Darlington race had more viewers overall.
6. How you're subsidizing your local billionaire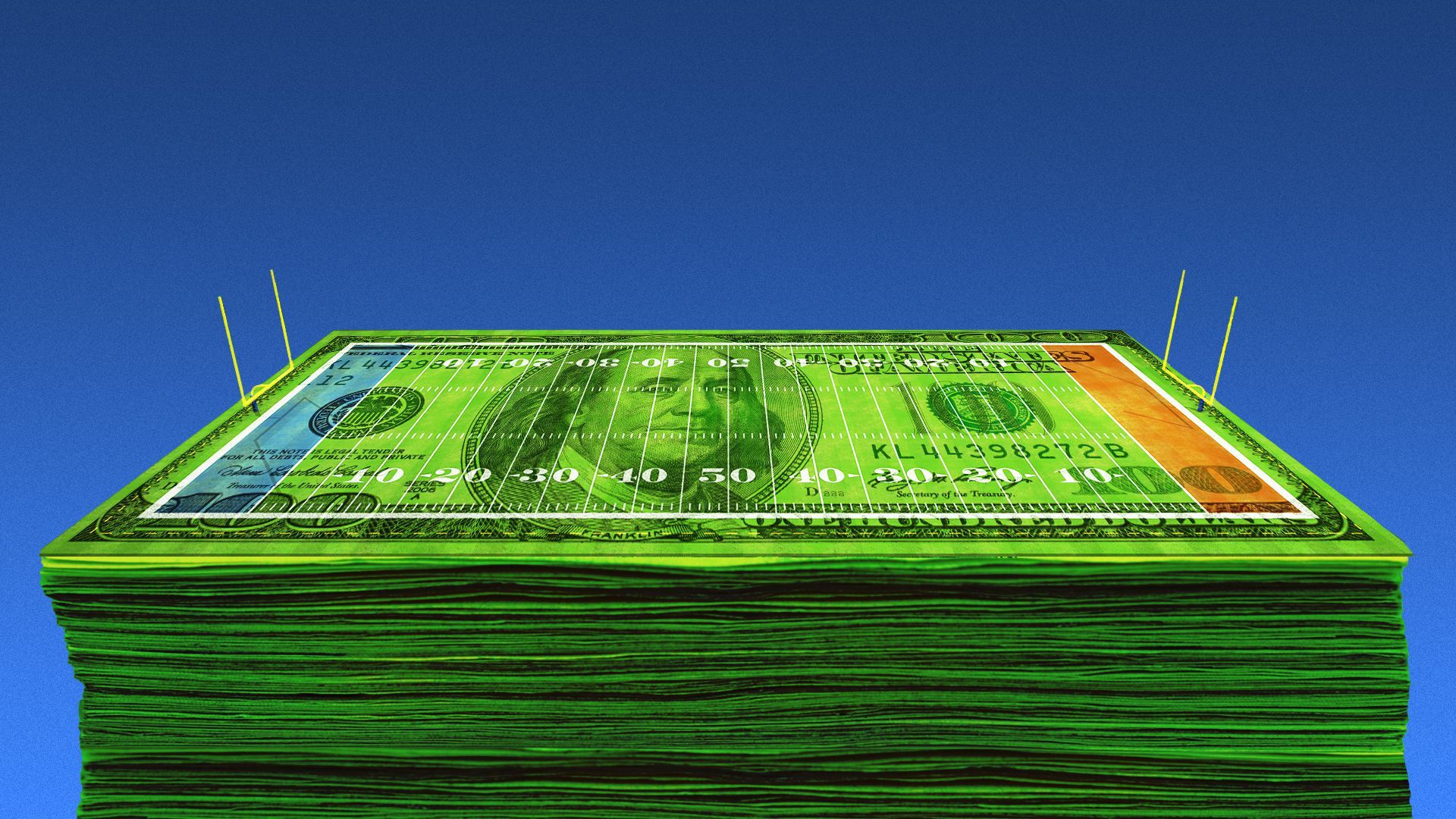 Markets may be down this year, but here's some good news for billionaire pro sports team owners: Lucrative tax subsidies for sports stadiums are experiencing something of a revival, writes Axios' Kate Marino.
The big picture: These construction subsidies fell out of fashion after the financial crisis — governments were less enthused about doling out money to wealthy team owners while slashing public spending elsewhere. But the floodgates re-opened this year, with at least three deals so far totaling $2.5 billion in handouts, according to recent reporting by The Athletic.
Why it matters: These subsidies drain public finances, and studies have shown they don't tend to produce the expected bump in tax revenue on the other side of construction.
The bottom line: Sports teams are part of a region's identity and culture. Right now, cities appear willing to pay for that.
7. Building of the week: Yoyogi National Gymnasium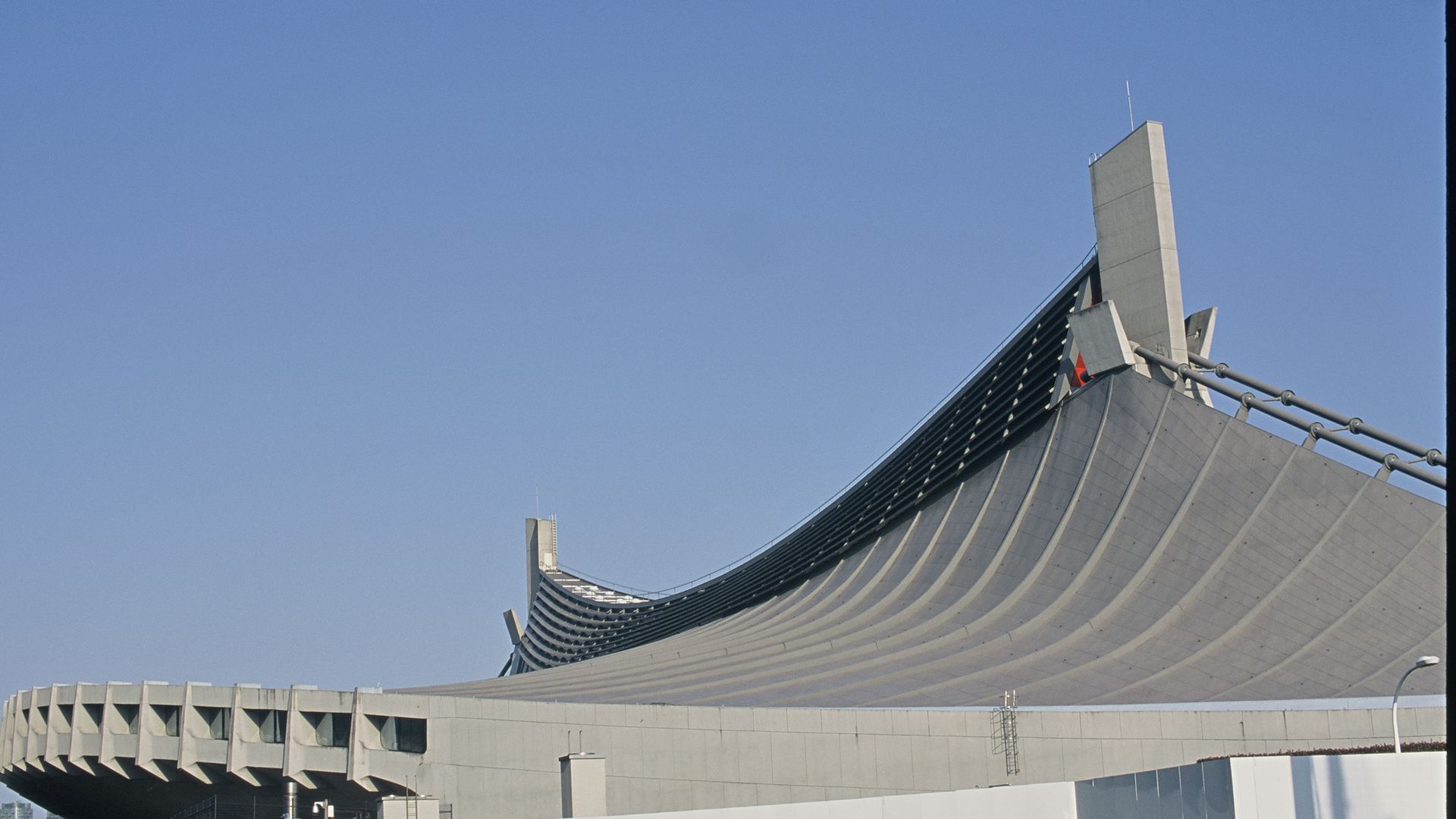 Many thanks to renowned architectural photographer Richard Schulman for letting me use his photo of Kenzo Tange's ground-breaking Yoyogi National Gymnasium, built for the 1964 Olympic Games.
The cable-stayed roof means that the interior of the stadium is column-free, allowing unencumbered sightlines from anywhere in the arena.
When construction was finished, the structure — built in just 18 months — had the largest suspension roof in the world.