Axios Markets
January 12, 2023
Morning folks. It could be an action-packed one, with the Consumer Price Index due at 8:30am. Buckle up.
Today's newsletter is 961 words, a 4-minute read.
1 big thing: Tech tempest in a teapot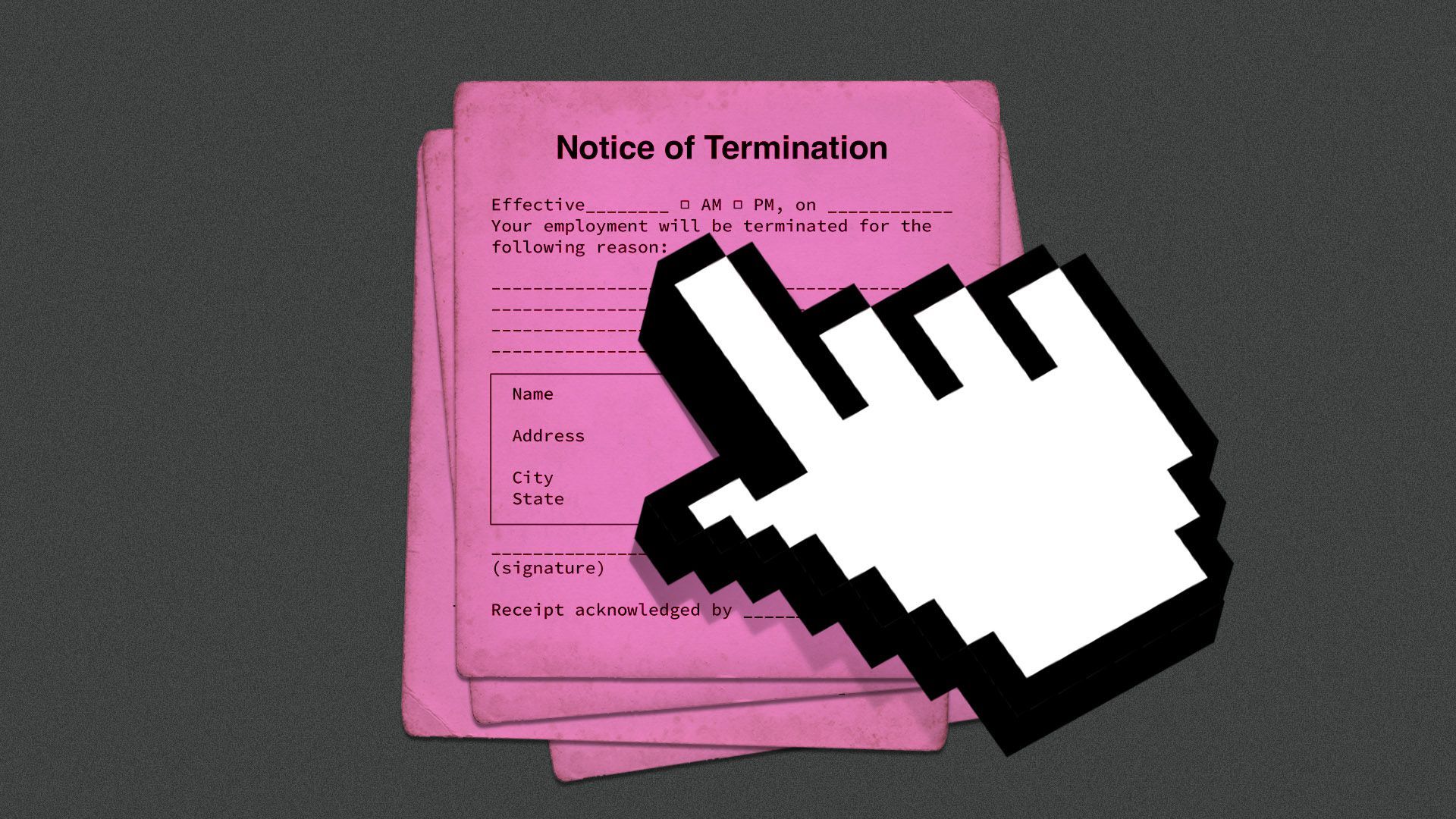 In Silicon Valley, it's raining pink slips, Matt writes.
From behemoths like Meta and Amazon to rising stars like Salesforce and Stripe to idiosyncratic cases like Twitter, and whichever tottering crypto concern you pick, thousands of workers got a firsthand look at the underside of tech's boom-and-bust cycle in recent weeks.
Why it matters: Some cite layoffs as proof the economy is in the early stages of a widely forecast downturn.
💭 Our thought bubble: Executives always have a huge incentive to cast setbacks as economic issues, rather than company shortcomings. But we're skeptical that the turmoil in tech is a true leading indicator.
Be smart: It receives an outsized share of media attention, but in terms of employment, the information technology industry employs only about 2% of all U.S. jobs or around 5 million people.
Despite the tech bloodletting, the latest U.S. jobs report showed steady hiring overall — and in December, unemployment was at 3.5%, near a half-century low.
The big picture: The fact that these future-focused firms are cutting back doesn't necessarily mean their leaders see a serious downturn ahead.
Some analysts think tech's recent jettisoning of employees is driven more by market scrutiny of some of the bad ideas tech "geniuses" have dumped money on in recent years — rather than economic fundamentals.
Basically, they over-hired when share prices were flying high in 2020 and 2021.
What they're saying: "Tech companies were spending money like Mötley Crüe in 1990," says Dan Ives, a long-time tech stock analyst at Wedbush Securities, invoking the glam metal band at the apex of rock n' roll excess.
Context: Those spending decisions look especially bad now after the Nasdaq dropped 33% in its fourth-worst year since inception.
The bottom line: If tech CEOs want to hang on to their own well-paid jobs, they need to be seen doing something to try to reverse that trajectory.
Layoffs are a tried-and-true tactic to appease restless investors.
"These management teams are reading the room and understand that the Street wants to see cuts," Ives tells Axios.
What we're watching: Earnings, of course. A parade of top-tier tech firms starts reporting Q4 2022 results in a couple of weeks. We'll see if job cuts continue — and how the market reacts.
2. Catch up quick
3. Banks' mortgage retreat
Wells Fargo is retreating from the mortgage business, where it's been a longtime industry leader, Emily writes.
Why it matters: High mortgage rates have crushed demand for loans, and the biggest home lenders saw business drop by eye-popping percentages last year.
State of play: Wells said earlier this week it would focus on providing mortgages to existing customers and would continue its efforts around increasing lending to Black and Hispanic homebuyers.
The bank is shrinking its mortgage servicing portfolio and completely walking away from "correspondent lending," where it buys loans from smaller lenders.
The big picture: Banks have been pulling back from the mortgage business for a while. A majority of home loans now originate at nonbank lenders like Rocket Mortgage and LoanDepot.com.
In 2010, nonbanks originated just 10% of mortgages. By 2022 these companies had 65% of the business, according to data from Inside Mortgage Finance.
As of the third quarter of 2022, United Wholesale Mortgage, a Michigan-based public company that works directly with mortgage brokers, became the biggest mortgage lender in the country, per Inside Mortgage Finance.
Fun fact: UWM's CEO, Mat Ishbia, agreed to buy a majority stake in the Phoenix Suns last year.
4. 🍳 You gotta be yolking
Egg prices are remarkably high, Matt writes.
Why it matters: Americans like to eat eggs.
Context: An outbreak of bird flu has prompted farmers to slaughter more than 40 million egg-laying chickens over the last year, curtailing egg production and supply, and setting off a price surge, according to the AP.
The Washington Post suggests prices won't fall anytime soon, as farmers are still trying to get their arms around the impact of the flu.
5. The next labor dispute to watch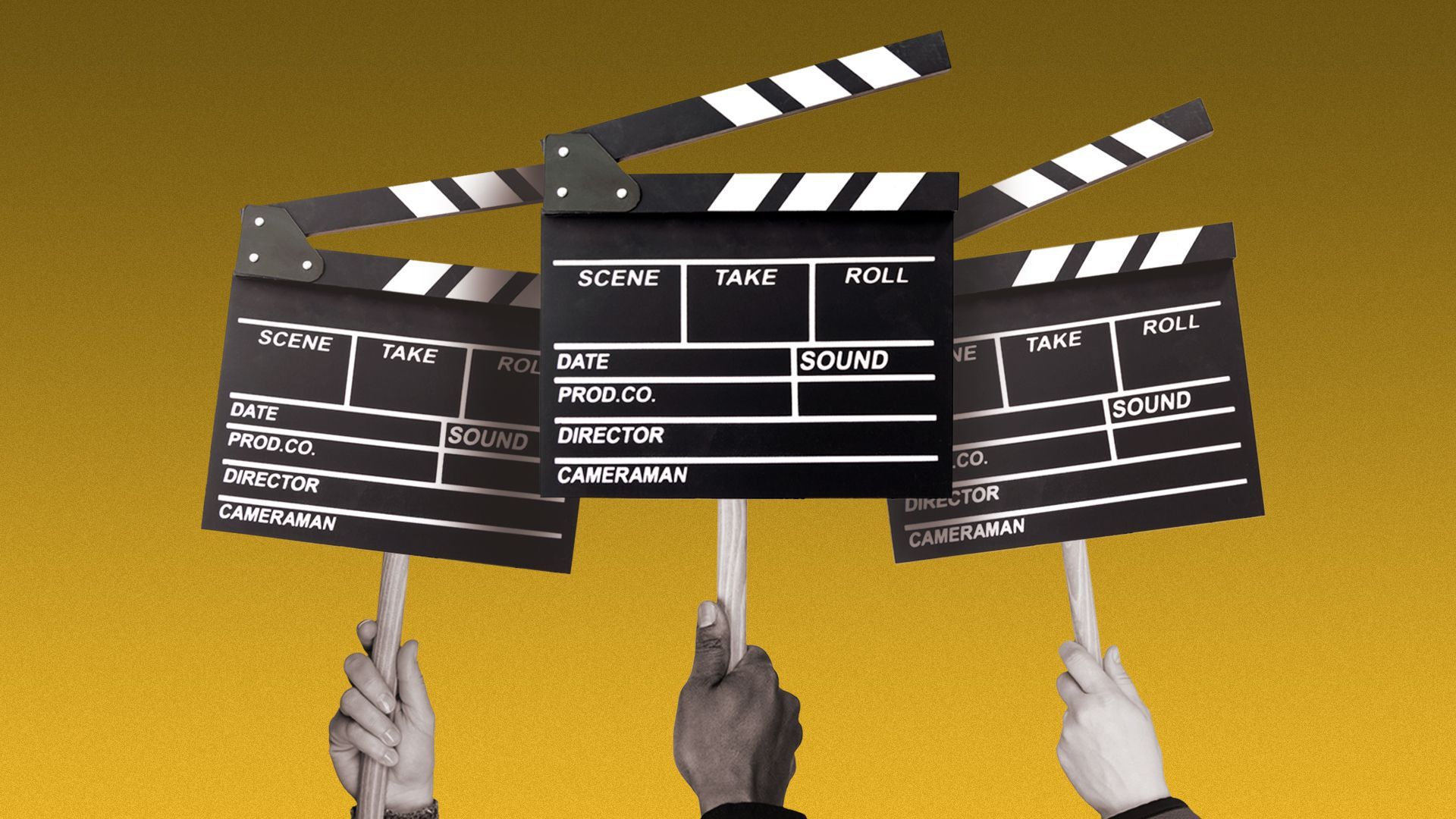 Labor unrest is spreading to Hollywood, Axios' Tim Baysinger reports.
The entertainment industry is staring down the barrel of a potential work stoppage, ahead of contract talks between studios and the actors, directors and writers.
Why it matters: Last year was brutal for media companies in the entertainment space, as both the economy and Wall Street turned against them, largely over fears that streaming will not be as profitable as once thought.
The big picture: The erosion of the pay-TV ecosystem has come faster than even the most pessimistic expected — as shrinking advertising budgets wipe out even more potential income.
The streaming era's economics have upended a decades-long business model that's wiped out back-end residuals and trimmed down episode orders.
State of play: Later this year, the Alliance of Motion Picture & Television Producers' contract with the three major Hollywood unions — the Directors Guild, the Writers Guild and SAG-AFTRA — are all set to expire.
The WGA's contract expires first, on May 1, and the studios are preparing for the possibility of a strike, bringing back bad memories of the 2007-08 strike that brought the TV business to a complete standstill for months.
The DGA and SAG-AFTRA's contacts expire at the end of June.
DGA national executive director Russell Hollander and DGA negotiations chair Jon Avnet described the forthcoming deal talks as "one of the most difficult and complex we have faced in many years."
Flashback: Hollywood narrowly avoided one of the largest work stoppages in its history two years ago.
Read the full story from Axios Pro Media Deals ... Subscribe here.
Was this email forwarded to you? Sign up here to get Axios Markets in your inbox.
Today's newsletter was edited by Kate Marino and copy edited by Mickey Meece.