Hollywood faces potential work stoppage amid recession fears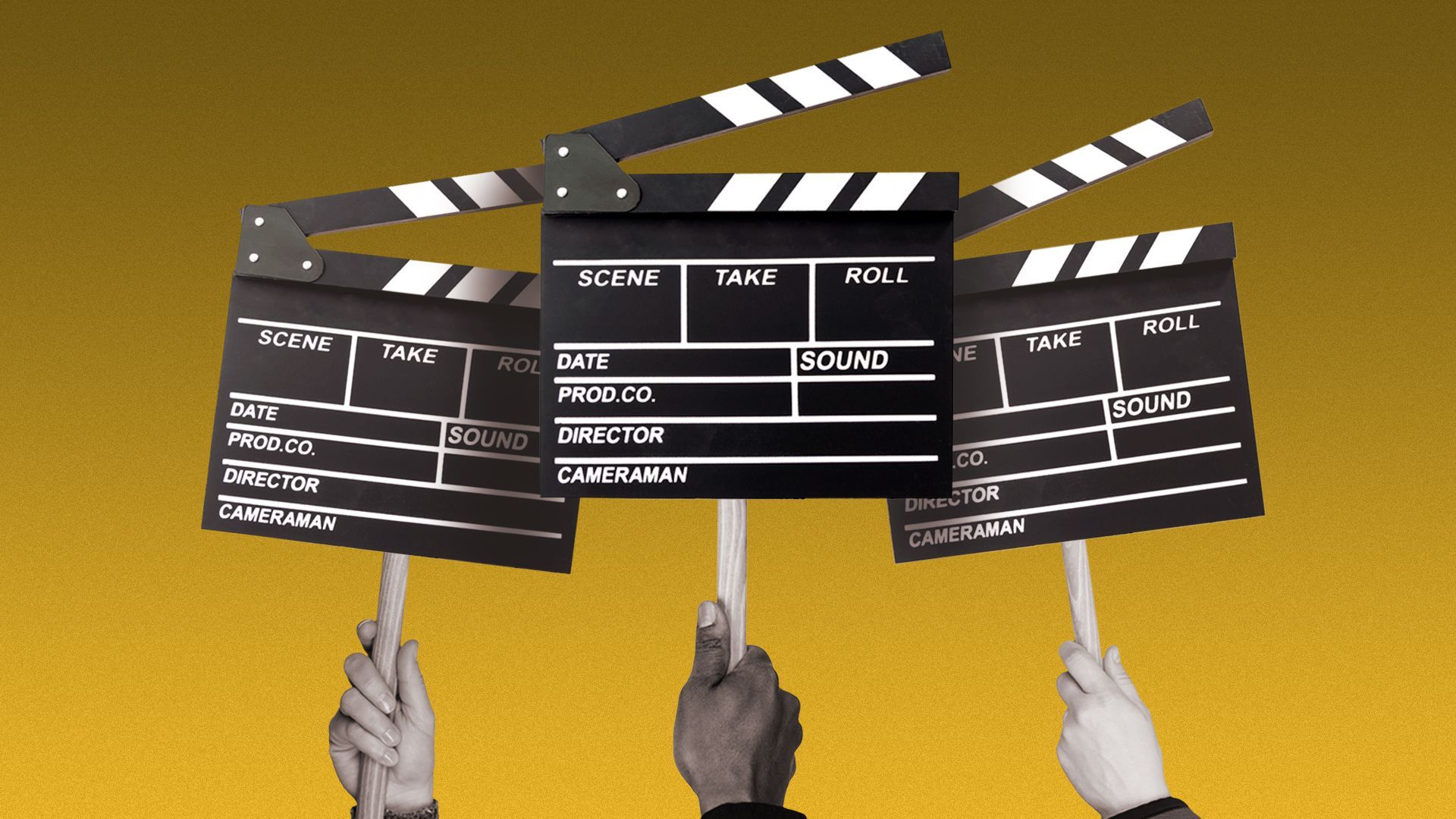 As recession fears grow, Hollywood is staring down the barrel of a potential work stoppage ahead of contract talks between studios and actors, directors and writers.
Why it matters: Last year was brutal for media companies in the entertainment space, as both the economy and Wall Street turned against them, largely over fears that streaming will not be as profitable as once thought.
Of note: The erosion of the pay-TV ecosystem has come faster than even the most pessimistic expected as shrinking advertising budgets wipe out even more potential income.
State of play: Later this year, the Alliance of Motion Picture & Television Producers' contract with the three major Hollywood unions — the Directors Guild, the Writers Guild and SAG-AFTRA — are all set to expire.
The WGA's contract expires first, on May 1, and the studios are preparing for the possibility of a strike, bringing back bad memories of the 2007-08 strike that brought the TV business to a complete standstill for months.
The DGA and SAG-AFTRA's contacts expire at the end of June. In recent contract years, the DGA has typically bargained its new deal first and set the standard for the two other unions. The DGA has not set a date to start talks.
DGA national executive director Russell Hollander and DGA negotiations chair Jon Avnet described the forthcoming deal talks as "one of the most difficult and complex we have faced in many years."
Flashback: Hollywood narrowly avoided one of the largest work stoppages in its history two years ago.
The big picture: The streaming era's economics have upended a decades-long business model that's wiped out back-end residuals and trimmed down episode orders.
After years of lavish spending on propping up streaming services, most media companies spent last year slashing budgets.
The past few months have seen major networks and streaming services such as Netflix, AMC and HBO Max cancel shows that had been previously renewed — some of them while they were well into production — in favor of tax write-offs.
Writers have been publicly sounding the alarm, and it's a decent bet it will be a major sticking point in upcoming talks.
"Roswell, New Mexico" creator Carina Adly MacKenzie slammed the practice in a lengthy Twitter thread: "We're going to have to start to need language in our contracts, or penalties maybe, to shift this — but that will be very hard."
Go deeper