Axios Markets
February 24, 2023
🍕Friday! Who's doing pizza tonight? Scroll to the end for more on that. Meanwhile, let's get into some things.
Today's newsletter is 1,066 words, 4 minutes and jam-packed with news.
1 big thing: This was preventable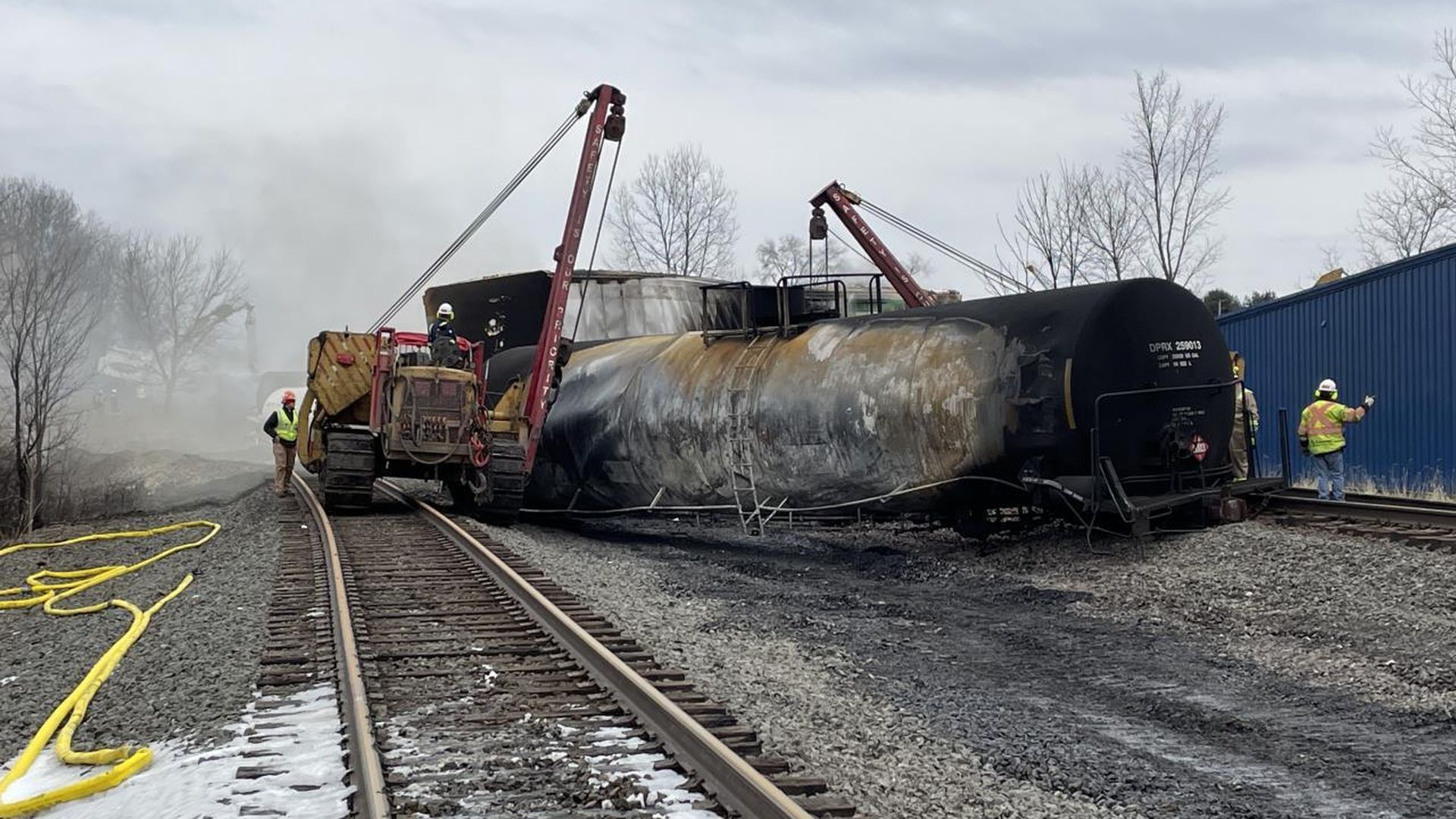 More details emerged yesterday about what caused the Norfolk Southern train derailment earlier this month, an accident that's captivated public attention and drawn partisan ire, Emily writes.
Why it matters: Accusations, speculation, conspiracies and finger-pointing flourished in the information vacuum following the Feb. 3 derailment — turning it into a kind of Rorschach test for politicians, industry insiders and the public. Yesterday's report offers a more fact-based understanding of events.
The latest: The report by the National Transportation Safety Board found that a wheel bearing, which connects the wheel to its axis, overheated on a hopper car toward the front of the train.
That set off an "audible alarm" on the train. The crew tried to slow the train, with the goal of inspecting the bearing, according to the NTSB's preliminary report.
During the deceleration, the wheel bearing failed and the train derailed, said NTSB chair Jennifer Homendy during a press conference Thursday.
"This was 100% preventable," she added.
Zoom out: There's finger-pointing all around. Republicans are accusing President Biden of not reacting swiftly enough — with some in the party leveraging populist arguments criticizing public health regulators and corporate elites who don't care about regular people.
Conspiracy theorists are also running with this news, spreading misinformation on TikTok.
Meanwhile, Democrats are pointing at the railroad companies and at the Trump White House for relaxing certain safety regulations around trains and chemicals.
The rail unions, still smarting from the bruising labor negotiations of last year, are accusing the railroad industry of sacrificing safety for profits (see the chart below).
For the record: "Safety is critical to all the industry does and any suggestion to the contrary is categorically false," a spokesperson for the Association of American Railroads, which works with all the freight operators, told Axios.
"We and the rail industry need to learn as much as we can from this event," Norfolk Southern said in a statement Thursday.
What's next: The NTSB will investigate how the bearing failed. It's known in the industry that bearings can cause catastrophic failures, she said.
It's also looking into the response to the accident, which has been widely criticized, as well as staffing, maintenance and a host of other issues.
Crucially: Regulators will examine how Norfolk Southern uses alerts like the one that went off here. (Workers have said they've cut too many corners in this area, as FreightWaves reported Thursday.)
The investigation will take 12–18 months, but if the agency sees something urgent, it will act. There are at least eight other agencies, unions and companies conducting fact-finding alongside the NTSB.
What to watch: Lawmakers and many inside, or close to, the industry hope the accident will spur regulatory changes.
"I gotta tell you, ever since I came into this job, I have seen the power that multibillion-dollar railroad companies wield — and they fight safety regulations tooth and nail. That's gotta change," Transportation Secretary Pete Buttigieg said on "Good Morning America" earlier this week.
Bonus chart: Engines of profit
2. Catch up quick
3. SBF "falsely projected innocence," new charges find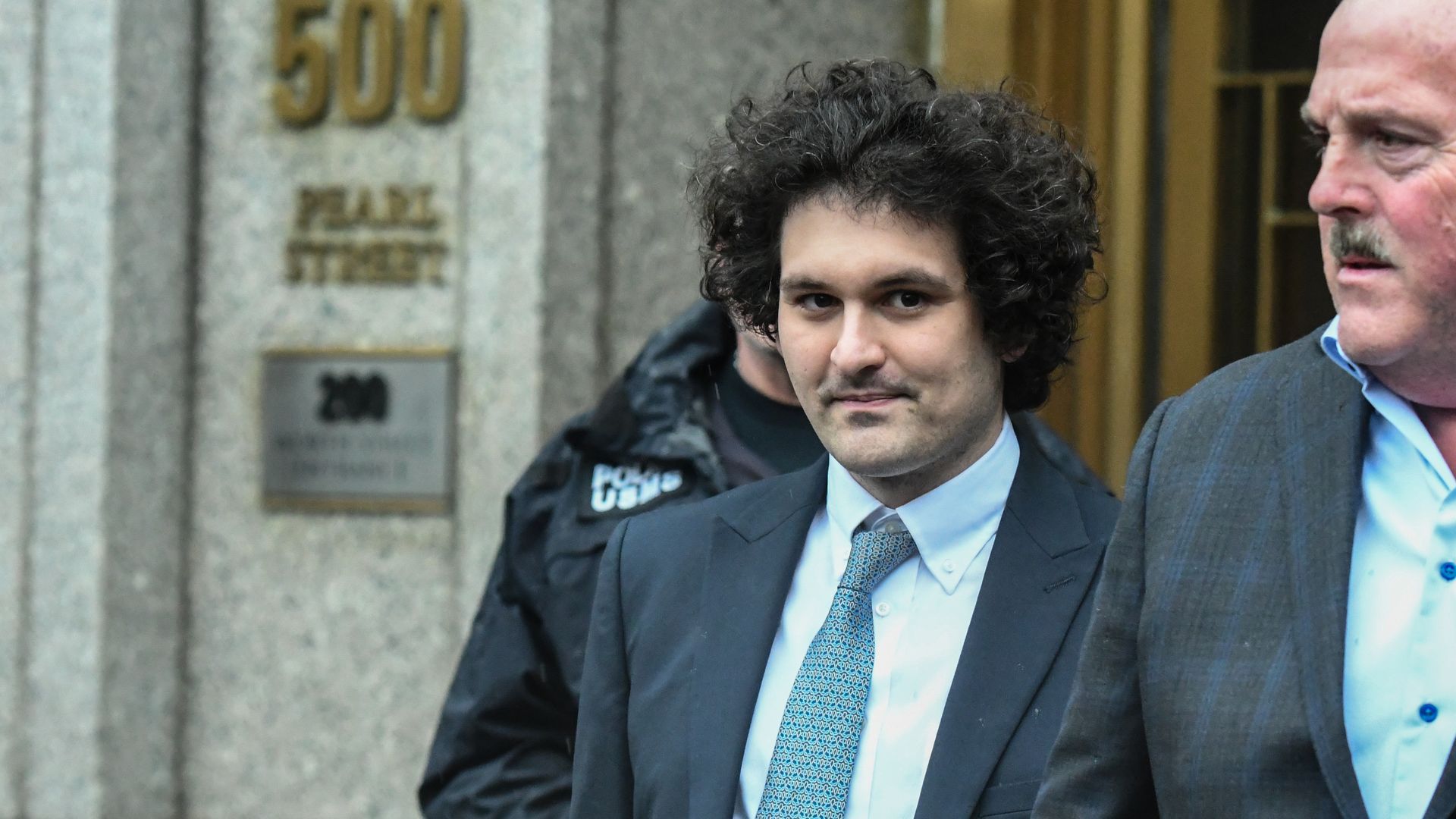 It was another rough day for one-time celebrity crypto entrepreneur Sam Bankman-Fried.
Driving the news: A fresh indictment unsealed yesterday in the Southern District of New York includes four new charges against the founder of the now-bankrupt crypto exchange FTX — on top of the eight counts he was charged with in December, Axios Crypto co-author Brady Dale reports.
Why it matters: The latest document appears to offer up more evidence that Bankman-Fried knew exactly what was happening as FTX and its hedge fund affiliate, Alameda Research, unraveled — and even directed much of the alleged illegal activity — contrary to Bankman-Fried's public insistence that he was simply asleep at the wheel, unaware.
"Bankman-Fried falsely projected ignorance about Alameda's affairs," the indictment reads.
Go deeper: The document details how Bankman-Fried allegedly directed Alameda executive Caroline Ellison on ways to hide the fact that Alameda's venture investments were coming from FTX customer funds.
It alleges that while FTX was using Alameda bank accounts to house FTX customer deposits, Bankman-Fried and company insiders hid that from their banking partners.
Moreover, during audits, Bankman-Fried expressed confidence FTX could hide alleged misappropriation of funds from auditors, the indictment says.
The kicker: The indictment quotes a text message Ellison sent Bankman-Fried as the companies fell. "I just had an increasing dread of this day that was weighing on me for a long time, and now that it's actually happening it just feels great to get it over with one way or another."
4. Record employment for Americans with disabilities
The employment rate for Americans with disabilities hit a new record last year, according to government data out Thursday, Emily writes.
Why it matters: This is a big surge. Folks with disabilities face extraordinary obstacles when it comes to getting jobs.
High levels of bias and discrimination have long kept unemployment levels high for this group.
Zoom out: There are a few reasons for the employment increase over the last few years. For one, remote work has made it possible for more people with disabilities to work.
5. 📉 Your utility bills should start falling
A warm winter, strong production and rising inventories have clobbered U.S. natural gas prices, Matt writes.
Why it matters: The tumble in natural gas prices — which should translate into lower electricity and heating bills for many consumers — is another helpful force pushing inflation lower.
Searing natural gas prices have been key contributors to inflation: Over the last year, consumer gas prices were up nearly 27%.
The latest: Benchmark futures prices for U.S. natural gas — the so-called Henry Hub contract — are down roughly 40% since the start of the year.
The drop from the August peak is nearly 80%.
What they're saying: "Although latest weather forecasts show colder days on the horizon, particularly in the Pacific and Mountain regions, this is unlikely to cause a material uptick in demand. So, we should expect moderate demand at best," wrote analysts with Rystad Energy, a research firm.
The bottom line: Lower gas prices look likely to hang around, helping in the battle against inflation.
🍕 1 thing Emily likes: Making pizza at home! My family's gotten really into this lately. I use this very simple recipe for dough from King Arthur and then we just riff on toppings — I'm a huge anchovy fan. Though I know this is controversial.
Maybe it's not just me. Yesterday, Domino's Pizza said that delivery sales fell 6.5% in the fourth quarter, with inflation pushing more customers to make food at home, as our friends at Axios Closer reported.
Anyone else making more food at home these days? Send recipes, favorite pizza toppings and thoughts my way by responding to this email.
Thanks for reading! Was this forwarded to you? Subscribe here.
Markets is edited by Kate Marino and copy edited by Sheryl Miller.