I'm back from Finland... and headed to Hawaii, where Qualcomm this week will outline its latest effort to power Windows PCs.
Meanwhile, DCers, there's one day left to RSVP for Mike Allen's discussion on health care innovations with Aneesh Chopra, the United State's first Chief Technology Officer. Mike and Axios' Evan Ryan will then explore the health care landscape with the President & CEOs of NewYork-Presbyterian and PhRMA. Bonus: Arianna Huffington of The Huffington Post will join Mike to discuss her work championing health and wellness through her latest venture Thrive Global. RSVP here.
https://www.axios.com/newsletters/axios-login-a877d5ef-582a-4210-90de-1f06aef88a87.html?chunk=0#story0
Qualcomm makes another run at powering PCs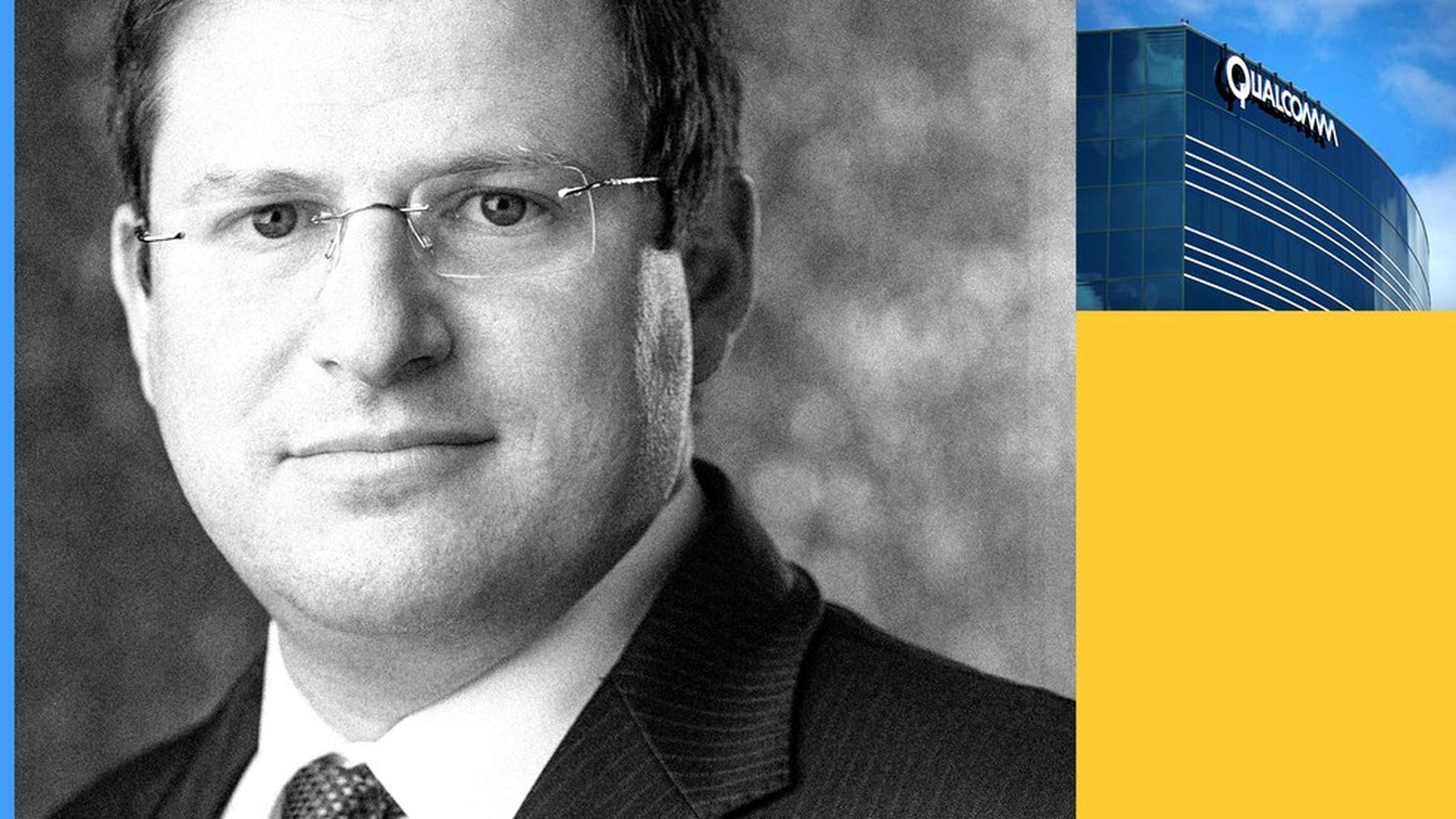 Already the leading maker of chips for smartphones, Qualcomm wants to get a spot inside PCs.
If that sounds familiar, it is. Qualcomm made a similar play a few years back in conjunction with Microsoft's Windows RT, a slimmed down version of Windows 8.
Yes, but: The company maintains this time will be different. Whereas Windows RT could only run a small number of new-style apps, Microsoft and Qualcomm promise the new always-connected PCs will run the bulk of Windows applications when they begin arriving later this year.
"There is no second class version of Windows — there's only one Windows" says Cristiano Amon, the Qualcomm executive leading the charge.
Some limits: Amon acknowledges that the Qualcomm-powered PCs might not be suited for computer-aided design or other truly high-end tasks. However, he says the all-day battery life and constant cellular-connection should make them a great option for those on the go.
"If you have a tablet as a third device (along with a PC and smartphone), I will argue this is a better experience than a tablet, it is a full, connected PC," Amon says.
There's more from our conversation here.
More details: Qualcomm and Microsoft will be sharing more details at an event this week in Maui. I'll be moderating a session and covering it for Login.
***
Broadcom initiates hostile takeover moves: Meanwhile, Broadcom announced it intends to nominate 11 new directors whom it would like appointed to Qualcomm's board, after its proposed acquisition fell through last month.
https://www.axios.com/newsletters/axios-login-a877d5ef-582a-4210-90de-1f06aef88a87.html?chunk=1#story1
Bill Gates' winter reading list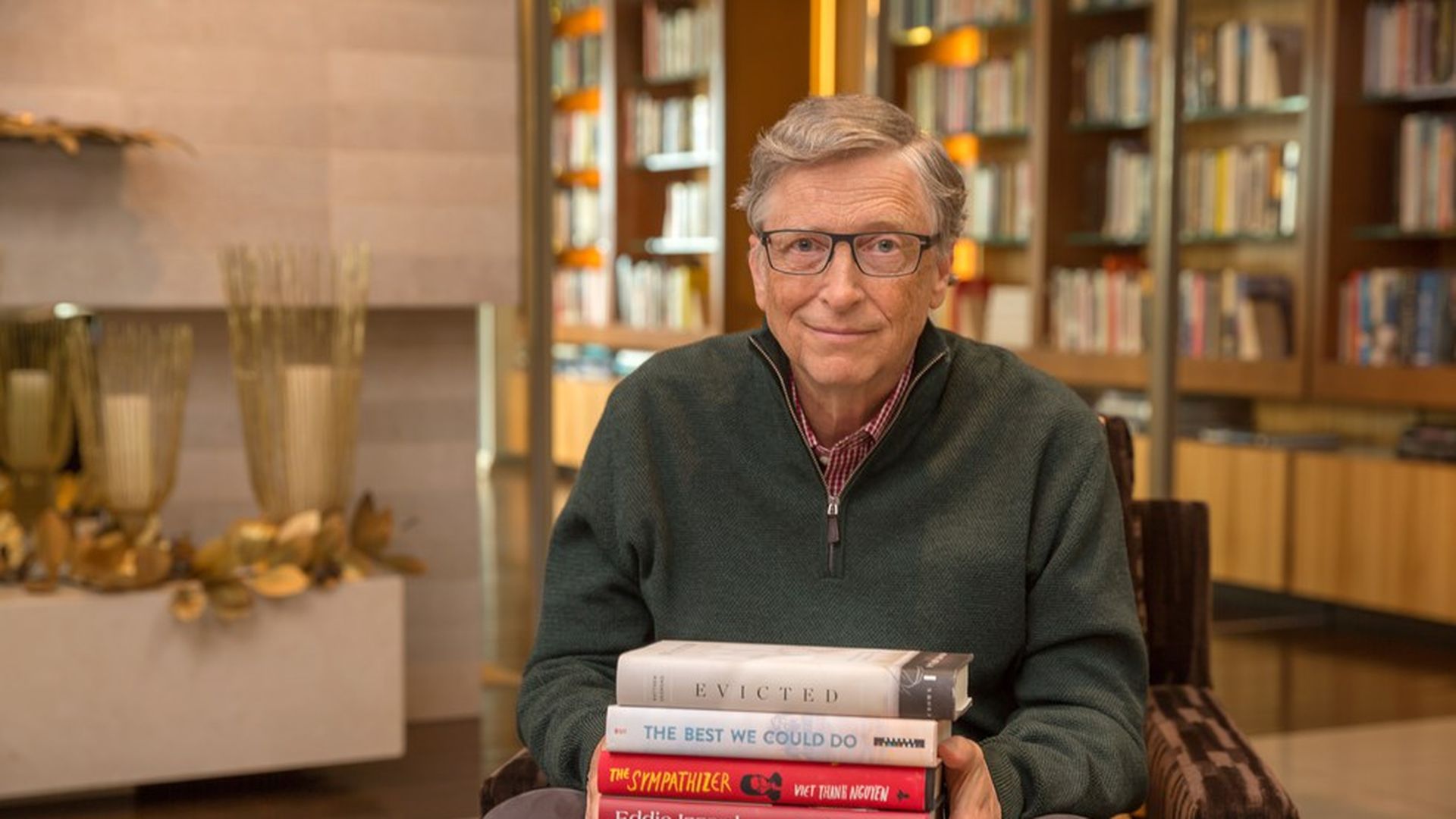 Bill Gates is out with his list of favorite books from the past year. Included on the list is "Believe Me," the memoir written by British comedian Eddie Izzard.
"I've recently discovered that I have a lot in common with a funny, dyslexic, transgender actor, comedian, escape artist, unicyclist, ultra-marathoner, and pilot from Great Britain," Gates said in his review of the book. "Except all of the above."
But despite those modest difference, Gates said he found a kinship in other areas, including Izzard's love of math, his struggles with girls, and losing a mother to cancer. Gates quotes Izzard: "We are all totally different, but we are all exactly the same" and recommends those who haven't seen Izzard check out his stand-up routine before trying to take in the book.
Also on the list are a graphic novel from a Vietnamese woman on her journey as parent and refugee, a look at the eviction crisis in Milwaukee, and Vaclav Smil's take on energy and civilization.
Here is the complete list, with links to Gates' reviews:
https://www.axios.com/newsletters/axios-login-a877d5ef-582a-4210-90de-1f06aef88a87.html?chunk=2#story2
4 winners from battle of Facebook, Google, Amazon and Apple
Speaking of books, a pair of new tech-related tomes are in the works...
1. Battle of Tech majors: New York Times personal tech writer Farhad Manjoo is taking book leave starting in March to wrap up work on a book chronicling the fortunes of the industry's biggest companies. Manjoo tells Login when he began work on the book five years ago he imagined it would tell the story of who won and lost the battle among Apple, Facebook, Google and Amazon.
While its a topic he explores frequently in his NYT columns, the book stems from an article he wrote for Fast Company back in 2012.
Changing tale: He still envisions the book focusing on the same companies, though now he now sees it less as a war among the four with clear winners and losers. "Now its dawning on me that it's possible all of them will win," he said.
Microsoft's role: The wild card is Microsoft, Manjoo said, noting the company has a place in the book, though it's future is less clear after years of antitrust regulation. "For better and worse it doesn't seem as aggressive and ethically challenged as some (of the newer companies)."
Manjoo hopes to finish writing by the end of 2018 with publication date still TBD.
2. Antitrust enforcement: Tim Wu — the Columbia law professor who coined the term "net neutrality" — told a D.C. audience Friday his next book, with working title "The Curse of Bigness Revisited," will be a rallying cry for greater antitrust enforcement. Axios' David McCabe has more here.
https://www.axios.com/newsletters/axios-login-a877d5ef-582a-4210-90de-1f06aef88a87.html?chunk=3#story3
Messenger Kids is Facebook's latest effort to grab the next generation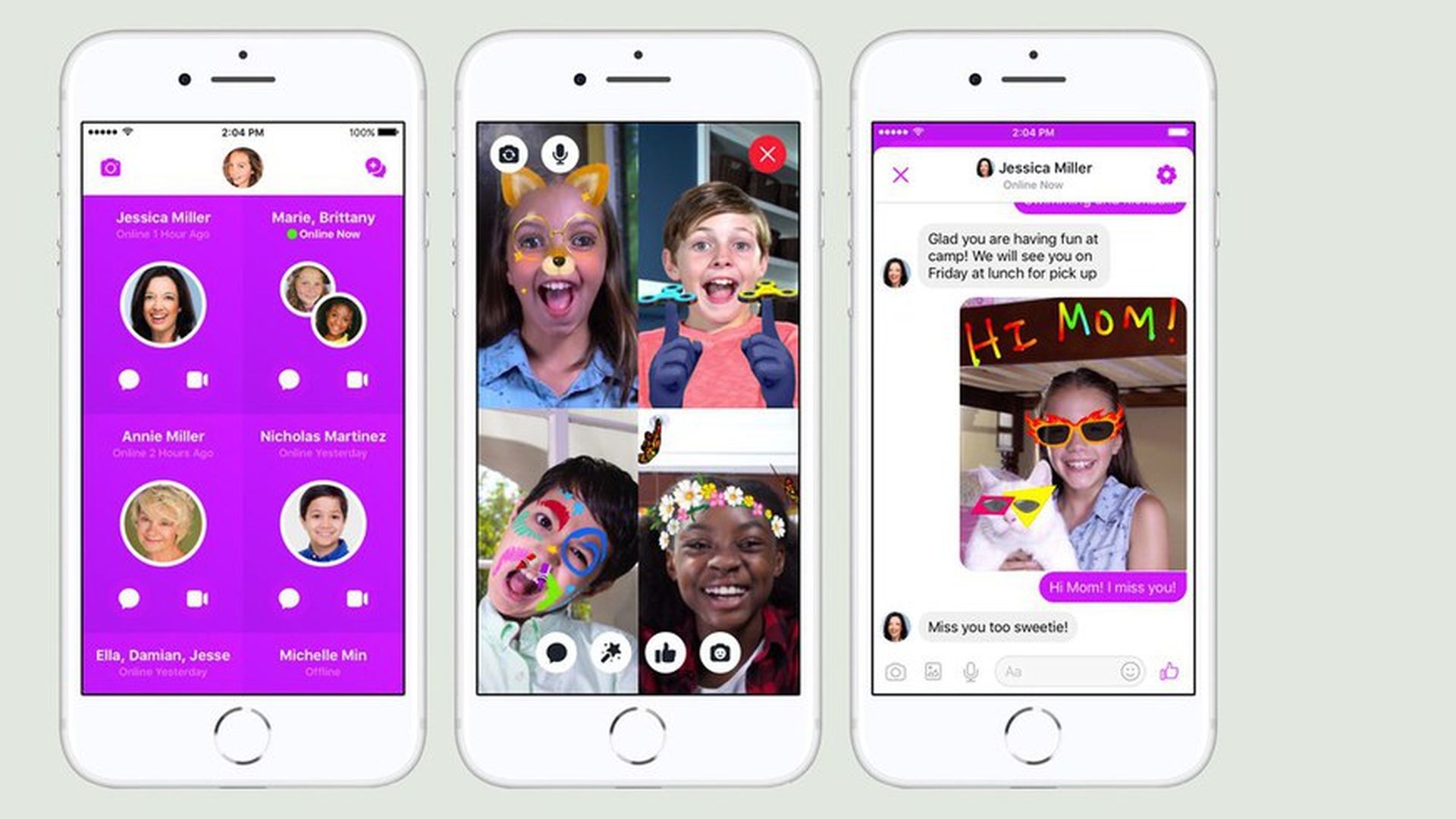 Facebook is launching a kids-focused messaging app with tight parental controls that includes group video chat in the vein of Houseparty, the video chat application popular with young people that Facebook has had in its sights for a year.
The details:
Messenger Kids includes video chat with more than two people, the core feature of Houseparty and one that is also available in the adult version of Messenger. The company has been testing broader Houseparty-style functionality for months which allows users to join an ongoing video chat. Like the adult Messenger app, it includes Snapchat-style effects to put over your video, as well as, of course, text messaging.
Parents will have to approve all of the requests their children send to other users. Those requests will have to be approved by a parent of the other child, as well. The application doesn't have ads and you can't buy anything in the app.
Earlier this year, The Information broke the story that Facebook was developing a messaging app for teenagers.
Why it matters: Facebook is always trying to make sure that the next generation is using its services, hence its purchases of Instagram and WhatsApp as well as its repeated efforts to clone popular features from Snapchat.
Go deeper: David has more here.
https://www.axios.com/newsletters/axios-login-a877d5ef-582a-4210-90de-1f06aef88a87.html?chunk=4#story4
https://www.axios.com/newsletters/axios-login-a877d5ef-582a-4210-90de-1f06aef88a87.html?chunk=5#story5