Good morning and welcome back. I randomly inserted a brief line from the classic, smart, and very creepy 1986 version of The Fly. Ok let's get to the news . . .
https://www.axios.com/newsletters/axios-generate-92fd6a9f-d79f-4a83-8990-12907a5ee676.html?chunk=0#story0
Elon Musk and the elusive "iPhone moment"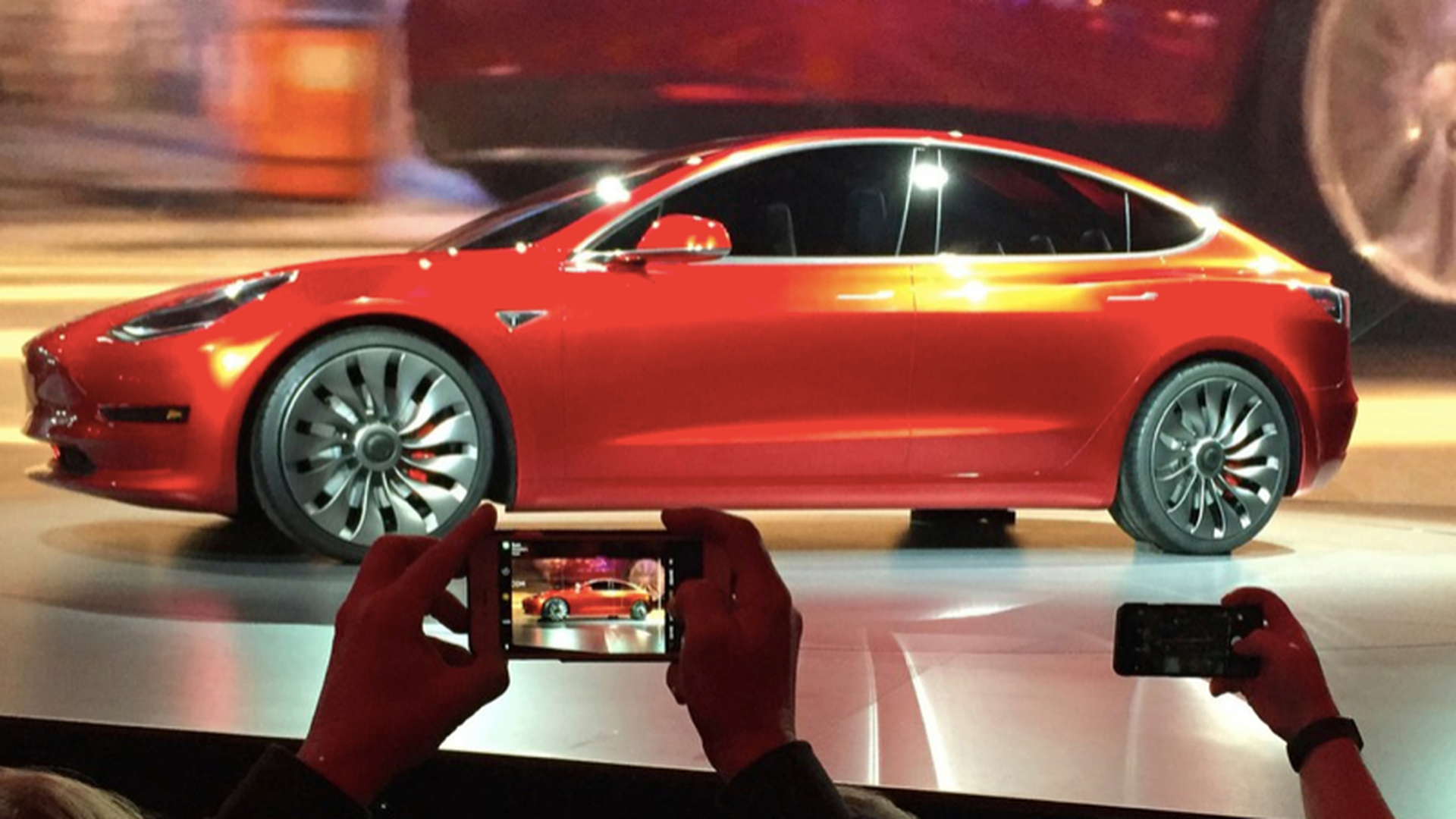 A new analysis and some recent hiccups are putting a fresh spotlight on whether Tesla can transform its pioneering role in electric vehicles into a dominant, sustained market position when EVs move into wider commercial deployment.
The reality check moment: Barclays analysts warned Monday that Tesla's slow production of its mass-market Model 3 electric sedan could shake some investors' confidence that the Silicon Valley automaker is primed for an "iPhone moment" for its product.
The bottom line: The Model 3 production numbers are a sign of growing pains, and this isn't a crisis. But they do underscore the need for Tesla CEO Elon Musk to focus more on actually building cars at a mass scale, rather than his other interests, like the hyper loop and space travel. His credibility — and Tesla's future — rides on the Model 3.
Flashback: Tesla, citing "bottlenecks," acknowledged in early October that it produced less than 20% of the third quarter target of 1,500 of the vehicles.
Why it matters: Even though Tesla's said there are "no fundamental issues" with the Model 3 production, revelation of the badly missed target arrives as mainstream automakers like GM are ramping up their plans for expanded EV offerings, and new players are entering the market.
https://www.axios.com/newsletters/axios-generate-92fd6a9f-d79f-4a83-8990-12907a5ee676.html?chunk=1#story1
Amy's notebook: reality check of the carbon rule debate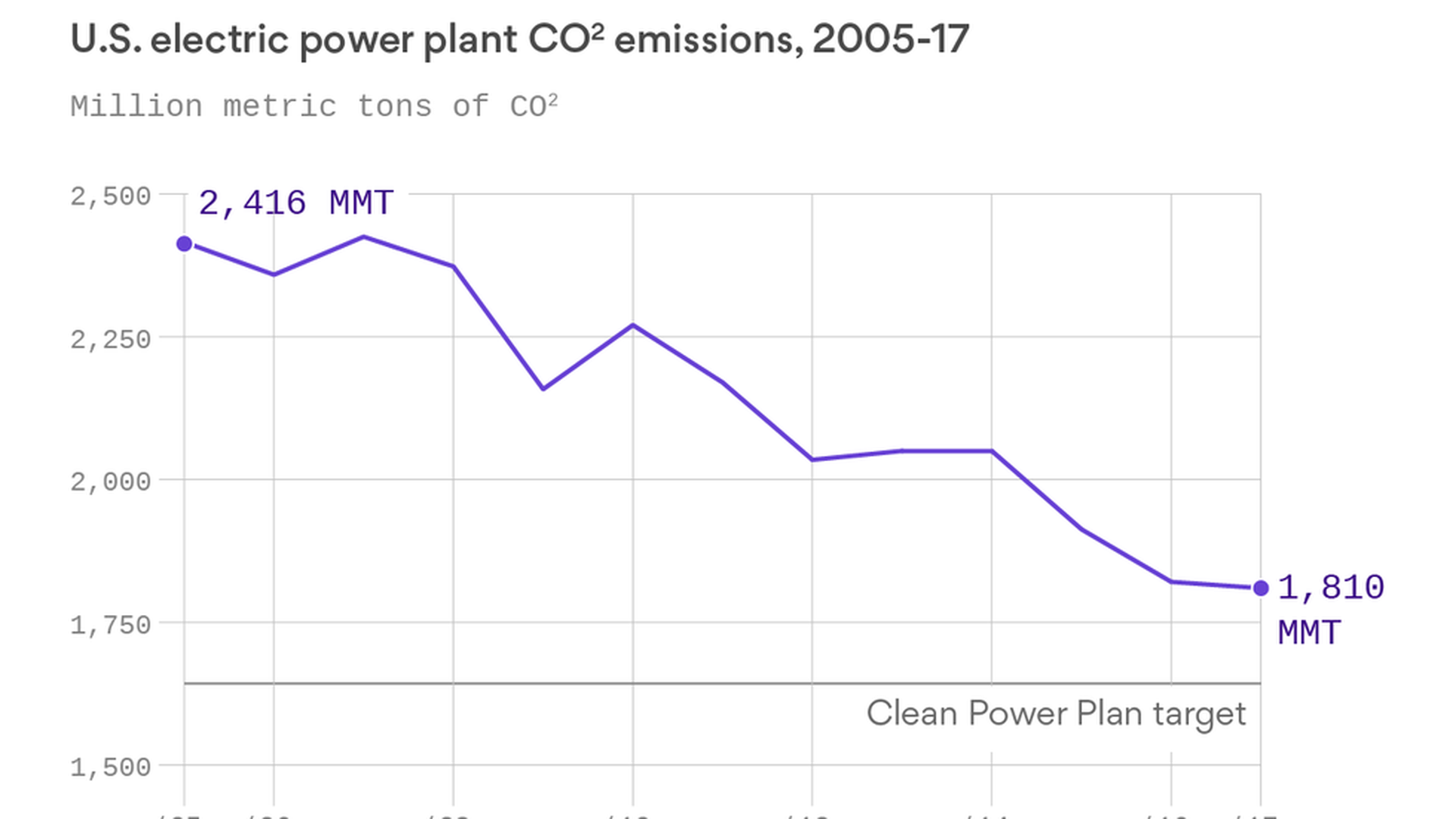 Axios' Amy Harder breaks down today's big move by Environmental Protection Agency...
Driving the news: The Trump administration is taking the first step Tuesday repealing President Obama's signature climate policy, the Clean Power Plan. Let's reality check two big overarching claims about this regulation, including one EPA administrator Scott Pruitt made Monday.
Claim #1: The rule would upend the electricity industry.
Reality: It would moderately accelerate a trend already underway in the power industry to shift away from coal toward cleaner sources of energy, like natural gas, wind and solar.
The above chart by Axios' Andrew Witherspoon shows that the power-plant sector is already well on its way to meeting the EPA requirements for a nationwide average emissions reduction of 32% by 2030 based on 2005 levels. (Shoutout to Bloomberg for creating a similar chart last week).
Even Obama administration lawyers, defending it in court last September, described the rule as "incremental" and achieving a "moderate degree" of carbon reduction.
Claim #2: The rule would eventually compel power plants to use 100% renewables, as Pruitt said Monday at an event in Kentucky when he announced he would repeal the rule.
Reality: Not even close. Coal would still account for 27% of the nation's electricity by 2030 (compared with 30% today), according to EPA's estimate (page 135) at the time the Obama administration issued the rule. Renewables would account for 20% under the rule by 2030, compared to 15% today.Yes, but: The rule itself would have prompted two big changes, experts say...Click here for more in the Axios stream.
https://www.axios.com/newsletters/axios-generate-92fd6a9f-d79f-4a83-8990-12907a5ee676.html?chunk=2#story2
Oil market notes: OPEC, Keystone, and the "supply gap" theory
OPEC's ask: Via Reuters, reporting from a big energy conference in India...
"OPEC's Secretary General Mohammed Barkindo on Tuesday called on U.S. shale oil producers to help curtail global oil supply, warning extraordinary measures might be needed next year to sustain the rebalanced market in the medium to long term."
Aramco's plan: Reporting from the same event, Bloomberg writes that Saudi Arabia's state oil giant is planning a "mega investment" in India. From their article:
"Saudi Arabian Oil Co. aims to create a fully integrated business in India and is interested in partnering on a planned refinery project on the country's west coast, Chief Executive Officer Amin Nasser said Monday in New Delhi."
The pipeline Trump killed: University of Alberta energy expert Andrew Leach has a lucid look at how the White House revival of the Keystone XL pipeline was a death knell for TransCanada's separate Energy East oil sands pipeline plan, even though Keystone isn't a sure thing.
His piece, published in the Globe and Mail, looks at the interlocking oil market and Canadian regulatory factors, including:
"To make Keystone XL viable, TransCanada likely needed some companies with commitments on Energy East to transfer or duplicate those commitments on Keystone XL." But formally wiping those obligations away meant nixing Energy East.
Be afraid: One school of thought in oil analyst circles is that while markets are swimming in crude right now, a lack of new investment in big projects in recent years means there's a supply crunch looming as soon as the early 2020s. The latest edition of the Platts Capitol Crude podcast chats with an adherent of that view: commodities expert Jonathan Chanis, VP of policy at Securing America's Future Energy.
The shale boom isn't enough, Chanis says. He talks more on what he calls the "supply gap" theory:
"If we don't start seeing some large-scale FIDs, final investment decisions on mega-projects, projects over $10 billion or $15 billion apiece, if we don't start seeing them now and next year or shortly after, by the time we get around to the 2020s, we are going to be short oil," he said.
https://www.axios.com/newsletters/axios-generate-92fd6a9f-d79f-4a83-8990-12907a5ee676.html?chunk=3#story3
On my screen: EV's impact, solar trade fight, DOE's big power move
Solar trade tussle on TV: Over in the Axios stream, my colleague Shannon Vavra reports that opponents of potentially steep tariffs on imported solar panel equipment are making their case where President Trump is likely to hear it.
The new ad buy "appeals straight to Trump's eyes and ears with ads running on shows he's known to watch closely, such as Fox & Friends," Shannon writes.
Deep dive: Okay this technically isn't "on my screen" because it's a podcast, but anyway the latest episode of Grid Geeks is an in-depth — and, to be sure, openly critical — look at Energy secretary Rick Perry's big move asking FERC to shake up power market pricing in a way that aids coal and nuclear plants.
The big picture on EVs: Over at The Conversation, Swinburne University of Technology's Hussein Dia looks at three ways that the emergence of electric vehicles will "change the world" if and when they're adopted on a major scale.
Jobs: There will be winners and losers, costing jobs in some places but also offering "new manufacturing and business opportunities for the right investor."
Oil: Widespread EV deployment in coming decades would mean "budgetary stress on major oil-producing countries, and change the geopolitical map."
Federal revenues: Countries that rely on revenue from fuel taxes will need to shift their strategies. "Governments whose budgets rely on this revenue stream could find themselves shifting to road pricing, such as charging per kilometre of travel or congestion charging," he notes.
China's EV long game: The Wall Street Journal has an interesting look at China's moves in the electric vehicle space. "Its industrial goal is to leapfrog over foreign car makers in the domestic market, by far the world's largest — and the most important for General Motors — and become an export powerhouse," the story states.
https://www.axios.com/newsletters/axios-generate-92fd6a9f-d79f-4a83-8990-12907a5ee676.html?chunk=4#story4
One pretty autumn thing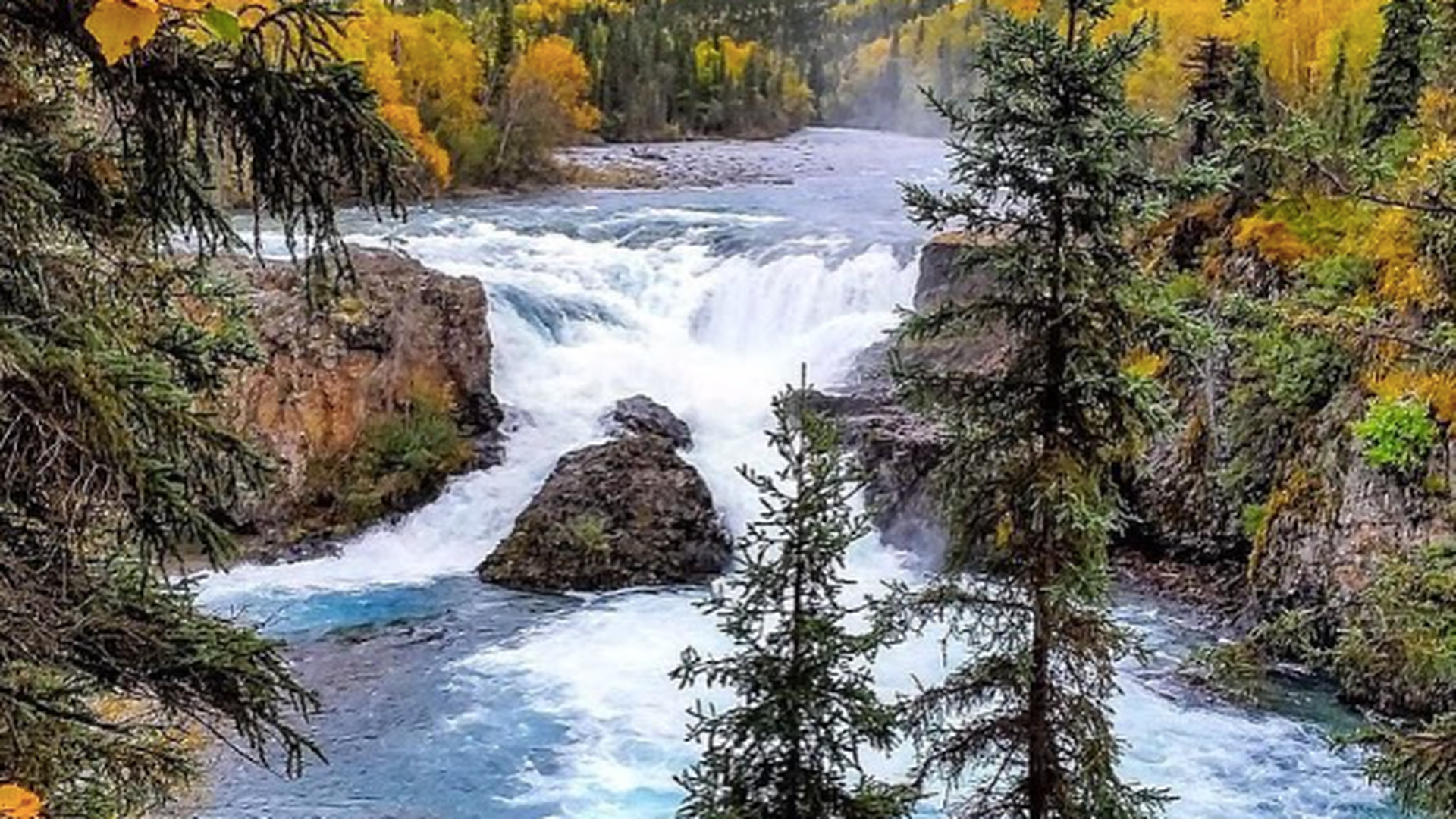 Breathtaking: Via the Interior Department's reliably good Instagram feed, I like this shot of the Lake Clark National Park and Preserve in Alaska.
Enjoy the day.