Axios Generate
March 23, 2023
🥞Good morning! Today's newsletter has a Smart Brevity count of 1,177 words, 4.5 minutes.
👀Breaking: White House Office of Science and Technology Policy boss Arati Prabhakar and key lawmakers have joined the main-stage lineup for Axios' What's Next Summit on Wednesday, March 29. Watch LIVE
🎶Happy birthday to the legendary Chaka Khan, who has today's intro tune ...
1 big thing: Putin, Xi and Biden navigate a reshaped energy world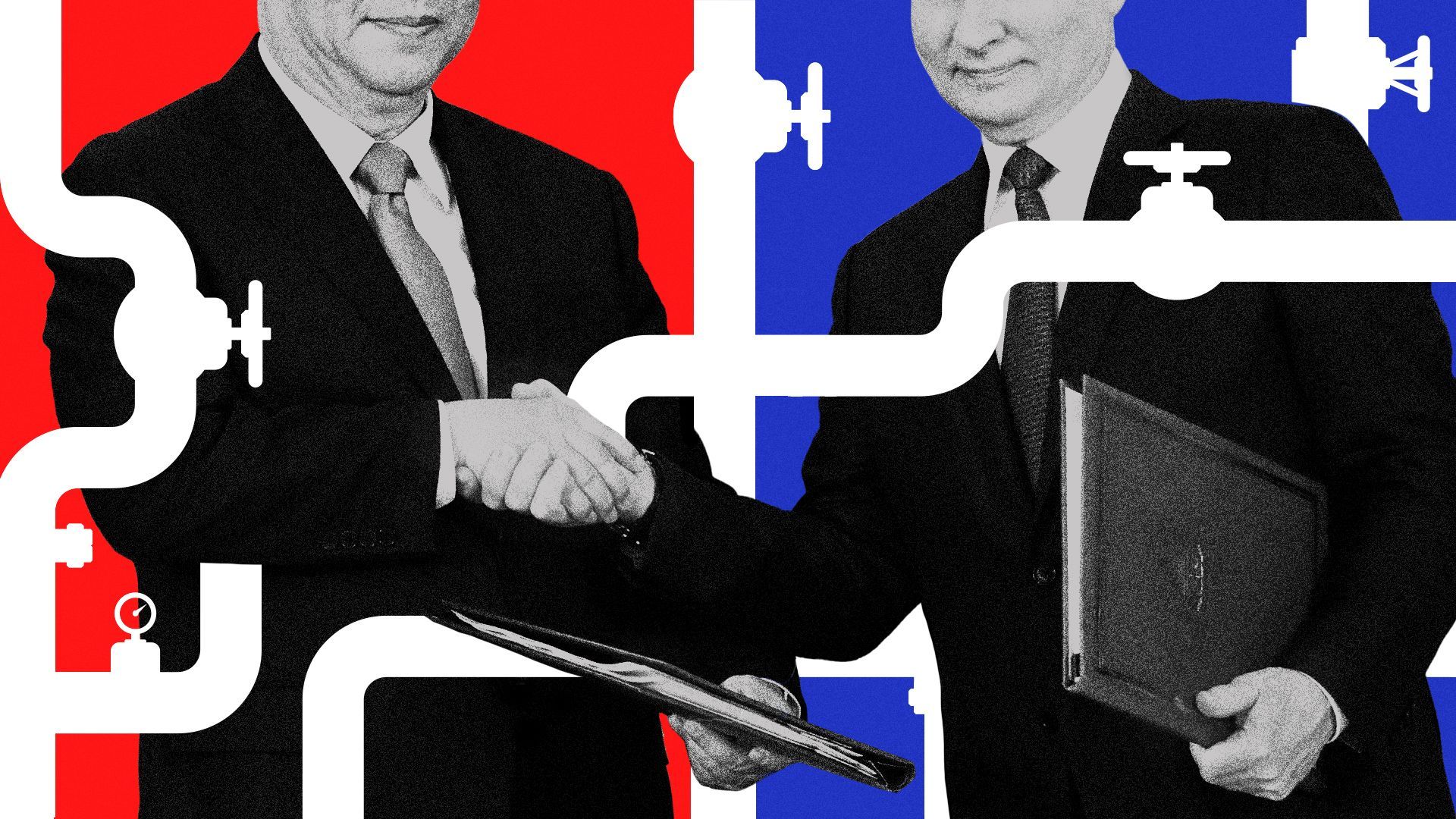 This week is showing how Russia's invasion of Ukraine has upended the global energy trade — and weakened Vladimir Putin's petro-might, Ben writes.
The big picture: Sanctions and the G7-led price cap are driving more Russian crude barrels to China and India.
New Chinese customs data this week shows that Russia has overtaken Saudi Arabia as the country's biggest oil supplier, Bloomberg reports.
Meanwhile, U.S. crude exports to Europe are at record levels this month, Reuters reported this week, citing Kpler data. There are several reasons why, but one driving force is Europe shunning Russian crude.
The intrigue: This week's meeting in Moscow between Putin and Chinese President Xi Jinping is noteworthy for something that didn't happen, despite their growing economic ties.
There wasn't a final deal on the Power of Siberia 2 gas pipeline from Russia to China — even as Russia seeks markets to replace Europe, once its main buyer.
Between the lines: Beijing is "firmly in the driver's seat" in the relationship with Russia on gas and more broadly, Atlantic Council energy expert Joseph Webster told me.
China has negotiating leverage thanks to "optionality," including liquified natural gas (LNG) from other nations — the U.S. among them — and pipelined supplies.
And Xi inking a deal in Moscow would have been a "huge insult" to Europeans, Webster said. "Xi is willing to push on the relationship with Europe, but he's not willing to break it."
What they're saying: Ahead of the Putin-Xi meeting, energy historian Dan Yergin circulated a passage from his book, "The New Map," to contextualize the emerging axis between Moscow and Beijing.
Despite the Xi-Putin rapport, "economically, the United States is much more important to China than is Russia."
Zoom in: Even a deal and the "most optimistic projections" show Russia's pipelined gas exports to China in 2030 at only two-thirds of historical sales to Europe, Webster notes.
Meanwhile, Russian oil exports have remained fairly robust as China and India snap up discounted cargoes.
But Europe's restrictions on imports, and the price cap on crude and refined products, are starting to bite.
Last week, the International Energy Agency reported that Russia's oil export revenues fell to $11.6 billion last month, down 42% from February 2022.
What to watch: How the Russia crisis continues to influence the U.S. energy posture.
White House officials have put more emphasis on domestic oil supply since the invasion.
They're are also keen to continue capitalizing on the geopolitical leverage LNG provides.
The bottom line: Russia remains a major energy power, but Europe's break with Russian fuels, and wider global sanctions, are sapping its strength.
Bonus: The growing U.S.-Europe LNG trade
U.S. gas exports to Europe surged after Russia's invasion of Ukraine as the Kremlin reduced flows and EU nations moved to diversify suppliers and energy sources, Ben writes.
The Energy Information Administration has a nice primer.
What we're watching: Increased competition for cargoes this year as China emerges from COVID restrictions.
2. 🏃🏽‍♀️Catch up fast on policy: ESG, climate law, EVs
💵 A group of 270 investors, companies and other financial professionals are pushing back against federal and state attempts to limit environmental, social and governance (ESG) investing.
Driving the news: In a "Freedom to invest" letter organized by the sustainable investing group Ceres and the We Mean Business Coalition, the signatories state that considering ESG concerns is "non-ideological" and done "to protect our operations and our investments" from climate risks.
ICYMI: This week, President Biden issued his first veto on legislation that would have overturned a Labor Department investment rule allowing retirement fund managers to consider climate change risks.
👀The Treasury Department will release specifics next week on how it will implement tax credits for buying electric cars, E&E News reports.
Why it matters: Treasury's interpretation of the large but complex incentives will help determine which vehicles qualify. That has implications for overall sales and specific automakers.
📝House Republicans are beginning oversight of the climate law and other recent statutes that have vastly expanded U.S. finance for low-carbon energy.
Driving the news: The Oversight and Accountability Committee wrote to Energy Secretary Granholm seeking a suite of documents, citing risks of waste and mismanagement.
3. Behind the scenes of the IPCC's climate tussle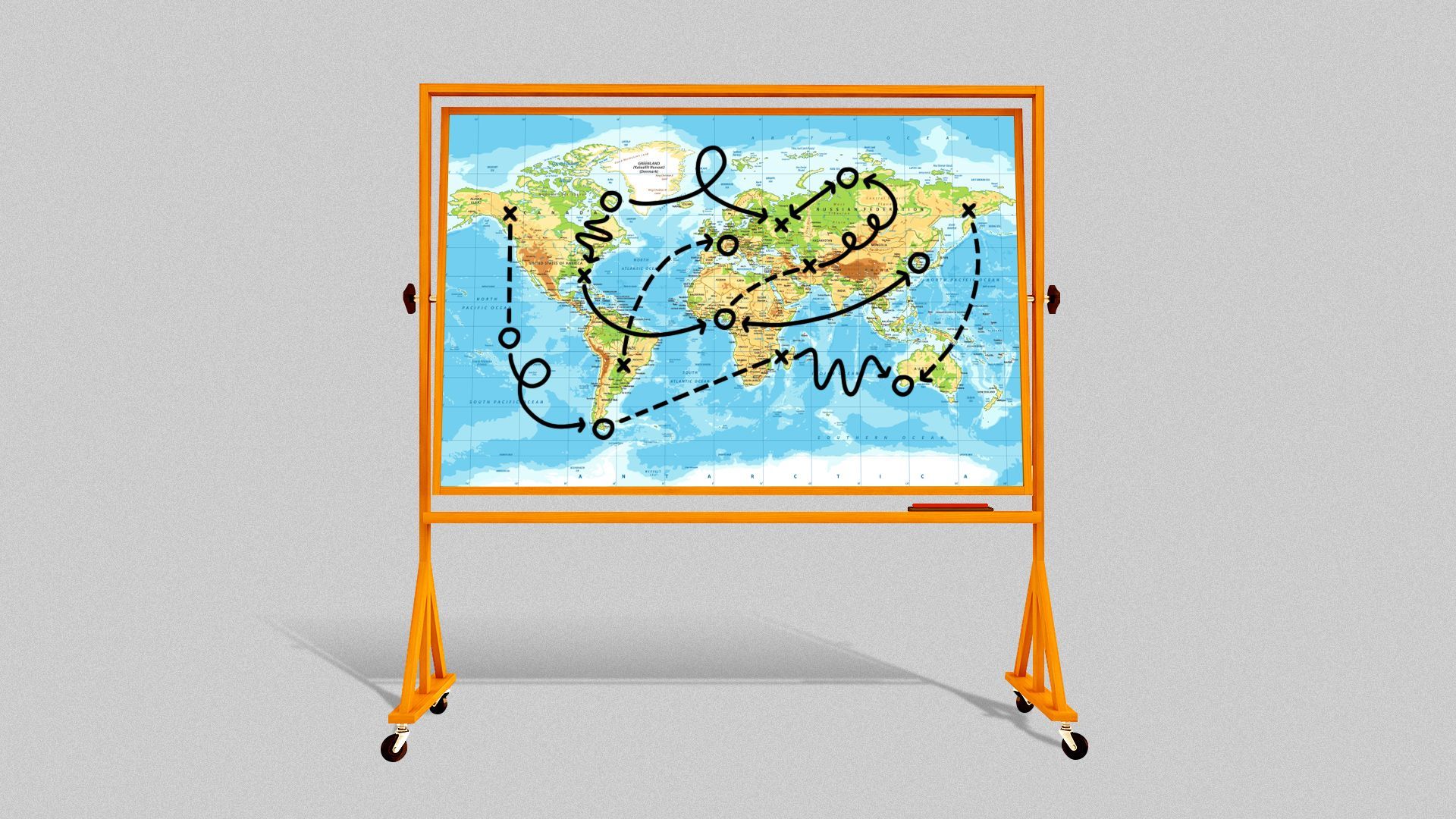 The definitive public account of how the major new UN climate report was written reveals repeated attempts by Saudi Arabia, China and India, among other countries, to water down references to fossil fuels as the main cause of global warming, Andrew writes.
Driving the news: The summary from the nonprofit Earth Negotiations Bulletin shows a push by fossil fuel-producing countries to insert language favoring the use of carbon capture and storage technologies.
The Intergovernmental Panel on Climate Change's (IPCC) summary approval process requires unanimous buy-in from global political representatives and climate researchers.
Zoom in: The IPCC negotiations summary, released Wednesday, shows that a key finding on when emissions must peak and how much they must decline by 2035 in order to meet the Paris Agreement's 1.5-degree target was relegated to a data table.
The intrigue: In some spots, the approval process weeded out straightforward language.
A sentence saying that "electricity from photovoltaics and wind is now cheaper than energy from fossil fuels in many regions'' became: "maintaining emission-intensive systems may, in some regions and sectors, be more expensive than transitioning to low emission systems," after strong objections by Saudi Arabia.
Other flash points included the role and uncertainties regarding carbon removal technologies and historical versus recent emissions.
Between the lines: As the negotiations in Switzerland dragged, inclusivity concerns arose as developing country representatives had to begin their journeys home.
When the report was approved, 49 hours after the scheduled closing, there were zero representatives from Africa and South America in the room, ENB reported.
4. One tech trend: A side of charging with your meal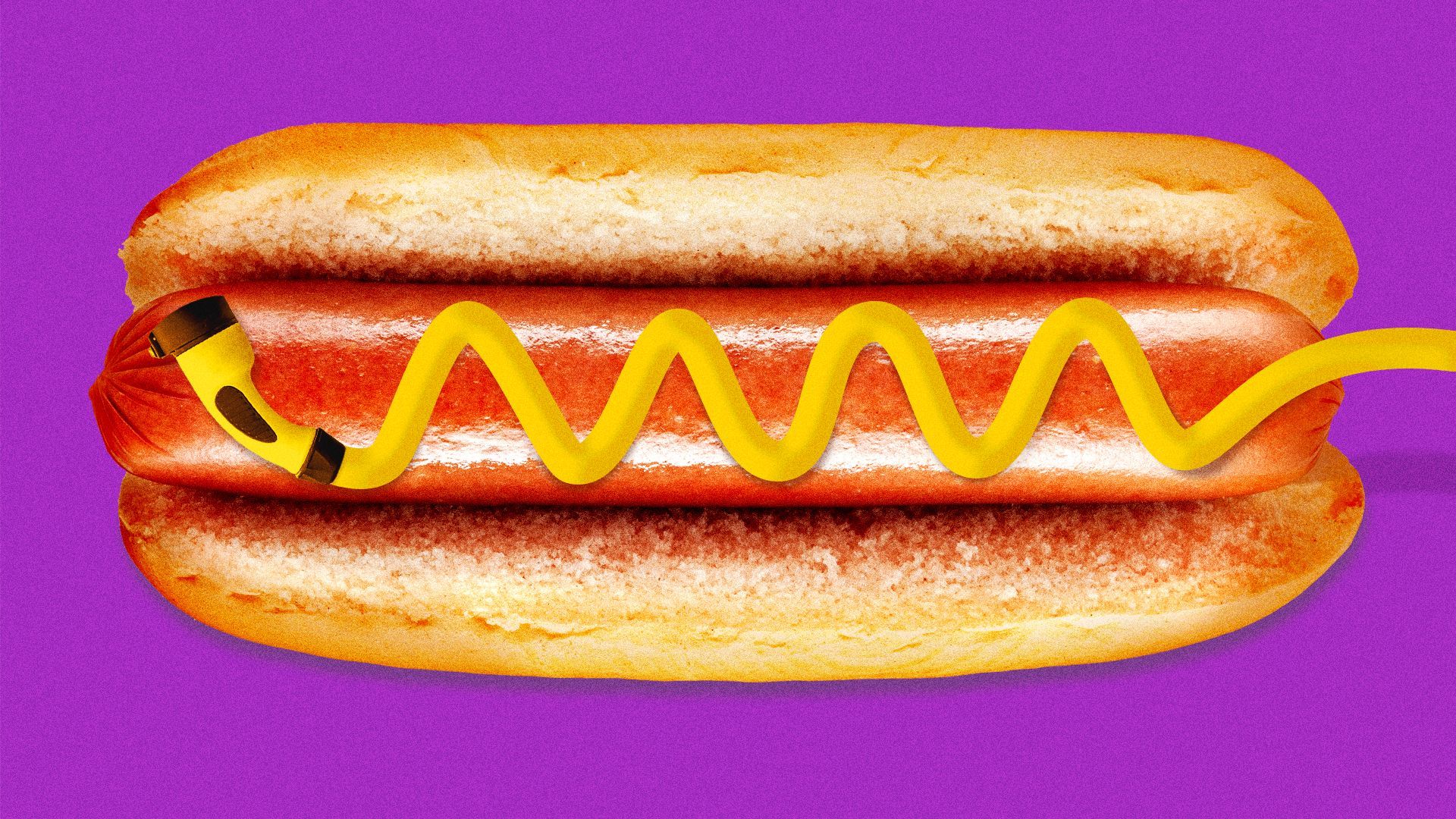 Several big fast food and convenience chains have launched a big push into (EV) charging, a trend that could speed expansion of the country's embryonic charging infrastructure, Axios' Alex Fitzpatrick reports.
Why it matters: Automakers are getting serious about electrification — yet many would-be EV buyers want more assurance they'll be able to find chargers when they need them.
Driving the news: 7-Eleven recently launched its own EV fast-charging network, called 7Charge.
It has chargers across Florida, Texas, Colorado and California so far, with plans to expand into Canada. (The company didn't respond to Axios' question about how many chargers it has installed.)
7Charge is compatible with a wide array of EVs — even Teslas, though they'll need an adapter.
Catch up fast: Subway last month announced long-term plans to build car-charging "oases" replete with green spaces, playgrounds and more.
More immediately, Subway is working with franchise owners to install stand-alone fast-chargers at various locations.
5. 🧮Number of the day: 10%
"[T]he global energy system used around 370 billion cubic metres (bcm) of freshwater in 2021, or roughly 10% of total global freshwater withdrawals," per the International Energy Agency, Ben writes.
Why it matters: That's a lot! Traditional and climate-friendly energy sources alike require huge amounts of water.
"Without efforts to reduce water use in these technologies as well as in fossil energy supply, a pathway to lower emissions could exacerbate water stress or be limited by it," writes IEA analyst Tomás de Oliveira Bredariol.
📬 Did a friend send you this newsletter? Welcome, please sign up.
🙏 Thanks to Lisa Hornung and Javier David for edits to today's edition.