Biden issues first veto of his presidency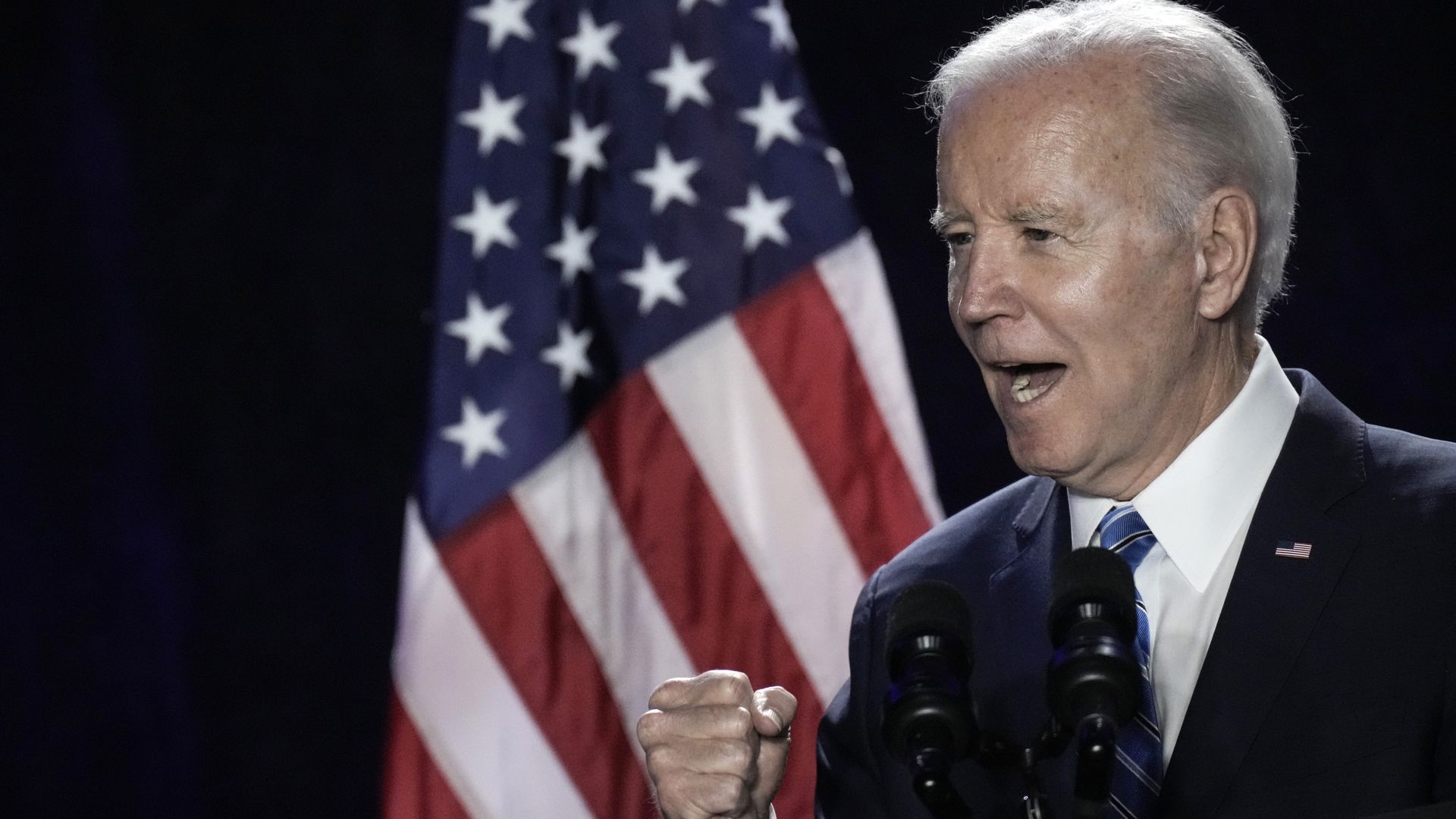 President Biden on Monday vetoed a bill that would have repealed a Department of Labor rule allowing retirement fund managers to consider environment, social and governance (ESG) principles in their investment decisions.
Why it matters: It was Biden's first use of the veto since becoming president, though several more may be on the way with Congress on track to pass other pieces of legislation the White House opposes.
The House has scheduled a veto override vote on the legislation on Thursday.
Between the lines: Two vulnerable Senate Democrats up for re-election in 2024 — Sens. Joe Manchin (D-W.Va.) and Jon Tester (D-Mont.) — broke with the White House earlier this month and joined Republicans in passing a House bill that would strike down the Labor Department's rule.
In order for the bill to become law, both chambers of Congress must pass it again with at least two-thirds of each body voting in favor.
What they're saying: Biden said on Monday he vetoed the legislation because "it would put at risk retirement savings of individuals across the country."
"They couldn't take into consideration investments that would be impacted by climate, impacted by overpaying executives. And that's' why I decided to veto it. It makes sense to veto it," he added.
"The President vetoed the bill because it jeopardizes the hard-earned life savings of cops, firefighters, teachers, and other workers – all in service of an extreme, MAGA Republican ideology," White House spokesperson Robyn Patterson said in a statement on Monday.
House Speaker Kevin McCarthy claimed on Monday that Biden, by vetoing the bill, "sided with woke Wall Street over workers."
"Now—despite a bipartisan vote to block his ESG agenda—it's clear Biden wants Wall Street to use your retirement savings to fund his far-left political causes," McCarthy said.
The big picture: The Labor Department rule doesn't require fiduciaries for private companies to do anything, but it does permit them to include ESG considerations in investment decisions.
Supporters of the ESG framework say it allows investors to support companies that are attempting to manage risks related to environmental, social, and governance criteria, such as the financial and economic risk posed by climate change.
Anti-ESG sentiment runs hot throughout the Republican Party in general, Axios' Hans Nichols reports. Conservative groups have derided it as "woke capitalism" and have set out to dismantle it.
Go deeper: Investors get caught in political crossfire in ESG fight
Editor's note: This story has been updated with additional reporting.
Go deeper